Darjeeling Gymkhana Club
About the club
Established in 1909 during the British colonial era, Darjeeling Gymkhana Club is undoubtedly the #1 social and sports club in the entire Darjeeling town and one of the most prominent heritage landmarks. It has been set up in an area of 2 acres and is located above the Mall road at a short 5-minute walk from Chowrasta (Mall) in a premier location and very near Darjeeling Tourist Lodge. 
The main building where the club office, tea lounge, bar and other important facilities are housed dates back to the club's origin and has been maintained as is to keep its heritage status. The President of the club is the Governor of West Bengal himself, and the District Magistrate of Darjeeling is the Ex-Officio Executive Member of the Committee. The club is run by an executive committee comprising of 14 members who are elected annually. 
Darjeeling Gymkhana Club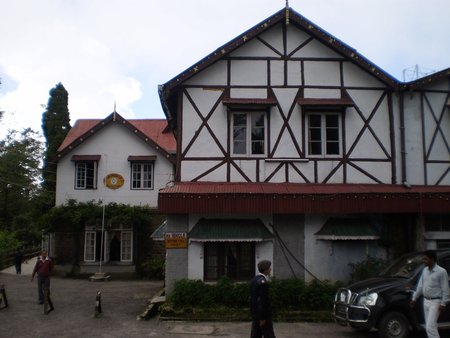 How to get membership
The club offers several types of membership including permanent membership (both for locals and outstation members), special membership, corporate membership, reciprocal membership (with several other clubs across the country), and temporary memberships to tourists or visitors. 
Permanent Membership
Presently there are more than 460 permanent members in the club most of who are residents of Darjeeling. There are also several outstation members. And there are about 50 special members who are mainly First Class Gazetted Officers. 
The one-time entrance fee for in-station members in Rs. 2 lakhs while for outstation members is Rs. 3.5 lakhs. Additionally, a Rs. 20,000 security deposit is taken from all applicants. Apart from the above one-time fees, there is also an annual subscription fee (Rs. 300 for in-station members and Rs. 2000 for outstation) plus a monthly subscription fee (of Rs. 300 for in-station only) are levied . 
One can collect the membership application form from the club office in Darjeeling. The application form needs to be filled up and submitted along with two passport size photos (both for self and spouse), self attested copy of date-of-birth certificate, self attested copies of Voter's ID card, PAN Card, Driving License etc, and a demand draft for the entrance fee which should be drawn in favor of Darjeeling Gymkhana Club Ltd., Darjeeling. 
Temporary Memberships
Like
Planter's Club
in Darjeeling, Gymkhana Club too offers temporary memberships to tourists and short term visitors at a nominal fee. Once you get this temporary membership, you can enjoy all facilities of the club including bar, lounge, dine, play several sporting activities offered by the club and even become eligible to stay at club accommodations. In fact, on an average about 500 temporary memberships are issued by the club annually... many foreign tourists avail this facility. 
You can go down to the club office and easily get a temporary membership. You need to carry your ID proof such as the Voter's Card, driving license etc, and couple of passport size photographs. Foreigners need to show their passport and visa. You can also call up the club office and get the temporary membership done in advance. 
Club Facilities
The club which was once known as 'Darjeeling Amusement Club' has seen many expansions and renovation over the years. The club offers several indoor and outdoor sporting facilities such as Tennis, Badminton, Roller Skating, Billiards, Card Room, Table Tennis, Health Club, Yoga, apart from various other amenities including bar, dining, library, function rooms etc. 
The club also owns a 3-Star category resort known as Darjeeling Gymkhana Resort which is located right behind the club building which can be availed by even tourists. 
Below is an account of the main facilities offered by Darjeeling Gymkhana Club: 
Badminton Courts
A large construction came up and completed in 2015 next to the main club house where three wooden badminton courts are housed indoor. There is also one hard court. 
Indoor Wooden Badminton Courts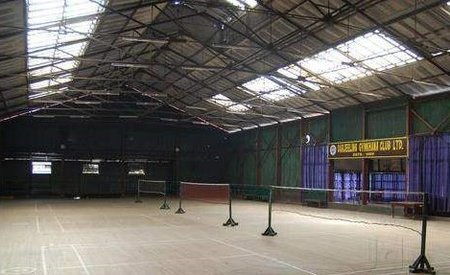 Tennis Courts
The club has started promoting tennis to young talents. There are two tennis courts. The club has already hosted an Open Invitational Tennis Championship with participants from West Bengal, Nepal and Bhutan. There are plans to host national and international tennis tournaments in future. 
Squash Court
The Gymkhana Club had 4 Squash courts when it was established in 1909. However, over time due to non-use, all of them became defunct. 
Update July, 2021: One of the Squash Courts that was lying defunct for over 20 years has been recently revamped and made fully operational. The vintage quotient of the court has been retained during the renovation instead of using fibre that is used in modern squash courts. 
Roller Skating Rink
This is one of the largest in the whole of Asia where even national level skating competitions are held. This huge indoor space can accommodate 700 persons and is offered for conferencing along with adequate amenities. Many corporates and groups across the country use this venue for conferencing. 
Billiard Room
There are three billiard boards in the billiard room. One of them is reserved for permanent members, while the other two are for temporary members and guests. World champions such as Bob Marshall, Michael Ferreira and Drifield have graced the club and shown their skills. 
Card Room
The card room has 6 nicely designed card tables where the members indulge in playing Bridge. There is fireplace as well as heating facility. 
Library
The library at the club has rich collection of books, magazines and news papers many of which are very old and rare. There are also informative books and even encyclopedia for children. 
Bar
There is a separate bar for the permanent members and one for the temporary members. A snack bar extension was made later whose expenses were paid by Maharaja of Cooch Behar. 
Tea Lounge
A great place to relax and enjoy the famous Darjeeling tea and snacks. The lounge is mostly used by the members after a round of tennis or badminton. 
Kitchen
The chefs at the club are known to prepare some of the best quality and tasty cuisine that includes local Nepali food, Mughlai, North Indian, Continental, Bengali, Chinese and even Tibetan dishes. 
Bamboo Room
This room as the name suggests has been made with bamboo and offers an awesome ambience. It was built in 1960s. It's mainly used for family get-togethers. 
Dining Hall
The dining hall can be rented for private occasions including weddings. 
Banquet Hall
Important club functions and parties are held here including dances. There is a special dance floor. The Banquet Hall can also be rented for conferences with up to 200 persons. 
Darjeeling Gymkhana Resort
NOTE: This property is owned by Darjeeling Gymkhana Club and it was earlier known as Darjeeling Gymkhana Resort. This has now become Pine Tree Spa Resort... the property has been leased out to a private group who now runs the hotel. Although the original building with rooms and original decor and furnishing have been retained, the group has made a new extension now. If you want to stay at one of the original rooms that are shown below, ask for a room in Heritage Wing. 
Erstwhile Darjeeling Gymkhana Resort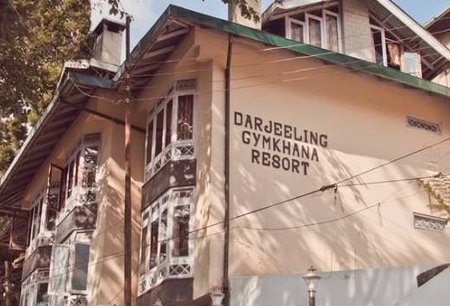 This is a fairly large 3-star category resort and a relatively new property which is owned by Darjeeling Gymkhana Club. The resort is located right behind the club house and on Mall road. In the new resort the rooms are spread across 4 floors... avoid the first two floors in the new building at the back side as the views are hindered by adjacent constructions. 
Here is how the new hotel (Pine Tree Spa Resort) looks now... see the large new building far behind. 
Pine Tree Spa Resort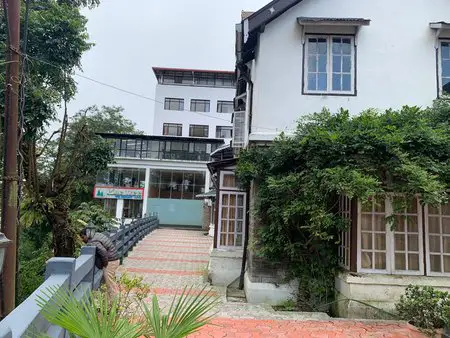 Reception desk at earlier Gymkhana Resort, Darjeeling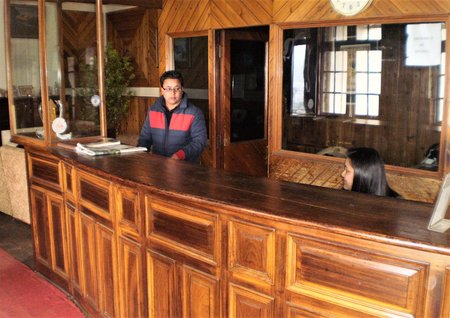 The lobby and the rooms are all well furnished with modern amenities including TV, geyser in the bathrooms, some rooms (the ones of higher category) have wood-finish floor and walls etc. The reception staff and the waiters are well trained. The service is reasonably good. 
An original deluxe room of Gymkhana Resort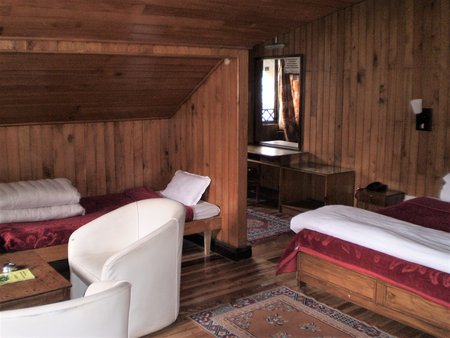 The dining room of the hotel is large and food served is multi-cuisine. 
The original dining room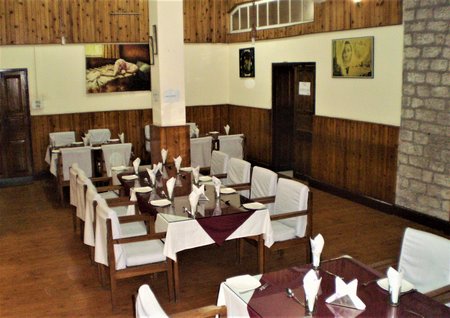 The location of the resort is excellent... it's very close to the Raj Bhavan (Governor's Residence). The
Chowrasta (Mall)
which is the center of the town, is only 5-6 minute walk from the hotel. Considering all aspects of stay, this is overall a good value for money. 
Phone (Pine Tree Spa Resort, Darjeeling): 03542259000 /01 /02 /03 
How to reach
From the Mall (Chowrasta) which is the main town square of Darjeeling, the Gymkhana Club is a 5 minute walk along the Mall road. Just after Gorkha Bhavan, there is an offshoot road that veers up towards right... this same narrow road ends at Darjeeling Tourist Lodge. Just before the tourist lodge, you can see the large gate of the club to the left. 
As you enter through the main gate, there is a large car park in front. This is where all members can park their cars. The entrance to the club house is at the end of the car park. Cars and taxis can approach the club from Gorkha Bhavan side. 
Address and Contacts
Darjeeling Gymkhana Club is located above the Mall road close to the St. Andew's Church. 
Phone (Darjeeling Gymkhana Club): (0354)-2254342 / 2254341. 
Phone (Secretarial Services): +91- 8967305717 
Club Timings: 7am to 10pm daily. 
Related Articles
Visitors' Reviews/Comments