Springfield Stays Homestay, Darjeeling
Category: Budget 
About the homestay
This is a nice homestay run by a local couple Khusboo and Saurav. It's located on Hill Cart Road (NH-110) near Dali Monastery and about 2kms away from Darjeeling Mall (which is  the main town center). However, the location is quite convenient and there are ample public transports such as shared and reserved taxis available right at the doorstep to take you to the main township of Darjeeling from where you can walk to the Mall.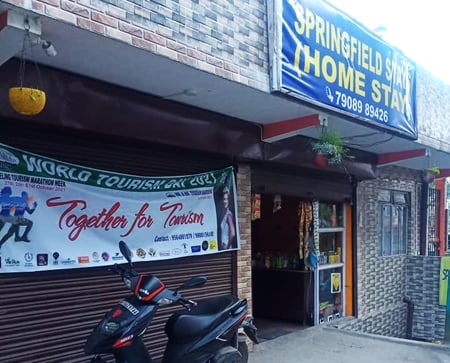 There are three separate apartments in one building. While two apartments have kitchen, one of them doesn't. If you happen to get the 3rd apartment that doesn't have a kitchen, you can request the landlady and she can offer her own kitchen for use at a nominal extra cost. 
The kitchen is equipped with gas-oven and if you stay there for 4 nights or more, even the gas cylinder is provided free of cost, otherwise you pay for the gas. There are several grocery stores within easy walking distance. There is a veggie & chicken shop which is only 50 meters away from the apartment. They also provide drinking water in the kitchen as well as cooking utensils, cups and plates. There is also a fridge and a dining table.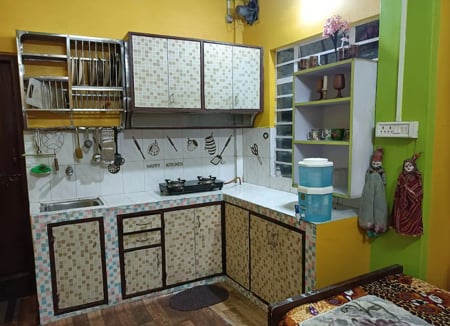 Each apartment or unit has two bedrooms (you can consider one of the rooms to be a drawing room instead of a bedroom that also has a double bed). One apartment or unit can easily sleep 4 to 5 persons. Apartments have flat-screen TV. There is a western-style toilet with geyser with each apartment. There is usually no issue of water supply. Rooms are clean and they maintain them well. 
There is also a common balcony from where you get great views of Mt. Kanchenjunga on a clear day as well as the township of Darjeeling with houses on the slopes of the hill. In fact, you can get the views from the rooms as well. They also provide internet connectivity on request... usually a Jiofi Dongle at an extra cost.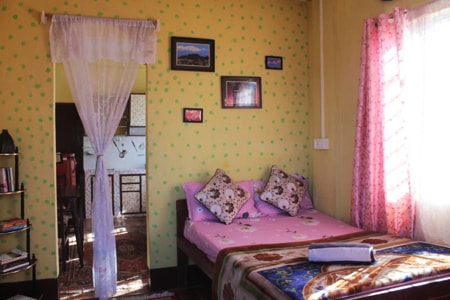 They have opened a small restaurant on the premises. The restaurant serves lunch and dinner offering Indian, Nepali and some Chinese dishes. In Indian cuisine the menu includes items such as chicken curry & rice, fish curry & rice, kadai chicken, dal tarka, plain dal, dal makhani etc. Other than this, you can also get traditional Nepali Gorkha thali, chicken and veg momos, thukpa, chicken/egg/veg chowmeins, and few other regional items. The price is quite reasonable and the food is nice too.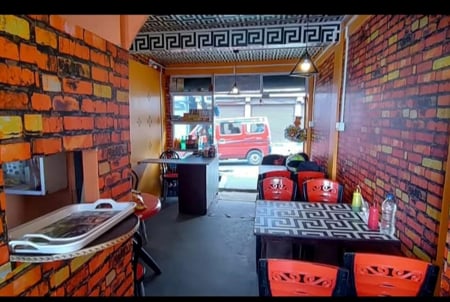 They have covered parking in the premised which is offered at extra charge. They also provide vehicles for local sightseeing, pickups/drops. There is a small lawn in the building which can be used for barbecue or enjoying tea. 
You can get the Tata-Sumo shared taxis right in front of the building that ply between Ghum and Darjeeling lower town. It costs only Rs. 15 per person to get to Darjeeling lower town (i.e. Chown Bazaar area) and from there you can walk up to Darjeeling Mall... it's about 20 minute uphill walk. 
My overall opinion
The apartments are comfortable and quite large compared to what you get in other homestays. A family of 4-5 persons can easily stay in a unit. 
You get excellent views of the Kanchenjunga peaks from this homestay which by itself is a big plus. 
Fully equipped kitchen gives you the option to cook your own food which not only can substantially reduce your food cost but also let you enjoy your own style of food that you are used to. 
The homestay now also has a small restaurant (it calls it a cafe)... prices are low and food is good ... a great option which is seldom found in other homestays where the food is usually bundled either in the room rate or offered as a per-person meal charge where all meals are included. 
Although the homestay is located a little away from the congested township of Darjeeling, the location is convenient and have ample transport options to get to the main township which is only 2 kms away. 
And last but not the least, the hosts are very friendly, cooperative and very caring... they will do whatever is in their control to satisfy all your needs. 
Is anything missing? To my mind, practically nothing... an electric kettle would have been a nice addition though :) 
Location and Contacts Info
Springfield Stays Homestay is located on Hill Cart Road (NH-110) between Ghum and Darjeeling and 1.7 kms before Darjeeling Railway Station. As you drive up from Ghum towards Darjeeling town and cross the Dali Monastery on your right, you will soon find the homestay on your left with a large board in front displaying the name of the homestay and its phone number. 
Contact Number: (+91) 79089 89426 
Related Articles
Visitors' Reviews/Comments
Sushil Kumar Pingua (April 2021) 
Hi Raj, Firstly I would like to mention that information available on your website regarding North Bengal and Sikkim is unparalleled, unmatched by any other travel portal. 
I wrote and got a wonderful reply from you on email on 13-14-Jan'21. Further, on 22 March'21 I began my two weeks' drive from Jharkhand to Darjeeling and Sikkim and back for over 2000 kms of happiness in Covid period along with my wife, mother and my 5 month's old daughter. In Darjeeling I took booking at an apartment (in Springfield Stays) which was fully furnished for 5 persons, just a kilometer before the Darjeeling railway station right beside the Ghum-Darjeeling road. And I got a beautiful and safe exclusive parking space in the apartment premises for my car. The rent of the said apartment was dirt cheap. Of the three days I spent at Darjeeling, I didn't take my car out for drive into the Darjeeling city, I used to catch the tata-sumo taxis right in front of the apartment @ Rs.15 per head. Hotels with parking inside Darjeeling would have cost me a bomb and Homestays didn't have in-premises parking space. The said apartment I booked even provided me LPG connection with stove and utensils included in the rent. 
Thank you Raj for providing valuable information to probable visitors solely at your expense.