Jorpokhri & The Tourist Lodge
Category: Budget/Mid-Range 
Jorpokhri is a tiny village on a hilltop and located in Darjeeling district. From Darjeeling town, it is about 19kms from Darjeeling town and can be reached en route Mirik. Located at an altitude of 7,400 ft, the main feature of Jorpokhi is its twin lakes after which the place has been named. 
'Jor' means two and 'pokhri' stands for a lake or water tank. The boundary of natural lake has been concretized with seating arrangements so that the visitors can enjoy the water area. There is a huge model of a snake and a fountain in the middle of the tank. 
Jorpokhri Lake, the lodge at the far end 
You can often see large number of white swans swimming in the waters or strolling around in the nearby area. Jorpokhri, however is not only about the lakes. There is a lovely forest around full of dhupi and pines. Just walk around and feel the lovely Himalayan serenity. Jorpokhri is part of Senchal forest and is a nature reserve. 
In the water tanks you might be able to see the rare Himalayan Salamanders that are small lizard like amphibians. Once they were considered totally extinct and wiped off from the face of the earth. They were found to be living here in Jorpokhri in 1964. During the rainy season, you have a better chance of spotting these small creatures. 
One of the best offerings of Jorpokhri is its sweeping views of the Himalayan snow peaks and the Darjeeling landscape. On a clear day and from one side of the lake you can get breathtaking views of the majestic Kanchenjunga peaks. On the other side you can see Darjeeling and Kurseong town landscapes. You can spend hours watching the splendors. 
Looking down from the View Point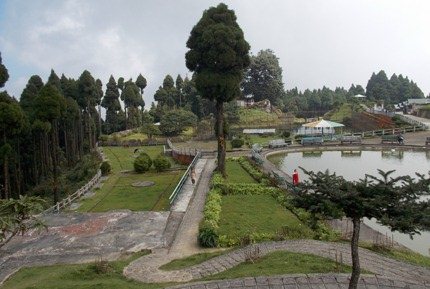 The best season to get such view is between October to March. From one side of the lake a paved pathway leads to a stairway and on top there is a lovely shaded viewing area. This is the place to get the best views of the mountains, the beautiful landscaped gardens, the lake and the rows of pine trees. 
There is a small eatery near the lake. I have been to Jorpokhri several times. Over the years I have seen the restaurant has deteriorated due to lack of maintenance. Once they even served beer. However, you still get snacks and breakfast here. The entire area is maintained by GTA (Gorkhaland Territorial Administration, erstwhile DGHC).  
Accommodation in Jorpokhri
There are essentially two choices of accommodations in Jorpokhri. 
GTA Tourist Lodge 
This is a budget hotel which is run by GTA (Gorkha Territorial Administration). There are 18 rooms out of which 6 are attic rooms with wonderful views of the mountains. All rooms are well furnished with TV, 24 hours hot water. Attic rooms have full wood paneling. There is also an in-house restaurant serving standard Indian and Chinese cuisine at reasonable prices. 
The new tourist lodge at Jorpokhri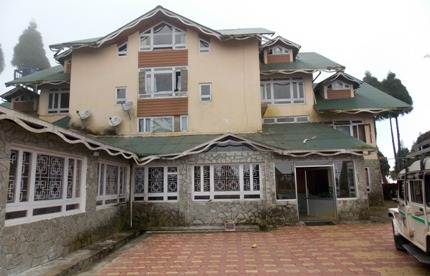 If you decide to stay at the tourist lodge, do not miss the mind blowing sunrise view from here. You can also ask them to serve the breakfast in the adjoining garden. Although the lake is not directly visible from the lodge, it's a short easy walk from here. 
How to book the GTA tourist lodge 
Visit a GTA tourism office (in Darjeeling, Kolkata or elsewhere) and book a room directly. Visit
Darjeeling Tourist Information Centers
to get details like address & contact information of GTA tourism offices. 
Salmander Tourist Lodge 
There is a nice heritage bungalow known as 'Salamander Tourist Lodge' and overlooking the lake. This is also a budget lodging. There are two suites in the ground floor that have great views of the sprawling lawns and mountain range. Upstairs there are two more double rooms with private terrace offering marvelous views. There is also a lobby upstairs having a balcony of its own. The dining area and the reception are located downstairs. Food is of Indian style and is served at the dining room. The rooms are spacious and maintained retaining the old heritage aura. 
How to book Salmander lodge 
Earlier the lodge used to be run by GTA, however due to maintenance problems it has been now leased out to a private company 'Travel Monk'. It is now managed by them under their unit 'Heritage Bungalows'. You can visit their website heritagebungalows.com and request a booking. 
How to reach Jorpokhri
Jorpokhri is about 19 kms from Darjeeling town center. From Ghoom take the road to Sukhiapokhri that leads all the way to Mirik. Sukhiapokhri is about 11kms from Ghoom and Jorpokhri is another 2kms from there. You will need to book a car from Darjeeling taxi stand and it takes little over 1 hour by road. From Mirik it takes about 1 hour drive to reach Jorpokhri via 'Simana Viewpoint' located on the India Nepal border. From Siliguri, distance to Jorpokhri is 85kms. 
From Darjeeling, Jorpokhri is ideal for a day tour. You can take a private taxi to complete the tour. 
Related Articles
3) Check out
Darjeeling Tours
to know about many other wonderful places that you can visit from Darjeeling within hours. 
Visitors' Reviews/Comments
Koushik Dutta (December 2013) 
I like to know how can I reach from NJP to Jorpokhri by a sharing cab and what will be the costing and time of travelling? Again how to reach from Jorpokhri to Darjeeling and its costing? Lastly we like to visit Pashupati Market for 2/3 hours when we will finally leave Darjeeling for NJP. Our train is at night. Should we have to take a private cab or a sharing cab is also available for that? What will be the costing and time of travelling? 
Raj (darjeeling-tourism.com), December 2012 
You won't get a shared jeep directly from NJP to Jorpokhri. Take one for Ghoom (3 hours). From there take another one for Sukhiapokhri (about 25 minutes). From Sukhiapokhri the distance to Jorpokhri is about 2kms. You will get another jeep or a cab. Some shared jeeps from Ghoom may go all the way up to Jorpokhri. Just ask at the stand. To reach Darjeeling, from Jorpokhri come up to Ghoom and then take another shared jeep for Darjeeling. It takes about 45-50 minutes between Jorpokhri and Darjeeling by a direct cab. For Pashupati Market, take a shared jeep which is bound for Mirik and get off at Pashupati. From Pashupati you will get shared jeeps for Mirik and from Mirik stand another one for NJP. Mirik to NJP takes about 1.5 hours. Check out
Darjeeling to Mirik
route. Shared jeep fare varies between Rs. 75 to 150 per person depending on the distance.