Siliguri to Darjeeling
There are a number of easy transport options to reach Darjeeling from Siliguri. After all Siliguri is the second largest city in the state of West Bengal following Kolkata and is the one closest to Darjeeling. However it's a crowded, chaotic and a messy town. If you are heading towards Darjeeling, you will quickly like to get out of Siliguri. But note that if you are coming by train to New Jalpaiguri (NJP) and like to a take a private or a shared taxi, or even the Toy Train for Darjeeling, you don't need to come down to Siliguri. NJP is about 8kms from Siliguri and you can get all those transports from NJP itself. 
As a tourist, you will come to Siliguri for an onward transport to Darjeeling when you are probably looking to catch a bus from the main bus terminus, or a shared jeep. Or in some cases those who are coming from neighboring countries like Nepal, Bhutan and Bangladesh and heading for Darjeeling, they need to go via Siliguri. There is hardly any other reason why you should come to Siliguri. 
The distance from Siliguri to Darjeeling is 80kms (along NH55 or Hill Cart Road, which is the main route). There are other routes as well like via Rohini, Pankhabari or Mirik. 
So how to reach Darjeeling from Siliguri? Here are the options: 
Siliguri to Darjeeling by Bus 
You will need to come to the main bus terminus of Siliguri which is known as Tenzing Norgay Central Bus Terminus and located on Hill Cart Road opposite to the Sher-e-Punjab hotel. The bus terminus is 8kms from New Jalpaiguri. Located next to the bus terminus is the Siliguri Junction railway station. From New Jalpaiguri, you can come to the Siliguri main bus terminus by an auto rickshaw, cycle rickshaw or a taxi. By auto-rickshaw it takes about 10 minutes.  
Siliguri Junction has been recently connected with broad gauge line. So if you are coming by a train like Kanchankanya express or Dibrugarh express, you can come directly to this station instead of getting off at NJP. 
Tenzing Norgay Central Bus Terminus is the main hub from where most of the state owned and private buses leave frequently for Darjeeling and other places. Nearby, there is also Sikkim Nationalized Transport bus station from where buses leave for Sikkim (Gangtok). There is a third bus terminus called P.C. Mittal Bus Terminus which is located at a distance on Sevoke Road. You will get buses from there leaving for the Dooars region via the Sevoke Coronation Bridge. But for Darjeeling, Tenzing Norgay Central Bus Terminus is where you need to come. 
A bus from Siliguri heading to Darjeeling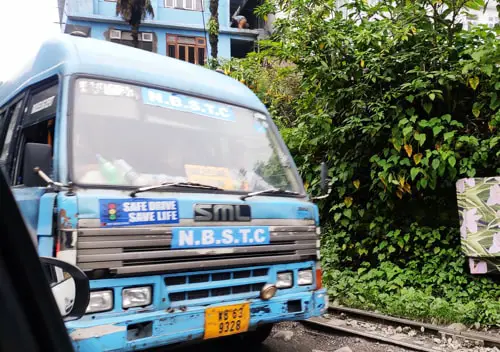 Presently there are four bus services that operate between Siliguri and Darjeeling (there are couple of additional buses that come from NJP, stop at Siliguri and proceed for Darjeeling). They leave at different times during the first half of the day starting from 5:30am in the morning and return. There is no bus to Darjeeling in the afternoon or night (timings can change though). Buses are operated by North Bengal State Transport Corporation (NBSTC) and look like mini buses with a capacity of about 30 seats. 
The buses stop at many places to drop and pick up passengers most of who are locals. You should be ready for a lazy long ride (while a taxi takes hardly 3 hours to reach Darjeeling from Siliguri, buses can easily take double that time). All these buses return to Siliguri in late afternoon. 
Here are contact phone numbers in Siliguri to get information about current bus timings and fares: 
1) Tenzing Norgay Bus Terminus: (0353) 2514920 
2) Sikkim Nationalised Transport: (0353) 2517528, 2511496, 2432751 
3) North Bengal State Transport Corporation: (0353) 2514920 
4) ITDC Rocket Bus: (0353) 2518879 
5) P.C.Mittal Bus Terminus: (0353) 2530554 
Siliguri to Darjeeling by shared Jeep 
You will also get shared jeeps from the Siliguri bus stand area. There is a jeep stand close to Tenzing Norgay bus terminal. The jeeps leave after they have at least 10 passengers. It can take some time to get all the seats to get filled up. However, if you want you can book two seats in front and sit next to the driver comfortably. If you are in a small group, you can also book 4 seats at the back as well. 
Luggage is carried on the roof at no extra charge. Shared jeeps are usually available between 7am to 3pm. Visit
Transport Fares
to know about shared jeep fares. 
Siliguri to Darjeeling by Private Taxi 
You can also get plenty of private taxis from close to the main bus terminus (i.e. Tenzing Norgay bus terminus on Hill Cart Road). Smaller private taxis are usually WagonsR, Santro, Alto etc, the bigger vehicles are Scorpio, Sumo, Xylo etc. 
There are also a number of travel agents offering car rentals from Siliguri. One of the well known travel agent is: 
Kings Travels, 94 Bankim Chandra Road. Siliguri-6. 
Cell: +91/9830428401/ 9331939486 
By road it takes roughly 3.5 hours to reach Darjeeling from Siliguri along the Hill Cart Road which is the main road to Darjeeling. If there is any disruption in the main road, they take a detour through other roads which can take longer time. For example the road via Mirik takes 4.5 to 5 hours to reach Darjeeling. The fares also change in such cases. Visit
Transport Fares
to know about the reserved taxi fares. 
Check out
Roads to Darjeeling
to know about all the roads that lead to Darjeeling from Siliguri area, directions, distances and sights on the way. 
Siliguri to Darjeeling by Toy Train 
There is a Diesel Engine hauled Toy Train run by Darjeeling Himalayan Railways. It goes through Siliguri Junction and all the way to Darjeeling. The train originates from New Jalpaiguri (NJP). The first stop is Siliguri Town which is an old station 5kms from NJP. The second stop is Siliguri Junction which is further 3kms up and where the main bus terminus is located. 
Visit
Toy Train Rides & Services
and check out the section under
Regular DHR Toy Train services
to know about the toy train, its timings and how to book the tickets. The toy train goes through a scenic route offering breathtaking views of the mountains and valleys. The narrow gauge track has several zigzags and loops on the way to negotiate steep inclines. It takes about 7.5 hours to reach Darjeeling by the diesel hauled toy train. Check out the
Toy Train Route
to know about the journey and all the stations it passes through. 
Related Articles 
2) Visit
How to reach Darjeeling
for complete information on reaching Darjeeling from various places in India and neighboring countries. 
Visitors' Reviews/Comments 
Uday Krishna (November 2018) 
Hi Raj, Our Family is reaching NJP by Train @ 7.00 pm. 1) Do you suggest us stay in Siliguri city for 1 night?  Or Do we have any option to reach Darjeeling same night by bus? If yes, what's the best option to travel? 2) If we need to stay in Siliguri for that night, what's the best location to stay, since we need to travel to Darjeeling next day by Bus? Thanks for your time. 
Raj (darjeeling-tourism.com) November 2018 
There are no night buses to Darjeeling, your only option is private taxi. Travelling in the hills here in the evening is not recommended. Stay back overnight at Siliguri. There are numerous hotels in Siliguri near the main bus stand. Balaji Inn and Swastik Residency are couple of budget options.