Siliguri to Darjeeling Bus Service
How to take a bus from Siliguri to Darjeeling
If you are arriving at NJP (New Jalpaiguri) station, or Bagdogra Airport or directly at Siliguri, and want to take a bus to Darjeeling,  then you will need to first get to Tenzing Norgay Bus Terminus in Siliguri.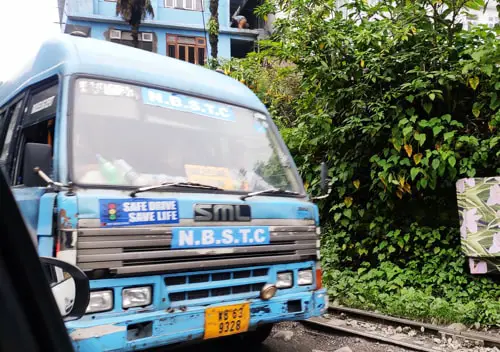 This is the main bus terminal in Siliguri. This is from where all the NBSTC (North Bengal State Transport Corporation) buses leave for Darjeeling as well as various other destinations including Dooars area,  Kalimpong, and many others.   
Tenzing Norgay Bus Terminus, also known as Siliguri Central Bus Terminus, is located at Siliguri Junction. This means,  if you are arriving by train and getting off at Siliguri Junction,  you will find the Bus Terminus only a short walk away as you come out of the station. 
From the NJP railway station, Tenzing Norgay Bus Terminus is 6 kms away. By road, it will take about 25 minutes to get there. You can take a taxi, or at a lesser cost, an auto rickshaw to get to the bus terminus.  
Although Bagdogra Airport has Limited bus services directly to Darjeeling, the timings may not match with your flight arrival time. In such a case,  if you want to still catch a bus to Darjeeling, your only option is to come down to Siliguri. 
From Bagdogra Airport, you can only get a taxi to get to the Bus Terminus in Siliguri.  You can either take a prepaid taxi from the prepaid taxi counter or go out of the airport building and try to get a taxi from the main road.  
The bus terminus is about 14  kilometers away from Bagdogra Airport.  It can easily take about 35 to 40 minutes to get to the Bus Terminus by taxi. 
From Tenzing Norgay Bus Terminus, only at a distance of 3 minutes walk,  there is another bus stand known as SNT (Sikkim Nationalized Transport) bus stand. SNT buses mostly cater to destinations in Sikkim such as Gangtok, Pelling, etc. However, some of these buses also cater to places such as Kalimpong. 
But, in order to visit Darjeeling, you should visit Tenzing Norgay Bus Terminus. Plenty of buses operate from here to Darjeeling on a daily basis. 
Siliguri to Darjeeling Bus Route
There are several road routes between Siliguri and Darjeeling. The Hill Cart Road or the national highway NH-110 is the arterial Road between Siliguri and Darjeeling.  This used to be the main route for all public transportation earlier. 
However, with opening of the route via Rohini which is popularly known as the Rohini route,  it has now become the main road for both buses and taxis to get to Darjeeling. This road is formally known as Subash Ghisingh Marg. 
The Rohini route is not only shorter compared to the Hill Cart Road, it has lesser numbers of steep bends. But it eventually merges with the Hill Cart Road at a distance. 
The buses initially take the Hill Cart Road, go up to Sukna in the plains,  then divert towards Simulbari, and then take the Rohini route. There is a toll plaza on Rohini road.  After the toll plaza, the uphill assent begins. 
Although quite narrow at several places, being a tool road, the Rohini road is usually maintained in good condition. Eventually, the road leads to Kurseong where it again meets the Hill Cart Road, i.e.,  the national highway NH-110. 
From here onwards, it is the Hill Cart Road all the way to Darjeeling that passes through settlements such as Tung, Sonada, Ghoom before reaching Darjeeling. Ghoom has the highest elevation on this route and located at an altitude of 2,225 meters. 
The buses finally terminate at Darjeeling bus stand which is located at Chowk Bazar in the lower town area near the old Supermarket. The distance between Siliguri Tenzing Norgay Bus Terminus and Darjeeling bus stand is 64 kms. By bus, it takes about 3.5 - 4 hours to cover this distance. The buses usually stop for a 10-minute tea break before Kurseong. 
Siliguri to Darjeeling bus types & capacity
Most buses plying on the Siliguri - Darjeeling route are small buses. They look like minibuses and are blue in color. The buses usually have a capacity of 30 seats.  Standing is not allowed on these buses. There are however, buses with larger capacity as well. 
Most of these NBSTC buses are non air-conditioned. There are, however, a few private buses that operate from here that have air-conditioning. But the AC is usually operated while travelling on the plains and not while negotiating the hills. 
Siliguri to Darjeeling bus schedule
There are plenty of daily bus services between Siliguri and Darjeeling.  Frequency May vary depending on the season and demand. Usually, buses start operating from the early morning and ply throughout the day. 
The below bus schedule has been picked up from the NBSTC website. The schedule is however subject to change. You should ideally visit the Siliguri Bus Terminus and check out the current timetable. 
Siliguri - Darjeeling NBSTC Bus Timetable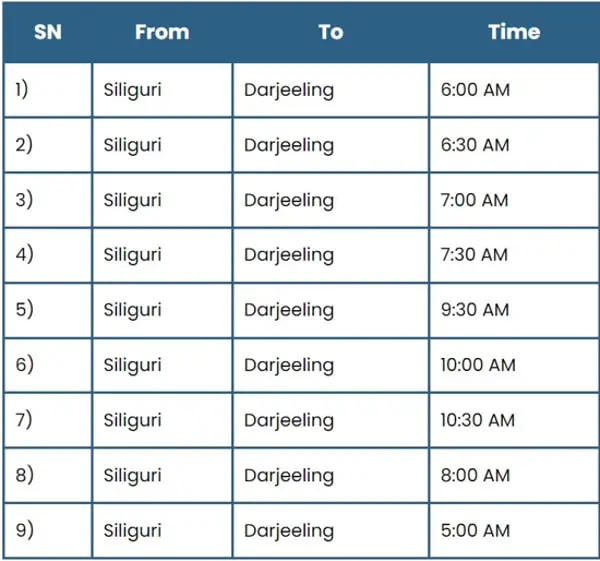 Buses to Kalimpong are also available from Siliguri at 6am, 7:45am and 1pm. 
Siliguri to Darjeeling bus fare
The bus fare (Non-AC) between Siliguri and Darjeeling is Rs. 105/-. (Fare updated: March 2023). Seat number is provided in the ticket. 
How to book a bus ticket from Siliguri to Darjeeling
Unfortunately, there is still no online booking system to book seats on buses between Siliguri and Darjeeling. However, NBSTC is planning to offer online bus seat booking in the future. As of now, you will need to go to the Siliguri Bus Terminus to  book a seat. 
There are manual ticket booking counters at the Bus Terminus. Depending on the rush, you might need to stand on a queue in order to buy the ticket. The seat number is mentioned on the ticket.  
Further Information
Contact the following phone numbers in Siliguri for any specific bus related query. 
Tenzing Norgay Bus Terminus, Siliguri: (0353) 2514920 
Sikkim Nationalised Transport, Siliguri: (0353) 2517528, 2511496, 2432751 
North Bengal State Transport Corporation, Siliguri: (0353) 2514920 
ITDC Rocket Bus, Siliguri: (0353) 2518879 
P.C.Mittal Bus Terminus, Siliguri: (0353) 2530554 
Related Articles
Visitors' Reviews/Comments