Return trek routes from Sandakphu
From Sandakphu, there are several routes to return to Manebhanjan, the place which is usually the starting point for treks and jeep safari. From here you will get ample transports back to Darjeeling. However for jeeps, there is only one gravel road to get back from Sandakphu via Kalipokhri, Gairibas, Tumling, Meghma, Chitre etc. 
There is also a trekking trail that traces this path and can be taken by trekkers to return. This is usually the same route taken by the trekkers to reach Sandakphu. 
If you want to cover the return trek along this route on a single day, then start early. It takes about 9 hours of almost continuous downhill trek. Otherwise stay overnight at Gairibas or Tonglu. GTA (Gorkhaland Territorial Administration, erstwhile DGHC) trekkers huts are available at both these places. Gairibas also has private lodges. 
However, I have seldom seen trekkers retracing  the same route back which they took to reach Sandakphu. I have myself never done it either. Why should you retrace the same trail back that you have already trekked when you have several other options, and some much better ones with mind blowing scenic beauty. 
Check out
Sandakphu & Singalila Route Map
to see some of the most common return trek routes that can be taken from Sandakphu. You can see that all other routes come to Srikhola and then to Rimbik. From Srikhola or Rimbik, you can get transports, or even continue to trek towards Manebhanjan or Darjeeling. 
One day trek from Sandakphu to Srikhola or Rimbik
The most popular return route from Sandakphu is via Gurdum to Srikhola and then to Rimbik. The trail descends through the dense Singalila forest full of oaks and chestnuts. There are some places where even sunlight can't enter. You will find lots of flowering rhododendron trees on the way that bloom in April and May. 
Gurdum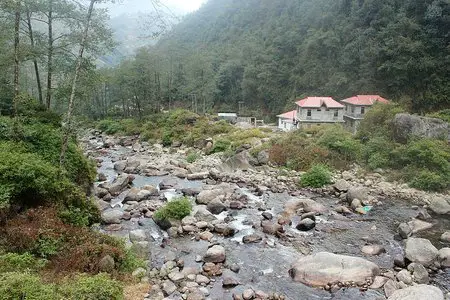 This is one of the shortest routes. The stretch from Sandakphu up to Gurdum is 10kms and can be covered in about 3.5 hours. Gurdum is a picture perfect tiny village. Only four or five families live here. As you approach, you will see how the ridges full with dense trees descend in the backdrop to the valley below. It's a wonderful sight. Some trekkers plan to stay at Gurdum for a day to enjoy this beauty. 
The village is surrounded by dense forests. If you are lucky, you can even see animals like Himalayan bears (but never dare to go close although they look cute). A villager offers a private hut to the trekkers. You can also stay at the Himalayan Sherpa Hotel. 
In about 1.5 hours walk from Gurdum, you will reach another beautiful place called Srikhola (also known as Sirikhola). The place has been named after a lovely mountain stream which too has the same name (the word khola means a stream). There is a GTA lodge next to the river. 
This is where many trekkers stay for the night as well. From here, Rimbik is another 7kms away. Most who stay overnight at Srikhola, take shared jeep next morning from Srikhola that go all the way to Darjeeling via Rimbik, Maneybhanjan and Ghoom. 
Others continue to trek up to Rimbik (3 hours from Srikhola), stay there overnight and take early morning shared jeep from Rimbik to Siliguri. 
Check out
Srikhola & Return Route
to know all about Srikhola, lodging, return trekking routes and transports from there to reach Darjeeling/NJP. 
More return routes from Sandakphu
1) Another return route from Sandakphu is via Molly which is about 16kms from Sandakphu to Srikhola. From Sandakphu trek up to Sabargram (aka Sabarkum), the route here forks, take right and then the route goes through Molley, then to Rammam and finally reaches Srikhola. 
2) If you are planning to reach Rimbik on the same day, then from Sandakphbu you can return to Bikheybhanjang which is 4kms away and then take a direct trail to Rimbik that passes through dense forests and descends quite quickly through steep slopes. 
3) If you plan to trek further along to Phalut from Sandakphu and then return, then check out
Phalut Trek
to know about the entire route description including return from Phalut. That would however be a much longer route. 
Related Articles
Visitors' Reviews/Comments
Share your experience.