Sandakphu Gurdum Timburey Srikhola Trek
The trekking route described here starts from Sandakphu. So if you are looking for trek information from Manebhanjan up to Sandakphu, then go through
Trek to Sandakphu
and then come back to this page to know about an excellent route from Sandakphu back to Manebhanjan. This page is essentially about the return trek route from Sandakphu that is usually availed by the trekkers. 
Sandakphu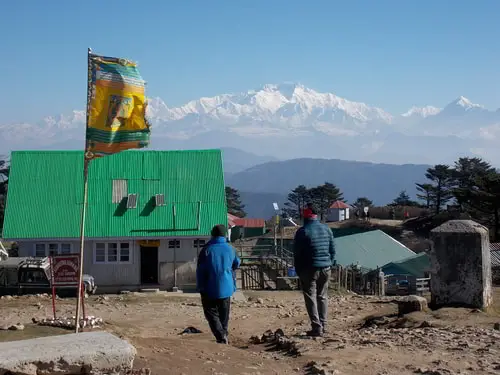 Manebhanjan is the place which is usually the starting point for both trek and
jeep safaris
to Sandakphu and Phalut. Regular taxi service is available between Manebhanjan and Darjeeling and it takes only one hour and 15 minutes for a one-way journey between the two places. 
Both the trek and the motor route up to Sandakphu pass through small mountain villages such as Chitre, Lamhaydhura, Meghma, Tumling, Kalipokhri, Bikeybhanjan etc. Although the trekking trail and the motor route overlap at several stretches on this route, the trekking trail at some sections leave the motor route and pass through forests, meadows and other natural landscapes. 
One option is to return by the same trek route that you had taken for your forward trek. If you want to cover the return trek along this route on a single day, then start early. It takes about 9 hours of almost continuous downhill trek with short breaks in between. Otherwise stay overnight at Gairibas or Tonglu. GTA trekkers' lodges are available at both these places. Gairibas has private lodges as well. 
However, many trekkers prefer to take a different route on their return from Sandakphu. After all, why should you retrace the same trail back that you have already trekked, and particularly when there are several other options, and some with excellent scenic beauty. 
Go through
Sandakphu & Singalila Route Map
to see a diagram of trek routes that can be taken from Sandakphu and the distances between important points along the routes. You can see that the trails meet at Srikhola and then the route goes down to Rimbik. From both Srikhola and Rimbik, you can get transports to Manebhanjan and then onward to Darjeeling or NJP/Siliguri. 
Below are the description of the trekking routes from Sandakphu. 
1-Day trek from Sandakphu to Srikhola/Rimbik
The most popular return route from Sandakphu is via Gurdum, Timburey down to Srikhola and then to Rimbik. The trail descends through the dense Singalila forest full of oaks and chestnuts. There are some places where even sunlight can't enter. You will find lots of flowering rhododendron trees on the way that bloom in April and May. This is one of the shortest return routes (involves only 1 day trek). 
Gurdum Valley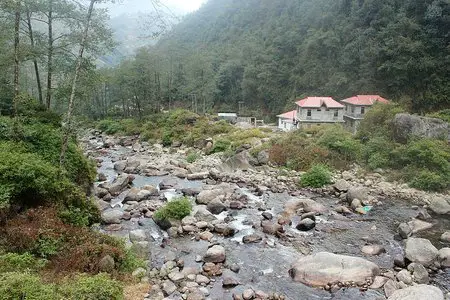 Photo: Mamtarivonkar, cc by sa 4.0 
The stretch from Sandakphu up to Gurdum is 10kms and can be covered in about 3.5 hours. Gurdum is a picture perfect tiny village and a valley at an altitude of 7,150ft. Only four or five families live here. As you approach, you will see how the ridges full with dense trees descend in the backdrop to the valley below. It's a wonderful sight. Some trekkers plan to stay at Gurdum for a day to enjoy this beauty. 
The village is surrounded by dense forests. If you are lucky, you can even see animals like Himalayan Black Bears (but never dare to go close although they might look cute). A villager offers a private hut to the trekkers for overnight stay. You can also stay at the Himalayan Sherpa Hotel. 
3kms after Gurdum, there is another tiny settlement known as Timburey located at an altitude of 6,550ft. There is a camping ground here. So if you are carrying tent equipment, then this is a great place to stay overnight. There are also couple of home stays here offered by the villagers. 
In about 1.5-2 hours walk (6kms) from Gurdum, you will reach another beautiful place called Srikhola (also known as Sirikhola) at 6,900ft. The place has been named after a lovely mountain stream which too has the same name (the word khola means a stream). There is a GTA lodge next to the river. 
GTA Lodge next to Srikhola River in a scenic location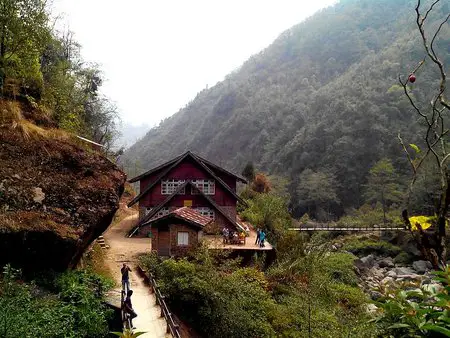 Photo: Photo: Suvendra.nath. cc by sa 4.0 
There are few other private lodges in Srikhola as well, however GTA lodge is the best accommodation here. Many trekkers prefer to trek down directly to Srikhola from Sandakphu and stay for the night and enjoy the lovely sights next morning. Most who stay overnight at Srikhola, take shared jeep next morning from Srikhola that go all the way to Darjeeling via Rimbik, Manebhanjan and Ghoom. 
Go through
Srikhola Village
to know all about Srikhola's attractions, lodging options, return trek routes from there and transports to reach Darjeeling/NJP. 
Rimbik is 7kms away from Srikhola (3 hours trek) and located at an altitude of 7,500ft. Some trekkers continue the trek instead of staying overnight at Gurdum or Srikhola and reach Rimbik directly, and then take early morning shared jeep from Rimbik to Siliguri. 
Rimbik to Manebhanjan is about 43 kms and takes about 2 hours by a vehicle. Rimbik to Siliguri is about 115kms and takes about 5 hours by a reserved vehicle. NJP station is further 10kms away. 
Waterfalls at Rimbik 
Photo: Wikimedia Commons 
Rimbik is known for its many orange orchards. Although the market area of Rimbik is quite congested, there are several vantage areas in Rimbik that offer wonderful views of Kanchenjunga peaks. 
While the downward motorable road from Rimbik goes to Manebhanjan, the uphill road ends at Hotel Sovraj in Srikhola, from there the Srikhola village is half an hour walk (0.5km away). Pony rides are available at Rimbik to take you up to Srikhola and back. 
There are several small budget hotels, lodges and homestays in Rimbik. 
A popular accommodation is Hotel Green Hill run by Mr. Tshering Wangdi Bhutia and Mrs. Dawa Doma Sherpa along with their family members. Rooms are clean and have attached western style toilets with 24 hours water supply (hot water available on buckets). There are rooms of different capacities including double, triple occupancy etc as well as dormitory beds. You can get excellent views of Kanchenjunga. The food served is nice. A non-veg meal is about Rs. 200, veg is Rs. 150. The hotel is located conveniently near the bus stand. Phone: +91 97330 69143, 95937 20817, 95938 28400. 
A great homestay option at Rimbik is Nanglo Homestay located at Sano Gairi Gaon at upper Rimbik offering superb views of the mountains from its rooms. The rooms are very clean and the food served is great. The property has a lovely garden and is run by a friendly family. There is an old monastery (more than 100 years old) which is only 10-minute walk from the homestay. Phone: 099323 86442. 
Another nice accommodation is The Rimbick Farm House at Lodhoma Bazaar area (i.e. Rimbik Market area) below Hotel Green Hill. Phone: 079088 06707, 099331 88055. 
More return routes from Sandakphu
1) Another return route from Sandakphu is via Molley which is about 16kms from Sandakphu to Srikhola. From Sandakphu trek up to Sabargram (aka Sabarkum), the route here forks, take right and then the route goes through Molley, then to Rammam and finally reaches Srikhola. 
2) If you are planning to reach Rimbik on the same day, then from Sandakphbu you can return to Bikheybhanjang which is 4kms away and then take a direct trail to Rimbik that passes through dense forests and descends quite quickly through steep slopes. 
3) If you plan to trek further along to Phalut from Sandakphu and then return, then check out
Phalut Trek
to know about the entire route description including return from Phalut. That would however be a much longer route. 
Related Articles
Visitors' Reviews/Comments
Share your experience.