Dzongri & Goechala Trek
What To Expect
Sikkim is an Indian state adjacent to Darjeeling hills and nestled between Nepal (on its west), Bhutan (on its east) and Tibbet on the north. It has more than 15 magnificent peaks that are over 20,000ft in elevation. 
And the trek through Yuksom, Dzongri and Goechala offers breathtaking views of several of them that includes Kanchenjunga - the third highest peak of the world and several others like Pandim, Kabru, Ratong and more. Trekkers know... this is a journey through paradise. 
Yuksom Valley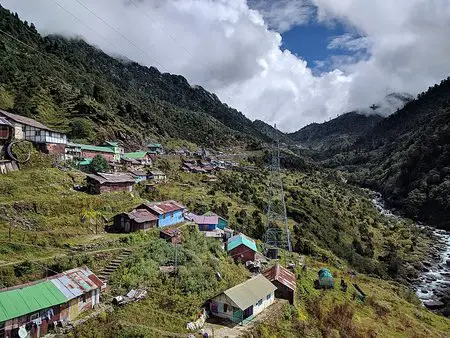 Photo: Shubhamshukla585, cc by sa 4.0 
For trekkers, Dzongri and Goecha la are probably the best places to experience the awesome Kanchenjunga face to face from the closest possible distance. 
This Sikkim trek is also often known as the 'Trek for Kanchenjunga'. This is considered a moderate to difficult trek. 
The trail also takes you through several of the 164 monasteries of Sikkim that so diligently preserve the religious culture of the province amidst an ever changing world. 
The route also offers a fascinating glimpse to some of the  45 varieties of rhododendrons, over 400 varieties of orchids and thousands of different plantations that Sikkim boasts of. 
You can start the trek either from Pemayangtse in west Sikkim (located near Pelling) or from Yuksom which is 35kms further ahead by road (however the trekking trail between the two is only 16kms). 
There is a civilian road up to Yuksom and you can reach there by car. From NJP/Bagdogra, the distance to Pemayangtse (located at an altitude of 2,082m or 6,840ft) is about 135kms and it takes about 6 hours to reach by car. Start your trek next morning. 
The Trek Itinerary
Below is a 11-day trek for Dzongri and Goechala starting at Pemayangtse in west Sikkim. You can reduce the duration by one day if you start your trek from Yuksom instead of Pemayangtse (which most trekkers do). 
You can additionally shorten the trek duration by cutting down on your night stays. If you are an experienced trekker, you can easily cut short the time by 2 to 3 nights. 
The essence to trekking in this part of Sikkim is to go slow and be patient. The gradients at some places are quite steep passing through rocky terrain and the trek can become arduous. 
DAY-1: Pemayangtse (6,840ft) - Yuksom (5,839ft)
If you are short in time, you can skip this stretch and drive down to Yuksom which is 35kms away from Pemayangtse and 40kms from Pelling. It takes about 1 and half hours by car.  
However the trekking route up to Yuksom is only 16kms and takes about 7-hours of hike. This stretch actually gives you an opportunity to get acclimatized for the harder treks ahead. 
Whatever you decide, don't miss out on the Pemayangtse Monastery before you start your journey for Yuksom. It is one of the oldest and premier monasteries in Sikkim. 
Pemayangtse Monastery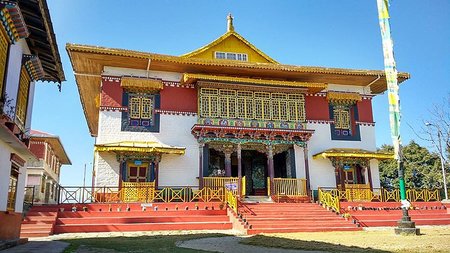 Photo: Tejas498, cc by sa 4.0 
Although loosely called as yaks, the domesticated animals used for carrying heavy loads for the treks are a cross between a male yak and a cow. Locals call them Dzo. The trail goes through scenic pastures and fields of paddy, corn and barley. 
Although sparse, the population here includes Nepalis, Lepchas and Sherpas. You will see village huts as you walk along. You will pass by mountain streams like Rimbi Chu and Ratong Chu.  
Yuksom is like a flat tabletop with barley fields & apple orchards and surrounded by mountains. From here you get a great view of small lakes. The Dubdi Monastery here is located on a hill top and can be reached through a trekking trail, it takes about 35 minutes. 
Dubdi Monastery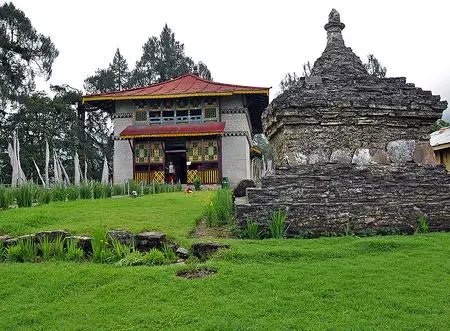 Photo: Pp saha, cc by sa 3.0 
The monastery is steeped in history. It is here where coronation of the first religious king of Sikkim H.H. Funchook Namgyal took place. 
It was done by Lama Gyalwa Latchen Thembo who brought Buddhism to Sikkim in 1641 AD. The monastery was built soon after the King was crowned. 
There are tourist lodges in Yuksom for night stays. One of the better ones is the private hotel Tashi Ghang which offers 3-star equivalent accommodation. Other lodgings include Hotel Demazong which also has dormitories. 
DAY-2: Yuksom (5,839ft) - Bakhim (9,000ft)
Although the trek starts from the market area, the trail then goes along the outskirts of Yuksom. You will get your permits at the KNP (Kanchenjunga National Park) check-post on the way. It hardly takes time to get one (read the section on permits below for details). 
This stretch of the trail is mostly paved with stones and climbs through dense tropical forests of pine, bamboo, fir, oaks and flowering trees like magnolias and rhododendrons. You will see different kinds of orchids on the way. 
The stretch is also a paradise for bird and animal lovers. Other than many species of birds, the forest area here is a habitat of varieties of animals including red pandas, Himalayan black & brown bears, barking deer, wild goats, Tibetan antelope and lot more. Don't worry, they won't come on your way.  
Green-tailed Sunbird near Sachen 
Photo: Abhishek532, cc by sa 4.0 
You will then cross four bridges one after the other. One of my favorites is the wooden hanging bridge that comes soon after Sachen (a tiny place which has a log hut with accommodation for 5-6 trekkers and a small area for cooking). 
You will find lots of colorful prayer flags fluttering on the bridge wishing you good luck for the steep climb ahead. Shortly thereafter, the climb gets quite steeper through a series of switchbacks. 
Having trekked for about three hours, you should plan to take your lunch at one of the road side huts. After about 6 and half hours from Yuksom (14kms), you will reach the Forest Bungalow of Bakhim. This is where you will stay overnight, unless the tour operator organizes camping at the site. 
Sunset from Bakhim Campsite 
Alternatively, take a break at Bakhim, have some refreshment at the nice tea stall here, soak in the wonderful views of the Yuksom valley and move on to the village Tshoka, which is about 1 hour uphill trek. Many trekkers do that as well, but it can be a long tiring walk (gradient to Tshokha is steep). 
DAY-3: Bakhim (9,000ft) - Dzongri (13,845ft)
From Bakhim the climb gets really steep all the way up to Dzongri. The distance is about 8kms and you can cover that in about 6-hours. The mantra for this stretch is to go slow.  
But every step towards Dzongri will only take you closer to the heavenly view of Kanchenjunga. Initially the route passes through land areas that are cultivated through Dzos (kind of yaks) and mountain sheep. After about one hour of climb, you will reach the village of Tshoka where only handful Tibetan families live. 
This is the last village on the way and there is no electricity here. Some experienced trekkers come up to Tshoka on day-2 itself and stay here at a trekkers hut (this is a long wooden bungalow with four rooms having basic amenities and can accommodate more than 20 trekkers). 
Few families also offer their huts for overnight stay. Although there are probably only 10-12 families living in this village, there is still a Buddhist monastery built here next to the lake. There is also a forest rest house at Tshokha located little uphill... you can stay there as well. 
Tshoka offers the first real view of the Himalayan snow peaks including the Mt. Pandim. There is a plan by the Indian government to develop Tshoka as a place with better amenities and arrangements for trekkers. 
That would require moving and rehabilitating the existing families elsewhere in Sikkim. The villagers don't seem to be happy with this plan. 
A steep rocky trail continues from Tshoka. As you trek along, you will pass by varieties of rhododendrons that bloom in spring. The flowers have different colors like white, red, pink etc, some are small but many are quite large. 
After about 2 & half hours of trekking along a steep gradient, you will reach a picturesque spot called Phedang (also known as Phittang). This is where you should plan to take your lunch. Start your trek after lunch. 
Soon you will be passing through a dense forest of rhododendron trees. If it rains, the trail here can get quite muddy and difficult for trek. 
Another 2 & half hours of walk along the steep trail through rhododendron forest and you will reach Dzongri, a place which is also known as "The meeting place of men and mountains, of god and nature". 
The board on the trekkers hut says "Welcome to Dzongri". The view of the snow range is awesome. You get a great view of Darjeeling's landscape from here as well. 
You should stay here for the night. You can either stay at the trekkers hut or at tents that are set up by the tour operator. This is a flat area with great views all around. 
Breakfast at Dzongri 
Photo: Blue Dragon Adventure 
DAY-4: Rest day at Dzongri
There is a view point at Dzongri (known as Dzongri Top) which takes 45 minutes of walk along a steep trail. You must visit the view point early in the morning. There are lots of Tibetan prayer flags on Dzongri top that keep fluttering in the breeze. 
The sunrise and the view of the dazzling snow peaks of Kanchenjunga (8534 m), Kabru (7353 m) and Pandim (6691 m) appearing in the horizon is a sight that you won't forget for long. 
Other great peaks you can see from here includes Koktang (6147 m) and Narsing (5825 m). On the west is Singalila ridge that separates Sikkim from Nepal. 
Most of the tour operators plan a rest day in Dzongri camp for day-4 and stay here for one more night. This is to help you acclimatize with the high altitude. 
However, if you are feeling okay and want to cut short the trek time, you can ask them to restart the trek early on day-4 itself after you comeback from the view point. 
You may even decide to skip the view point and proceed towards Thangsing. You can visit the view point on your way back as well. 
Camping at Dzongri 
Photo: Ashmita Trek & Tours 
DAY-5: Dzongri (13,845ft) - Thangsing (12,467ft)
From Dzongri you will trek down towards a beautiful valley and then climb for the last one hour for Thangsing. The distance is 7kms and it can be covered in 4 & half hours. 
You will walk through lush meadows towards this picturesque valley which is located at the base of a mountain known as Jopine. 
View from Thangsing 
Photo: Abhishek532, cc by sa 4.0 
As you walk by the side of the mountains, you get mind blowing view of the snow covered Pandim and Kanchenjunga. It's an awesome feeling that you are only walking to get even closer to these giant snow mountains. 
As you walk along the meadows, you will notice a series of five chortens (small Buddhist mounds for worships) on the way. 
There is a stretch that goes through a steep descent and you need to be careful as you take your steps. There is every chance of a slip in this rocky path. 
Eventually you reach the base of the valley. There is a stream called Prek Chu (chu locally means a river) that flows through the valley area. The operator would normally organize a river-side lunch. 
View of Prek Chu river and valley 
Photo: Wikimedia Commons 
After lunch, you will need to cross the river over an wooden bridge, then climb for an hour through forests of rhododendrons to reach the camping ground in Thangsing. It is perched on a slope of Mt. Pandim. The tour operator sets up tents here. 
DAY-6: Thangsing (12,467ft) - Chemathang (15,748ft)
Chemathang is located at the base of Mt. Pandim and 8kms from Thangsing. It takes about 6 hours of trek to reach Chemathang and the hike is mostly through the valley of Onglathang. 
All through the stretch you will be treated to amazing views of Kanchenjunga and Pandim, and it gets even better and better as you approach closer to the mighty snow peaks. 
Initially the route is more or less leveled although there are little ups and downs in between. In about 4 hours, you will reach a place called Lamuney. 
Some tour operators set up tents here for the day's enjoyment and overnight stay. However it's better to take an early lunch here and carry on so that you get closer to Goechala. 
From Lamuney, a trek for about one hour will take you to the Lake Samiti, a wonderful deep lake with crystal clear greenish blue water surrounded by gorgeous mountains. As you look around, you get amazing view of the snow mountains like Pandim, Kanchenjunga, Kabru and others. 
The colors in the snow keep changing as the sunlight shifts and clouds pass. Walk around the boundary of the lake and watch varieties of birds. There was a trekker's hut here which has been closed down. Camping is no longer allowed in the lake area. This is a holy lake for the Sikkimese. 
The last stretch of the route is quite steep and goes through rocky areas full of boulders. You pass by many small lakes, glaciers and glacial moraines to finally reach Chemathang. It's located in a quiet and serene area. Tents are set up here for overnight stay. 
DAY-7: Chemathang (15,748ft) to Goechala (16,404ft) and Return
Goechala Pass is about 3kms from Chemathang on a steep route. It takes about 3 hours to reach and the terrain is full of rocks and boulders. 
After the first hour as you navigate through rocky hills, you will reach a viewpoint.. this is known as Goechala Viewpoint-1 or the Sunrise Point. As you keep approaching this viewpoint, you start getting breathtaking view of Kanchenjunga which keeps coming closer and closer. You are finally standing face to face with Kanchenjunga snow peaks. 
Goechala 

Photo: Blue Dragon Adventure 
NOTE: Unfortunately from April 2017, trekkers are no longer allowed to go beyond Viewpoint-1 on Goechala Trek. This is presumably because Snow Leopards were spotted in the area beyond this point. So, you can no longer see the Goechala Pass. 
However, I suggest that you read on to know what could be experienced in the earlier years and also find out about the return trek. 
Goechala Pass is another couple of hours from Viewpoint-1. There is a second view point or the Viewpoint-2 between Viewpoint-1 and Goechala Pass from where you can see a beautiful glacial lake known as Goecha Lake from a ridge. 
The last 2-hour stretch is the most strenuous one. There is no marked trail any longer. It's a steep uphill rugged terrain through loose rocks. There are also steep descents at some places that you need to carefully negotiate. 
Then you pass through a glacial moraine, a large flat area which is like a frozen lake covered with snow and surrounded by the gigantic peaks of Kanchejunga, Kabru and Pandim. 
Dzos at Goechala 
Photo: Blue Dragon Adventure 
Once out of the moraine, you will finally start trekking along the Goechala pass itself. The snow covered pass and the mountain slopes on the sides look like skiing fields. 
As you walk along for another 20 minutes, you will finally see prayer flags and you know you have reached your destination. The majestic Kanchenjunga can't be any closer. It is interspersed with many glaciers. 
If you look back up, you will see many tiny glacial lakes that look so lovely. Often, you can even witness mini avalanche in the snow mountains surrounding you, the roaring sound of huge mass of snow & rocks rushing down the steep slopes. 
Goechala Pass 
Photo: Ashmita Trek & Tours 
Tip: Goechala weather can be very unpredictable. In no time cloud or fog can come and put a white blanket all around. And if it gets windy (which happens quite often), you can't stay on the pass for long and need to get back to your camp. 
So if you have time, budget an extra day at Chemathang so that you have a chance to try your luck one more time. 
DAY-8: Chemathang (15,748ft) - Thangsing (12,467ft)
So you are now heading back along the same route that you came by. During this stretch of the return trek, the guide usually focuses on showing you the various high altitude flora and fauna, including rare birds and Blue Sheep. 
Try to carry a binocular, because I remember when our guide showed us a Blue sheep he spotted far away near a bush, it just looked like a tiny dot from a distance. Stay at Thamsing overnight. 
DAY-9: Thangsing (12,467ft) - Dzongri (13,845ft)
This stretch is an uphill trek through rhododendron forests. It takes about five hours to reach the dzongri camp back again. This time go up to the Dzongri top (the view point) and experience the wonderful sunset over the snow mountains. Stay at Dzongri overnight. 
DAY-10: Dzongri (13,845ft) - Bakhim (9,000ft)
Take a different route this time through a village called Jamling Gaon (also known as Jamlingthang). This village is named after Jamling Norgay, the fourth son of Tenzing Norgay. Like his father, Jamling too climbed the Everest in 1996. 
It's a nice place to take a break. On the way you will pass by lovely forests of magnolia and rhododendrons. During the spring time, the flowers bloom in different colors. 
In this area itself, you can see about 10 different types of rhododendrons. The experience is further augmented by the spectacular giant magnolias and their typical fragrance. 
DAY-11: Bakhim (9,000ft) - Yuksom (5,839ft)
This is an easy four hours walk back to Yuksom. You can either decide to stay overnight at Yuksom, or if you had pre-arranged a taxi, then head back for Darjeeling or Siliguri. 
How to organize the trek
Most trekkers use a tour operator registered with Sikkim Tourism Department to organize this trek and that is the easiest way to do so, because there are many logistics involved including getting a guide, porter, yaks to carry loads, tents, and other stuffs. And Dzongri/ Goechala being protected areas, special permits are required to visit these places. 
A tour operator can arrange all this for you in advance so that you can start your trek as soon as you arrive. There are leeches on the way. 
The tour operators also provide a bamboo stick with a bag of salt tied at the bottom to help get rid of the leeches. They also provide a soap coating for the shoes that repel the leeches. They also carry basic medication and first-aids should you need that. 
But you can also go DIY and do it all by yourself if you want. You will then need to get a guide, a porter, a cook and yak to carry your loads. If you plan to start your trek from Yuksom, you will get guides and porters there as well. 
You will need to pay for guides, porters and yaks on a per day basis. You will also need to hire all other stuffs like tents, sleeping bags, stove, utensils etc. Ask your guide, he will take you to the right place and arrange all that for you. 
NOTE: Foreigners however, are not allowed to arrange the trek on their own and must book the trek through a tour operator registered with Sikkim Tourism Department.  
Although foreigners are left only with the option of a trek package through operators which is more expensive compared to self organized budget treks, I know of many cases where the self organized treks with local guides had fallen far short of expectations and local guides failing to meet minimum commitments. 
Top Trek Operators
If you want to get an operator from Yuksom itself, then
Mountain Tours & Treks
run by Mingma Lepcha has a good reputation. You can call them at +91 9679225707, +91 9641352656 or email them at
[email protected]
,
[email protected]
for inquiry and booking. 
Most registered tour operators in Gangtok too offer the Dzongri/Goechala Trek. You can get a list of well known operators in Gangtok from the last section of the page
Gangtok Sightseeing & Operators
. 
You can also organize this trek through the operators in Darjeeling. They also have Sikkim based operation or reciprocal arrangement with Sikkim based operators, and can offer you similar experiences. 
Go through
best trek operators in Darjeeling
to know about them and they can take care of all logistics during your trek including permits, guide/porters, tents, food, gears, transfers etc. 
Cost of trek
Fare updated: March 2022 
If you take a local guide and/or a porter from Yuksom (applicable for Indians only), it would cost around Rs. 1000 for a guide and Rs. 800 for a porter per day (which includes his own stay and food). 
Permit fees for Kanchenjunga National Park along with additional charges for camera and several other surcharges would come to around Rs. 1000 per person when you are in a group. 
For trek packages through an operator, the rate per person depends on your group size. Larger the group, lower will be the rate because the charges for transport, guide, yaks etc get distributed. 
If you go through a trek operator, the indicative package cost for Yuksom-Dzongri-Yuksom trek for 9 days would be around US$ 600 (or about Rs. 47,000) per person for a group of two which includes private transfers from/to Bagdogra airport or NJP station, accommodation in tents, food, all permit fees, guide/porters, equipment etc. This will be a customized trek for two. 
A similar 15-day customized Dzongri & Goechala trek would cost around US$ 1200 or about Rs. 90,000 per person for a group of two which includes private transfers, food, tent, guide, permit etc. 
However, if you want to come up to Yuksom on your own and do not mind joining a group from there, then a Dzongri-Goechala trek package from Yuksom can work out to about Rs, 15,000 per person. The trek operator will combine you with a group of about 10. 
In order to get the cheapest rates, you should form your own group of 8-10, and come up to Yuksom and take a trek package. You can then expect a rate of Rs. 14,000 per person. 
Permits for Dzongri/Goechala Trek
Here are the various permits that are required before you undertake the trek: 
1) All trekkers (Indians as well as foreigners) should obtain the Kanchenjunga National Park entry permit as this trek route goes through the national park. This permit is also locally known as Trekking Permit. This can be obtained at the forest check post while exiting the Yuksom village. 
Trekkers usually pay up the fee and obtain the permit first thing in the morning before commencing the trek and it takes only few minutes. There are additional charges for camera etc. 
2) All foreign nationals require an
ILP (Inner Line Permit)
to enter any part of Sikkim. This can be obtained from Bagdogra Airport or the Melli check post (entry point to west Sikkim). Note that Yuksom and Dzongri trek route is in West Sikkim. Read
Sikkim Permits
for detailed info. 
3) The Dzongri/Goechala trek route falls in a protected area because of nearby international borders. So all foreign nationals additionally require a Protected Area Permit (PAP) and this can only be obtained through an authorized tour operator. 
This permit is issued in Gangtok and not in Yuksom. So essentially all foreign trekkers would need to book a trek package through such operators and do not have the liberty like Indians to get a local guide, porter etc from Yuksom and proceed for the trek. 
NOTE: Sikkim government has mandated that foreigners can not travel solo in any protected area, they must be in a group of 2 or more of their own (not combining with Indians). 
Best time to trek Dzongri/Goechala
The best season is the summer which is the period between end of April until June end. Then another great time is the Autumn - mid September to October end. 
You should not attempt to trek during monsoon (end June to mid September) as stretches of the trail gets extremely slippery and muddy. Landslides and lose rocks blocking the approach roads are quite common in monsoon. 
It is very difficult and often impossible to trek in winter particularly in January/February. It snows very heavily after Dzongri and the trails become inaccessible and weather quite foul. You won't likely find any guides during such time. 
Temperature in winter can fall well below -20°C. Sometimes expeditions take place in winter with experienced mountaineering guides and I know several of them had failed. 
In Summer (May - June) the average day temperature varies between 15°C to 25°C, and night temperature between 8°C to 15°C. At Dzongri the day time temperature ranges between 7°C to 15°C and at night between 3°C to -2°C. 
In Autumn (Mid September to end October) the average day temperature varies between 13°C to 20°C, and night temperature between 2°C to 7°C. At Dzongri the day temperature ranges between 3°C to 10°C and at night between 3°C to -4°C. 
Till early May, the trail beyond the first view point at Goechala remains under snow. However by June, this part of the trail becomes fully accessible. However you will still find light snow at the high altitude areas even in Sept/Oct. 
You should be physically very fit to take this trek. As I had already mentioned before, this is a moderate to difficult trek. While prior trek experience will be very handy, it is not essential though. Altitude acclimatization is a must. Beyond Dzongri, air gets thinner and oxygen lesser. 
Related Articles
1) Check out
Darjeeling Tour Operators
to know about the best guides and operators who can arrange the Dzongri and Goechala treks from Darjeeling. 
Visitors' Reviews/Comments
Cristian (June 2023) 
Hello Raj, Thank you for creating the website. I'm researching if Sikkim is my next holiday destination and your website is the best I found so far. I have a question, are the guides mandatory on the treks? Thank you, 
Raj (darjeeling-tourism.com) June 2023 
If you are considering the Goechala trek and if you are a foreign national, then you will need to go through a registered operator to get the PAP Permits from Gangtok. 
And the operators only offer a package with a guide, so a guide will become inevitable. A guide is also necessary on this trek. Indians do not necessarily need to take a guide, but it is highly recommended for any first timer. 
Cristian (June 2023) 
Hi Raj, Thank you for the reply. Your message confirmed my assumptions. In some countries the operators offer to process the permits without requiring you to buy a package with a guide. It was my suspicion this is not the case here. Keep up the good work :) 
Alok Kamath (September 2021) 
Hi Raj, I initially started off with doing a Goechala Trek in October, but after reading your website don't think it'll be my cup of tea. Was thinking of doing the Dzongri Trek instead. I wanted to check though - after Yuksom - are there lodges/homestays (which will also provide food) in villages during the Dzongri Trek? Or do I have to carry my food via a porter in Yuksom? 
Raj (darjeeling-tourism.com) September 2021 
Hi, the lodges along the way provide basic food if you stay there, like rice, dal, eggs, Maggi noodles etc. If you plan to camp, then you should carry your food. 
Rahul Roy (July 2021) 
Dear Raj, Thank you very much for all your valuable and informative write ups about this part of the country.  We need more from you like places of Nepal, Bhutan. About my next trip i need to know the following: 
A) how to reach Yuksum from NJP as there is no direct vehicle. 
B) how to contact local guide for preparing the itinerary and their remuneration 
C) what are the staying options in Yuksum for a budget travelling group 
Please help me with your experience and kindness. We are planning the trip at mid October. Thank you. 
Raj (darjeeling-tourism.com) July 2021 
Hi, Bhutan is already covered on my website in fair detail... check the menu under 'Visit' :) 
In order to reach Yuksom from NJP, the best option is to go down to the Siliguri taxi stand (opposite the Tenzing Norgay Bus Stand). Take a shared taxi to Jorethang (you may occasionally get one directly up to Geyzing... but don't wait for that), from Jorethang you can get another shared jeep to Yuksom (by 1 pm or latest 2 pm). 
If you want to go through a local guide, then it is better to plan one extra day stay at Yuksom and organize the matter there itself... there are very few reliable and genuine local guides at Yuksom who take personal care for such treks these days... most are unreliable and act as middlemen... you might find yourselves guided by unknown persons when the trek starts. 
If you must contact a local guide in advance, you can check with Sunil Limboo (mobile: 9609734556)... however, I have received different feedbacks about him. Since you are in a group, you can always negotiate the rate with a proper local trek operator instead of going through a local guide. 
There are several stay options in Yuksom... you can call up Hotel Demazong (Phone: 097754 73687) and check out the dormitory/room rates. 
Rahul Roy (May 2021) 
Dear Raj, First of all thank you very much. Using your site's information I along with my friends have made a good number of trips in last 5 years. Now we are planning to go for a trek. I need your guidance for that purpose. 
i) we are four people, novice in trekking. Can we go for ten days long Goechala trek?  or Dzongri will be better for us? 
ii) we are planning to come there before puja. Will it be a good time to visit there. 
iii) will it be possible for us to go for DIY to cut short expenditure   
iv) can we get snow that time in Dzongri / Goechala 
Please help with your valuable words. 
Raj (darjeeling-tourism.com) May 2021 
Hello, If you haven't trekked before, then you can plan up to Dzongri. Beyond Dzongri the trail becomes quite difficult and altitude rises. If you all are physically fit enough and plan to go up to Goechala, I suggest you go on a group trek through a local operator on a per person rate, they take care of everything. Since you are already 4 persons, you can bargain a good rate. Should there be any problems on the way, they can help, including with first aids, getting rid of leeches etc. For DIY, getting a good local guide is a matter of chance, and since you all are novices, you should not take risks. October is usually a good time to trek this route. You can get some snow at the higher reaches around this time, unlikely at Dzongri. 
Vera Jelinkova (Czech Republic) March 2021 
Dear Raj, I and my partner plan to embark on the Goechala Trek on April 12, 2021. We will fly from Delhi to Bagdogra and travel directly by cab to Yuksom. We are experienced mountaineers from the Czech Republic, members of the Czech and also the Austrian Mountaineering Associations, and therefore we are organising the trek independently and on our own. 
However, we would be glad if you could shed light on some ambiguities concerning the trekking itself. As we learned from the map, there are several trekkers? huts along the way (Sachen, Bakhim, Tshoka, Phedang, Dzongri, Kokchurung, Thansing and Lamuney): 
1)  Are these open, fit for sleeping, and will we be allowed to sleep inside? If so, are there enough beds and do we need to carry our own camping mats? Do we also need to carry a heavy sleeping bag, or are there blankets or quilts? And if so, are all the above-mentioned huts facilitated this way? 
2) Are these inhabited by the locals or at high season (which April is, I believe) run by the locals? Is it possible to get warm food there? And if so, does this apply on all the huts? If not, which? Is it necessary to carry our own utensils and cooker and bring a gas cartridge? Since we are flying from Delhi to Bagdogra and as it is not allowed to carry gas cartridges aboard the aircraft, is it possible to get the cartridge somewhere in Yuksom? 
3) Since we will not have enough time between our arrival to India and our flight to Bagdogra, we want to arrange for all the permits before we depart from the Czech Republic to India. If it is impossible to arrange for all the permits from home, could you please recommend someone that can help us obtaining them? 
Thank you for your time and we look forward to hearing from you. 
Best regards, Vera & Lukas 
Raj (darjeeling-tourism.com) March 2021 
Hi Veera, all of these huts/lodges may not be open or available, particularly ones in the higher reaches, where you may not have any option other than to camp. So, one needs to carry all camping equipment, food provisions (including a gas stove if one wants to cook) and water. There are designated camping sites along the trail. You will need heavy sleeping bags... it can be extremely cold at the higher altitudes. 
There is a log hut at Sachen with only 5-6 beds, a Forest Rest House at Bakhim, a trekkers hut at Tshoka with about 20 beds and another lodge little higher up. There is a trekkers hut at Dzongri as well. These lodges and huts are run by Sikkim Tourism Department with support from the locals. Tshoka is the last village settlement along this route with about 15 families. Some of the villagers also offer their huts for overnight stays. 
You can get some basic local food at these lodges/huts like Khichri (rice and lentil mix), vegetables, Maggie noodles, tea etc. During the high season, there may not be beds available at these huts/lodges.  Although there are huts beyond Dzongri at the places you mentioned, that may only be good to get a bed if available, often they have no food or drinks. Most trekkers use the campsites and cook their own food. 
Since Dzongri/ Goechala is a protected area, Sikkim Government mandates that all foreign nationals must be in a group of minimum two persons of their own (which is okay in your case) and also must engage a registered trek operator to undertake the trek along with a guide. Foreign nationals can not do the trek on their own even with a local guide from Yuksom. The trek operator arranges for the guide, camping equipment/ lodge bookings, food, cooking arrangements, porters/yaks (if required), permits  etc (note that foreign nationals require both ILP for entry into Sikkim and Protected Area Permit to undertake the trek). 
Although all cooking arrangements including stove, gas, utensils and even camping & trekking gears can be locally rented at Yuksom, only Indian trekkers can make use of that and go for a trek along with a local guide... this is not doable for foreigners. 
As per the new Covid-19 guidelines of Sikkim Government, all travelers also need to acquire a Sikkim Travel Card and keep that updated... more info on this
Travel Card Page
. 
If you want to engage a Yuksom based operator, you can look into Mountain Tours & Treks (Yuksom). Otherwise, go through the
list of top operators in Gangtok
who can also arrange for this trek. 
Ankur Brahma (November 2020) 
Hi Raj, Thanks a lot for your support to my previous queries. Now I have two final questions, 1. Can we do the trek without a guide? And 2.Are there any conditions to get the Kanchanjuga National Park Entry Permit? Again thank you, I hope you will interact soon. 
Raj (darjeeling-tourism.com) November 2020 
Hi, earlier Indians had the option to do the Dzongri/Goechala trek without a guide, but now as per the guidelines of Forest Department, an accompanying guide is necessary for all. Kanchenjunga National Park entry permit won't be issued without a guide. In any case, one needs a guide because of the difficult terrain. 
As such, there are no conditions for the Kanchenjunga National Park entry permit. You need to produce a valid Photo Id proof such as your voter's card, pay up the fees and complete the formalities. A form needs to be filled up mentioning the name of the guide and other members of the team. 
Shane (January 2019) 
Dear Raj, I am very grateful for your response. In relation to your first response, how easy is it to find public transport from Melli to Yuksom - especially if I arrive mid-morning by bus from Darjeeling? (I am also concerned that most Indian nationals will use the border crossing at Jorethang, such that there will nor be many people to share a vehicle with to go to Yuksom or Pelling). Kind regards, 
Raj (darjeeling-tourism.com) January 2019 
There is no direct bus from Darjeeling to Melli. The best budget option is to take a shared taxi (usually a Jeep type vehicle) that leaves from Chowk Bazaar stand at the lower town of Darjeeling. From Melli you can take another shared vehicle, but you may not always get one all the way up to Pelling (you can get ones occasionally during high season... summer or autumn). So take one heading to Jorthang or Geyzing, and change to another one for Pelling/Yuksom (you will likely need to change again at Pelling). Jorthang exit is hardly used by Indian tourists because there is no public transport on that route (bus or shared vehicle)... one has to take a private car and the road too is quite bad at several stretches. 
Shane (January 2019) 
Dear Raj, Let me begin by thanking you, as others have done, for providing this resource to travellers. My questions are: 
(i) I want to travel from Darjeeling to Yuksom. What is the best way to do this as a foreigner (given that I can only enter at Rangpo or Melli)? (I don't really want to visit Gangtok, but I will if this is the only way). (Also, I can't find any information on Melli and what forms of transport might be available from there). 
(ii) From Yuksom, I would like to hike up to Bakhim or Tshoka, stay the night there and then return to Yuksom. Do I need a Restricted Area Permit for this? 
(iii) I want to travel from Yuksom to Siliguri. Can I use the Jorethang exit point? Many thanks 
Raj (darjeeling-tourism.com) January 2019 
Hi, the Rangpo check post is used for entry to Gangtok while Melli check post is for west Sikkim including Pelling, Yuksom etc. From Darjeeling you can take a car to Melli check post, get your ILP (Inner Line Permit) and continue all the way to Yuksom. Foreign nationals require a special permit (Protected Area Permit) for the trek. You can only get this through a tour operator registered with Sikkim Tourism department when you take a trek package. 
Darjeeling Trek Operators
can also offer such a package. Note that foreigners are not allowed solo on that trail (you must be in a group of 2 or more foreigners). Only Melli and Rangpo check posts can be availed by foreigners to enter/exit Sikkim. Jorethang exit point is only for Indians and is a gateway to Darjeeling. 
Sabry Ali (August 2018) 
I have recently completed the trek to Goechala and found your article very useful before the trek. On re-reading it now, it brought back memories of the awesome experience. I had earlier referred to your notes before hiking to Sandakphu- Phalut. Thank you for sharing such a well written guide! 
Poorva S (December 2014) 
Hi Raj, Our group of 5-6 people are planning to do the Goecha La trek in 2015. We were planning to do the trek in January/February 2015, but we have no idea about the climatic conditions in Sikkim at that time. Could you advise us please? 
Raj (darjeeling-tourism.com) December 2014 
You can't do Goechala trek around that time. Trail beyond Dzongri will be under snow and inaccessible, and temperature can be easily below minus-25 deg Celsius. Try it in May/June. 
Chandra Shekhar Sengupta (April 2013) 
I read your article... It is a very helpful article and full of required information. We went for Goechela trekking last week.. But unfortunately could not complete the trek. Here is my story.. 
Initially We decided to take Buddha as guide.. But he was not available.. So I took Bhagirath's number. Bhagirath is the worst guide I have ever seen in last 7 years of trekking experience.. He does not guide anymore.. He works as organizer most of the time.. Bhagirath's phone number: 7872884453.. He and his brother Deebee was the organizer of our trek to Goechela .. We gave them full advance in the beginning of the trek.. Then we realized he sent a 13 year old boy with us as a guide who does not know Hindi/English properly.. Fooding and lodging was included in the package.. But we did not get minimum facility from him..  
So we decided to come back from Dzongri.. It was a 7 days trek.. we returned in 3 days.. When we returned and asked for the refund, Bhagirath said he is not going to refund a single penny... He is a Liar, wicked guy.. We heard that he cheated so many travelers in recent years.. 
Buddha Singh is a Very honest guy... You can trust him.. My suggestion will be to stay at Yuksom for one day.. You will meet good guides and then hire them.. Anyway Taking rest just before starting trek will be a very good idea as you wont get proper resting place after Yuksom for next 7-10 days of trek..