Best places to visit in West Sikkim
Home to sacred attractions like Sikkim's first monastery… the Dubdi monastery and the holy Khecheopalri Lake…. West Sikkim holds its own in the world of tourism. West Sikkim is also known as a trekker's paradise as it has many exotic and beautiful trekking trails that attract adventure lovers from across the world. However most of the destinations in west Sikkim are emerging destinations with none of the glitz and glamour that marks Sikkim's major cities like Gangtok. West Sikkim is basically meant for enjoying the company of nature and studying the nuances of tribal life. 
Peling & Geyzing
Undoubtedly the most popular attraction of west Sikkim, Pelling stands at a height of 2150 meters. Both the Himalayan as well as Kanchenjungha range can be viewed from here. This is the base from where adventure lovers and trekkers go on treks to remote locations. Peling has a beautiful helipad with excellent views that's a major attraction. Other attractions include the Sanga Choeling monastery, Pemayangtse monastery, waterfall at Rimbi River and the rock garden. 
You can also visit the Rani Dhunga holy rock, double mouthed Kanchenjunga falls, Singshore Bridge (this is Asia's second highest suspension bridge), Chhange waterfalls (thousands of tadpoles inhabit its waters… in the monsoons they dance and almost turn the water black) and the Lake of Khecheopalri (locals do not allow even one falling leaf to spoil the beauty of this sacred lake). The land of Peling is beautiful and green and is dotted all over with numerous natural waterfalls. 
There are lots of luxury, mid-range and budget accommodation options here.  
10 km before one arrives at Pelling, there is a considerably larger town known as Geyzing (or Gyalshing). This is west Sikkim's capital and is known for the bustling Geyzing market that has been operating for over a century. Incidentally Gyalshing means the Kings garden and it refers to the Royal gardens at Rabdentse Palace. If you want to shop then the Geyzing bazaar is the best option. You will find places for worship for all religions here apart from restaurants, shops and hotels. 
Preferred time to visit: summers and autumn i.e. between March to May and September-October 
Location and Route: from Gangtok Peling is 115 km away and will take about 5 hours by cab. From Siliguri Peling is 135 km away and takes about 6 hours by taxi. Tourist attractions close by are Yuksom, Dzongri, Rinchenpong and Hee Burmiok. 
Barsey, Okhrey Village and Rhodenderon Sanctuary
Lying at an elevation of 10,000 feet... Barsey (or Varsey) is one of the lesser known destinations of west Sikkim near the Nepal Border. With its high altitude, Barsey commands awesome views of the Kanchenjungha peaks. The whole area is carpeted with luxuriant forests that are home to a lot of flora like wild hemlock, magnolia and orchids. 
The Barsey Rhodenderon Sanctuary that's nestled between the Khanchendzonga national biosphere reserve in North Sikkim and the Singalila National Park in south Sikkim is 104 sq. km large and is considered as one of the best attractions of west Sikkim… one has to visit this place during March-April to appreciate the riot of flowers here. Red Panda is also found in this sanctuary. 
It's a good idea to reach Hilley that's the nearest motorable point before Barsey. You would need to walk for 4 km through majestic pine forests before you reach the sanctuary. There is a lovely little lodge here called Gurash Kunj that's basically the only decent accommodation. The interesting thing about this place is that it acts as a nice base for adventure tourism activities like treks spanning multiple days, nature awareness programs, herb gathering adventures, rock climbing and fishing. Working in farms and gardens is another activity that is offered to visitors. 
A small village that has been making a considerable name for itself in the arena of eco-tourism is Okhrey that's situated near Barsey Rhodenderon sanctuary. You need to travel for 18 km by road via Sombaria to reach the village.  Sherpa tribes live here and they along with the Sikkim government have promoted a cultural awareness project that operates through small homestays in the village. One can go to Okhrey to appreciate the Sherpa tribal food, architecture, dresses and music and dance programs. Nature walks, mountain treks, cooking classes, musical evenings and tribal interaction programs are also offered in Okhrey. 
You can contact Mr Hissay Sherpa at either of the given numbers to arrange accommodation at Guras Kunj and Okhrey. 
Okhrey homestays +91 9800398309 
Barsey guras kunj +91 9593882002 
Preferred time to visit: summers and autumn i.e. between March to May and September-October. 
Location and Route: from Gangtok the Barsey rhodenderon sanctuary is 112 km away via NH10). From Bagdogra Airport the Barsey rhodenderon sanctuary is 120 km away via NH10 and will take about 6 hours by car. 
Dentam Valley
Dentam Valley is about 12 km away from the scenic spot of Barsey. Dentam is at an average altitude of 1,500 meters and translates to the phrase "flat terraced land". Surprisingly even at this elevation Dentam has smooth non-undulating land that has exceptional topography and great uniform views of Kanchenjungha. A carpet of rhododendrons surround Dentam and nature lovers, bird watchers congregate in this area. Lots of activities like mountain climbing and trekking happen here. 
The Alpine Gouda Cheese Factory that was established as a collaborative venture between Swiss Dairy Products and Sikkim Dairy Products is also a major attraction at Dentam. Organically ripened Gouda cheese is manufactured here along with cottage cheese/ paneer. Dentam Gouda cheese is marketed by Amul as Amul Gouda cheese outside Sikkim. Other cheese making units have also sprouted up around the original Indo Swiss venture one and the produce is mostly exported…naturally this has strengthened the local economy and created employment opportunities for the youth. 
If you want to stay at Dentam Valley, then a good option is Lali Guras Village Homestay (it offers both fooding and lodging). It is owned by renowned retired educator of Dentam Mr. Dahal who is also in the board of directors of Alpine Cheese Unit, Dentam (Mobile: 070761 89543). 
From Dentam valley tourists go on to visit the Pemayangtse monastery, Hilley and Ravangla. 
Biksthang
A little distance away from Peling lies the pretty hamlet of Biksthang that was also known as Chuchen …this means Big Lake. The Lepchas who have been inhabiting this place for ages say that this Biksthang has a wide variety of sacred stones. The area is famous for bird-watching, nature watching and is one of the richest producers of millet. Mongalbaria which is the site of the local haat is a big attraction here every Sunday as an incredible variety of locally made food, spices and crops are sold here. 
The clear visibility of Kanchenjungha peaks and the pristine meadows and woods here are the major attractions. There are no fancy hotels in this region but you will find a lot of small homestays and heritage guest houses. One such option is the Biksthang Heritage Farmhouse that has boutique luxury farmhouse style accommodation with a range of activities from horse riding, spa, gym nature walks and meditation camps. 
For staying at Biksthag Heritage Farmhouse you need to contact 
Phone. +91-8170015329 / +91-9593978750 
Once in Biksthang don't miss a visit to Lheuntse monastery, Rahu Ney Caves and the deity of the Khangchendzonga guardian god of Sikkim who guards the 5 treasures that are symbolised by peaks of Kanchendzonga, Narsing, Gabur Gangsten, Pandim and Simvo. 
Biksthang is quite near Peling… if you are visiting Peling then Biksthang can be a beautiful deviation. 
Preferred time to visit: summers and autumn i.e. between March to May and September-October. 
Location and Route: from Gangtok the Biksthang is 125 km away via NH10 and Namchi Namthang Road) and takes about 5.5 hours by car. From Bagdogra Airport Biksthang is 114km away via NH10 
Legship
Enroute to Pelling there is a picturesque and important town of Sikkim that actually acts as the gateway to West Sikkim. This place is a junction of roads that come in from Kewzing, Yuksam, Gangtok, Peling, Jorethang, Tashiding, and Gayzing (Gyalshing). 
Legship has gradually become an angling and water sports paradise. The famous temple of God Shiva is situated here besides the lovely Rangeet River. You can enjoy canoeing, boating, kayaking etc. in the waters of the Rangeet. One major attraction of Legship is its newly developed water park which has already begun drawing in a lot of tourists. Close to the Legship market is Tatto Pani that's a hot water spring with alleged beneficial medicinal properties. 
Another big attraction here is the Kirateshwar Mahadev Temple that's one of the oldest shiva temples in Sikkim (grand celebrations take place here on Bala Chaturdashi and Shiva Ratri). You can also visit the Lho Saang Pho that's 1 of the 4 important caves in Sikkim (6 km away from Legship). Legends say that Guru Rinpoche meditated here in this cave. Also don't miss visiting the beautiful Rangeet Dam here that has a catchment area of 979 sq. km and the Rangit Water World (the recreational water park well known for fishing, boating etc) that's open only from March to May (9 a.m. to 6.30 p.m.). 
Tourists usually travel to Rinchenpong and then Kaluk via Legship but Legship is a beautiful place worth visiting in its own right. 
Preferred time to visit: summers and autumn i.e. between March to May and September-October. 
Location and Route: from Gangtok Legship is 89.1 km away via NH10 and Namchi Namthang Road) and takes 4 hours by car. From Bagdogra Airport Legship is 119 km away.  
Uttarey
Tourists usually approach Uttarey from Dentum, Gezing and Peling. This small hamlet is famous for its natural beauty and tranquil atmosphere. Uttarey is flanked on all sides by Bhutan, Nepal, West Bengal and Tibet and lies on the north slope of the Singalila range. This is a small satellite township that's filled with small and interesting treks apart from a profusion of Rhodenderons.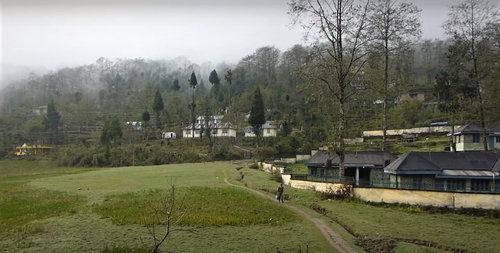 There is a trout fishing farm near Uttarey at Chitrey that attracts a lot of anglers and fishers. It is about 1km away from Uttarey and is called Uttarey Trout Hatching Center (maintained by Fishery Department Sikkim). You can see the process of rearing, feeding and breeding trout fish here as well as purchase fresh fish and fish products from the center. 
If you have a philanthropic bend of mind then you can visit Bandukey village which is a few km away from Uttarey at Manekamp. There is an institution here that works for the underprivileged sections of the society and promotes education, sustainable livelihood…. tourists frequently participate and contribute to their programs. 
Trekkers can trek to Chitrey and then to Chiyabhanjan to top of Singalila from Uttarey. Alternatively trekkers can opt for the challenging Photkey Dhara trek to watch the sunrise over Mt Kanchenjungha (this is a 5 day trek). Adventure enthusiasts can go up to Hilley and Barsey and to the Mainbus Waterfalls. 
The Uttarey valley is full of flowers and has become an upcoming hub of eco-tourism. If one travels 5 km uphill from the Uttarey village then one can reach the Tenzing Hillary Park… this is actually an ideal spot for nature lovers. It's interesting to see the landscaped gardens, rock formations, gigantic statues of the climbers Tenzing and Hillary and amazing variety of flora here. The lovely Simphok Khola River flows nearby and there are many beds of herbal plants that have medicinal value. The Mainebass Waterfalls and Kagyu Gumpha are other attractions of Uttarey. 
If you want to stay at Uttarey then finding a nice homestay is the best option. The Sikkim Sherpa homestay is amongst the most popular homestays here. The owners also manage a tour and trek company called Sherpa Treks. 
Phone: 09733010501 (You can check out their activities and other details on their Facebook page) 
Preferred time to visit: this is an all season destination. March- April is however the best season for seeing rhodenderons while winters are best for trout fishing and treks. 
Location and Route: from Gangtok Uttarey is 140 km away and from Siliguri Uttarey is 150 km away. From Bagdogra Airport the Uttarey is 160 km away. Nearby destinations are peling, Kaluk, Dentam Valley, Hee Bermiok etc 
Dzongri Trek and Yuksom Village
Dzongri stands at an altitude of 4200 meter and is now regarded as one of the best trekking destinations of Sikkim…some even go as far to say that it's the best trekking destination of India. There are strings of milky white peaks all around Dzongri and the sight is enough to keep one mesmerised. It is said that one can see 14 separate peaks from Dzongri. 
Snowfall is abundant here during the winters and the temperature dips below zero to random points of the year. Dzongri is only recommended for avid and experienced trekkers…you need to be fit before you can attempt to trek in these parts. 
The Dzongri trek actually starts at Yuksom that is 6 hours away from NJP…Yuksom represents the end of the motorable road. 
Yuksom is a sleepy town filled with abundant greenery and flanked by luscious forests. Yuksom is where you will find relatively nice hotels, restaurants, travel agencies, shops etc to prepare and rejuvenate yourself for the Dzongri trek. This is the site of the Kanchenjungha National Park…there are beautiful treks and tours available inside the park and lodging has to be pre-arranged in the facilities provided by the Range Office. 
From Yuksom, trekkers to Dzongri proceed to Bakhim that is 16 km away…there are trekker's huts here. From Bakhim the next stop is Tshoka that's great for watching the sunrise at Mt Pandim. The next stop is Thansing that's a day's trek away…this is the base camp for Mt Pandim. Some prefer to go further to Samitii which contains a lovely lake that catches the reflection of Mt Pandim in its waters. 
Dzongri peak that's the ultimate destination stands at a stunning altitude of 4000 meters. The Dzongri trek can only be accomplished after association with a trek operator. One has to register at the local police station in Yuksom and obtain permits (this can be arranged by a tour operator). 
If you don't want to proceed to Dzongri then you can visit the Dubdi monastery that's about 1.5 km away from Yuksom village…on the way you will pass by cardamom plantations and oak rhodenderon filled woods. There is a holy lake called Kathog near the monastery. Another important attraction in Yuksom which was incidentally the first capital of Sikkim is the coronation throne of Norbugang. 
Yuksom has some nice hotels and homestays and most tourists who want to go trekking on the Dzongri trail opt for one of these. 
Limboo Homestay in Yuksom can provide a nice off beat cultural immersion episode with the Limboo community of west Sikkim and adventure experience. There are several activities on offer here right from star gazing to organic farming to cooking to interpretive walks, yak riding, birding etc. 
You can reach the Limboo Homestay by contacting: 
(+91) 973-308-4983  
(+91) 973-510-6236  
Preferred time to visit: March- April is the best season for Dzongri trek while September to October are best for trekkers who can bear the cold. 
Location and Route: From Pelling the distance to Yuksom is 40kms and takes about 1 hour 40 minutes by car. 
Rinchenpong and Kaluk
Rinchenpong has abundant natural beauty and the views of Mount Kanchenjungha are excellent from here. One can also view the majestic Mount Narsing from here.. there is a ridge that connects Kaluk to Rinchenpong and this has great viewing potential. The ridge extends to Bermiok, Dentam, Hee and Uttarey. Many tourists are fond of planning whole day trips to the Ridge to avail its entire set of attractions. 
Rinchenpong has many lovely attractions like the 18th century Rishum monastery (the 3rd oldest monastery in Sikkim) and another monastery which stands at the end of a lovely forest trail. There is a park dedicated to Rabindranath Tagore here. The Poison Lake, ruins of ancient British Bungalow etc. are other unique attractions of Rinchenpong. 
Kaluk village is just a few km away from Rinchenpong and they are usually visited by tourists at one shot when they visit this region. The Gurung Monastery, Lepcha Heritage House and the stunning mountain views from almost every direction are the principal attraction of this area. You can go rafting at Teesta River and explore the Chinese bazaar that occasionally gathers on its banks. The Kaluk bazaar sits only on Thursday afternoons and the villagers sell everything from vegetables to clothes to electronic goods from both sides of the roads, their porches and sometimes even their own balconies while doing other household work. This is a unique experience and the bazaar actually has the look and feel of a fair. 
Between Rinchenpong and Kaluk, the latter has better hotels and is more commercially developed. Incidentally Kaluk is considered to be one of the windiest places in Sikkim. 
Preferred time to visit: summers and autumn and even winters are great for visiting Kaluk. However this area is slippery and treacherous in monsoons. 
Location and Route: from Siliguri Kaluk is just 99 km away From Bagdogra Airport Kaluk is 125km away. 
Hee Bermiok
Hee Bermiok refers to a couple of villages in west Sikkim that has gained a lot of prominence in the last couple of years. This cluster is close to the Kaluk Rinchenpong zone. These villages are flanked by the Hee River to the west, Rangit River to the east, Kalez River to the north and Samdong forest reserve in the south. Exotic variety of flora and fauna are the hallmark of Hee Bermiok. 
Some lovely attractions of Hee Bermiok are Srijunga waterfalls that's about an hour's walk away from the bazaar of Bermiok. The sacred Srijunga cave is also nearby…locals refer to it as Srijunga Phuku. The nearby villages of Martam and Phadugra are also considered to be quaint showcases of rural tribal life. The lovely Chaya Taal Lake is near the Hee village and here you can avail facilities for boating and bird feeding. There is a water park here with swimming pools and slides and there is a huge prayer wheel. Tourists who come to Hee Bermiok usually opt for mountain biking, nature walks, tribal interaction experiences and treks. 
The accommodation options here are mostly homestays though there are a couple of hotels around too. A popular homestay is the Dhungay homestay that offers many activities and experiences. You can contact them at 
Phone 97332-69413, 919593776391 
Preferred time to visit: summers in the month of May is when the Tourist Festival happens…this is organised by the heritage conservation society. Otherwise Hee Bermiok is an all season destination. 
Location and Route: from Gangtok the Hee Bermiok cluster can be reached in 4.5 hours…the distance s 106 km via NH10). From Bagdogra Airport the villages are about 129 km away. 
Related Articles
Visitors' Reviews/Comments
Baishali Das (August 2022) 
Hi, I always go through your site before any of my north Bengal visit.  Thanks to you for some much nice and helpful information and your guidance. Recently I am planning to visit Uttarey in Sikkim.  If you can help me with any good stay property over there it will be very grateful of you.. thank u Raj. 
Raj (darjeeling-tourism.com) August 2022 
Hi, there are several homestays in Uttarey. Sikkim Sherpa Homestay (phone: 09733010501) is one of the most popular ones there. It's located near the Police Check Post (one minute walk from the main road). 
Sagar Sengupta (March 2021) 
Dear Sir, Want to know whether a day visit to Yuksom from Kaluk is possible. Is there any scope for jeep Safari inside Kanchenjunga National Park? If so can we opt for that from Yuksom? We will be in Kaluk in the first week of April 2021. We will also vist Barsey Rhododendron Sanctuary. 
We had been to Pelling before. Is there any other spot we could visit. Our brief itinerary: 
Hee Patal - 1 night 
Kaluk -2 nights 
Okhrey - 2 nights. 
We have booked our accommodation likewise. Waiting for your suggestions. 
Raj (darjeeling-tourism.com) March 2021 
Hello, it is possible to make a day trip from Kaluk to Yuksom.... start early. The route will pass through Pelling and the road condition up to Pelling is not great... can easily take 3 hours each way. Along the way, there are several attractions like Rimbi waterfalls, Rimbi Orange Gardens, Kheciperi lake, Kanchenjunga falls etc. There are no jeep safaris in Kanchenjunga National Park... trekking takes place and the
trek route goes through Bakhim, Dzongri, Goechala
etc.... takes several days. Your itinerary is otherwise okay. 
Subhajit Dasgupta (February 2019) 
Hi Raj, your website has been very informative one. Thanks for the same. I am planning to visit Sikkim Chayatal (3 PAX) between 9 mar19 and 13 mar 19 for 2 N/3D s. Can you provide me some details of accommodation there. How is Chayatal Nature resort and Chayatal Heritage Home? Many thanks in advance. 
Raj (darjeeling-tourism.com) February 2019 
Hi, Nature Hilltop Resort is quite nice and located on top of a hill. Nice & well appointed cottages, good homely food and great hospitality. Chayatal Heritage Home is quite basic and a budget accommodation, but overall ok if you want a budget stay. It can be quite cold in mid-March. None of the above lodgings usually provide room heaters, so check with them before you go.