How to reach Gangtok & Sikkim
Routes, Transports & Fares
NJP (New Jalpaiguri) is the major railway junction closest to Gangtok or rest of Sikkim. There are many trains from all over India passing through and some terminating at NJP. Most tourists avail trains and get off at NJP to reach Gangtok. NJP is at a distance of 124kms from Gangtok. At NJP plenty of private taxis and shared Jeeps are available, and it takes about 4.5 hours to reach Gangtok. 
Bagdogra
is the nearest airport for Gangtok and has frequent daily air connections with several cities of India and even with some neighboring foreign countries like Bhutan. NOTE: A new airport at Pakyong (about 35kms from Gangtok) is scheduled to be operational in 2018. 
Bagdogra is at a distance of 126kms from Gangtok. Private taxis are available from Bagdogra airport. It takes about 4.5 hours to reach Gangtok from Bagdogra by road. There is also a helicopter service available between Bagdogra and Gangtok (takes 35 minutes one way). 
Siliguri is a township close to NJP (8kms) and 114kms from Gangtok. Other than private and shared taxis, public bus service is also available between Siliguri and Gangtok. 
Routes to Gangtok & Rest of Sikkim 
The road routes from Bagdogra, NJP and Siliguri all meet the Sevoke Road which leads to the National Highway NH31A (now NH10). The route passes through the Teesta area and then goes all the way to Gangtok. For a long part of the drive, you will see the beautiful River Teesta flowing alongside. Gangtok also has a helipad close to the town. There is daily helicopter service between Bagdogra and Gangtok. 
Routes to Gangtok, Sikkim and Kalimpong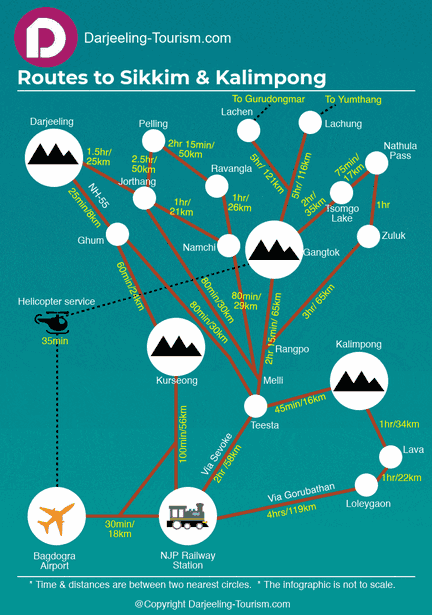 Click the picture to view in full size 
Note that the area along NH31A all the way up to the bordering town of Rangpo is part of the state of West Bengal. Rangpo is from where the East Sikkim starts. Gangtok is about further 25kms from Rangpo. All commercial vehicles that are not registered in Sikkim will need to stop at Rangpo check post and take a permit. Usually it takes only a few minutes. 
Darjeeling hill town is 98kms from Gangtok. You will get private taxis as well as shared Jeeps from the taxi stands at Chowk Bazaar and Gandhi Road.. It takes about 4 hours to reach Gangtok from Darjeeling. The route is initially via Ghoom/Jore Bunglow, then along Peshok road down to Teesta Bridge where it meets NH31A. Up to Teesta, the road goes down hill and from there on uphill via Melli and then Rangpo which is the entry point of East Sikkim. 
Private Taxis to Gangtok 
Prepaid taxi counters are available at both Bagdogra airport (next to the arrival hall exit) and NJP station (opposite the station entrance). Prepaid taxis are run by taxi syndicate and have fixed rates. Taxis are either small private cars (that can take up to 4 persons) like Santros, Altos, WagonR etc, or bigger vehicles (for up to 7 persons) like Innova, Scorpio, Xylo etc. Private taxis are also available from Siliguri, Darjeeling and Kalimpong stands. 
NOTE: If you take a private or a shared taxi with West Bengal state registration, then they will drop you at the Deorali taxi stand near Gangtok which is about 2kms below the town center. This is due to restrictions in Gangtok for non-state vehicles. From Deorali stand you will need to take a local Sikkim taxi to reach your hotel (they will charge some Rs. 200 - 300 depending on the distance). 
So it's always advisable to look for a Sikkim registered vehicle (you can usually get them at NJP or Bagdogra, those who came to drop their clients and wait for return customers). This will help avoid the hassles of transferring your luggage to a local taxi at Deorali stand and also pay an additional amount. The prepaid counters will usually give you a West Bengal state registered taxi because both Bagdogra and NJP are in West Bengal, so West Bengal taxis get the preference. However you can go out and find a Sikkim taxi directly. 
Indicative private Taxi fares (Fare updated: January 2018) 
Bagdogra to Gangtok: Rs. 2800 small taxi, Rs. 3300 large taxi. 
NJP to Gangtok: Rs. 2700 small taxi, Rs. 3200 large taxi. 
Darjeeling to Gangtok: Rs. 2700 small taxi, Rs. 3000 large taxi. 
Kalimpong to Gangtok: Rs. 2500 small taxi, Rs. 2900 large taxi. 
NOTE: While returning from Gangtok to NJP, Bagdogra etc, expect the return fare to be higher than the forward fare as the taxi has to often go back empty. 
Shared Jeeps or Taxis to Gangtok 
Shared Jeeps usually take about 10 persons on a per person rate. The luggage is put on the roof. But they usually cover it with a plastic sheet during monsoon. You can reserve more than one seats for yourself if you so wish and make it a more comfortable ride. Note that people will be hopping on and off the shared jeep along the way as many locals travel for shorter distances. 
Shared Jeeps are available from NJP station, Siliguri stand, Darjeeling and Kalimpong to reach Gangtok. You won't get them at Bagdogra airport. 
Indicative shared jeep fares (Fare updated: January 2018) 
NJP to Gangtok: Rs. 200 per person 
Siliguri to Gangtok: Rs. 200 per person 
Darjeeling to Gangtok: Rs. 175 per person 
Kalimpong to Gangtok: Rs. 150 per person 
Bus services to Gangtok 
Bus service is available between Siliguri and Gangtok. Sikkim Nationalized Transport (SNT) operates Sikkim state run buses from its bus terminal at Siliguri (close to the Tenzing Norgay Central Bus Terminal on Hill Cart Road). From NJP you can take an Auto Rickshaw and reach the bus terminus in about 10-15 minutes. Note that the buses will also drop you at the Deorali stand near Gangtok which is about 2kms from the town center. From there you will need to take a local taxi to reach your hotel. 
Contact info for bus schedule: 
Sikkim Nationalised Transport: (0353) 2517528, 2511496, 2432751 
Indicative bus fare (Updated January 2016) 
Siliguri to Gangtok: Rs. 150 per person. 
Helicopter Service between Bagdogra and Gangtok 
If you want to avoid the 4.5 hours drive through the winding mountain road and like to reach Gangtok without wasting much time, you can take the daily
Helicopter Service
between Bagdogra airport and Gangtok. There are two daily trips (subject to weather condition) which take about 35 minutes one way. 
The helicopter has a capacity of 5 persons, but one seat is kept blocked for VIP/Emergency until 24 hours prior to the flight and then released if there is no such demand. So if your booking happens to include the emergency seat, they will keep you waitlisted, won't take any booking charge and call you back to confirm or reject the booking a day before your departure. If rejected your only option would be to take a taxi. 
One restriction in helicopter ride is you can not carry more than 10kgs luggage per person and there is no hand baggage allowed (other than laptop and purse). The two services (one in the morning and the other in the afternoon) ensure that you won't have much wait time when you arrive at the Bagdogra airport. Once you reach the helipad in Gangtok, you will need to take a taxi to reach your hotel. 
Related Articles 
Visitors' Reviews/Comments 
Sujoy Kumar Batabyal (July 2018) 
Hi Raj, We will visit to Gangtok on 20th October 2018. we are six adults, one ten years and two Four Years child from NJP to Gangtok. So we are planing to hire a Innova 7+1 seater from Gantok only. Some tour operators are telling that for 7 person will not be allowed by police in Innova/Xylo. Can I know the reason behind this rule. What other options are left for us. Thanks. 
Raj (darjeeling-tourism.com) July 2018 
Hi, there are six adults and three children in your group plus the driver plus luggage. That would clearly overload a vehicle of that type and jeopardize safety. I would be surprised if any tour operator agrees to such load. Police too may not allow. You should take two smaller vehicles instead of trying to save money in that manner. 
Sunil (April 2018) 
Hi Raj, your information about Sikkim is valuable. Can you help me in deciding what route shall I take from NJP to visit places at Namchi and Gangtok, in such a way to take a circular route? 
Raj (darjeeling-tourism.com) April 2018 
To take a full circular route you need to approach Namchi via Darjeeling, and that will be a long detour. Practically you can take this route: NJP - Sevoke road - Melli - Namchi - Temi Tea Gardens - Singtam - Ranipool - Gangtok - Rangpo - Sevoke - NJP 
Karan Raj Singh (May 2016) 
Hi Raj, Can I enter Gangtok and Darjeeling in a Bihar registered SUV and use it for local sightseeing please? I'll be landing at Bagdogra from Delhi and my friend who lives near Bengal Bihar border area has a private Inova that he also uses for commercial hire purposes. Our (we are 7 people) plan is to drive from Bagdogra to Gangtok, stay there for 3 days and then come to Darjeeling and stay there for 2 days before coming back to Bagdogra. But reading in your blog that West Bengal registered vehicles are not allowed after Deorali checkpoint in Gangtok, I am concerned that we too may not be able to use our Bihar registered vehicle to reach the hotels (provided there is parking) and use it for local sightseeing? Is there any restrictions on entering Darjeeling in a Bihar registered vehicle too? We are planning to book Darjeeling tourist lodge as it has parking space. It'll be very helpful if you could kindly share any information on this. Also, if we are to face any entry restrictions, is there any secured parking space near Deorali checkpoint or in Darjeeling (if above scenario is true), so we can park our car there and use local taxis for hotel transfers and sightseeing? Regards. 
Raj (darjeeling-tourism.com) May 2016 
Hi, if you use a car with Bihar commercial registration (similar to yellow plated car of WB), then you are likely to be intercepted by the taxi association at both places. It won't be allowed. If you use a car with private registration, there is no problem. The idea is simple... they don't want the taxi business to go elsewhere irrespective of where the car is from. And no, there are no such secured parking areas at Deorali or entry to Darjeeling. 
Amit Sen (March 2016) 
Dear Sir, Me (61yrs) and my wife (57yrs) have planned to visit Darjeeling and Gangtok between 27.03.2016 and 02.04.2016. Darjeeling for 3 days and Gangtok for 4 days. I would request you to kindly advise 1. our return flight is on 03.04.2016 @3pm from Bagdogra, then at what time we should check out from Gangtok. 2. will it be comfortable to travel by Bus from Gangtok to Siliguri. 
Raj (darjeeling-tourism.com) March 2016 
It can easily take over 4 hours from Gangtok to Bagdogra, plus often road work goes on along the way near Kalijhora which results in hours of traffic jam. So ask the hotel depending on the situation. You should start early (ideally by 7am and cross the traffic prone zone). Bus won't be right if you have such time constraints. If you came down a day earlier, then bus would be okay.  
P Jain (December 2015) 
Sir I was planning to visit Gangtok by my friends car. I want to know is it possible to do sightseeing in Gangtok and visit Nathula by my friends car. A driver would drive the car and the owner of the would not be with us. Please tell what all papers is required. And if car is not allowed in the city where i will have to keep the car for 2 days. 
Raj (darjeeling-tourism.com) December 2015 
Private (not a commercial) car is allowed in Gangtok, but note that vehicles are not allowed in areas like MG Marg in Gangtok. Also you can not take your own car to Nathula, Tsomgo etc, these are restricted areas and vehicles only from operators registered with Sikkim Tourism are allowed. You should choose a hotel in Gangtok with parking facility. 
Paramvir Singh (August 2014) 
I'm coming to Bagdogra in September. I am going to Gangtok first. I want to know that can I book the prepaid taxi when I reach there or I have to pre book a cab and should I get the cab of Sikkim number plate from prepaid counter. I want to know the fare from bagdogra to gangtok for a small car 
Raj (darjeeling-tourism.com) August 2014 
You can book and avail a pre-paid taxi at Bagdogra airport on arrival. The pre-paid counter usually allocates only a local taxi which can take you up to the Deorali stand (2kms from Gangtok town) where you will need to transfer to a local Sikkim taxi to reach your hotel. Small taxi pre-paid fare from Bagdogra to Gangtok is roughly Rs. 2,500/- 
Parmjit Singh (September 2014) 
This is in response to Paramvir. Today I reached Bagdogra airport pre paid taxi counter and took a taxi for Kalimpong. Only a small taxi was available for Rs.1563/. I was surprised when my taxi wala asked me to follow him to outside stand & he put my luggage in a Xylo & requested me to go with that driver. 1st driver paid Rs. 1000/ to xylo Driver & made a quick money. This same story one of friends had already mentioned on FB but I couldn't believe that it happens with me . So Mr.  Paramvir you can also try this... come out  from airport  & you will find taxis standing outside parking & you might be lucky to get Sikkim no. taxi at 60-70% price.  God bless you and enjoy your trip. 
R. Singh (March 2014) 
Hi Raj, Great thanks for the good work you are doing. Your blogs are extremely informative, covering a great range of detail and hence probably the best blog available on the web for the region. 
I am planning to travel to Gangtok as well as Darjeeling in a friend's car (as he has a 7 seater) from Bagdogra. I read somewhere that only the vehicles having Sikkim Number plates are allowed for local sightseeing as well as traveling across the state of Sikkim. My car will be a West Bengal registered vehicle. As I am staying for 2 nights in Gangtok, am I allowed to bring this car into the city, park at the hotel (probably on Tibet Road) and use this for local sightseeing? I have the same query for Darjeeling as well. Also, how is the weather generally during mid March there? Kind regards, 
Raj (darjeeling-tourism.com) March 2014 
Hi, In Gangtok the vehicle restriction applies only to commercial vehicles like a taxi. The issue is with the local taxi association in Gangtok who claim that tourists bring taxis from Darjeeling, do local sightseeing in Gangtok and depart. Therefore the local taxi drivers in Gangtok get deprived.  Darjeeling also allows only drop from Sikkim and not local sightseeing by Sikkim taxi. But if you have a private car, there is no problem in any of these two places. You can take it to your hotel in Gangtok and park there (at the hotel's parking), and also use it for local sightseeing. You can do the same in Darjeeling. Weather is quite pleasant now during the day time. You will need a jacket in the evenings. Regards, 
Rajesh Gupta (December 2013) 
Hi Raj, How is the road condition from Bagdogra/NJP to Gangtok? Is it bearable? 
Raj (darjeeling-tourism.com) December 2013 
Unfortunately, much part of the road is quite bad at present. From Bagdogra or NJP, initially the road is good up to Teesta. However from there about 40% of the road is quite bad and bumpy, and full of potholes. About 2 hours before Gangtok, there is road widening and constructions taking place. As a result they often block one side of the motor traffic while allowing the other. This sometimes results in massive traffic jam. If one is unlucky, one may get stuck there for an hour. So while returning from Gangtok, keep at least 2-3 hours of cushion. From Rangpo onwards (i.e. after you enter Sikkim), the road is better, although patchy at places.