Kalimpong Attractions
Many tourists have the impression that Kalimpong is small and there is nothing much to see and do there. And therefore tend to spend little time in this lovely hill town. Most are unaware that Kalimpong other than being a town is also a district and is quite vast. 
There are numerous tourist places, attractions and activities in and around Kalimpong. You will change your mind and plan for a longer stay in Kalimpong when you go through the section below. 
There are so many lovely view points offering sweeping views of Kanchenjunga & Chola range as well as of river Teesta flowing between the towering mountains, great monasteries with awesome architectures, quaint temples, sprawling tourist complexes, numerous flower nurseries, parklands, famous missionary schools and more. 
In fact some can easily argue, and I can somewhat agree that there are more vantage points in Kalimpong than Darjeeling town to get views of Kanchenjunga snow peaks. There are some stretches in Kalimpong where such views will be on your direct eyesight for a long time as you drive along. 
The easiest way to visit the tourist places would be to take a taxi from the stand. You can shortlist places that you want to visit. All taxi drivers however offer standard local sightseeing tours covering the major attractions. You can also go through a local tour operator (there are many in the town). 
Monasteries & Temples
Durpin Monastery 
Also known as Zang Dhok Palri Monastery, it's located at the Durpin Dara Hill. As you enter the monastery, the first thing you will notice are the two large cylinders on two sides (each about some 10-ft high). You can turn the cylinders by a crank, and a lever is so arranged that a bell will ring at every turn. As common with most Buddhist monasteries, outside on the wall you will see a row of prayer wheels. Durpin monastery was constructed in 1972 by Hon. Dudjum Rinponche. 
There are rare Buddhist manuscripts on Tibetology inside called "The Kangyur" of 108 volumes. These were presented by Dalai Lama when he visited Kalimpong in 1956. He brought them from Tibet. Some idols inside were also brought from Tibet. Dalali Lama revisited Kalimpong on 29th May 1976 when he consecrated at Durpin Monastery. 
Durpin Monastery, Kalimpong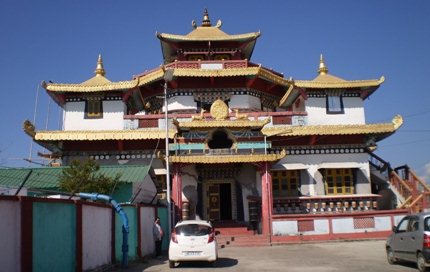 A stairway from the side leads up to the top of the monastery. Go right on top to the second floor having an open terrace. From here you get marvelous view of Kalimpong town with Kanchenjunga in the background, rolling tea gardens, Peshoke road, as well as the awesome views of Teesta and Reang rivers. Admission to the monastery is free. 
There are two other Tibetan monasteries in Kalimpong... Tharpa Choling Monastery is located on the way to Graham's Home. It follows the yellow hat sect. It was built in 1937 and has many old Buddhist scripts. Thongsa Gompa, another monastery is located nearby. It's also known as Bhutan Monastery and the oldest in Kalimpong. It was built in 1692. If you are lucky, you can walk through sea of pigeons who often feed on the open field in front of the monastery. There are no entry fees to any monastery in Kalimpong. Entry to these monasteries are free. 
Thongsa Gompa, Kalimpong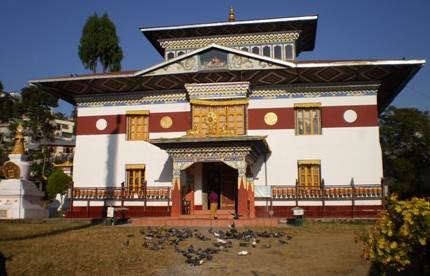 See the pigeons in the open space in front 
Mangal Dham 
This is one of the most beautiful temples in India and one of the best in Kalimpong. It spans over a sprawling 2 acres area and located close to Thongsa Gompa. In 1940 Guruji Shri Mangal Dasji Maharaj visited Kalimpong. The visit had a profound impact on him. 
He decided to realize his divine dreams of serving the poor and needy in Kalimpong, dedicated his life to social welfare, and created orphanages, schools and temples. Mangal Dham was essentially built in his memory. The whole theme of the dham is ... Knowledge, Devotion and Service. 
Mangal Dham, Kalimpong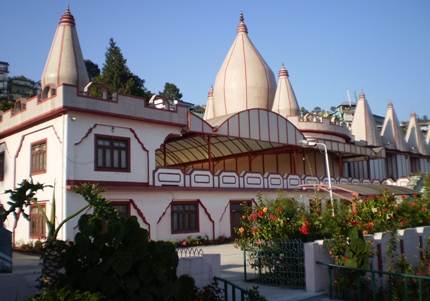 The samadhi of Guruji lies in the ground floor. The prayer hall is in on the top floor where you can see the idol of Raj Shyamaji. On his two sides are Guruji Mangal Dasji and Rev. Prannath. On the walls you will see many paintings and diorama depicting various scenes from Krishna leela. 
The ambience in the dham is serene. You can walk across to various parts of the dham. Walk into the office room at the ground floor and collect a leaflet that narrates the story of the Dham, background and its activities. It is written in both Hindi and English. At the end of the road that goes by the dham, there is a red building which is used to accommodate special guests and invitees of the dham. Entry to Mangal Dham is free. 
Hanuman Temple 
The temple is located in Deolo hills, just after the Durga Mandir and about 8kms from Kalimpong town center. You can see the huge 30-ft tall statue of lord Hanuman from the road itself. You will need to climb several flights of stairs to reach up to the temple which is at a significant elevation and quite a long way up. The temple was inaugurated in 2004 by his holiness Karma Wangchuk. This is the largest statue in the whole of North East India. Entry is free. 
Hanuman Temple Kalimpong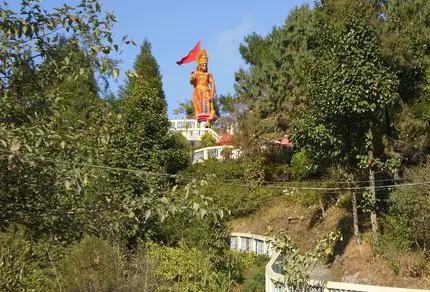 Durga Mandir  
This is a Hindu temple located near the Hanuman temple, just several yards away along the road. Few steps above the road level there is a lovely manicured garden with the temple at the end. Other than offering prayers, it's a nice place to relax and stroll around. There is also a viewing gallery here. There is no entry fee and all are welcome.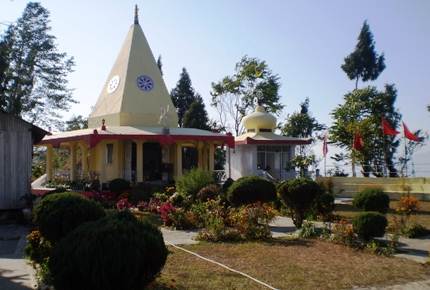 Dharmodaya Vihar 
This is the residence of Nepali Buddhist monks and there is a Buddhist temple here. It's located at the outskirts of Kalimpong on Rishi road (actually on Jangalri Sapkota road). Although most Nepalese are Hindu, some Buddhist monks left Nepal during Rana's rule (i.e. before Nepal's independence) because Buddhism was thwarted in Nepal those days. They came to India and formed a Buddhist association called Dharmodaya Sabha. In 1952, the association bought a house with a land in Kalimpong where their present office is located.  
There is a library and a reading room here which contains many books on languages like Pali, Sanskrit, Nepali, Hindi, English etc. In the temple you will see an idol of Lord Buddha which was presented to the sabha by the Burmese Buddhist monks. The association has opened a school Dharmodaya Academy here. Over the years many renowned Buddhist scholars had made Dharmodaya Vihar as their homes. Many dignitaries had visited the place in the past including Dalai Lama. 
Kali Bari 
Kali Bari is a temple of Kali deity and is about 2kms from Kalimpong town center. A paved stairway from the side of the road leads to the temple at an elevation. There is a huge idol of goddess Kali here. An open terrace has seats of concrete and offers nice view of Kalimpong town. Entry free.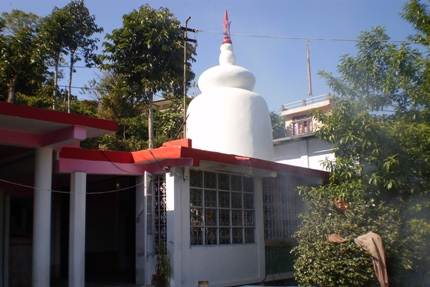 Parks, Gardens & View Points
Delo Park 
This is a marvelous 8-acre parkland with wonderful view points, sprawling gardens with many flowering plants, and pathways to soak in the charm. It's located on top of Deolo Hill (also known as Dello Hill) at the highest point of Kalimpong municipality at an altitude of about 5,500 ft and 8kms from the town. Actually Kalimpong town is tucked between Deolo Hill and Durpin Hill. 
This parkland on Deolo Hill is maintained by GTA which also runs a tourist lodge here with a multi cuisine restaurant. The lodge has many spacious and well furnished rooms with great views. You can book rooms through Gorkha Bhavan, at Salt Lake, Kolkata. 
Delo Tourist Lodge, Kalimpong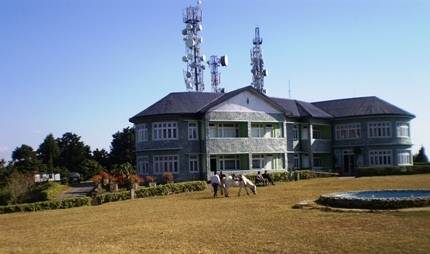 Day visitors are also welcome at Delo Park. In fact this is the main point in a local day sightseeing package offered by tour operators and taxi drivers. While guests staying at the lodge have free access, for day visitors there is an entry fee of Rs. 30/- per person. Non-guest tourist vehicles are not allowed beyond the entry gate (however, if you intend to take lunch at the GTA lodge, you can mention that at the counter and you can take your car right up to the lodge after buying a ticket for the vehicle). However lodge guests can take their car right up to the lodge for free. 
Another view of Delo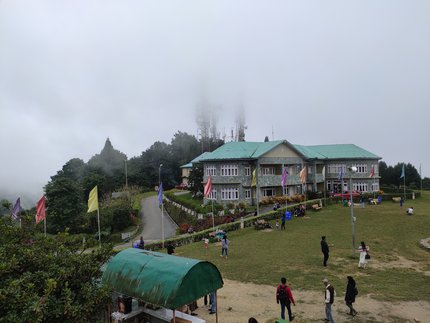 The walk from the main gate to the lodge at the top is quite steep, but enjoyable. Outside the gate many stalls and eateries have sprung up. The outside area can get extremely crowded with large number of vehicles choking the place. Try out masala muri or phuchka outside the gate. The phuchkawala uses spring water, so there should not be any health issue. Tastes good. 
There are several viewing areas in Delo with shaded gazebos and seats. It's probably the best place in Kalimpong to get a view of Kanchenjunga range towards north beyond the hills of Sikkim. You can also get lovely views of Kalimpong town, Relli valley and the Teesta river from the view points here. 
View of Teesta River from Delo, Kalimpong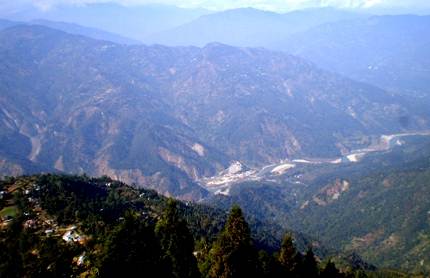 Children can take horse rides here around the compound. Overall a great place for day's family picnic or even vacation stay for couple of nights at the lodge. However, since this place gets quite crowded with day tourists, the privacy of the lodge guests could be heavily compromised. 
Kids riding horse at Delo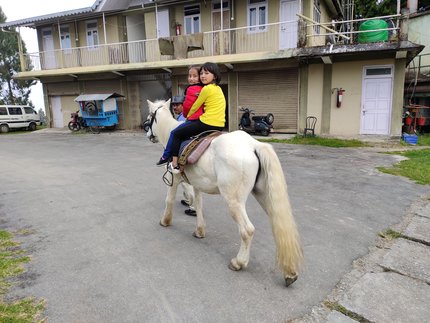 You can get around Delo Park and its surrounding area by a battery operated cart which has been introduced by GTA. Depending on the total distance, which is usually within 10 to 15kms, the cost can be Rs. 50 to 100 per person. Each cart can accommodate up to 8 persons. The cart is available at the Dello compound. Update 2019: Carts are no longer in operation. 
Durpin Dara Hill 
This is the second highest mountain in the area and located south of Kalimpong town. The word 'Durpin' in Nepli means binocular and you can guess why such a name - great views of course. This is where the famous Durpin Monastery is located. You get magnificent views of Kanchenjunga and the entire mountain range, rivers Teesta and Rangeet flowing below, neighboring areas like Peshoke tea estate, Takdah cantonment, western Sikkim, Nathu-la, Tiger hill top, Kurseong, Siliguri etc. 
View of Kalimpong Town from Durpin Hill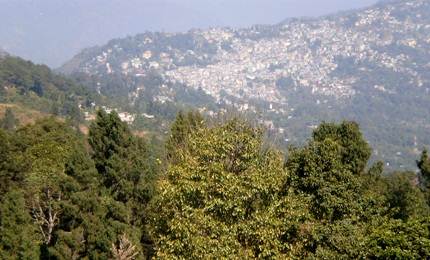 Jelepla View Point 
It's only few minutes drive from the Army Golf Course (usually visited after Durpin Monastery). It was built by the Indian army. Although the access and the viewing area itself is not quite impressive, the view from here is awesome. You will need to walk up along a narrow uphill stony stairway (not too many steps though) to reach up to the point where there is a wire-fenced area... not at all well maintained since many years and looks unimpressive. The wire fence is to protect from any accident. It's a huge steep fall into a deep gorge from here. But most tourists bypass the fenced area and walk along the narrow pathway around it to get to a clear area where you get unhindered view. 
Jelepla View Point, Kalimpong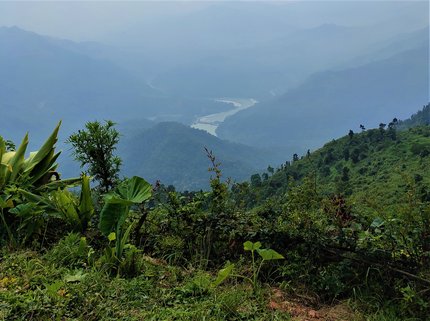 What an amazing sight! Look towards north and you can see the Jelepla pass (and therefore the name of this view point). This pass used to be the traditional route through which once trade took place with Tibet. From the view point you can also see the confluence of Teesta, Relli and Reang rivers. There is a dam which has been built on the river below. You can zoom your camera and catch a view of the dam. There is no entry fee for Jelepla View Point. 
7th Mile View Point 
This view point is located about 3kms from Kalimpong town and on the way to Teesta Bazaar. You can get awesome views of Teesta river and the Rangeet valley. Entry is free. 
Army Golf Course 
Also known as Lion's Golf Course, it's located at a short distance from the town on Durpin ridge, located opposite the famous Morgan House Tourist Lodge and next to the Circuit House. This is a 9-hole 3652 yards, par 64 golf course at an altitude of 4,400ft in a picturesque setting and overlooking the wonderful views of the mountains. The course has been laid by the Indian Army and is administered by them. It was conceived by Major General Dalbir Singh and Lt Col. CF Hamilton, and inaugurated on 7th October 1973. It has 12 greens and considered the most scenic golf course of India. In 2019, two more greens were added and all Tee-offs were refurfbished by the army. 
Army Golf Course, Kalimpong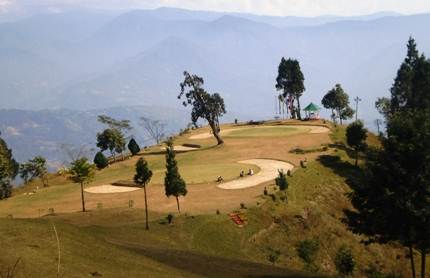 There are some one thousand trees and plants that have been planted in the greens. In the roughs you can see trees like Dhupi, Silver Oaks, Cyprus etc and on the slopes there are colorful Lilies, Bougainvillea, Crocus etc. While visitors are not allowed to enter the course beyond a point, you can play a round of golf by paying a special fee. 
Visitors can see the golf course from Watershed View Point (a large gazebo) located by the roadside. Entry is free. You get lovely views of the golf course, Kalimpong town, Relli valley, Deolo, Lava and Loleygaon (Kafer) from this view point. There is also a cafe here run by the Army (known as Green Cafe). There are tables and chairs laid out at the View Point and it has a roof cover. You can enjoy a cup of coffee and snacks while enjoying the views of the sweeping golf course. 
Green Cafe of Army Golf Course 
Buddha Statue & Park 
Close to the Delo Park (3-4 minutes by car) there is a beautiful Buddha statue seated in a lotus position. There is a manicured garden around the statue with many flowering plantations. And the garden is at a slight elevation from the road level (only a 5-6 easy steps). You will be surprised to see how lovingly the locals and the appointed priests take care of Buddha... in the large glass case placed below the feet of Buddha, there are large bottles of cold drinks (it was Sprite when I saw last time), biscuits, fresh fruits, rice grains and many other edibles that are offered to the deity. Entry free. 
Buddha Statue & Park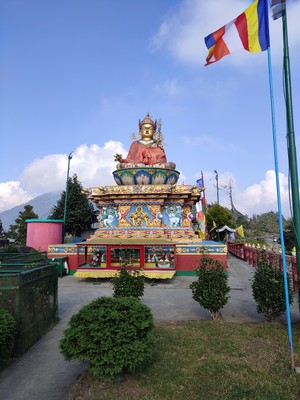 Nok Dara Boating Complex 
A new boating complex (Nok Dara lake) has been inaugurated by GTA (Gorkha Territorial Administration) in November 2019. It's located about 40kms from Kalimpong Town Center and in between
Lava and Loleygaon
. It takes about one and half hours to reach from Kalimpong town. Spanning across a ground area of 2.5 acres, the complex is about 9kms from Lava and 5kms from Loleygaon. The man-made lake itself has an area of 9,990 square meters. 
Nok Dara Boating Complex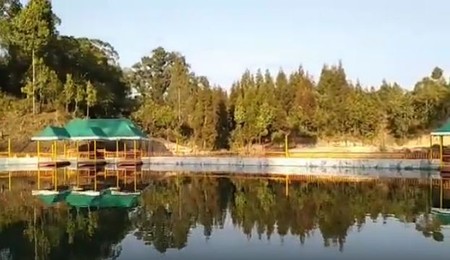 With backdrop of Dhupi forests, view of village huts afar, surrounding manicured gardens and paved walkways, the place is picturesque and offers a great opportunity for a day's family picnic. You can rent a paddle boat and paddle around in the lake. Or simply walk around the lake and make a full circle, the walkway is nice and you will find shades to relax. Being a new complex, there aren't many facilities around... carry your own food and snacks. There is a car park. You can take a taxi from the main market taxi stand and visit the complex. Entry is free. There is a fee for paddle boating. 
Nok Dara - Walkway around the lake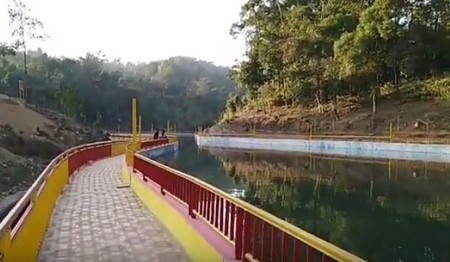 Missionary Schools
Dr. Graham's Homes 
The school was established by a Scotsman and missionary Dr. John Anderson Graham in Deolo hills. He was the first to introduce education in Kalimpong through English as the medium. His focus was on an orphanage plus a school which was meant for Anglo Indian orphans, specially the unfortunate offspring of local women & the British men who were employed in nearby tea gardens. 
Dr. Graham named the school as St. Andrews Colonial and Industrial Settlement. Such name helped him raise funds from his fellow Scots who were well established in tea gardens and in jute industry in Kolkata. The school is today known as Dr. Graham's Home. In 1900, it started as a single cottage which accommodated 35 orphan children. Those days, Kalimpong's population was only about 1,000. 
Dr Graham's Home, Kalimpong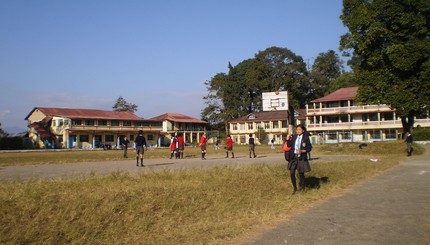 Today the sprawling campus on undulating slopes has some 50 cottages, a huge playing field, a church, bakery, poultry and dairy of its own, and surrounded by lush greenery and forests. The school has also evolved over the years and started accommodating not only orphans, but all children, local or from outside. Instead of being a Christian-only school, it has become a multi-religious co-educational school with large number of boarding & day students, both sponsored and fee paying. 
Church perched on a hill at Dr Graham's Home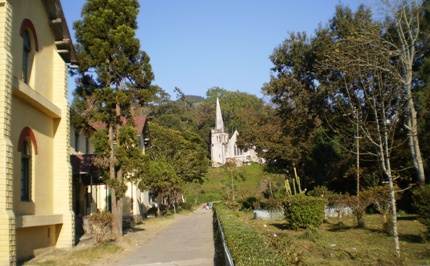 Dr. Graham passed away in 1942. But you can still find some of the tall trees in the campus that were planted by him. Just before the entrance and on the right is the Principal's home. The school today runs primarily on charitable donations and sponsors from all over the world, particularly from Britain, Canada and Australia. There is no entry fee for tourists. 
Flower Nurseries
Over the years, Kalimpong has flourished in floriculture due to its climate. Many commercial and specialized flower nurseries have come up in the area. They mainly export the flowers & plants. All of course welcome visitors to take a look at their creations. One of the best is the beautiful University Nursery which is located about 3kms from the town and the on the road that leads towards Teesta. You will find large and beautiful collections of Cactus, Orchids, Amaryllis and Succulents here. 
Several other nurseries are also excellent. One of them is Pineview Nursery. It's located on Atisha road and is one of the stoppage points in a standard local sightseeing tour. This is a private commercial nursery established in 1971. You will find exotic and rare collections of north, south and central America's cactus plants here that are conserved and grown in green houses. 
Pineview Nursery, Kalimpong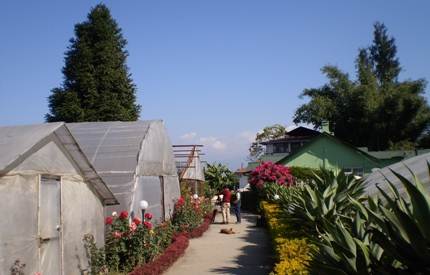 There is an entry fee of Rs. 20/- per person (only to see and take pictures). Visiting hours is from 9am to 5pm (closed on Sundays). There are couple of nice shaded seating areas in the lawn behind. You get lovely view of Kalimpong town from there. 
Cactus plants, Pineview Nursery, Kalimpong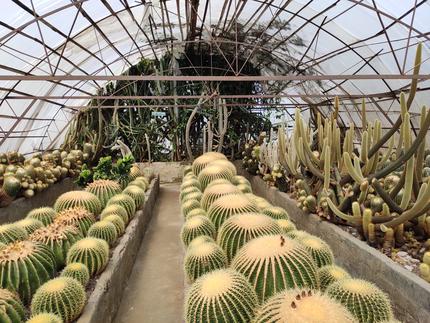 For large varieties of Orchids, visit Ganesh Mani Pradhan's Nursery at 12th mile. Another nursery (located at Murgi Hatta below motor stand) is run by Col. Tulshi Pradhan. It specializes in Gladiola. For lovely collection of roses and dahlias, you should visit the Standard Nursery located at Chibo Busti (Kalimpong). 
Museums
Pratima Devi Tagore's House 
There are several memories of the Nobel Laureate Rabindranth Tagore in Kalimpong. Although Gouripur House (which is located about 2kms from the town towards Durpin hill) was Tagore's favorite and where he wrote some of his great verses, the house is currently not in a good state and requires restoration. A better place to visit is the house of Pratima Devi Tagore who was the daughter-in-law of Rabindranath Tagore. You will find many of Tagore's memories here as well. 
Pratima Devi Tagore House, Kalimpong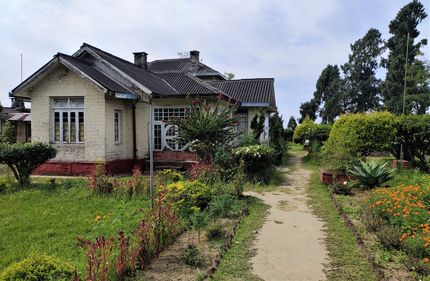 This house was built in 1943 by Pratima Devi Tagore. You can still find the original bed and the furniture she used. The house with its lush garden and beautiful views is very well maintained. The living room is particularly very impressive. There are several verses of Rabindranath Tagore kept here, some framed on the walls. The caretaker Chandranath will patiently take you around and show you all the rare collections inside. I was surprised to see even the original electrical switch on the door frame which still works and illuminates an old lamp on the wall. 
Living Room, Pratima Devi House, Kalimpong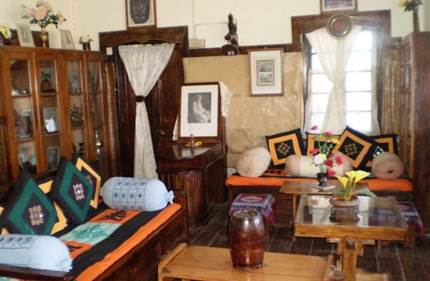 Since 1965, the West Bengal government has taken over the house (it's a heritage house now). The government runs a training center for women here. The house is located on Atisha road and very close to Pineview Nursery (described above). 
Update October 2019: Tagore House has been severely damaged by earthquake. It has been vacated and entry into the house is no longer permitted until the restoration is completed. There is a large crater in right portion of the house and most of the building is in shambles. The main entry gate is however kept open and you can still visit the premises and see the house from outside. 
Kalimpong Science Center  
Phone: 03552-274050 
It's located in Deolo Hill and about 1km from GTA Delo Park. It has been set up in 2008 to raise general interest on science & technology particularly amongst the young generation. It's a great place for children and adults to learn, enjoy and have fun with science. There is an entry fee of Rs. 30/- per person plus Rs. 30/- for entry of car. There are several attractions here: 
The open Science Park outside the exhibition hall has many different exhibits on the lush green field including large size Dinosaurs. Children can climb spider webs, ride swings, play with different levers & pulleys and see the results, look through telescope, play with pendulums etc. There is also a medicinal garden here with many rare herbs. 
Kalimpong Science Center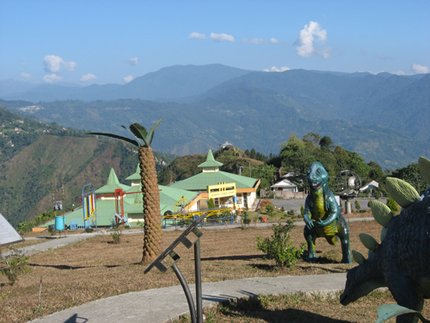 Photo: Kalimpong Science Center 
Inside at the Fun Science Gallery you can see and interact with many fun scientific creations like objects defying gravity, optical gadgets, rolling balls, kaleidoscope etc. At the Digital Corridor you can see your own amazing digital shadow on the wall in bright red. At the Digital Gallery you can see some great application of digital technology including a blue tooth printer, learning to spell your name in binary system etc. 
Taramandol is a dome shaped planetarium where about 25 persons can watch the stars and planets as they appear on a clear night sky and learn about them. And there is also a Children Activity Center where the children can learn basic principles of science through kits like models of solar system, magnets, pendulums etc. 
Lepcha Museum 
This red building located about 1km from Kalimpong town (on H.L Dixit Road) houses many exhibits showcasing the Lepcha culture, traditions and heritage. Lepchas are known to be the original residents of this area. You will find items on display including Lepcha relics and religious manuscripts, traditional Lepcha musical instruments, handicrafts etc and get to understand the lifestyle of the community. The museum is open from 10am to 4pm Monday through Friday, 10am to 12noon on Saturdays and closed on Sundays. There is no entry free. 
Lepcha Museum, Kalimpong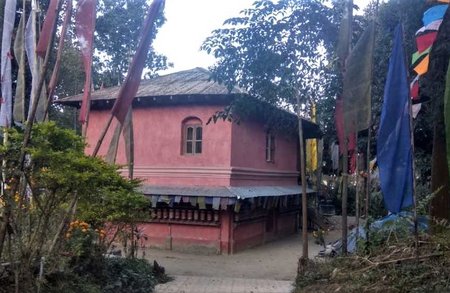 Nature Interpretation Center 
This is an ecological museum run by the forest department. It was set up in 1990 and describes the nature and environment of Kalimpong area. There are nice dioramas depicting plant & animal life with many pictures. It is open on all days (except Thursdays) from 10am to 4pm. It is located at Ringkingpong Road. 
Gangjong handmade paper factory 
Tshela dikiling, Printam road, Kalimpong 
Phone: 9933666965/ 03552-257113 
Open from 8am to 6pm, Closed on Sundays 
After a 20 minute rather uphill walk from Kalimpong town square...I reached the Gangjong paper factory.... a small privately owned handmade paper producing unit that produces 200 to 300 sheets everyday. I am a self confessed handmade paper lover and was rather put off by the lack of publicity that this lovely little place receives. 
There are no signboards, they do not advertise, don't have a website and the manager ( the friendly Mr. Sangbu Bhutia ) doesn't even have an email address. The paper produced here is exotically beautiful and once inside the tiny store you will feel like buying up everything. Colorful batik print paper, tie and dye prints and block printed sheets were the main produce and these are directly exported to Delhi, mumbai, Kolkata, Jaipur where they are sold at exorbitant prices in stationary boutiques and luxury bookstores. 
The manager showing me batik and 
block printed handmade paper sheets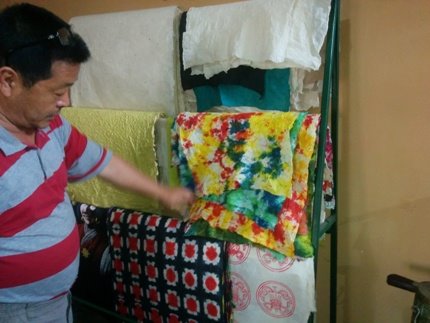 The paper is produced from the Argli shrub which grows to a height of 18 to 20 feet. The scientific name is Dafney Canabina and it grows at higher altitudes though the workshop backyard had a few argelli shrubs too. The Cut branches of the shrub is stripped of its bark. The bark is Cleaned and then Boiled after which its rigorously Beaten to create a Pulp. All these steps are accomplished in the terrace of the factory after which the action shifts downstairs. 
Argelli shrubs in the factory back garden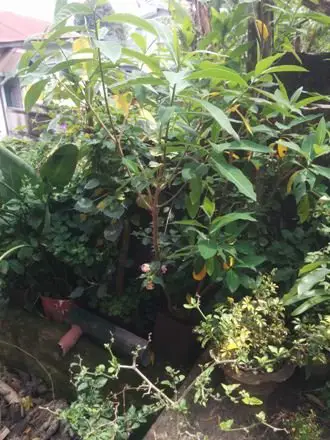 Resin, water and glue is added and Mixed with pulp after which its allowed to settle for some time. A Bamboo screen is dipped in the pulp and gradually a thin sheet of paper is formed. It takes 4 hours to make two buckets of pulp from raw bark extracts. Cooking the pulp takes 5 hours per trip and there are 2 trips in a day. The whole process of making paper in an environmentally friendly way was a great learning experience and I was shown the steps by Mr Jeevan Das...an employee of the unit. 
Factory employees of gangjong taking a break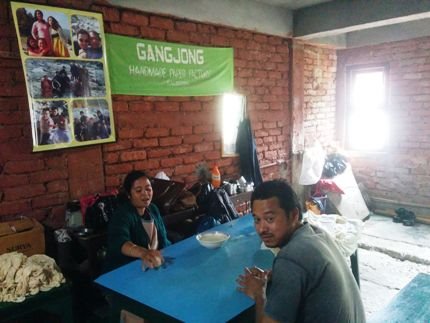 The unit uses both Chemical dyes and vegetable dyes and the latter is used in more expensive variants of paper. About 10 people work in the factory and the owner is a Kalimpong businessesman called S. T Bhutia. There is a shop downstairs besides the factory that sells diaries, envelopes, paper bags, files and beautiful greeting cards all made of Gangjong Handmade paper… it's a good place to pick up things from friends and family. The prices of the diaries start from 150 INR while the paper bags start from 50 INR. The sheets of batik printed paper are exquisitely beautiful and are priced at 250 INR. 
A visit to the Gangjong handmade paper factory allowed me to experience one of the hidden gems of the beautiful town of Kalimpong...This is a place where unfortunately few tourists visit...The visitors book was filled with names from USA, Europe and Germany...but very few Indian names. 
Related Articles
Visitors' Reviews/Comments
Shiladitya (August 2016) 
Dear Sir, At the outset, please accept my sincere appreciation for this wonderful website. Very informative, insightful and a delight to every discerning Darjeeling enthusiast!  I am planning a short 3-day trip to the hills towards end November this year, with the primary objective of seeing "snow-clad Himalayan peaks". Please could you suggest which out of the two, Darjeeling or Kalimpong would offer better views? If Kalimpong would offer comparable views, we might opt for Kalimpong only, since we would like to avoid the steep climb and maddening crowds of Darjeeling. Please suggest. Sincere Thanks, in advance. 
Raj (darjeeling-tourism.com) August 2016 
There are several places in Kalimpong where the views are much better than in Darjeeling, for example the Morgan House area.