Kalimpong Sightseeing Tours
Local sightseeing in Kalimpong area includes visits to famous monasteries that have old rare scriptures & Tibetan architecture, lovely view points offering sweeping views of Kanchenjunga snow peaks, rivers & landscapes, visits to museums, parks, flower nurseries, historical missionary schools etc. You can also make great day trips to near by areas like Pedong, Lava, Loleygaon, Rishyap, virgin villages etc. 
All taxi drivers and tour operators in Kalimpong offer standard package tours for local sightseeing in Kalimpong. It could be half day or full day package covering the major attractions in and around Kalimpong. However such local package tours will take you to places and attractions within 8-10 kms of the town center. If you like to reach out to places further away, you will either need to work out the cost with the taxt driver or go through a tour operator. 
The easiest way to avail a tour in Kalimpong is to walk down to the taxi stand on the main market area (Rishi road) and choose a taxi of your choice. Taxis here are mostly private cars that are used commercially. They come in various makes from small to large vehicles like Alto, Maruti Van, WagonR, Santro, Scorpio, Sumo etc. The tour operators & hotels can organize luxury vehicles like Innova, Tavera etc. 
Sightseeing (East Kalimpong)
HALFDAY, 4 HOURS 
1) Dr Graham's Homes 
This missionary school was set up by Dr. J A Graham in 1900 as an orphanage & school for the destitute Anglo Indian children. It started only with one cottage that accommodated up to 35 children. Over the years it has grown as a well known multi religious and co-educational school spanning over 500 acres of lush landscape and having some 50 cottages. It is located on the way to Deolo Hills. You can walk across to various parts of the school. 
Dr Graham's Homes, Kalimpong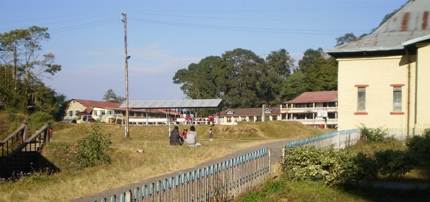 2) Lord Buddha Statue 
Close to Deolo there is a small rock garden in which you will find this nice statue of Lord Buddha sitting in a lotus position. This is only a quick stop over point and a good place to click a picture. 
Buddha statue & park, Kalimpong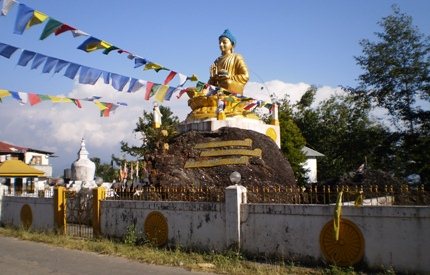 3) Sherpa View Point 
This is a watershed near Buddha statue from where you get great views towards both north and south. You get excellent views of  Sikkim hills and Mount Kanchenjung if you look north, towards south is the beautiful view of a valley and the Relli river flowing through it as well as Loleygaon (Kafer) and also the hills of Samthar plateau. This view point is unfortunately not well maintained. 
4) Durga Mandir 
This is a Hindu temple of Goddess Durga located near Sherpa View Point. A nice garden full of flowering plants and a viewing gallery. The temple is small but quite nice. Good place to relax for a while. 
5) Hanuman Temple 
Right after Durga Mandir is a huge statue of Lord Hanuman perched on the hill. Climb several flights of stairs to reach up to the temple. 
6) Deolo Hill 
This is the major attraction in East Kalimpong. The tourism department has created an 8-acre lush parkland with manicured flower gardens and several view points with breathtaking views of Kanchenjunga, Durpin hill, Kalimpong Township and the valley with rivers flowing through them. 
Deolo, Kalimpong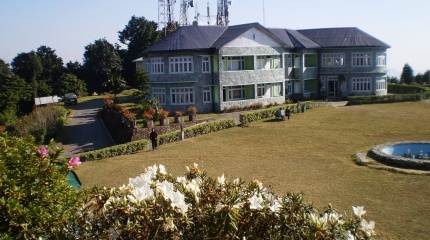 Deolo hill is the highest point of Kalimpong with an altitude of about 5,500ft. There is a GTA (erstwhile DGHC) lodge here and a multi cuisine restaurant. Children can also take pony rides. At one corner of the lawn are stalls offering coffee and snacks. Overall a great place to have a picnic or just relax. Entry fee: Rs. 10/- for day visitors. 
7) Mangal Dham 
An excellent temple complex built in the memory of late Guruji Mangal Dasji and dedicated to Lord Krishna. Devotees come from far away places. 
Mangal Dham, Kalimpong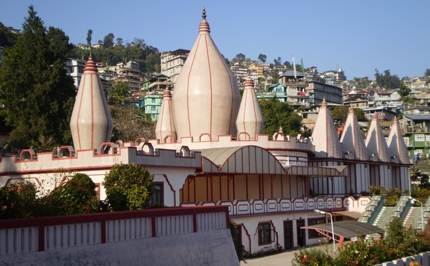 8) Thongsa Gompa 
This is the oldest monsatery in Kalimpong which was built in 1692. It's also known as the Bhutan Monastery and located close to Mangal Dham. 
Sightseeing (West Kalimpong)
HALF DAY, 4 HOURS 
1) Nature Interpretation Center 
This is a museum run by the forest department. It has many pictures and paintings of flora & fauna explaining the nature and environment of Kalimpong area. It's located close to the town. 
2) Army Golf Course 
A scenic 9-hole golf course which was conceived and laid by the army authorities. You can see the golf course from the roadside Watershed View Point. From here you also get splendid views of the mountains as well as Loleygaon. It's located close to the Circuit House. 
Army Golf Course, Kalimpong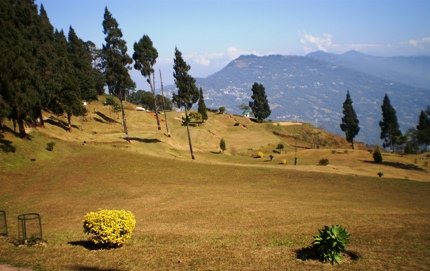 3) Morgan House 
This used to be an old British property and reflect a typical colonial architecture with sprawling garden and views of Kanchenjunga. It has been converted into a hotel and now run by West Bengal Tourism Department. You can enter the premises and walk around, but can not go upstairs in the building where most rooms are located. Morgan House is located opposite to the Army Golf Course. 
Morgan's House, Kalimpong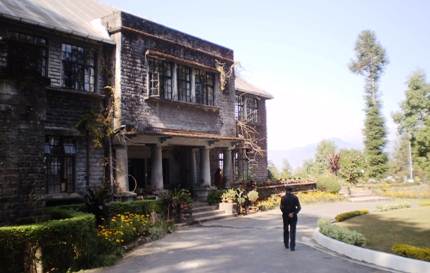 Update October 2019: Unless you stay at Morgan House, entry is no longer allowed. You can only see the lodge from outside the main gate. 
4) Durpin Monastery 
This Tibetan monastery is located on the Durpin hill and hence such name. The actual name is Zang Dog Palri monastery. It was built in 1972 and has some rare Buddhist scripts that were brought here by Dalai Lama from Tibet. From the upper terrace of the monastery, you get magnificent views of Kalimpong town with Kanchenjunga in the background, the valley and the plains, Teesta & Reang rivers flowing down, and lovely tea estates of Peshoke area. 
Durpin Monastery, Kalimpong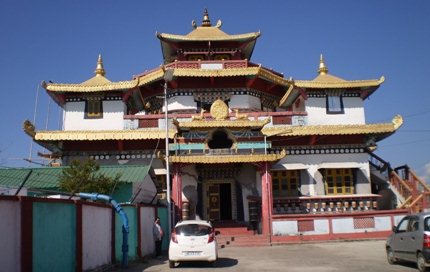 5) Jelepla View Point 
You get spectacular view of Jelepla Pass which once used to be a route for regular trade with Tibet. You can also see the confluence of river Teesta, Reang and Relli. The view point is maintained by the army. 
Jelepla View Point, Kalimpong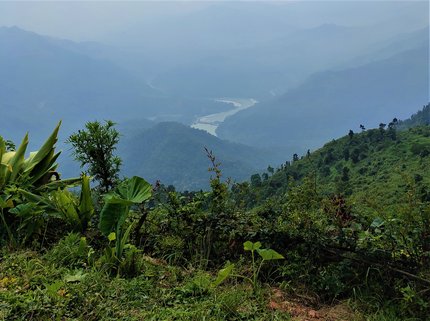 6) Pratima Tagore House 
This house with nice garden and lovely views was built by Pratima Tagore in 1943, daughter-in-law of the poet Rabindranath Tagore. You will find original furnishing, lot of memorabilia and poet's verses in this house. It is located on Atisha road close to the Pine View Nursery. 
7) Pine View Nursery 
It has great collections of cactus and ornamental plants. You get great view of Kalimpong town from the backside lawn. Entry fee: Rs. 10/- per person. 
Pineview Nursery Kalimpong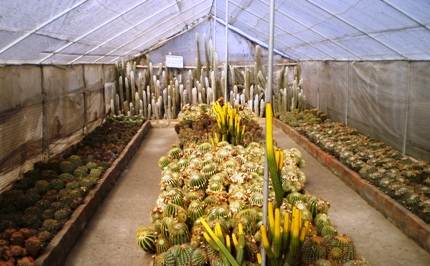 8) Kali Mandir 
Temple of goddess Kali. Climb a stairway from the roadside to reach up to the temple. From an adjoining terrace, you get wonderful view of west Kalimpong and the mountain range. 
Full Day Kalimpong Sightseeing Tour
7-8 HOURS 
You can combine the East and West Kalimpong local tours I have described above to make a full day local sightseeing tour. In addition to all the places I have mentioned above, you can also cover the following if time permits: 
1) Kalimong's colorful market (particularly Haat Bazaar which sets up on Wednesday and Saturday). You can buy unique local hand made products here and taste local food. 
2) Sahid Park - a monument and a small park set up in memory of the Gorkhas who laid their lives during the agitation of Gorkhaland movement for a separate state. 
3) Gouripur House - Poet Rabindranth Tagore used to visit this house and wrote several of his verses here. This house was one of his favorites. 
4) Rishi Bankim Park - nice park for a leisure stroll. 
5) Kalimpong College, Surya Sadan, Curcuit House etc. 
Day & Overnight Trips from Kalimpong
Drive to Loleygaon (2.5hours), take a canopy walk amongst tree tops on a thrilling tree-top hanging bridge made in lush jungle, then drive to Lava (1hour), visit the Lava monastery and drive back in the evening via Algarah. If you plan to stay overnight in Lava or Loleygaon, know what else you can do & where to stay. 
This is a wonderful quiet hamlet which is located only 15kms from Loleygaon and 25kms from Kalimpong town. Walk along trails to enjoy the serene nature, visit the viewpoint for a spectacular experience of  sunrise, chat with the simple-hearted villagers and gaze at the stunning views of Kanchenjunga range... these are some of the rewards you get here. Of course, the bird watchers and butterfly lovers too would find this place just a piece of paradise. There are few simple resorts and home stays that have come up here that would suit the pockets of budget travelers. 
Take a short drive of about half an hour and see the ruins of Damsang Fort of 1690. Then visit Pedong, its heritage sites and some of the lovely view points around, and drive back to Kalimpong in the evening. 
Nok Dara Boating Complex 
Visit the newly developed boating complex for a half-day's picnic with your family. The complex is located at a distance of 40km from Kalimpong town center and you can take a taxi and reach within one and half hours. The lake complex is located between
Lava and Loleygaon
. With surrounding forests, beautiful gardens and pathway around the lake, it's a picturesque setting. You can do paddle boating on the lake which has an area of nearly 10,000 sq. meters. 
Nok Dara Boating Complex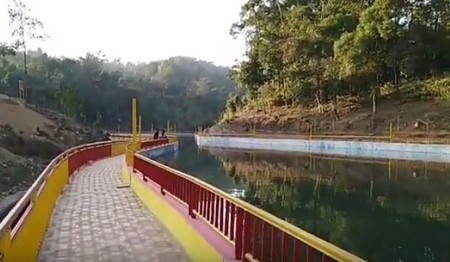 Visit several villages, experience the village life in virgin Kalimpong area, understand Nepali culture & traditions, interact with the villagers to get deeper insight into their lifestyle, experience quaint home stay and village food, walk through the forests and villages and be one with nature. 
Kalimpong Sightseeing Tour Rates
Rates differ depending on the vehicle you take. A small car like Alto would be the cheapest. But keep in mind that road conditions in some places like Rishyap, Loleygaon etc can be really bad and small cars can be very uncomfortable on such roads. You should check beforehand about the current road conditions before deciding on a vehicle. Sumos, Jeeps and Scorpios can negotiate bad roads much better. However there is no problems taking a small car for local sightseeing though. 
Note that while local sightseeing tours (half or full day) have standard rates, the rates offered for day trips and non conventional tours can vary widely. So always talk to a few drivers and negotiate before zeroing on one. Low season rates are lower than high season rates. 
Below are the indicative rates (Fare Updated: March 2022): 
Half-Day Local Sightseeing: Rs. 2,500 (Small reserved car) 
Full Day Local Sightseeing: Rs. 3,500 (Small reserved car) 
Full day local sightseeing in luxury car like Innova or Xylo: Rs. 4,200 
Kalimpong Tour Operators
Here are some well known tour operators in Kalimpong. They can organize sightseeing tours from Kalimpong and also transfers to other places in Darjeeling area and Sikkim. 
Gurudongma Tours & Treks 
They have over 15 years of experience in the tourism industry and offer sightseeing tours in Darjeeling district & Sikkim areas, as well as other places in India. They also offer Nature Tours, Treks and Mountain Biking. 
Phone: +(91)-3552-255204; Mobile: +(91)-9434062100, 9002692611 
Himalayan Travellers 
Established in 1990. They offer services such as tour packages, air & bus ticketing, hotel reservations etc. 
Motor Stand, Kalimpong.  Mobile: +(91)-9434166498, 9614964277 
Kalimpong Tours & Travels 
Other than offering local tours, they also do bus and air ticketing, hotel reservations etc. They are operating since 2011. 
Near Axis Bank Complex, D S Gurung Road, Kalimpong. 
Mobile: +(91)-9563620190, 9932203063 
Related Articles
Visitors' Reviews/Comments
Soma Saha (February 2023) 
Hi, kindly tell me what is the best & cheap transport option for Kalimpong sightseeing. We two middle aged ladies are planning for the tour coming weekend. As per your earlier reply, we have decided to reach Kalimpong by shared taxi. May we arrange a day tour to Darjeeling from Kalimpong by a shared taxi? 
Raj (darjeeling-tourism.com) February 2023 
Hi, unfortunately, you won't get a shared taxi in Kalimpong for local sightseeing or a day trip to Darjeeling. You will need to take a reserved taxi. 
Aritra (February 2021) 
In my last trip to Kalimpong - I missed seeing Dr Graham's Homes and Morgan House, so would like to do that this time. I read somewhere that visitors aren't allowed inside the premises of Morgan House - is the same with Dr Graham's Homes as well ? Thanks and Regards, 
Raj (darjeeling-tourism.com) February 2021 
The main gate of Morgan's House remains closed these days, but as a tourist wanting to get information from their office staff at the main building, you can ask the guard to open the gate. You can visit
Graham's Homes
... check my site's page for entry timings for tourists. 
Subhankar Paul (March 2020) 
Hello Sir, A big thanks to you for providing us such a fruitful knowledge about Darjeeling tour. My query is that, if I want to make a day trip to Lava and Rishop from Kalimpong and then return back to Kalimpong and another day trip to Lolegaon and Kalimpong local sightseeing and return to Kalimpong in the month of February, is it possible? Thank you for your time and consideration. 
Raj (darjeeling-tourism.com) March 2020 
Hello, day trip of Lava and Rishop would be possible if you start early... remember, most attractions in Rishop requires hike/walks. Loleygaon and Kalimpong sightseeing is difficult to cover in a day. 
Dhiman Bhattacharya (October 2018) 
Dear Raj, Superb writing as usual. I need an information from you. What is the cost of taxi for an Alto for daytime Kalimpong sightseeing? I will be coming 1st week of November. Thanks and regards. 
Raj (darjeeling-tourism.com) October 2018 
Hello, If you take a taxi from the stand at Kalimpong and do a local sightseeing there, the fare can be around Rs. 1200/- for a small taxi for half day tour. The full day tour would be around Rs. 2,000/- (fares can vary depending on season). If you take a taxi from Darjeeling for a return trip to Kalimpong including sightseeing at Kalimpong, the cost could be around Rs. 3,200 - 3,500 for a small cab.