Kalimpong Village Tour & Trek
This is an amazing experience of visiting several villages in virgin Kalimpong area located at the foothill of the Himalayas, get to understand the local culture & traditions of the villagers, experience authentic Nepali food, get an opportunity to interact with the villagers to understand their lifestyle, and all this combined with gentle trek through the lovely forests of pines while soaking in the nature. 
The beautiful Baranumber village 
Photo: Mondo Challenge 
I call it tour & trek because it is actually a combination of both. How much you walk depends on you and the guide will design the visits accordingly. 
If you are not too keen walking, you can simply visit the villages by car and feel the village life, eat local food, talk to the villagers, know about their culture, customs, cuisine etc etc. If you like to make this more of a trek, the guide will be happy to walk you through and between various villages and forests, so that you also enjoy the nature and its wonderful flora & fauna as you experience the village life. 
So who conducts this village tour & trek? It is done by a non-profit making NGO called Mondo Challenge, an organization which has been deeply involved in activities related to welfare and development of the villages in and around Kalimpong area since 2002. They have been active in both cultural and educational activities of the villagers. 
In fact the fund raised from such tours & treks are used only for villagers and village development. You won't hear much about these tours & treks as they are never advertised or marketed explicitly. This is because of the nature of the NGO, they operate silently and mostly get visitors from their network abroad. 
So what does the Village Tour & Trek offer? 
There are essentially two types of tours. One which can be a day trip from Kalimpong, the other over two days with an overnight stay at a village. If you want, you can even extend your stay for additional nights and the tour can be modified accordingly. 
It is recommended that you take the overnight tour instead of the day trip to have an opportunity to stay at a village and get a deeper insight into the village life. 
These tours & treks can be taken individually and also in private groups. If you take the tour in a small group like 2 to 4, the cost gets shared and the cost per person for the tour gets reduced. A guide is provided for the tour (who is typically a villager). There are no fixed villages & routes because more and more villages are participating in catering to these tours and all need to be given equal opportunities. 
Below is a description of a typical day trip and an overnight trip. They can arrange for the pick up and drop from/to NJP Station or Bagdogra Airport and even make arrangements for your accommodation in Kalimpong, if you so wish. 
1 Day Village Tour & Trek
The tour starts from Kalimpong in the morning. You drive to a village called Kashyem which is located at a distance of 21kms from Kalimpong at an altitude of 4265ft. It takes about 1 hour by car to reach Kashyem. Here you will walk around the village, visit the Kashyem school if you want and meet the village children in the school. After breakfast, you will walk down to another village Baranumber. 
Baranumber is located at a lower altitude of 3940ft. You will walk through lovely forest and hill-side path to reach Baranumber in about 2 hours. Baranumber is about 2.5kms from Kashyem. On reaching, you will meet villagers and then take a walk around the village for another 1 hour 30 minutes or so on a fairly level terrain. There are only 98 village houses in this beautiful village. The villagers here are mostly farmers and involved in quinine plantations. Terraced farming is also quite common here and you can see many types of vegetables are cultivated in small plots. 
Terraced paddy field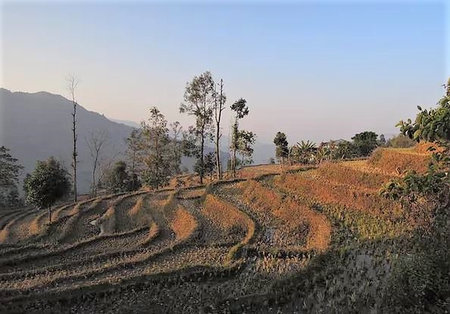 Photo: Mondo Challenge 
The stroll will be followed by lunch. The lunch is usually served in a traditional Nepali style where you sit on the floor and have an authentic Nepali meal. During this time, if you want, you can also learn how to make Nepali food in a typical village kitchen. After lunch and following some more interactions with the villagers, you will explore the village further and visit a local monastery (known locally as Gumba). 
You will then walk back to Kashyem, but this time through a different route. From Kashyem you will go back to Kalimpong by car and reach your hotel by evening. 
A typical village kitchen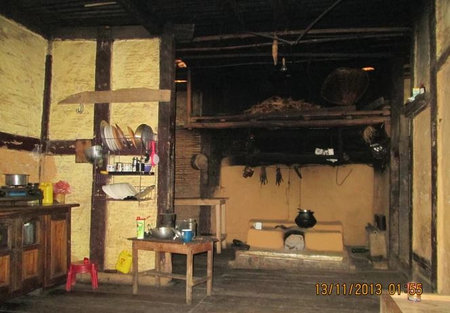 Photo: Mondo Challenge 
Note: If you do not want to walk, you can use the car to transfer between Kashyem and Baranumber, and back. 
Indicative Cost for 1-day Village Tour & Trek (Fare updated March 2021) 
Rs. 3,000/- per person. It includes transport from & to Kalimpong, breakfast, lunch and tea in the evening. A guide is provided and all profits go towards Village Development Fund. However if you are in a group, this per person cost can come down further. 
2 Day Village Tour & Trek
The first day of the 2-day tour is similar to the 1-day tour. However from Baranumber village instead of going back to Kashyem in the afternoon, you stay here overnight. It's like a homestay made for tourists. It's simple but clean with basic amenities. After all you are staying in a village. 
On day-1 in the evening they often organize cultural dance and music performed by the villagers. At night you will be taken to a traditional Nepali kitchen and see how Neplai dishes are prepared, learn about Nepali cuisine and even try your own hands. You will have your dinner sitting on the floor in a traditional Nepali style. 
On day-2 after breakfast you can choose one of several routes for the day's tour & trek. Below are couple of popular options: 
Option-1) You will walk up (or take the car) to Kashyem. Take a cup of tea and then start an uphill trek through the Sillery forest (trees that grow in abundance here) to a lovely view point. From here you can see the confluence of Teesta and Rangpo rivers. And on a clear day, you also get amazing views of Kanchenjunga peaks from this viewpoint. 
Stunning view of Kanchenjunga from Sillery Hills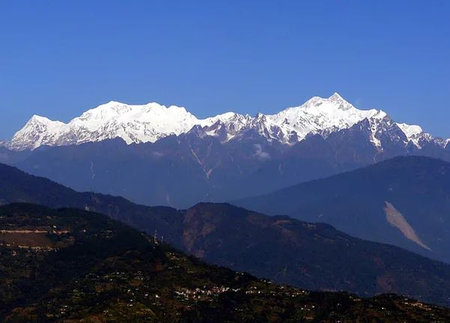 Photo: Mondo Challenge 
You will then walk to
Sillery Gaon
- a small sleepy village at an altitude of about 6,000ft which is virtually hidden behind the slopes of the hills. Here you will have lunch in a simple but welcoming village house with warm hospitality of the hosts. 
In the afternoon, you will walk up to the ruins of Damsang fort, a fort which was built during the Lepcha dynasty in 1600s. You will then walk down to a place 21st Mile, which is another small village 5kms from Sillery Gaon. Here you will visit a paper making factory (a cooperative). You will get to understand the end to end process of paper making and also have the opportunity to buy paper made souvenirs. After having tea, you will be transported back to your Kalimpong hotel in the evening. 
Option-2) From Baranumber you walk up (or take the car) to Kashyem. From Kashyem you will be transported to another village Burmaik located at an altitude of about 5,000ft and 8kms away. It takes about 20minutes by car from Kashyem. 
You will then start your trek (on a relatively flat terrain) to a place called 20th Mile. The distance is 7km and will take about 5 hours of easy relaxed walk. From 20th Mile, Kalimpong is 18kms away and will take about 1 hour to reach by car. 
Indicative Cost for 2-day Village Tour & Trek (Fare updated March 2021) 
Rs. 4,500/- per person. However in a group, this cost can come down further. It includes all transportation from & to Kalimpong, breakfast, lunch, tea, dinner for day1, lodging for overnight stay in a village, cultural programs in the evening, and breakfast, lunch and tea for day2. A guide is also provided. 
What to carry for the village tours
Comfortable walking shoes 
A small backpack to carry your essentials 
Carry a bottle of drinking water (although they provide boiled water throughout the tours). 
It can be cold from October to February, particularly in the evenings. So bring some warm clothes. 
If you come during the monsoon time (June to end-September), carry a rain jacket. 
Note: For night stays, they provide blanket and towels. 
Although they offer the village tours throughout the year, the best time for such tours are from October to January and mid March to mid May. 
Extra Activities
Following are the extra activities you can combine along with 2 or 3 day village tours at a modest additional cost: 
You can choose hikes from 3 Km to 12 Km per day including easy to medium level trekking. 
Riverside camping with barbecue picnic. You should be in a group of minimum 6 for this. 
You can also visit some of the village schools and meet up with the friendly school kids. 
Contact info for inquiry & booking
Mondo Challenge Kalimpong 
Maa Santoshi Tole, Near Novelty Cinema Hall, Rishi Road, Kalimpong - 734301 
Phone: +91-3552 255254 
Mobile: +91 9932371416 
You can also contact: 
Mr. Santa Rai 
Coordinator for Kalimpong Village Tour & Trek 
He is a nice energetic man and speaks fluent English. If a guide is not available, he himself accompanies and becomes the guide. 
Mobile: (+91) 8768883136 
Related Articles
Visitors' Reviews/Comments
Share your experience.