Tour Of Sillery Gaon
Looking for a quaint sleepy hamlet in the mountains with abounding nature, laid-back village life and magnificent views of Himalayan range including Kanchenjunga peaks? Then Sillery gaon might be the answer for you. Sillery Gaon is only 23kms away from Kalimpong and located at an altitude of around 6,000ft in Kalimpong sub-division. A narrow winding gravel road bifurcates from the road that leads to Pedong, then winds through a forested land offering wonderful glimpses of Kanchenjunga and finally leads up to this dreamy village with only 45 odd families. 
The cottage-type houses with slanting tinned roofs having a backdrop of pine forest looks so mystic and picturesque. The name Sillery comes from an edible green known as 'Sillery Saag' which once used to be cultured and harvested here by the villagers and sold in the market. 
Sillery Gaon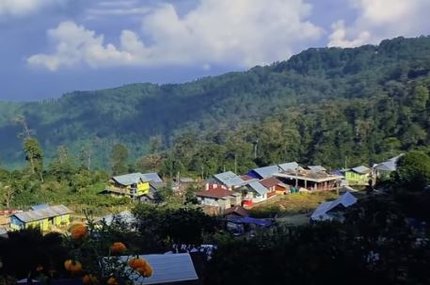 Farming still remains the main source of livelihood here, however over time with growing tourist interest, there is one more opportunity that has popped up for the villagers ... and that is to extend their houses to open up home stays. While homestays are still the main accommodations here, you can also find some retreats that have come up in recent times offering hotel-like accommodations & service, although the retreats too are quite basic and meant mainly for budget travelers. 
Homestays however have a special flavor where you get a feeling of staying at a home away from home, savor homemade local food and interact with the local host and know the local culture. But electricity is unreliable and therefore most accommodations provide generator service for a limited time at night and give you candles to manage the rest of the night if you so require. 
Kids at Sillery Gaon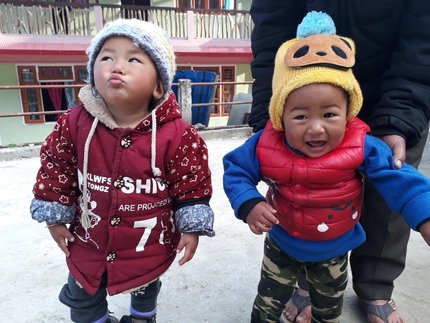 The northern side of the village overlooks the towering Kanchenjunga and the Himalayan range. Below you can see the Reshi river and across that is Sikkim. To the west is Nepal. As you walk down the village path, there are several vantage points from where you can see Kanchenjunga snow peaks and even stunning sunset. Sillery Gaon is also well known for various types of birds that you can see here. Apart from this the village offers abundant greenery, quiet solitude and loving natives. 
One of the best places to visit nearby is Ramitey Dara Viewpoint located at an altitude of 6,400ft. It's about 2kms from Sillery Gaon. Ideal is to trek, but vehicles can also go along this dirt path. On a clear day you get wonderful view of Kanchenjunga ahead of you with other Himalayan peaks. And below you can see the winding Teesta river over a long stretch from Teesta Bazaar all the way up to Majhitar of Sikkim. You can see the 14 bends of Teesta and even its confluence with Reshi river. 
Stunning view of Kanchenjunga from Ramitey Dara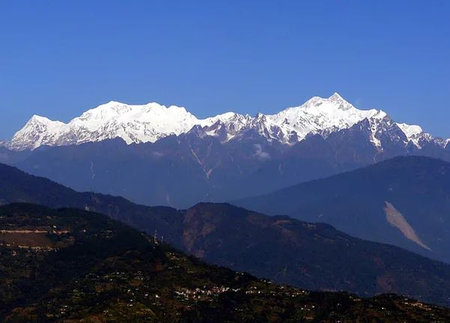 Photo: Mondo Challenge 
Tinchuley View Point
(also known as Tinchuley Top) is a steep 30-minute uphill trek. But once there you can get a sweeping view of the mountain peaks along with Kanchejunga. On a clear day you can also see at a distance the Jelepla Pass and famous
Nathula Pass
. 
Another well known trek is to Damsung Fort which is about 3kms from Sillery Gaon. Although only the ruins are visible, there is a lot of history behind this fort... it was built by the Lepcha King Gyabo Achyok in 1690 to defend attacks from the Bhutias. However the Lepchas were eventually defeated and Bhutias took over the fort. Later during Anglo-British war in 1864, the British defeated the Bhutias and captured the fort. However due to lack of maintenance and earthquake, only ruins remain today.  
Further ahead of the fort at a short distance is Hanuman Top ... this is from where you can get a panoramic view of Kalimpong. There is a structure of Lord Hanuman here. 
Another great place to visit is Silent Valley located 3kms from Sillery Gaon. Vehicles can go there and will take about 10-15 minutes. As the name suggests, it's a valley... a picturesque vast stretch of green meadow surrounded by pine trees. The quiet tranquility of the place gives it the name Silent Valley. During monsoon, this pasture of land gets filled with water and it looks like a large pond. 
Kanchenjunga Sunset View from Sillery Gaon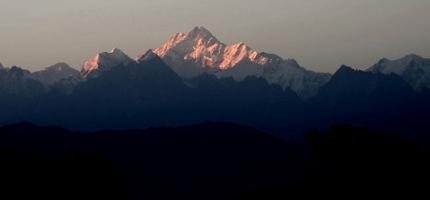 How to reach
From Kalimpong the distance to Sillery Gaon is 23kms and will take over an hour by car. From Kalimpong you will reach Algarah in about 40 minutes (15kms) along Rishi Road. Here you need to veer to Pedong-Reshi road which goes all the way to
Pedong... another quaint village
. 
About 3kms before Pedong and 500m after passing through the place 'Bish Mile', there is a narrow gravel road that bifurcates uphill towards Sillery Gaon. From this point the distance to Sillery Gaon is 4.7kms. This gravel road passes through forested area and offers nice glimpses of Kanchenjunga along the way. This is a bumpy road and large vehicles like Sumo or Scorpio are suitable. 
Shared taxis (Jeeps) ply between Kalimpong and Pedong. You can get off shortly after Bish Mile where the gravel road starts and ask your lodge/home stay for a pick up. They can send vehicles. 
From NJP railway station, Sillery Gaon is about 96kms via Kalimpong and will take about 3.5 hours by taxi. From Bagdogra airport the distance is 101kms. A reserved small taxi fare from NJP to Sillery Gaon would be about Rs. 3500 - 4,000/- (Fare updated: March 2022) 
Best time to go
March to June (spring/summer) and October to November (Autumn - start of winter) are the two best time to visit Sillery Gaon to enjoy excellent weather and lovely views of the mountains. Sky usually remains clear during this time. 
While winter time (December to February) is also great for a visit, but it can be very cold around that time. Avoid monsoon (July to September) when it rains quite incessantly and sky remains covered with cloud. Leeches can also be a problem during monsoon. 
Where to stay
There are several homestays and even a retreat style lodging in Sillery Gaon. Most are budget options. Here are some of the well known ones that you can plan with: 
Nirmala Village Resort 
Run by Dilip Tamang and his family, this is the first homestay that came up in Sillery Gaon in 2009. There are bright green cottages that blend nicely with the nature. They have a total of 12 double rooms - 2 deluxe, 4 semi deluxe and 6 standard rooms. Their rates include all meals and snacks ... homemade traditional Nepali food (veg & non-veg) prepared on wood fire. Generator is available between 6pm to 9:30pm. Candles are also provided. Hot water provided in buckets. They can organize guides & tours.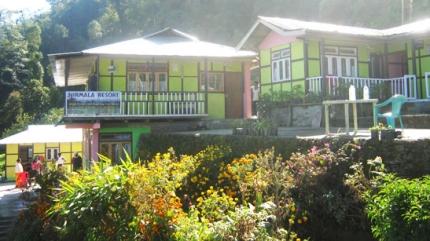 Phone - +91-9635005318, 9933922859 
The Sillery Sojourn 
The best part of this home stay is its location where you can get wonderful view of Kanchenjunga from your cottage room itself. The cottages are located at the highest point of the village. They too can arrange for local tours, guides and transports.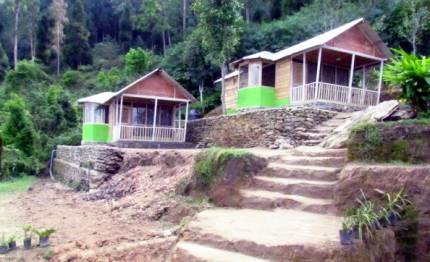 Mobile : +91 9903295920; 8902491395 
Phone: +91 33 24191976 
Sillery Gaon Retreat 
This is more like a hotel with several double, triple and four bedded rooms on a two storied building. The location is great offering great views of the mountains. They also offer several tour packages. The retreat belongs to Wanderlust Tours & Travels that runs several hotels at different places. 
Phone: +91 9830355223, 9874494503, 9051801020 
Related Articles
Visitors' Reviews/Comments
Anindya (December 2017) 
Merry Christmas in advance. From Kalimpong what is the mode of transportation to Sillery Gaon or any near spot to that from where trek is possible up to Sillery? Is there direct shared taxi available on Pedong route from Siliguri ? Please do help out by your valuable comment. Thanks with regards. 
Raj (darjeeling-tourism.com) December 2017 
Hi, there is no direct shared taxi from Siliguri to Pedong. You need to take one up to Kalimpong. And from there you can get a shared taxi for Pedong. From Kalimpong the taxi would take Rishi Road which bifurcates at Algarah. Here Pedong Reshi Road goes towards Pedong. And this road too bifurcates at one point where a narrow road goes towards Sillery Gaon (known as Sillery Gaon road). Get off at this bifurcation point and trek the remaining distance of 4.7kms to Sillery gaon. 
Anindya (December 2017) 
Thank you a lot for your precise information. The only question aroused in my mind is that while returning from Sillery-gaon will I be able to catch a taxi for Kalimpong from the bifurcated road point ? Or else I have to walk down to Algarah then . Please do help out for the planning . Thanks with regards. 
Raj (darjeeling-tourism.com) December 2017 
You can walk up to the junction at Pedong Reshi Road (4.7kms from Sillery Gaon) and wait for a shared taxi heading towards Kalimpong. It can take time as the service is not quite frequent. Otherwise walk further 3.3kms to Algarah where you can get more options. By the way, lodges/homestays in Sillery Gaon can also provide a transport to pick you up from the bifurcation point or drop you there (you can talk to them and sometimes they offer this service free or at a very reasonable cost if you stay with them for few nights).