A trip to Pedong & surrounding areas
Pedong is a small sleepy village located 22kms north east of Kalimpong at an altitude of 4,068ft and on the lap of sloping Damsang Fort ridge. It takes about 1 hour by car from Kalimpong to reach Pedong. You can easily make a day trip from Kalimpong along with visits to an old historic fort (Damsang Fort), heritage sites and several lovely view points & villages in surrounding areas. 
View from Pedong 
Photo: Subhasis Chakraborty, cc by sa 3.0 
A day trip from Kalimpong to Pedong
For a day trip from Kalimpong, you should either have a reserved car or book a taxi from the market taxi stand. Start in the morning and first drive to the ruins of Damsang Fort which was built in 1690 by the Lepchas. In about half an hour, the jeep will take you close to the fort and then you will need to walk for about 15 minutes through forest of rhododendrons and many different native trees to reach the Damsang fort. This is the only fort in the whole of Darjeeling district. 
The last Lepcha king Gyabo Achyok used to run his kingdom from this fort. Although the fort was mainly meant to defend attacks from the Bhutanese, the Lepchas eventually lost and had to hand over the fort to Bhutanese. The fort was later used to defend attacks from British East India Company.  
Following the Anglo-Bhutan war in 1864, the fort was taken over by the British. However the fort was no longer in use and over time resulted in the ruins that you see now. 
The local Lepcha community has formed an association to preserve the ruins and do necessary renovation of the fort. Every year the Lepcha community here celebrates the birth anniversary of the King at the fort in December. The popular fair 'Chaitey Mela' is also held over 3 days every year within the premises of the fort during Ram Navami (April). 
Having seen the ruins of the fort and recollecting the history behind it, you will walk back to your jeep and proceed for Rikisum, a wonderful view point which falls on the route to Lava and is about 20kms from Kalimpong. It's located at an altitude of about 6,000ft. You get awesome views of Himalayan range from Rikisum including the snow peaks Kanchenjunga. 
You will also see a half burnt old British bungalow here built in 1902 and several villages that have no names. Rikisum is a great picnic spot as well. 
Next visit Pedong. Pedong in Bhutia means 'place full of fir trees'. Pedong's cultural heritage started when Kalimpong subdivision, now a district (in which Pedong belongs) was integrated with British Sikkim in the 2nd half of 1800s. Large number of Nepalese immigrated to Pedong, while Lepchas and Bhuitas were already existing. As a result a fusion of culture started taking place here. Although all communities still have their own distinctive traits, their lifestyle, traditions, customs and even food habits have transformed over time. They all speak Nepali though. 
Pedong Town & Field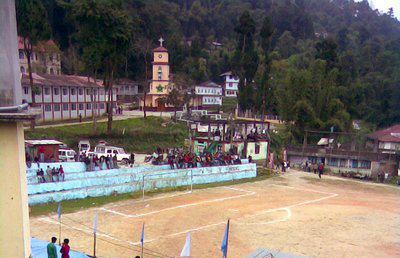 Photo: Vivek.moktan, cc by sa 4.0 
A narrow road from the highway winds down to the Pedond bazaar at the lower level and ends at a large open field. This is where the famous agricultural fair (Pedong Mela) is held annually in the last week of February. During the week of the fair the whole of Pedong swings into life. Villagers from the surrounding hills come and sell their farming produces and handmade products, numerous food stalls are set up offering all kinds of local food. Pedong Agricultural Fair also draws large number of visitors and tourists. 
What to see and do in Pedong
There is an old Bhutanese monastery here which was built in 1706 known as Sangchen Dorjee Monastery and popularly known as the Pedong Monastery. Locals also call it 'Gompa'. It follows the Drukpa Khargu order of Buddhism and is an important place of pilgrimage for many Bhutanese followers. Inside in the main chamber of the monastery, you will see many fresco paintings on the walls depicting Tantric Buddhism. Inside, they have also retained the mummified body of Shabdrung Rinpoche, a revered Bhutanese monk. 
It is at this monastery where the famous religious & cultural dance program 'Chaam', popularly known as 'Gumpa Dance' is held every year in honor of Guru Rimpoche Padma Shambhava. Pedong is one of the very few places where such Gumpa Dance is held more like a festival over three days starting on the 10th day of the 2nd month of Tibetan calendar. The festival attracts large gatherings from the local communities, particularly the Buddhist community. 
After lunch take a leisure walk to Cross Hill. You will see a cross here and hence the name. In 1882, a French missionary Father Augustine Desgodins erected the cross here which faces Tibet. Many missionaries who went to Tibet around that time did not return. In their memories, Desgodins placed the cross here with the hope that one day they would return from Tibet. You can see Tibet from here. The views of the mountains ahead is wonderful and so is the sunset. 
Cross Hill, Pedong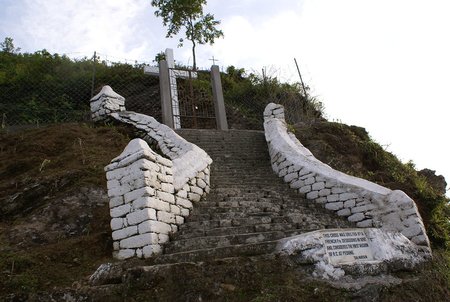 Father Desgodins also established the first Catholic mission in Pedong and a chapel (known as Sacred Heart Church). The Chapel still stands and the mission is still active here. Pedong also has a famous Christian missionary boarding school - St. George's Higher Secondary School. 
Sacred Heart Church, Pedong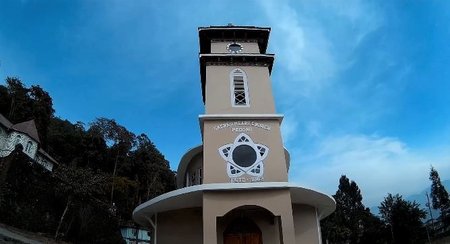 Next visit a nearby village called Kashyong and see an old traditional Lepcha house. You can then visit Tinchuley View Point. You get sweeping views of Kanchenjunga peaks as well as the valley below, Jelepla pass, Nathula and also Sikkim hills. Another wonderful view point is Ramitay. From here you can see the river Teesta meandering through the valley below and also the towering Kanchenjunga. 
If you have time, visit the nearby
Sillery Gaon
, a small sleepy hamlet almost hidden on one side of a mountain slope. It's located at an altitude of 6,000ft at a distance of about 8kms from Pedong and surrounded by pine forest. This small little mountain village with only handful villagers & their families, offers stunning views of Kanchenjunga and the river Teesta meandering through the valley. You get the view of longest stretch of Teesta from Sillery Gaon.  
While farming remains the main livelihood of the villagers, they have also started participating in eco-tourism and introduced nice home stays for tourists. The rooms are basic but clean. There is no permanent electricity here, however the villagers provide lanterns and even generators. 
While returning, stop at Algarah and walk up to Jhandi Dara (6,800ft) - a great view point to get a panoramic view of Himalayan mountain range including Kanchenjunga. This is also a famous sunrise and sunset point. 
How to reach Pedong
From NJP or Bagdogra you can take a reserved taxi to reach Pedong via Kalimpong. It would take about 3 hours. Small reserved taxi fare would be about Rs. 3,500 - 4,000/- (Fare updated: March 2022). 
Shared taxis are available from Siliguri taxi stand up to Kalimpong. From there you can take another shared taxi to Pedong (the service is not frequent though). 
Pedong Stay Information
A good budget place to stay at Pedong is Damsang Guest House which is the oldest in Pedong and family run. It is nestled in a quiet area with a nice lush garden at the back side. The guesthouse has 8 rooms that includes nice cottage style rooms as well. Some of the new rooms upstairs are fully wood paneled, have flat TV, attached bath with geysers etc. The guesthouse offers free wi-fi. 
Photo: Damsang Guest House, Pedong 
Meals are of Bengali style and served in the dining room. There is a museum at the basement (Maya Museum) showcasing old culture and heritage of the area. There are two Kanchenjung view points within walking distance.  
Damsang Guesthouse, Pedong 
Rishi Road (Near St. George's HS School), Pedong 734311 
Mobile: (+91) 91756044588; 7602534734; 9933390727. 
Another great budget/mid-range option is The Silk Route Retreat located at 21st Mile in Pedong on Reshi Road and quite near the monastery (about 400 meters). This is a family run accommodation and has five semi-attached cottages that are surrounded by lovely greenery. In fact the surrounding area is a forested land. You should ideally have a reserved car (there is car parking).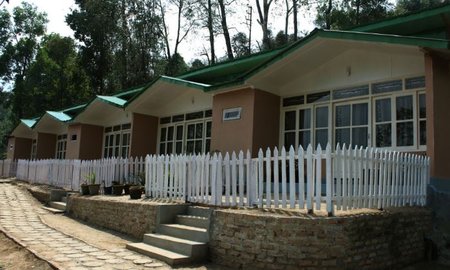 Photo: The Silk Route Retreat 
The cottages are spacious and have standard amenities including flat screen TV, western style toilets with geysers. However, power cuts are quite common and there is no backup power system. Only a candle is provide for use at night-time if there is a power cut. The highlights here is the overall wonderful ambience, greenery and tranquility. The food (made in North Indian or Bengali style) is nice. The restaurant too has a nice ambience and has bar facility. There is a lovely open terrace surrounded by greenery where you can relax, have drinks and enjoy your food. 
The staff are very friendly and service is cordial, and this is definitely their strong point. Among the downsides... you may feel that there is some need or maintenance, particularly in the bathrooms. The pathway from the cottages to the restaurant is not well-lit and therefore you may not feel comfortable walking up to the restaurant after dark. There are no shops nearby, but that can be a plus for some. There is no Kanchenjunga Views from the hotel premises and the owners are quite transparent about it and make it clear if you have such expectations. 
They also offer a package for couples (3 nights and 4 days) which includes pick-up and drops from/to NJP Station or Bagdogra Airport, a bottle of white wine, all meals, sightseeing to nearby places, and live barbecue on one night... overall a nice value for money. 
The Silk Route Retreat 
21st Mile , Pedong - 734311, West Bengal. 
Phone: + 91 - 99328 28753 
Related Articles
Visitors' Reviews/Comments
Aritra (February 2021) 
Hi Raj, I went through your blog and found this review about Pedong and surrounding areas, and was actually planning to do that. I would be staying in Kalimpong actually, so I need to do a day-trip from Kalimpong. Was planning to visit Pedong along with
Sillery Gaon
in a day's trip. 
How feasible do you think that would be, and how much time is the trip estimated to take? Also, should I visit Sillery Gaon first , or on the way back from Pedong? 
Raj (darjeeling-tourism.com) February 2021 
Hi, yes it's quite doable... Pedong and Sillery Gaon are close to each other (Sillery gaon is on a diversion from Pedong-Reshi road). You can visit them in any sequence you like. The time of the trip will depend on the sites you want to visit within and around each village and the time you spend at each site. In general, one should budget around 6-7 hours including a lunch break in between. 
Subhendra Nath Samajdar (July 2020) 
Dear Raj, I visited Pedong few years ago on my way back from Rishi Khola. I also visited a monastery near Pedong, probably Sangchen Dorjee Monastery. There was a hotel/guest house very close to the monastery. I can not remember the name of the hotel/guest house. I found the place very calm and tranquil. I wish to visit the place again and stay at the hotel/guest house. You have a vast data bank on Darjeeling and neighboring places and I hope only you can provide information about the hotel/guest house. Hope I will not be disappointed. 
Raj (darjeeling-tourism.com) July 2020 
Hello, there are two hotels near the monastery. The Silk Route Retreat is located at 21st Mile on Pedong Reshi Road, while Pedong Valley Resort is located at 22nd Mile on the same road. Sangchen Dorjee Monastery sits in-between the two and about 400 meters away from each. 
Srijonee Choudhury (April 2017) 
Hi Raj, I want to go to Pedong from Kalimpong... and cover the above mentioned places near Pedong... I don't want to stay in Pedong for a night and want to return on the same day to Kalimpong. Is that possible?? 
Raj (darjeeling-tourism.com) April 2017 
Yes, day trip from Kalimpong to Pedong and surrounding areas is quite doable. You need to hire a car for the day and work out the cost with the driver depending on what you want to cover.