Big Discounts
At Hotels, Restos, Shops, Tours, Activities...
Darjeeling Tourism Card (an eCard) is an exclusive family discount card. Your family or group can make huge savings during your vacation in and around Darjeeling. How? Just order the card and use it directly at many small and large reputed hotels, shops, restaurants, bars, sightseeing tours, treks, activities, and transports and you will get big discounts from all. This is the only tourism card in Darjeeling & Sikkim hills - One card, many discounts!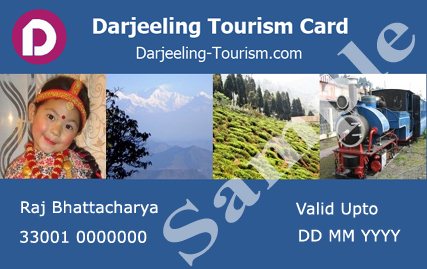 This discount Card is offered by Darjeeling-Tourism.com which is the No.1 tourism website of Darjeeling & surrounding areas since many years and the most respected one. Thousands of tourists are taking this Card and saving big money. You and your family can enjoy great discounts at many places and many times. 
Card costs only Rs. 590/- 
Where can you use the eCard for discounts? 
We have carefully selected and partnered with many small and large hotels, restaurants, shops, operators of sightseeing tours, treks, adventure activities, transports who are among the best. Now they will all offer you great discounts if you have Darjeeling Tourism eCard and avail their service. 
How many eCards do you need? 
In hotels, for each room of any type (small or large family room) you need one card. For example a family of two parents with two children in a single room requires just one card. Similarly if a group of three adults book one large 3-bedded room, they need only one card. But if you book two rooms or units, you will need two cards. In restaurants, shops, tours, treks etc, one card can be used for a group of up to two adults and two children. The person whose name is printed on the card must be present. 
How is the eCard delivered? 
Once you place the order, we deliver only a soft copy of the card by email (as attachment) and usually within 2-3 working days. You can print it yourself just like an eTicket - easy! If you do not have a printer, just forward it to your friend who has one or download it on a pen-drive and take it to an internet cafe. We do not deliver hard copy. 
Can you buy the eCard anywhere else? 
NO. Darjeeling Tourism eCard is available for purchase ONLY through this website and no other source. All eCards are personalized, bear signature authorization and watermarks. Only a genuine eCard is accepted by our partners. 
How long is the eCard valid? 
The card remains valid for 1 year from the date of issue. During its validity period the card can be used any number of times, but the card holder must be personally present every time. It is a non-transferable card. Before expiry, you can renew the card at a special discounted price. But if it expires, you must buy a new card. 
How much can you save with an eCard? 
You can save a lot using Darjeeling Tourism Card. If you use the card properly, you can save in several thousands with just one card. Remember, this is not just a hotel discount card, you can also make big savings in dining, shopping, tours, activities, transports... almost in everything. It's a tourism card! 
Foreign Nationals / NRIs - Please Note 
The blue 'Order Now' button below is only for making online payments with credit/debit cards issued in India. Due to foreign currency regulations, it won't accept payments with cards issued outside India. Below are the steps to follow while using credit/debit card issued outside India: 
1. Darjeeling Tourism eCard costs US$20 for international purchase. The higher cost is mainly due to higher processing fees and other associated costs. 
2. Please write to us using the Customer Support Email in the black box below stating your intent to purchase the eCard and also provide the name to be printed on the eCard. 
3. We will then send you an international payment request from our Paypal account. If you do not have a Paypal account, sign up for one when prompted. It's easy and free. 
4. You can then make the payment online in foreign currency using your credit/debit card or by using your own Paypal account balance. 
Customer Support Email 
Please use the email in the black box below for Darjeeling Tourism Card related query or support. 

Frequently Asked Questions & Answers (FAQs) 
Go through these
Questions & Answers
to understand how to use the card and what you can & can not expect. If you still have questions about the card, write to us using the email address in the black box above. 
Order Darjeeling Tourism eCard 
Pay online by credit / debit card, net banking or cash card. We use secured India's no.1 payment gateway to receive the online payments. 
Rs. 590/- only 

Renew your eCard 
If you already have a Darjeeling Tourism Card, you can get a special discounted offer if you renew your card before it expires. Even if you renew well before the card expires, we still ensure that the new card is valid for one year from the expiry date of your existing card. So you won't lose anything for early renewal. But if you fail to renew your card within its expiry date, we regret that we can not offer any discount on renewal and you need to order a new card at its current price. So we always recommend that you renew your card well in advance and avail the special offer. 
Rs. 490/- only