Highlanders' Inn Darjeeling
Category: Low Budget 
This is a nice budget hotel located just below the Mall Road (East). It not only enjoys a nice quiet location although being just few minutes walk from the Chowrasta Mall (which is the town center), it is also ideally located for wonderful views of the rolling hills and the snow peaks of Kanchenjunga. In fact the hotel is locate just below one of the best viewing areas of Darjeeling. 
Highlanders' Inn is run by all lady staff, who are polite, cordial and very cooperative. But it is run more like a home. Once inside, you will get a very cozy and homely feeling. 
You won't find any staff posing to be professional. In fact unless you happen to come on their way, you may not find one at the reception or public areas. But they are there and if you look for them, you can find them either in the kitchen or in some other guest rooms trying to put things in order. I like it this way because you are left on your own unless you need some help or assistance. 
Once you get in through the main door, there is a small reception table on the right which expectedly remains mostly unmanned. Right in front is a cute sitting area with couple of cushioned chairs and a table. While sitting there you can get lovely views through the glass windows. It's all carpeted here. 
Highlanders' Inn Darjeeling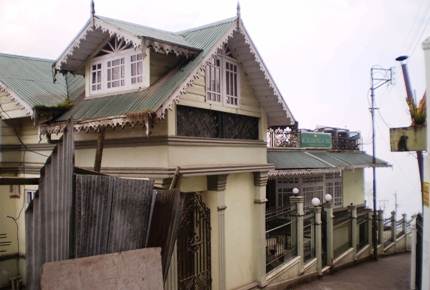 Coming to the rooms .... they are relatively small and simple, but quite clean. The rooms are carpeted. All rooms have basic amenities like a small wall LCD TV, a wooden cupboard, a queen size bed with quilt, attached bathroom with western style toilet and shower (you get hot and cold showers). 
And most rooms have lovely views of Kanchenjunga peaks through the windows. The windows are quite large. On a clear day, when you wake up in the morning, remove the curtains from the window, you will see the dazzling peaks right in front of you .... amazing views. 
A Room in Highlanders' Inn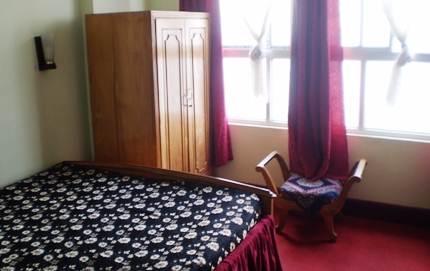 They have a kitchen. They prepare nice Indian and Nepali food and serve in the rooms. But you must order the food in advance. There is no menu and food is mostly prepared to order or they will let you know the options for the day. They serve all meals including breakfast, lunch and dinner. Quite reasonably priced. 
Bathroom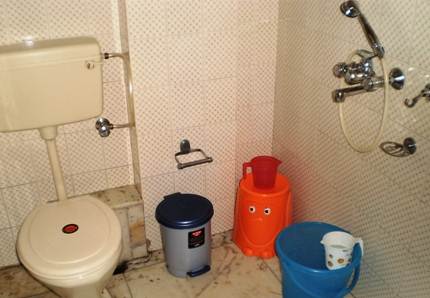 Other amenities in the hotel includes laundry services. The Mall, shops and many restaurants are located only 6-7 minutes walk from the hotel. 
Note that Mall Road (East) where the hotel is located is a pedestrian zone. Which means vehicles will not come up to the entrance of the hotel. However from Bhanu Bhavan (up to which the vehicles are allowed), the hotel is only 3 minutes walk on a flat terrain. So if you have wheeled luggage, you can easily pull them up to the hotel when you arrive. Otherwise, ample local porters are available. 
View of Lebong Race Course from the room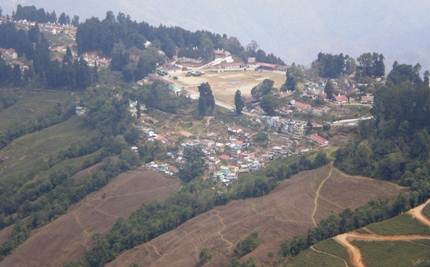 UPDATE August 2015 
I had a strange experience with Highlanders Inn in recent times. In July the hotel was closed and I could not meet anybody when I was there. Today when I tried to call their number, a lady voice mentioned that it was not the hotel's number. This was the number of the lady manager and was given to me by the lady-owner of the hotel. It worked fine then. 
Seems like the lady manager would have quit her job and as expectedly now avoiding all calls. During my last meeting with the lady-owner, I found her quite disinterested in promoting the hotel in any form and unwilling to make more contact numbers available to public. She preferred that only her staff be contacted keeping herself and her family completely detached. She said that she receives guests through her own channel and is not interested in more. Sounded quite strange. Don't think this hotel is a good choice now until things are properly taken care of. 
UPDATE 
Highlanders Inn has closed down. 
Location, Address & Contacts
Highlanders Inn is located on Hermitage road (off Mall Road East) and near Raj Bhavan (i.e. Governor's House). 
6/1 Hermitage Road, Darjeeling 734 101 
Contact Ms. Sapna (Manager): 98325 52662 X no longer the hotel's number 
Related Articles
Visitors' Reviews/Comments
Share your experience.