Mirik Attractions & Sightseeing Tours
There are several wonderful tourist places in and around Mirik. You can take a local taxi and get around. There are basically 6 attractions that are shown by local tour operators or taxi drivers to tourists visiting Mirik town; The Mirik Lake, Bokar Monastery, Don Bosco Church (newly constructed besides the Don Bosco school), Swiss Cottages, Devisthan and Helipad. 
Although the local taxi drivers may propose standard 4 or 6 point sightseeing, it is better to customize your Mirik sightseeing tour depending on what you want to see from all the attractions I have discussed below (there are lot more than 6 attractions). You can then talk to a driver and negotiate the rate (which will vary widely though depending on the season). 
Note that you can also walk and visit some of the places on foot, such as Mirik Lake (which is centrally located), Boker Monastery (you need to walk uphill for about 35-40 minutes), Devisthan etc. 
Mirik Lake (Sumendu Lake)
Mirik Lake is the central attraction of Mirik and this is where you are likely to spend most of your time. This 1.25km natural lake is also known as Sumendu Lake. 
Mirik Lake and the Arched Footbridge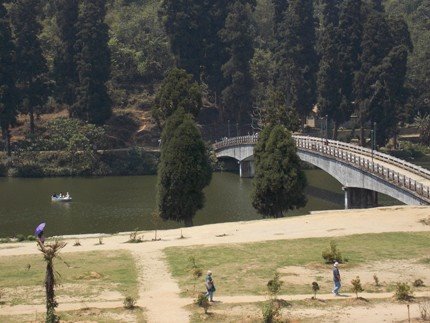 Rain and spring water keep feeding the lake and it remains full all through the year. The depth of water varies from 3ft to 25ft. The western bank of the lake is surrounded by forest with tall dhupi trees having walking trails passing through it and the eastern bank of the lake has a nice garden where tourists and locals relax and enjoy the natural settings. 
The lake is at the lowest altitude in Mirik (at 4,900ft). Far ahead towards north you can see the mountains, and on a clear day you can even get nice views of the Kanchenjunga snow peaks. There is a lovely 80-ft long arch footbridge bridge across the center of the lake which joins the eastern bank with the western bank. 
Pathway exists all around the lake. If you take a full circle around the lake, it will be about 3.5kms... so a good distance for a nice morning walk although for most part the trail is not paved. In some places particularly in the forest at the western bank, the trail becomes quite uneven and therefore some care must be taken while walking. 
Entry to the lake is through a row of temporary stalls selling all kinds of local snacks. One of the popular local snack here is 'chatpati' which is a mixture made with hardened corn and mixed with diced onion, green chili, tomato and salt. Tastes quite nice. A small portion in a cone shaped paper container costs only Rs. 10-20/-. There are mobile vendors also selling the same stuff by the lake side. 
As you approach the lake there used to be a large open field on the eastern bank which has now been converted into a fenced garden with many flowering plantations. During colonial days this field was used by the British for playing polo. 
Boating
One of the most popular activities in the lake is paddle boating. Almost any time during the day you will find several boats on the lake. Some boats have shapes of a swan.  
Boating at Mirik Lake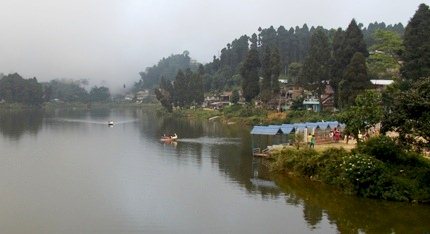 Stroll around the lake
Another activity which is my favorite at Mirik is to take a walk along the lakeside trail. It is ideal to take this walk early in the morning and your chances of seeing the snow peaks of Kanchenjunga will be much better. You can reach the trail at the western bank by walking over the arched footbridge. 
Lakeside Walkway through Dhupi trees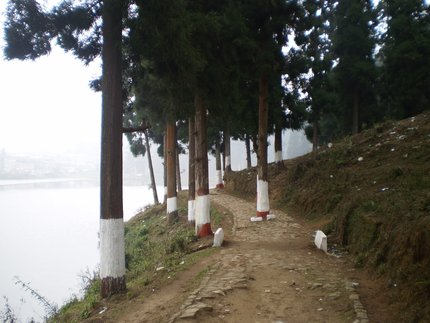 The trail passes through dense cryptomeria forest, locally known as Dhupi forest. You can alternatively take the trail on eastern bank which goes all the way up to Mirik Bazar at the backdrop of pine trees. 
Mirik Lakeside Trail, Eastern Bank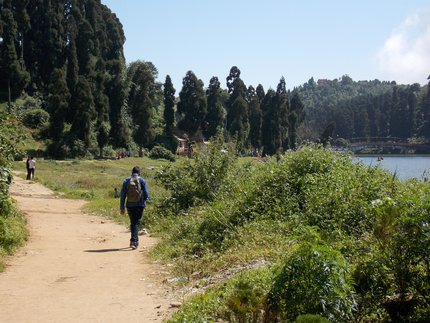 Horse riding around the lake
Another popular activity here is horse riding which is a favorite to the children. You will get the horses mostly at the western bank when you cross over the arched footbridge. Although it is quite common to see horses moving along the footbridge. They have defined circuits ... some short and the others longer around the lake. 
Horse Riding at Mirik (over the footbridge)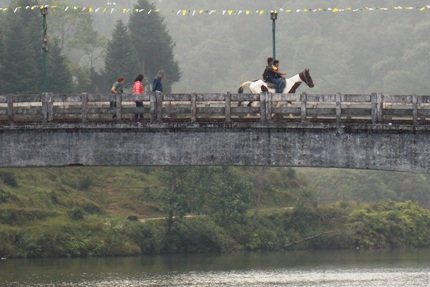 Fish Feeding
Lots of tourists engage in fish feeding just outside the southern end of the lake. There is a bridge that connects the lake area with Krishnanagar (southern part of Mirik). The bridge is two minutes walk from the lake. When you stand over the bridge and look down below into the waters, you can see numerous fishes there. Tourists and locals throw breads into the water and you can see hundreds of fishes swiftly converging. A lady there sells bread slices for fish feeding. 
Feeding the fish at Mirik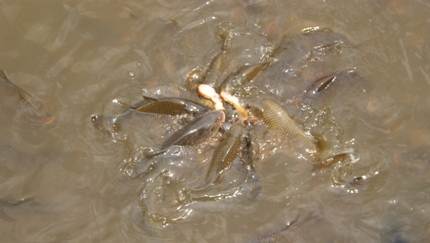 Floating Handicraft Market
Then there is the lakeside Floating Handicraft Market on the Lake Mirik (open from 10 a.m. to 4.00 p.m.) and they sell local handcrafted items to tourists who are enjoying boat rides on the lake. You can get items such as woolen Tibetan carpets, woolen wears, cane baskets, wax made figurines, Darjeeling tea, oranges etc. 
There is another market that's operational beside the children's park and garden complex by the lakeside. Rural women sell knitted sweaters, souvenirs, caps, scarves, toys and children's shoes there for affordable prices. These shops close down by 5p.m though the street food sellers that line the street around the entrance to the park and lake area remain open till 6.30p.m. 
A lakeside market stall, Mirik 
Day Center & Rangmahal
The Park (a budget hotel) located right by the lake has its restaurant offering Indian and Chinese dishes. Next to it is the Day Center which is operated by GTA (Gorkhaland Territorial Administration) where you can relax during the day time and even take some tea and snacks. Close by you can also see Rangmahal - a cultural center that organizes Nepali Folk Dance which you can watch. 
Bokar Monastery
Within Mirik, my next most favorite place is the Bokar Monastery.... the full name is hard to pronounce and remember - Bokar Ngedon Chokhor Ling monastery. This is located at the highest point of Mirik at an altitude of 5,800ft. From the lake if you look towards south east, you can see this lovely monastery perched high up on the hills. And you can imagine how wonderful the view of the lake and its surrounding area would be when you look down below from the monastery. 
Bokar Monastery, Mirik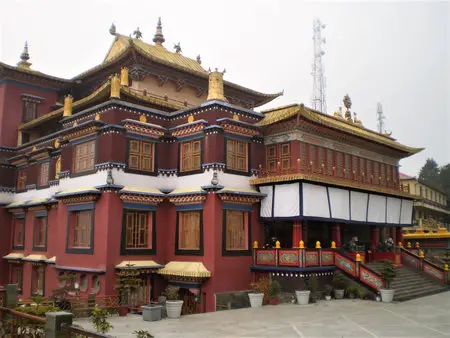 From Mirik lake, distance to Bokar Monastery is about 2.8kms and it takes about 40 minutes uphill walk. However most tourists visit the monastery by a local taxi. 
Inside Bokar Monastery 
The monastery has been named after the lama Kyabje Bokar Rinponche who founded it on 1984. Initially the plan was to make a small retreat. However with time and demand, teaching of Buddhism also became part of its activities which then became the genesis of this monastery. Today the monastery has a monastic school named Bokar Vajradhara Memorial School below it at its back side.  
Buddha Idol, Inside Bokar Monastery, Mirik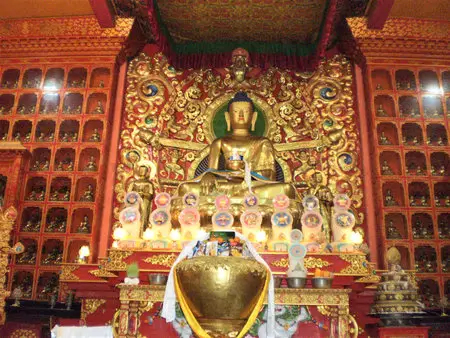 In 1988 a stupa was erected at the premises which is located at the backside. From here you get lovely view of Mirik lake down below. In 1997 Dalai Lama visited for consecration. His framed picture is placed inside the monastery. The monastery follows the Karma Kagyu sect of Buddhism which is the most widely practiced one. Inside, the ambience is serene and you will like to spend quite some time looking at the large golden colored statue of Buddha and intricately painted murals on the walls. 
View of Mirik lake from Bokar Monastery 
View Points
Close to the monastery are the view points Kawley Dara (or observatory) and another view point Rameetay Dara. These viewing areas are excellent to watch the sunrise and sunset. You get panoramic views of the mountain landscapes and Mirik, and off course Kanchenjunga snowpeaks as well. From the Bokar monastery, Kawley Dara will be another 10 minutes walk. 
Devisthan Temples
Devi Sthan is another must visit in Mirik. This is a temple complex located at the western bank of the Mirik lake and nestled deep into the forests as well as high up in the mountains... which means fairly long and strenuous walk. There are idols of several gods and goddesses here but the main temple is of Devi Durga or Bhagwati. 
Bhagwati Mandir at Devisthan, Mirik 
You can come to the western bank by either crossing over the arch bridge or walk around the southern boundary of the lake. There is a long stairway that goes up and you need to climb several flights of stairs to reach the temple. But fortunately midway through the climb there is a tea stall run by Sangeeta, a young girl who makes nice tea. This is where you can relax for a while, have a cup of tea and restart the ascend. 
Local worshippers at Devisthan, Mirik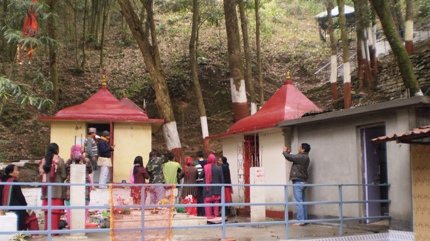 In the temple complex other than Bhagawati mandir, there are also temples of lord Ganesha, Shiva, Hanuman and others. The entire complex comes alive and bustles with many devotees and worshippers from the local community during the Basanta Utsav which takes place during the spring time (typically in March). 
Swiss Cottages & Helipad
The Swiss Cottages are part of the hotel property that belong to GTA (Gorkhaland Territorial Administration) and can be booked by tourists for overnight stays. The property sits on the highest point of Mirik overlooking the lake and Mirik township. There are 12 duplex cottages that are made in traditional Swiss architecture and hence the name. The property has been recently renovated. It's only 2kms away from the Mirik Lake and can bee seen from the lake area perched at a higher elevation. 
The Helipad is very near the Swiss cottages and is more of an attraction than an actual usable landing pad for helicopters. 
Orchid Nursery
Mirik is well known for cultivation of Cymbidium Orchids which command one of the highest prices in both domestic and world flower markets. If you want to visit a large Orchid nursery where lovely colorful orchids are cultivated, then visit the project site of Darjeeling Gardens Private Limited which specializes in Cymbidium and Phalaenopsis Orchids for commercial cultivation. These orchids are sold in domestic market as well as exported. The nursery is located at Rato Mati (Pehlagaon), about 1km away from Mirik Bazaar. You can take a taxi and go. 
Orchids at Nursery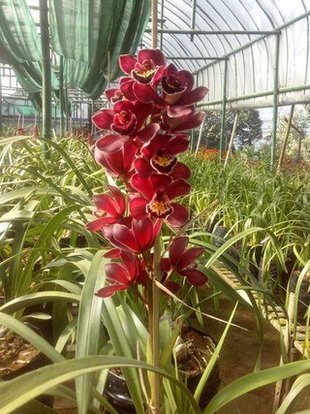 Photo: Darjeeling Gardens Pvt Ltd 
Tea Garden Viewpoint
There are more wonderful surprises just at the outskirts of Mirik. If you go 8kms down from Mirik along the main road, you will reach Tingling View Point. In my personal opinion, this is the place from where you get best views of tea gardens in the whole of Darjeeling district. What you see all around is wonderful views of rolling tea gardens on mountain slopes with mists and sun playing the game of lights & shadows... awesome. 
Tingling Viewing Gallery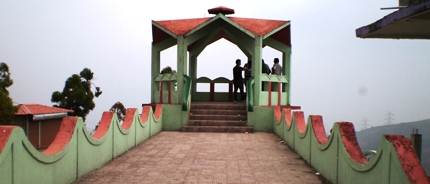 The name Tingling comes from the nearby tea estate. From the viewpoint though, the immediate tea gardens that you sea are of Sourenee Tea Estate and below that Tingling Tea Estate. So Sourenee Viewpoint would have been a more appropriate name for this place, more so because it is located very near a village called Sourenee. In fact you will need to pass the Sourenee village and go further 1km to reach the viewpoint. 
Tea Estate View from Tingling View Point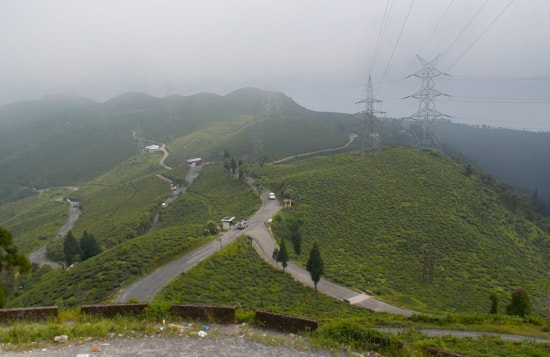 There is a stall at the base of the viewing gallery where you can buy fresh packaged tea from Sourenee tea estate. And there is an eatery as well here where you can take light snacks and some tea. 
Another great tea estate to visit around Mirik is Thurbo Tea Estate. It is only 2kms from the lake. You can even walk down to the tea gardens (about 40 minutes). This is the biggest garden in this hill area. You can visit the factory and see tea processing (with permission of the factory manager). It is from this tea estate that the state government acquired 335 acres of land area to start developing tourism in Mirik. 
Orange Orchards
Another great thing to see around Mirik is Orange orchards. You may not be aware that Mirik is the largest supply source of oranges in the whole of West Bengal. You can see orange orchards in Mirik Busti (2.5kms), Murmah, Sourenee and few other places. 
Oranges (at early stages) near Mirik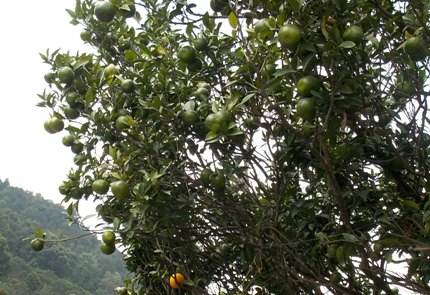 Day Trips & Tours from Mirik
Darjeeling is only 49kms from Mirik and along the way you will come across amazing places. You will drive along the Nepal border road freely ... a mountain road that divides Nepal and India. Nepali citizens live on one side of the road and Indians on the other. 
At a viewpoint named Simana you can get lovely views of the mountains and also see the trek route to Sandakphu. You will pass by the entrance of Nepal's Pashupati Market. You can do some shopping here if you want but that can eat away a lot of your time. You will need a photo Id like an Aadhar Card / Voter Id / Passport in order to visit the market which is on Nepal's territory. The main market is a 1km walk. 
Further up you can take a short detour of 2kms at Sukhiapokhri and visit a beautiful place called
Jorpokhri
with a lovely lake surrounded by pine trees with Kanchenjunga at the backdrop. 
Further up you reach Ghoom, visit the Ghoom Monastery, the famous Batasia Loop of Toy Train track and then Darjeeling. At Darjeeling take your lunch at the famous heritage restaurant Glenary's, walk around the Chowrasta (The Mall), do some shopping here before you head back to Mirik. Start this day trip by 8am to make the most of it. 
Read:
Darjeeling to Mirik Day Trip
where I have described this trip in detail but in reverse order. You can have a wonderful time and cherish a memorable day. So you need to reverse the sequence. 
Related Articles
Visitors' Reviews/Comments
Mohsin Ali (October 2021) 
Is shared car available for sightseeing in Mirik as I am planning to visit Mirik on a shared car and after reaching Mirik do I have to reserve a car for sightseeing or is there any option to get a shared car for sightseeing in Mirik. 
Raj (darjeeling-tourism.com) October 2021 
There is usually no shared vehicle available in Mirik for local sightseeing... you need to take a reserved taxi. However, on reaching Mirik, approach the taxi ticket counter and ask them if they can help combine your sightseeing trip with any other group or family so that you can share the cost... if you are lucky, it may work out. Otherwise, while in Mirik, you can also walk and visit most of the places including Mirik Lake, Bokar Monastery (requires 35-40 minute uphill walk), the temple at Devi Sthan etc. 
Sumana Nag (June 2018) 
Hello Raj, I will be traveling to Mirik with my parents. So wanted to know if the Mirik Monastery is accessible by car till the end? My parents won't be be to walk uphill, that's why. Appreciate your time. 
Raj (darjeeling-tourism.com) June 2018 
Car can reach up to the gate. Then there is a short walk through the compound on level plains and few steps of stairs to negotiate to get inside the monastery. 
Stefania Vittori (February 2018) 
Hi! thanks sooooo much for the info!! we want to visit Mirik, which is the best way to get there? we are thinking on taking a jeep or taxi to Mirik but, is it easy to get a taxi/jeep from Mirik to Darjeeling? And also, apart from sightseeing the beautiful town, what do you recommend we should do/visit at Mirik? Thanks very much!! 
Raj (darjeeling-tourism.com) February 2018 
Hi, yes it's easy to get a taxi from Mirik to Darjeeling ... there are plenty of them at the taxi stand. Visit the main attractions in and around Mirik... Tingling view point to watch sprawling tea estates on the hills (8kms before Mirik on your way from Bagdogra), take a boat ride at the Mirik lake, walk up to the Mirik Monastery, visit Simana (a view point on Indo-Nepal border on the way to Darjeeling), sip a cup of tea at the tea stall at Gopaldhara Tea Estate (located by the roadside further up from Simana), visit Jorpokhri (a beautiful high altitude lake further up towards Darjeeling but requires a 3km detour) etc. 
Deepak Kumar Dwivedi (March 2015) 
Dear Sir, visiting Mirik Lake was really a very HORRIBLE experience for me. This instance is of 10th March'15 when after completing our boating & while coming out of boat on landing platform my 4 year son fell under water (between gap of platforms). My wife shouted a lot & no one was present there who was able to jump underwater for saving life of my son. Fortunately I am a swimmer & I jumped quickly & saved my son. 
1. Guide provided to us for boating & other persons don't know swimming. 
2. Mirik lake management don't provide any life guard equipment. Even there are no safety jackets & life guards. 
3. This is really very shameful that the money you are earning on the name of tourism is waste if you are not able to provide safety to the tourists. 
4. Please learn from the other water boating places of Kerala, Nainital & other overseas places where they value life safety above anything else. 
Hope my feedback will help you to improve your services & the persons who are going to visit Mirik Lake will enjoy boating with complete safety. Thanks,