Teesta - A main river in Sikkim & Darjeeling
The 315kms long Teesta river (also known as Tista) originates at an altitude of 5,330m from Tso Lhamo lake of North Sikkim Himalayas located at an altitude of 5,100 meters and 4kms south west of India-Tibet international border. Some believe that source of Teesta is Teesta Khangse glacier (also known as Pahunri glacier) located at the border of India and Tibet at an altitude of 7,068 meters. 
Teesta, then runs down through gorges and rapids in higher reaches of Sikkim and reaches Darjeeling hills traversing 172kms, then widens and meanders along the plains of West Bengal for about 98kms and eventually enters Bangladesh where it flows into the river Brahmaputra at Fulchori. 
After its origin, Teesta meets with a river known as Chumbu Chu which flows down from the Khangse Glacier ('chu' locally means a river). Some believe that this Chumbu Chu is the upper Teesta. Further down, Teesta meets another river Gurudongmar Chu which originates from
Gurudongmar Lake
. 
Then at Thangu Valley, the river is known as Thangu Chu. As the river continues to flow downstream, several other mountain streams from nearby glaciers come and merge with Teesta... Jemu Chu originating from Jemu glacier meets the river after which it is named as Lachen Chu. At Chungthang, it is met by another river called Lachung Chu which flows in from
Lachung
. 
Teesta then flows through places such as Mangan, Singtam and Sikkim's border town Rangpo. At Rangpo, Teesta is joined by the river Rangpo Chu and then it forms a boundary between the state of Sikkim and Darjeeling district of West Bengal. The river then flows through Darjeeling district.  
The river Rangeet, The main tributary of Teesta, meets it just before the Teesta bridge. The
confluence of Teesta and Rangeet
known as
Triveni
is a splendor to look at, the mixing of the muddy emerald green waters of Teesta and the crystal clear deep green waters of Rangeet.  
Teesta leaves Darjeeling district at a place called Sevoke. The river Teesta derived its name from the word 'Trisrota', meaning 'possessed of three streams'. 
Confluence of rivers Teesta & Rangeet as seen 
from Lover's Meet View Point on Peshok Road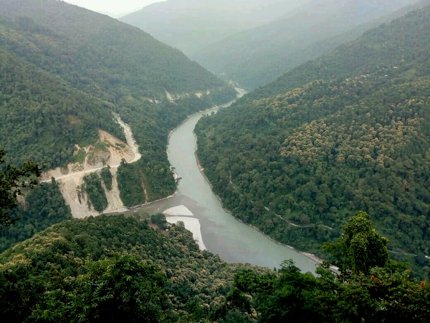 Teesta is the shortened form of the word 'Trisrota'. It derived its name from the fact that it flowed in three channels, the Karatoya in the east, the punarbhaba in the west and the Atrai at the center. A devastating flood in 1787 had changed the course of the river. 
The river has a meandering course. In Darjeeling district the river banks are covered mostly with forest but at places it has cultivated lands. One can also see tea bushes, cardamom plants, orange trees. 
River Teesta - From Sevoke Road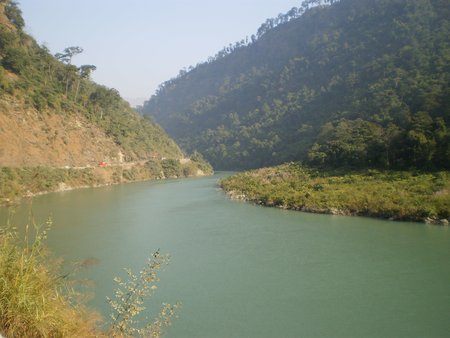 At higher altitude the river bed has cushion plants, mosses, lichens and grasses, the so called Alpine vegetation. At certain places in Darjeeling, particularly at the confluence of Teesta and Rangeet the river bank has white sand which is utilized in the construction industry. 
This sandy patch provides a good base for
White Water Rafting in Teesta
. The large boulders around the river make it an ideal place for this sport. However, much of rafting activities take place from Teesta Bazaar area and also at a place called Melli further up. 
The river has two concrete bridges - the Coronation Bridge and the Teesta Bridge . 
The Coronation Bridge on River Teesta is at Sevoke, the site where the river leaves Darjeeling district. This historically important bridge which was built using reinforced concrete, connects the district of Darjeeling with the district of Jalpaiguri. The bridge was so named in order to commemorate the coronation of King George VI and Queen Elizabeth in 1937. The construction of the bridge was completed in 1941. Locals call it Baghpool (i.e. Tiger Bridge) because of two tiger statues at one end. 
Coronation Bridge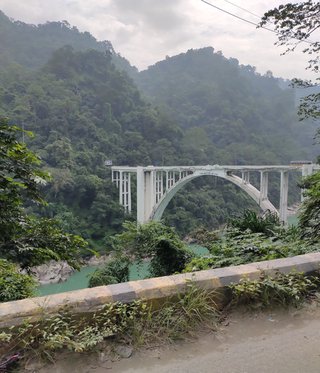 Entry to Coronation Bridge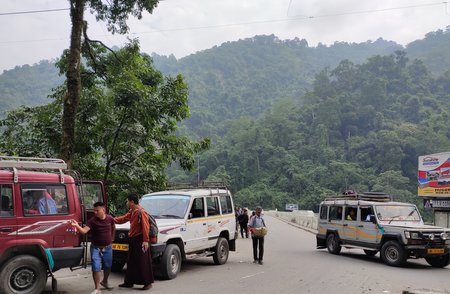 The Teesta bridge is located at a point where the roads from Darjeeling, Kalimpong and Sikkim meet. It is meant for the heavy traffic and serves as a gateway to the main towns of Darjeeling district (like Darjeeling, Kalimpong) and Sikkim (like Gangtok).  
Teesta bridge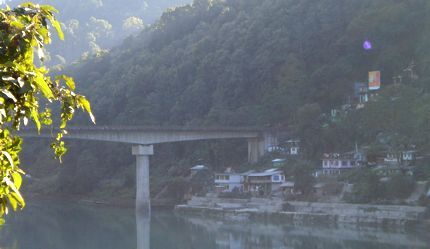 But originally there was a concrete bridge which crossed Teesta river at Teesta Bazaar. But it was destroyed by the 1968 devastating flood. Then a military suspension bridge was built there as a temporary measure whose suspension cables and the supporting towers can still be seen. Later the present new bridge came up about 500 meters down stream from where the original bridge used to be. 
On Teesta Bridge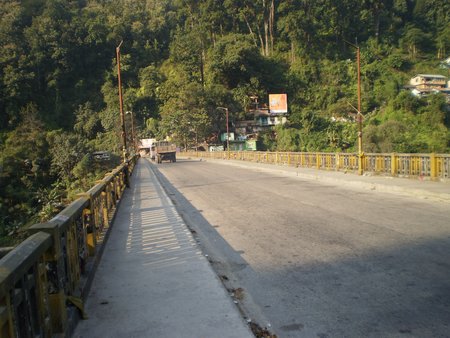 Another bridge the Teesta Suspension Bridge was built in Sikkim in 1894 by the British. This bridge could ferry only animals and pedestrians. 
On the right bank of the river at the intersection of the Siliguri-Gangtok National Highway is a small town the Teesta Bazaar. This market area is famous for beautifully hand crafted local items like thankas (which are religious hand paintings on scrolls), lanterns, silver jewelry, crockery and local food items. 
The Teesta River is a lifeline to many fishermen, farmers, boatmen although the river water has dried up to a great extent due to excessive use of groundwater. This river has an estimated total hydroelectric power potential of 84GW for generation of electricity. Several hydropower damns have already been built in the Teesta river basin in Sikkim-Darjeeling catchment area. This is soon likely to produce over 6,000MW of power. In 2007 the Teesta -V-dam was built across the river to control flood. 
The Teesta River with its beautiful trail is natures splendor. To get a glimpse of  it during a visit to Darjeeling district is like a dream come true. One of the best places to see Teesta meeting Rangeet and surrounded by lush forest is the Peshoke View Point. 
The depth and strong current not only supported life in the hilly district but also made the hilly area very vibrant with its touch of 'green'. 
Related Articles
Visitors' Reviews/Comments
Prosenjit Banerjee (June 2020) 
Hi Raj, Hope you are doing well. It's been a great and very informative website. Keep up the great work. Just want to know if there is a walking route, kind of hiking, near Darjeeling or surrounding places, to go to Teesta river bed. Please help. 
Raj (darjeeling-tourism.com) June 2020 
Hi, there is no marked hiking trail as such down the mountains to Teesta river bank. One option is to start from Lamahatta (about 1 hour by car from Darjeeling), walk down Peshok Road to Teesta Bazaar and get to the bank of Teesta river (there is a place here where rafting takes place). This downhill walk would take around 3 hours (13kms). Along the way (about 10kms from Lamahatta), you get a marvelous view of Teesta flowing through the mountains from Lover's Meet View Point (see my
page on Triveni
).