Lachung, Yumthang & Zero Point Tour from Gangtok
If you are visiting Sikkim and don't think that you will make it again in a long time to come, then do pursue a visit to Lachung, Yumthang Valley and Zero Point in North Sikkim. Why? Because you may not again see such stunning views of snow mountains and rivers anywhere else. Dr. Joseph Hooker in his 'Himalayan Journal' of 1855 mentioned that Lachung and Yumthang are the two most picturesque places in the whole of Sikkim and had even compared them to valleys of Switzerland. 
You should plan your visit to Lachung and onward to Yumthang Valley and Zero Point from Gangtok. It requires an overnight stay at Lachung before you can return to Gangtok next day. Alternatively, if you are visiting
Lachen/Gurudongmar Lake
, you can also add one more day and visit Yumthang Valley. 
From Gangtok, after 66kms drive you will reach the small township of Mangan, and then Chungthang which is only 22kms before Lachung and is the nearest town. Along the way the river Teesta will be by your side and you can see a number of waterfalls and mountain springs. 
You should take a halt at Chungthang and watch the lovely confluence of the rivers Lachung Chhu and Lachen Chhu which then join the river Teesta. Nearby there is a sacred stone (Naydo) having footprints of guru Padmasambhava. Visit the Chungthang Monastery surrounded by stone houses and large edifices. The monastery has rich collection of rare Buddhist paintings. Other things to see here are the many waterfalls coming down the rock faces, lush forested landscapes and scenic views all around. 
About 11kms ahead of Chungthang and towards Lachung (30 minutes drive) you will come across a wonderful waterfall along the way known as Bhim Nala (also known as Amitabh Bachchan Waterfalls because a scene of the film 'Ankhen' was shot here with Amitabh in it). Take a break here for 10 minutes and enjoy the lovely view of the fall roaring down from high above and splashing into the ground near you. The sound of the gushing water can be heard from far and the water is really cold.  
There is an wooden platform made by the villagers (with bamboo and logs) so that you can go close to the waterfall, but to need to pay Rs. 10 per person to walk on that (you can however view the waterfall from the road also). 
Lachung
Lachung means the 'Small Pass' (so there must be a 'Big Pass' as well? Yes, it's another place called Lachen. From Chunthang a road bifurcates and leads towards Lachen). Lachung is a small mountain village at an altitude of 8,610ft and located about 118kms from Gangtok. Although the distance looks easy, it takes about 6 hours by car to reach Lachung from Gangtok, and the road although very scenic, is often not in good condition. Lachung is part of North Sikkim. 
Lachung Monastery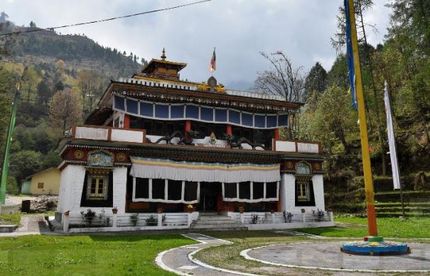 Although most come and stay at Lachung only to visit Yumthang valley and Zero Point next day before returning to Gangtok, you should not miss out on the opportunities which Lachung itself offers. Start early in the morning from Gangtok so that you can reach Lachung by 12noon and have enough time to explore the nearby area. 
The residents of Lachung who are mostly Bhutias call themselves Lachungpas. They have their own self governing body known as 'Dzumsa' to settle all social and other disputes through consensus. 
One of the nice places to visit here is the Lachung Monsatery (or gompa). It has wonderful wall murals and also several ancient statues. The monastery holds religious dance on 28th and 29th day of 10th Buddhist month (December). You should also visit the Carpet Weaving Center where you can see the local ladies weaving exquisite woolen carpets. The center is open on weekdays between 8am to 4pm. 
Yumthang Valley
You should stay overnight at Lachung, and start early next morning. Yumthang valley is about 25kms from Lachung located at an altitude of 11,800ft and takes about 1.5 hours of drive. During high season, there can be long queue of vehicles at the check post just after Lachung and the situation can be quite chaotic there and you may easily waste about an hour here. So if you want to avoid such queue, you must start very early (even 6am start may not be enough). 
Yumthang Valley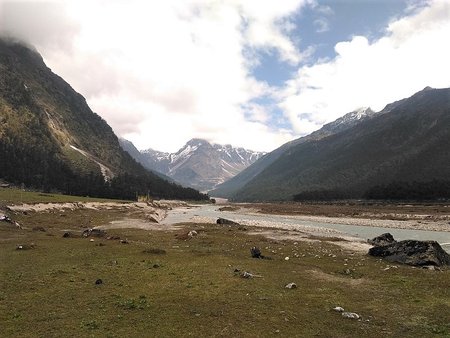 The name Yumthang Valley means 'Valley of Flowers'. So you know what to expect. But the name would have been more appropriate if it said 'Valley of Rhododendrons'. Because here as the tree line ends, the vast stretch of flowering valley exposes a dense bed of rhododendron flowers for miles and in many different colors like purple, blue, red, pink etc. 
The rhododendrons bloom between March to May. Visit the Shingba Rhododendron Sanctuary which spans across 34 square kilometers area here near Lachung and has over 38 different varieties of rhododendrons. The sanctuary beats out its competitors like Dzongro, Barsey, Zema in Lachen because of its sheer variety and spread of colors. 
You can see some great species such as arboretum, grande, nivale, the state flower etc. Other than rhododendrons, there are flowers such as iris, primulas, cobra lilies, louseworts, poppies etc. State Forest Department holds International Rhodendron Festival here annually between March to May during the peak flowering season. 
Other than the wonderful views of vast valley of flowers, Yumthang also offers lovely views of the mountain peaks such as Pauhunri and Shundu Tsenpa forming the backdrop of the river Teesta. 
Yumthang - River Teesta with backdrop of the mountains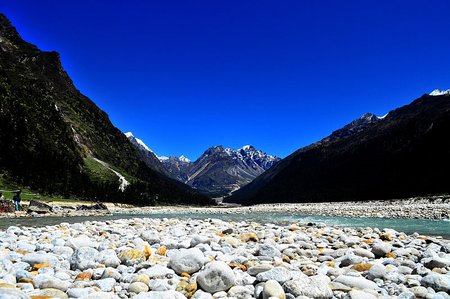 Before entering the Yumthang Valley, a pedestrian pathway goes over a small bridge and reaches Yumthang Hot Spring. You will need to walk for few thousand yards to reach the hot spring. In such a cold climate, this surprisingly natural warm water comes as a pleasant surprise. The water is rich with sulfur and said to have good healing and medicinal value. The spring water here is directed to a hut and couple of pools inside so that one can take a healing bath here. 
Nearby there are couple of rivers - Yumthang chu and Puniya chu where you can do fishing if you have time. But for that you need to plan a longer stay at Lachung. About 7kms further north of the hot spring, there is a Shiva Temple. 
Zero Point
Further up and about 23kms from Yumthang at an altitude of 15,300 ft is the place Zero Point (also known as Yumesamdong). It takes another 1.5 hours from Yumthang by vehicle (about 3 to 3.5 hours from Lachung). This is where the civilian road ends and you can't drive any further and hence the name Zero Point. A short distance away from here is the border with China and tourists are not allowed to go any further shortly after Zero Point. 
So what do you expect in Zero Point? While the road is quite treacherous, the rewards are awesome. Zero Point or Yumesamdong is the place where three rivers meet with surrounding snow-clad mountains and offering marvelous scenic views. You can often see yaks grazing in the snow. There is hardly any vegetation in Zero point other than some stretches of grassy land which becomes visible when the snow melts. 
Zero Point is the place which remains snow covered for most part of the year. So if you want to see and enjoy snow, then visit Zero Point and you won't likely be disappointed. There are also Hot Springs in Yume Samdong at the river called Sebu chhu. Donkia-La pass is also located here (at an altitude of 18,400ft which connects Lachung Valley with Lachen Valley). However you can not access the pass. 
Zero Point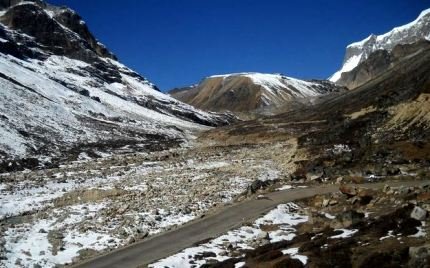 At Zero Point you will find a few temporary stalls where locals sell snacks Magi noodles, eggs, chana masala etc. You can get tea/coffee (and surprisingly even alcohol). There are no toilet facilities here though. Note that due to the high altitude of Zero Point, oxygen in the air is low and there can be breathing problems for few. So you should avoid visiting the place with an asthmatic or an infant. 
How to visit
Only vehicles from tour operators who are registered with Sikkim tourism are allowed. Visit to Zero Point requires additional cost for vehicle. You need to take a tour package from an authorized tour operator of Sikkim.
Click here for some of such well known operators
. 
I would suggest that on the second day, start early in the morning and first visit Zero Point. This is because the weather conditions there can change any time and in the afternoon the visibility may not be as good as in the morning. On your way back, visit Yumthang Valley and Shingba Rhododendron Sanctuary. Also visit the small local market in Yumthang and scan through the small stalls selling clothes and knick knacks. Try out some noodles or omelet and tea. 
Permits for Lachung / Yumthang
As the international border with China is nearby, the whole area is under army control. Visitors require Protected Area Permits (PAP) to visit Lachung/ Yumthang/ Zero Point. It can be made at Gangtok Tourism Office, District Administrative Center at Mangan, or at Chungthang Sub-Divisional Magistrate's Office. You need to get it done through a registered tour operator of Sikkim... the application form should be submitted minimum one day in advance. Foreigners need to be in a group of two or more in order to visit Lachung/Yumthang (solo foreigners are not allowed). 
NOTE: 
Permits are not issued to children below 5 years (officially not allowed). It is not recommended that you try to take a kid below 5 years to Yumthang/ Zero Point, you will be likely stopped at a check post. 
Visit
Sikkim Permits
for complete information about getting permits to tour various parts of Sikkim including Yumthang/Zero Point. 
Suggested Tour Plan from Gangtok
Only Lachung / Yumthang Valley 
Day1: Reach Lachung from Gangtok, overnight stay at Lachung. 
Day2: Star early, visit Zero Point, Yumthang Valley, return to hotel, have lunch and proceed to Gangtok.  
Combined tour of Lachen & Lachung 
Day1: Reach Lachen from Gangtok, overnight stay at Lachen. 
Day2: Start early (4am), visit Gurudongmar lake & Chopta Valley, return to hotel, have lunch and proceed to Lachung. Overnight stay at :Lchung. 
Day3: Star early, visit Zero Point, Yumthang Valley, return to hotel, have lunch and proceed to Gangtok.  
Indicative Tour Package Cost
Fare updated: January 2020 
You should note that North Sikkim tour cost can vary widely depending on several factors such as: 
High or Low season. Usually the high seasons are between April 1 - June 30; September 15 - October 30; December 20 - January 5, and the rates are quite higher in high season. 
Category of vehicle. A luxury package would usually include a vehicle like Innova, Scorpio or Xylo; while a budget package would include a Sumo, Bolero or Mahindra Max. 
Category of Hotel - luxury hotel, mid-priced hotel or a budget lodging. 
Your group size. A large vehicle can accommodate up to 7-8 persons. So more the number of persons, the per-person cost comes down. 
Tour operator. Rates of high-end tour operators with established brand names would charge higher package rates, but they would be more reliable than the unknown ones. 
A 3-day/2-nights tour package from Gangtok to Lachung (including Yumthang, but not Zero Point) and Lachen (including Gurudongmar Lake) would cost around Rs. 25,000 for two persons in high season for a mid-priced package that includes mid-range hotels on AP plan (i.e. breakfast & dinner), local sightseeing on the way and a reserved vehicle like Sumo, Bolero or Max. The same package would cost around Rs. 20,000 in low season. The cost includes permit fees. 
Operators in Gangtok also offer group tours to North Sikkim which operate on a per person basis making it easier for budget travelers. Up to 8 tourists are usually taken in a large vehicle. Indicative cost is Rs. 2,500/- per person for 1Night/ 2Days visit to Lachung & Yumthang which includes shared transport, accommodation in a budget hotel on a twin sharing basis, food, permits etc. A similar 2nights / 3 Days group tour that covers Lachung/ Yumthang as well as
Lachen/ Gurudongmar
would be around Rs. 4,500 - 5,000 per person depending on season. 
Where to stay
There are several hotels in Lachung. You won't find any accommodation in Yumthang or beyond. It's quite difficult to contact hotels in Lachung and Lachen over phone and make reservations. It's better to go through one of the many Sikkim Tourism registered tour operators who can make the bookings and also arrange for necessary permits. You can suggest the hotel of your choice to the tour operator. 
The best of the lot is Yarlum Resort in Lachung which is a luxury class hotel having 38 rooms and suites. Facilities include room heaters, 24 hours hot water, in-room LCD TV, tea/coffee maker etc, Library & DVD lounge,  snooker/pool room, in-house multi-cuisine restaurant, in-house bakery, internet access through VSAT etc. Phone: 03592 281663; Mobile : 94343 30033 / 35; Email: [email protected] 
Snow Lion Mountain Resort is a budget hotel with nice amenities and overlooks the Lachung village with great views of the mountains. There are balconies in each floor. Bathrooms have geysers with 24 hours hot water. Room heaters come at extra cost. However there can be power cuts. Rooms are all wood paneled with wooden floor. The dining room too is partially wood paneled with low traditional seating and having a fire place. The over all service is nice although a bit laid back at times. Food options are limited. You need to order your meals in advance. Phone: 03592 204116; Mobile : 94341 44194. You can book through worldmarcopolo.com. 
Le Coxy Hotel in Lachung is a no-frills simple one with home-like atmosphere and modern amenities. It's a small hotel with 13 rooms and an in-house restaurant. Phone: 03592 201153; Mobile : 94343 18498 
Best time to visit Lachung/ Yumthang
April to May is a great time to go as the rhododendrons are in full bloom during this time, and Yumthang valley lives up to its name - the valley of flowers. Another good time is during Losar festival (held between February to March). This is when the locals in their full traditional costumes eat, drink and perform many cultural shows. 
Avoid visiting Lachung/Yumthang during the monsoon (mid-June to end-September), this is the time when there are possibilities of landslides and road blockades.... route in the higher reaches may remain closed. However October and November are again good times to visit. Beginning of December is also a great time as you can see the monks performing mask dance at Lachung monastery. There is usually heavy snowing from late December up to end-February and sometimes route could be blocked. 
What to carry
If you are heading for snow in Zero Point, then rent an overcoat, a pair of gloves and snow boots from Yumthang market. Also carry enough warm woolens in all seasons as it can be biting cold at the higher reaches. Carry all your medication particularly for any high altitude sickness. There are no ATMs here, so carry enough cash. 
Recommended Resources
The eBook on Darjeeling & Sikkim is a great resource to plan your tour and get deep insights into various attractions of Darjeeling, Kalimpong and Sikkim including trips, tours and rides. 
Related Articles
Visitors' Reviews/Comments
Saneesh K (December 2019) 
We heard that zero point is closed for visit for the month of December, is it true? 
Raj (darjeeling-tourism) December 2019 
No that's not true. In December you can visit Zero Point provided there is no road blockade due to landslides or heavy snow... which although can happen but not very common. 
Rohan (September 2018) 
Hi Raj, Thank you for detailed information. I am planning to visit Sikkim in last week of Nov 2018 with my parents who are around 60 yrs old. 1. Is it possible to visit Yumthang valley in Nov end? 
2. Can we get seat of our choice in shared taxis? 3. Will share cabs wait for sightseeing on the way? 
Raj (darjeeling-tourism) September 2018 
Hi, yes it is quite possible to visit Yumthang in November. However you may not always get a shared taxi (basically a shared tour package) because it depends on demand and are usually available in high seasons. You can request for choice of seats, but that may not be offered if others have already made similar requests. They can have limited sightseeing along the way (which would be included in the package... you need to check with the operator). 
Priyanka (June 2018) 
We have booked accommodation in lachung for Oct 2018. Can we book a separate vehicle or is it necessary to go through a tour operator? We do not want the whole package. 
Raj (darjeeling-tourism) June 2018 
You need to go through a registered tour operator in Sikkim. If you have booked a hotel, you can ask them to exclude that from their package and include only the vehicle & permits. 
C Nandakumar (May 2018) 
Thanks for your detailed information about Yumthang valley and Zero Point. I visited this place on 22nd May 2018. Beautiful place and wonderful experience. Yumthang feels as a dream world. Thank u Sikkim. 
Paul (April 2017) 
Hi, Thank u for your great effort for providing a detailed information. Pls let me know How many days (minimum) required to visit Gurudomger lake and Yumthang Valley with a stay at Lachung... (from Gangtok). Is it possible to cover these two places with one day stay at Lanchung.. We are planning our trip and need to know the no. of days to be included additionally to visit these places. Thanks . 
Raj (darjeeling-tourism) May 2017 
You need one night in Lachung and one night in Lachen ... so 2 nights. 
Ganesha B S (December 2016) 
Hi Raj, Firstly thanks for the info. I and wife will be coming to Gangtok in Jan 2017. Would like to know is it possible to visit Zero Point during this time. 
Raj (darjeeling-tourism) December 2016 
Depends on if the route is open (it could be closed due to heavy snowfall). 
Dileep (September 2016) 
Hi Raj, thanks for your valuable information regarding tour. I need a small information regarding Lachung excursion. I am planning to visit Yumthang valley/Lachung in 3 days 2 nights trip from Gangtok. So, can I book a taxi to Lachung (for one side only) and then book another taxi in Lachung for return? Are taxis available from Lachung to Gangtok?  Your input will be very useful for my tour planning. Waiting for your valuable reply...... 
Raj (darjeeling-tourism) September 2016 
Lachung being a protected area, you should go through a registered tour operator. Booking one way won't help because they will anyway charge two-way fare. 
Shakuntala Pathak (March 2016) 
We had contacted Kongchen group directly, co-owners of hotel Yangla in Lachen and hotel Golden Fish Lachung helped us save some bucks (about 20-21 thousand for 4 persons). However I will strongly suggest anyone interested to directly contact Ritesh Chattri, he was our driver and an excellent one. He saved our family from a extreme snow storm at Gurudongmar, and he can arrange the entire trip for you at a far less rate provided by hotels or travel agents who charge commission. Hs contact number is 08972464815.