Chatakpur - Visit & Stay
About Chatakpur
Worship of nature has played an indomitable role in our country since ages. Many people have foregone the luxuries of city life and settled down in the remote places close to "Nature Earth' and worshipped it. Such places are rare but exist within our reach not too far from where you are! Chatakpur is one such small eco-friendly village nestled within the
Senchal Wildlife Sanctuary
in Darjeeling District, West Bengal. 
Chatakpur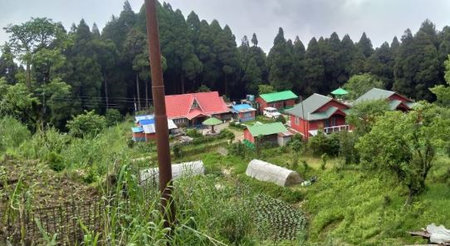 Photo: WBFDC 
This pristine village is bounded by the Kachenjunga Mountain Range in the North and the river gorge Relly Khola in the south. Chatakpur is only about 64 Kms from NJP or Bagdogra, 25 Kms from Darjeeling and 14Kms from Jorebungalow, Ghoom. 
Once upon a time this village was a timber den and people used to rampantly smuggle out the timbers. But the forest department has taken the initiative to remodel it to an eco tourism village where the villagers actively participate in it in order to make tourism an alternative source of livelihood other than just farming. 
Located at an altitude of 7,887 feet, Chatakpur is a paradise for nature lovers as one can get a spectacular view of the imposing mountain range of Kanchenjunga and at the same time experience the overwhelming lush green forest in a quiet village setting. Chatakpur has a population of only around 90 people and 19 village houses. Almost all village families today run their own homestays which are essentially extensions to their houses. 
This village promotes organic farming of vegetables through terraced cultivation. Medicinal herbs are also grown and the locals sustain their livelihood through these.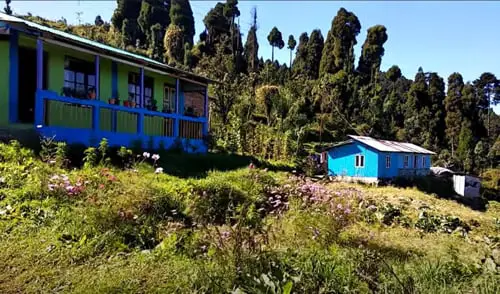 Attractions & Activities in and around Chatakpur
You can view the trekkers' dream destination Sundakphu from the Watchtower in Chatakpur, 10-12 minutes walk from the tourist Eco Huts. This watch tower is also known as the sunrise point as well as the Chatakpur Viewpoint, and as expected the view of sunrise from here is simply awesome. 
The viewpoint is located at the highest elevation of Chatakpur. You need to walk through the Chatakpur village on a booulder pathway. As you approach the Viewpoint, there is a narrow stony pathway with bamboo railings on both sides that lead all the way up to the Viewpoint and the Watchtower perched at an elevation. You will finally need to climb a flight of stairs to get on to the observation deck of the viewpoint.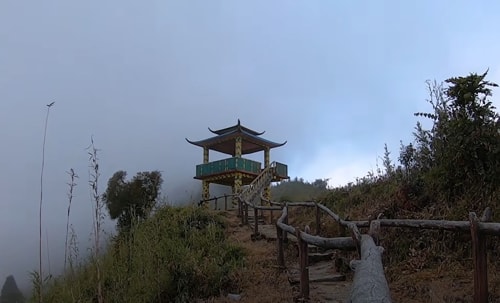 However, sometimes clouds come in from different directions and engulf the viewpoint blocking views of the snow peaks. In such a case, while you may not get the views that you came here for, but being among the clouds is a different romantic experience which you will likely cherish for long. 
Some argue that you perhaps get better view of sunrise over Kanchenjunga than what you get from Tiger Hill which requires you to travel for 40 minutes from Darjeeling early in the morning. While here, it's only 10 minutes walk to the tower.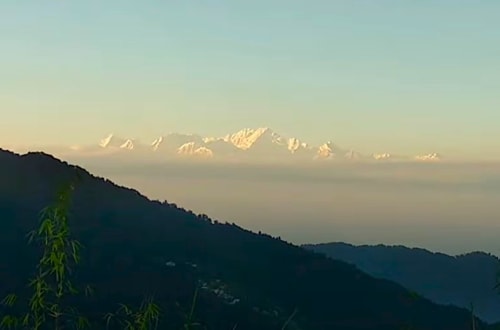 Kanchenjunga range will be with you all along on a clear day. And that probably is the main reason why tourists love this place the most. In fact, Kanchenjunga is visible from most of the homestays at Chatakpur. 
From the tourist cottages (WBFDC Eco Huts) if you go 100 meters or so to the right, you enter the dense pine forest. There are several forest trails here through lush greenery that are ideal for light treks. You should always take a trained guide with you for treks as the forest also harbors wild lives like leopards, barking deer and several other animals. If you are lucky, you can even see a Red Panda.  
A trail from the Eco Huts leads down to a nice small pond, locally known as Kalipokhri (Kali means black and pokhri stands for a pond). It's about 10-12 minutes walk from the Eco Huts. The trail initially passes through the pine forest and then through even denser forested land. The locals consider this pond as a sacred one and say that not even a single leaf falls on the pond although it's surrounded by dense forests. 
Kalipokhri Chatakpur 
There is a large rock in the pond. As you walk towards Kalipokhri, you will likely be accompanied by stray dogs. I was surprised to see one of them climbing all the way up to the top of the rock and enjoying the views around. 
As the forest is also a home to a number of lovely colorful birds like Blue Magpie, Bulbul, Verditer, Flycatcher, Pipit, Long tail Shrike, Warbler, Prinia and lot more, it's a great place for the bird watchers as well. 
There are only 19 village homes in this tiny place, and the villagers will do everything possible to show you what they have or do. You can pick garden fresh organic vegetables from the farmland, or even feed or milk the cattle if you want. In fact you can buy organic vegetables really cheap and take back home. 
And there are those elderly folks in the village who are waiting to tell you the stories about this place, it's history, people and their culture. You will love to hear them on a lazy afternoon as you sit under the sun on the courtyard. After sunset the locals perform traditional folk dances on request to entertain tourists. 
How to reach Chatakpur
From New Jalpaiguri (NJP) station or Bagdogra airport, the shortest route is to go towards Kurseong (either by taking the Hill Cart Road, otherwise through Rohini Road), and then further up (towards Darjeeling) along Hill Cart Road, and at Sonada take a right along the Forest Office Road which eventually meets Chatakpur Road. Chatakpur is only 6Kms from Sonada. 
From NJP or Bagdogra, it takes about 2 hours 20 minutes to reach Chatakpur. The section of the road from Sonada passes through forested area and is extremely difficult to negotiate. Although this route is shortest and local drivers tend to take this route, the condition of the road is quite treacherous... it's a broken road full of loose rocks. In fact, you will need to take a large vehicle like a Tata Sumo to get to Chatakpur by this route, or for that matter, whichever route you take to Chatakpur. Small cars will not be able to negotiate the muddy jungle roads that are uneven and full of boulders at several sections. 
From Sonada, after you travel for a few kilometers, you will reach the police check point. If you haven't arranged for your permits, this is where you can get it (details given in a section below). After that, the road bifurcates... one to the right goes to lower Chatakpur and the other towards upper Chatakpur.  
You  can also take a shared cab from NJP and get off at Sonada. If you pre-arrange with your homestay in Chatakpur, they can send a vehicle to pick you up at Sonada and take you to the homestay. 
From NJP or Bagdogra, there is another route... 10kms after Kurseong Station there is a small settlement called Dilaram. From here an uphill road to the right goes to the
Bagora village
and from there from a junction of 4 roads, one to the left goes all the way to Chatakpur. However, the last several kilometers on this route is a boulder road and only vehicles like Sumo, jeep, Bolero etc with good ground clearance can negotiate that. 
Once you reach Chatakpur on this route, the road bifurcates... one on the right goes up to Upper Chatakpur, while the one on the left goes to Lower Chatakpur. Most vehicles will stop here at the junction (particularly if your homestay is located in Upper Chatakpur) and you will need to get off here and walk. 
While coming from Darjeeling, the vehicles usually come up to Jorebungalow (about 8kms) and take the Old Military Road which goes through the dense forests of
Senchal Wildlife Sanctuary
. This road eventually meets the Chatakpur Road. Distance from Jorebungalow to Chatakpur is about 14kms and can easily take over 1 hour. The road condition after Jorebungalow is quite bad... it's an uneven broken road with loose boulders at several stretches and you should take a large vehicle like a Bolero. It takes about 1 hour 30 minutes to reach Chatakpur from Darjeeling town. 
Alternatively from Darjeeling, you can come down to Sonada which is about 50-minute drive and then go up to Chatakpur (another 25 minutes). 
If you call up the Homestay owner in advance and let him know your time of arrival, he will send somebody or come himeself to receive you at this point and escort you to the homestay and also give you a helping hand to carry your luggage. Vehicles can however, continue for some distance to Lower Chatakpur. Homestays in Upper Chatakpur usually have the advantage of offering better views of Kanchenjunga.  
Note that Senchal Wildlife Sanctuary remains closed during the monsoon (June 15th to September 15th). This is the animal mating season. During this period, entry permits are not issued to the sanctuary and tourists can not visit Chatakpur. 
Indicative Transport Fares (Fare Updated: March 2022) 
Reserved taxi (Tata Sumo) fare from NJP/Bagdogra to Chatakpur: Rs. 3,500/- 
Reserved large vehicle fare from Darjeeling to Chatakpur: Rs. 3,200/- 
NOTE: Vehicle from Darjeeling will charge up and down fare even if you take a drop. You may consider keeping the vehicle with you overnight (there will be an additional night stay charge though). 
Entry Permission & Fees
Chatakpur is located within the Senchal Wildlife Sanctuary. The sanctuary is administered under the Divisional Forest Officer Wildlife Division -I in Darjeeling. Entry to the sanctuary requires permission from the Forest Department. However the villagers who run homestays in Chatakpaur have been authorized by the forest department to arrange for the permissions for the tourists who make homestay reservations in advance. They are also authorized to collect the necessary entry fees from the tourists and deposit that at the forest department's office. 
So, if you are planning to visit Chatakpur on your own, ensure that you have a confirmed homestay booking made in advance. You can then ask the homestay owner to arrange for the entry permission for you and collect the entry fees. Otherwise, if you are visiting through a tour operator in Darjeeling, they too can handle the logistics. Entering the sanctuary without a permission is illegal. 
If you only want to make a day visit or like to get the sanctuary permit yourself, you can do so by visiting the Jorebungalow Forest Office (located on Hill Cart Road at Jorebungalow) and getting the necessary permits. Here is the address of Jorebungalow Forest Office: 
Office of the Ranger Officer (Jorebungalow) 
Senchal West Range 
Wildlife Division-I, Darjeeling, West Bengal 
Note that if you approach Chatakpur via Dilaram/Bagora or Sonada where there is no permit issuing authority, you will come to a check post before entering Chatakpur, where you will need to pay up for your permits as well as vehicle. 
Wildlife Sanctuary Entry Fees 
Chatakpur being part of Senchal Wildlife Sanctuary, there are fees for entry to the sanctuary. 
Tourist: 120/- per person per day (Rs. 500 per day for foreigners) 
Vehicle entry fee: Rs. 400/- 
Best time to visit Chatakpur
You can visit Chatakpur year round except in the monsoon season. The Senchal Wildlife Sanctuary remains closed in monsoon (from June 16 to September 15) and visitors are not given permits to visit Chatakpur. The Eco Huts and the private homestays remain closed during this time. 
The best time to visit Chatakpur is during the spring/summer (March to May) when the daytime temperature remains pleasant (between 16 - 18°C) and the sky usually remains clear for excellent views of the Kanchenjunga Snow Peaks. Another great time to visit Chatakpur is during autumn (October to November)... you can enjoy the pleasant weather and get great views of the peaks. However, the nighttime temperature can fall substantially and it can become quite cold at nights.  
Winter time between December to February can be quite cold in Chatakpur when the daytime temperature hovers around 9 - 13°C while the night time temperature can get close to zero degree Celsius. If you like cold weather, you can enjoy the winters in Chatakpur as well. But, bring adequate winter clothing during this time. 
Where to stay in Chatakpur
WBFDC Eco Huts
The West Bengal Forest Department (WBFDC) in association with the village cooperative has set up two Eco Huts or Cottages in Lower Chatakpur which are nestled in pine forest. The two wooden furnished cottages have 2 rooms each with double beds in each room. With an extra bed, up to three persons can stay in each room. 
The two WBFDC Eco Huts, Chatakpur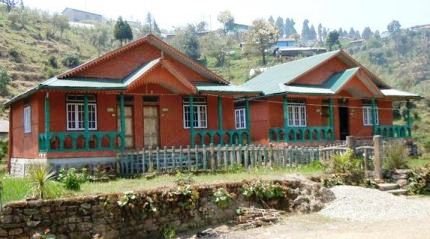 There are both front and backside balconies. However, Kanchenjunga view is not available from the cottages. The rooms are provided with bedding and enough blankets & quilts to counter the cold, but there is no TV. 
So unless you are one like me who enjoys the solitude and wilderness, I suggest you travel in groups so that the night doesn't haunt you. By the way, the members of the village community come and cook the food for you, and they leave for home after serving early dinner (by 8pm or so). And then you will be left on your own at the cottage through the night and there is no service after that. 
The rooms in the cottages have attached bathrooms with geysers for hot water. Rooms are carpeted. However, cleanliness could be an issue. There is no generator backup and power cuts are not uncommon here. It is for the same reason, although there are geysers in the bathrooms, they are of no use during power cuts. 
An adjacent hut is used as kitchen and dining. This is where the meals are served. The stay package includes bed tea, breakfast, lunch and dinner. Food is fresh and adequate in quantity. They serve eggs in breakfast, chicken in dinner. 
The staff (who are actually all villagers) are very well behaved, helpful and friendly. A small shop run by an ex Gorkha Regiment soldier and his wife sells tea, Maggie noodles etc. 
Indicative package cost per night 
WBFDC Eco Hut room for two persons: Rs. 3,400 per night + Tax with all meals. You can also book only a room (without food): Rs. 2,000 per night + GST 
Village Homestay: Rs. 1,700 per night per person with all meals. 
How to book WBFDC Eco Huts 
Private Homestays
There are several homestays in Chatakpur that are owned and run by the villagers and their families. There is proper water supply and electricity in several homestays including room heaters. The bathrooms are fitted with geysers as well, but bathrooms may not be always attached to the rooms but only a few steps away.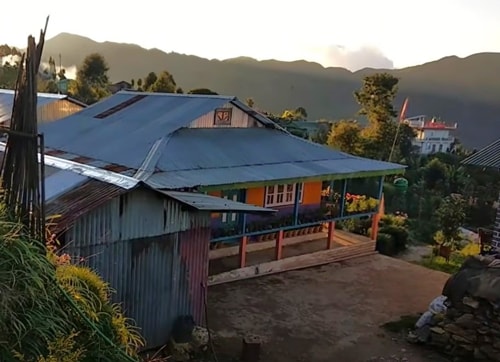 The homestays are scattered in lower and upper Chatakpur. They offer an excellent opportunity to stay close to a village family and understand their culture. However, some homestays here are not as good as the others when it comes to the standard of accommodation and cleanliness. 
Homestays in Uppper Chatakpur offer better views in general. But note that cars can not reach up to the door front of most of the homestays in upper Chatakpur, and many of them require some amount of uphill walk along narrow village pathways... so, those with mobility problems should avoid these. 
Pooja Homestay is located in Upper Chatakpur and requires some uphill walk from the car stand. On a clear day, you can see Kanchenjunga from the room, from the balcony as well as while sitting on the benches placed on the front patio. The attached bathrooms have geysers and western-style toilets. The kitchen along with the dining room is separate and a short walk away. Phone: 098838 54338. 
Norbu Homestay is also in Upper Chatakpur. You can get Kanchenjunga view from here as well from the balcony. Requires 200 meters of uphill walk from the car stand. There are 4 rooms and each has an attached bath with a geyser and western-style toilet. Phone: 096097 22353, 097330 69690 
Related Articles
Visitors' Reviews/Comments
Soumik (September 2022) 
Lovely description! How to go to Chatakpur from Kalimpong? 
Raj (darjeeling-tourism.com) September 2022 
From Kalimpong, you will need to take a Sumo-type large vehicle, cross Teesta and get on to Peshok road, come all the way up to Jorebungalow, take permits and then take Old Military Road which goes through the dense Senchal forests and eventually meets Chatakpur road, or alternatively, from Jorebungalow, come up to Sonada and then take a left towards Chatakpur. Will take about 3 hours. 
Pranish Basu (February 2021) 
Dear Raj, Greetings of the day. I would be traveling with family to Dhotrey & Chatakpur on end of 1st week of April 2021. Need information of temperature & weather in these places during that time. Regards, 
Raj (darjeeling-tourism.com) February 2021 
Hi, the daytime temperature in April remains quite pleasant in Chatakpur (14-16 degree Celsius). However, the nights and early mornings could be quite cold (around 5-6 degree Celsius). It usually remains sunny with clear views during the day time. 
Dhotrey being at a higher altitude, the temperatures will be quite lower in early April... last year it was exceptionally cold. Expect around 7-10 degree Celsius during the day time and nearly touching or dipping to sub-zeros at nights. 
Abhishek Debnath (January 2021) 
Hi Raj, I am an avid follower of your blog. Me and a couple of friends will be coming over to Chatakpur in the last week of May. We are planning to take a shared jeep to Sonada from NJP. Then hire a taxi to Chatakpur. We will stay the night and then leave early morning for Sonada. Our plan is to catch the Kurseong-Darjeeling toy train for cheap fares. 
Our concern is the availability of getting the hired taxi at the morning. Do you think it would be better to reserve our incoming vehicle for the night? Or should we request the homestay owner to arrange for the vehicle during checkout? The second option is obviously cheaper but is it reliable? We do not want to miss the elusive toy train in the morning. Thanks, 
Raj (darjeeling-tourism.com) January 2021 
Hi, you need to book a homestay at Chatakpur in advance because tourists require permits and there is vehicle entry charge which the homestay owner can take care of. While booking the homestay, ask the owner to arrange a car for the next morning and remind him while checking in. It should not be a problem. 
Pranish Basu (January 2021) 
Hi Raj, firstly wish you & your loved ones happy new year 2021. One information I need is , I will be going to upper Chatakpur from Dhotrey . Will innova be a good vehicle? Please advice. 
Raj (darjeeling-tourism.com) January 2021 
Hi, happy new year! Innova is okay, Scorpio would be better. The last 14-15kms to Chatakpur is the bad patch. 
Pranish Basu (January 2021) 
Thank you Raj. Which route from Dhotrey do you recommend to enter Chatakpur? 
Raj (darjeeling-tourism.com) January 2021 
The usual route is the same as the one taken from Darjeeling... to come up to Ghum/Jorebungalow and take the Old Military Road. Although this road is also bad, you will go through the forests of Senchal WLS for a long stretch. 
Chandan Basu (October 2020) 
Hi Raj !! I am always a big fan of this awesome website to understand the Tourism of Darjeeling and always recommend this site to my circle. I am in a plan to stay one night at Chatakpur from Darjeeling town during last week of December. And also move from Chatakpur to Dhotrey which is just other side towards Tonglu as I know. Can you please guide me about the car availability and expected fare. Best Regards. 
Raj (darjeeling-tourism.com) October 2020 
Hi, a small car from Darjeeling to Chatakpur can charge around Rs. 1600. Chatakpur to Dhotrey would be around Rs. 2500. You will get taxis in Darjeeling from the stands. At Chatakpur, you need to ask your homestay's host to organize a taxi for you and you should do this in advance. 
Pranchi Yadav (September 2020) 
Hi Raj, I will be travelling to Darjeeling from Mumbai with 3 of my friends in 1st week of November. Since I will be coming from Mumbai my Train will reach NJP station at 01:15 AM. From there I want to go up to Senchal Wildlife Sanctuary as we have booked our Homestay at Chattakpur. I just wanted to ask about the travel options available for the same and the cost, also will it be safe for us to travel so late at night since we will all be girls alone. Your reply will be of great help. Thank You. 
Raj (darjeeling-tourism.com) September 2020 
Hi, It is not safe to travel at such late hours in the hills. You should wait at the NJP station (try getting a retiring room) until morning. You can then take a taxi (there is also a pre-paid taxi counter outside the station which opens around 7 am). If you don't get one at the pre-paid counter, there will be other taxis available. Small cab fare to Chatakpur would be around Rs. 2,700. Alternatively, you can take a shared taxi (a jeep type vehicle) from NJP bound for Darjeeling and get off at Sonada, and then take a small reserved taxi from there to Chatakpur. Although the second option might be less expensive, I would recommend the first option.