Chatakpur - Visit & Stay
Worship of nature has played an indomitable role in our country since ages. Many people have foregone the luxuries of city life and settled down in the remotest of places close to "Nature Earth' and worshipped it. Such places are rare but exists within our reach not too far from where you are! Chatakpur is one such small eco friendly village within the Senchal Wildlife Sanctuary in Darjeeling District, West Bengal. 
This pristine village is bounded by the Kachenjunga Mountain Range in the North and the river gorge Relly Khola in the south. Chatakpur is only about 80 Kms from NJP or Bagdogra, 26 Kms from Darjeeling and 17Kms from Jorebungalow, Ghoom. 
Once upon a time this village was a timber den and people used to rampantly smuggle out the timbers. But the forest department has taken the initiative to remodel it to an eco tourism place where the villagers actively participate in it in order to make tourism an alternative source of livelihood other than just farming. 
Located at an altitude of 7,887 feet, Chatakpur is a paradise for nature lovers as one can get a spectacular view of the imposing mountain range of Kanchenjunga and at the same time experience the overwhelming lush green forest in a quiet village setting with a population of only around 90 people and 18 village houses. 
Chatakpur (view from backside of eco cottage)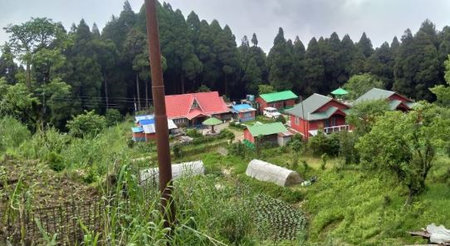 This village promotes organic farming of vegetables through terraced cultivation. Medicinal herbs are also grown and the locals sustain their  livelihood through these. 
Attractions & Activities in and around Chatakpur
You can view the trekkers' dream destination Sundakphu from the Watch Tower in Chatakpur, 10 minutes walk from the tourist cottages. This view tower is also known as the sunrise point, and as expected the view of sunrise from here is simply awesome. Some argue that you perhaps get better view of sunrise over Kanchenjunga than what you get from Tiger Hill which requires you to travel for 40 minutes from Darjeeling early in the morning. While here, it's only 10 minutes walk to the tower. 
Kanchenjunga range will be with you all along on a clear day. And that probably is the main reason why tourists love this place the most.  
From the tourist cottages if you go 100 meters or so to the right, you enter the jungle. There are several forest trails here through lush greenery that are ideal for light treks. You should always take a trained guide with you for treks as the forest also harbors wild lives like leopards, barking deer and several other animals. If you are lucky, you can even see a Red Panda.  
A trail from the eco cottages leads down to a nice small pond, locally known as pokhri. It's about 10 minutes walk. 
As the forest is also a home to a number of lovely colorful birds like Blue Magpie, Bulbul, Verditer, Flycatcher, Pipit, Long tail Shrike, Warbler, Prinia and lot more, it's a great place for the bird watchers as well. 
There are only 18 village homes in this tiny place, and the villagers will do everything possible to show you what they have or do. You can pick garden fresh organic vegetables from the farmland, or even feed or milk the cattle if you want. In fact you can buy organic vegetables really cheap and take back home. 
And there are those elderly folks in the village who are waiting to tell you the stories about this place, it's history, people and their culture. You will love to hear them on a lazy afternoon as you sit under the sun on the courtyard. 
After sunset the locals perform traditional folk dances on request to entertain tourists. 
How to reach Chatakpur
From New Jalpaiguri (NJP) station or Bagdogra airport, the easiest is to go towards Kurseong (either by taking the Hill Cart Road, otherwise through Rohini Road), and then further up (towards Darjeeling) to a small village on Hill Cart Road known as Dilaram. Here you take a right turn for Bagora, another small village. From Bagora, Chatakpur is about 30-40 minutes drive. Another way is to first reach Sonada via Rambi, then Mongpu and Jorebunglow. Chatakpur is just 7Kms away from Sonada. 
While coming from Darjeeling, come down to Sonada which is an hours drive and then go up to Chatakpur (7kms). 
Note that you should not take a small car or even an Innova for Chatakpur. The last several kilometers is a boulder road and only vehicles like Sumo, jeep, Bolero etc with good ground clearance can negotiate that. Also the last stretch of the road passes through jungles. 
Indicative transport fares (Updated January 2016) 
Reserved vehicle fare from NJP/Bagdogra to Chatakpur: Rs. 3,000/- 
Reserved vehicle fare from Darjeeling to Chatakpur: Rs. 2,000/- 
Best time to visit Chatakpur
You can visit Chatakpur year round except in the monsoon season (July to mid September) when it is not possible to explore the forest. The tourist eco village resort remains closed during this time. Winter time between November to February can be extremely cold. So bring adequate winter clothing during this time. 
Where to stay in Chatakpur
The forest department in association with the village cooperative has set up two Eco cottages. The two wooden furnished cottages have 2 rooms each with double beds in each room. With an extra bed, up to three persons can stay in each room. 
The two Eco cottages, Chatakpur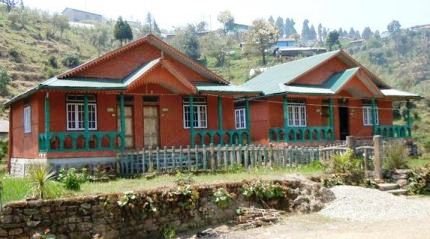 You can cherish the view of Kanchenjunga from the attached balconies of the cottages. There are both front and backside balconies. The rooms are provided with bedding and enough blankets & quilts to counter the cold, but there is no TV. 
So unless you are one like me who enjoys the solitude and wilderness, I suggest you travel in groups so that the night doesn't haunt you. By the way, the members of the village community come and cook the food for you, and they leave for home after serving early dinner (by 8pm or so). And then you will be left on your own at the cottage through the night and there is no service after that. 
The rooms in the cottages have attached bathrooms with geysers for hot water. Rooms are carpeted. Overall clean but could be better maintained. 
An adjacent hut is used as kitchen and dining. This is where the meals are served. The stay package includes bed tea, breakfast, lunch and dinner. Food is fresh and adequate in quantity. They serve eggs in breakfast, chicken in dinner. 
The staff (actually all villagers) are very well behaved, helpful and friendly. A small shop run by an ex Gorkha Regiment soldier and his wife sells tea, maggie etc. 
Home stays are also available that are extensions of villagers homes and run by the respective families of the village. But this facility is limited to a few houses only. There is proper water supply and electricity in the home stays including room heaters. The bathrooms are fitted with geysers as well, but they are not attached to the rooms but only a few steps away. Although the home stays are few minutes walk from the main road, it's an excellent way to stay close to a village family and understand their culture. 
Indicative package cost per night 
Eco Cottage room for two persons: Rs. 3,300 + Tax with all meals. 
Village Home Stay per person: Rs. 1,100 with all meals. 
Contact information for booking inquiry 
Binod Rai is the Care Taker/Manager of the Eco Resort that comprises of the two cottages. He is a helpful man and will give you all the information you may need. However he seems to be a bit busy at times. His mobile number: 9609740489. 
For booking cottages or home stay, call this Siliguri based number: 9932317299. 
Related Articles
Visitors' Reviews/Comments