Exploring Villages of Kurseong - Bagora & Chimney
One of the best ways to explore the villages and local culture in Kurseong is to take a taxi and ask the driver to take you first to Bagora and then to the village Chimney. Bagora is a small village located at the highest altitude (7,150 ft) of Kurseong subdivision. 
The taxi will take the Hill Cart Road and go towards Darjeeling for about 25 minutes and then take a right turn at Dilaram. A steep uphill narrow road leads up to Bagora in another 15 minutes or so. The total distance is about 17kms from Kurseong. The quaint village is well known for its variety of birds, forest of oak and pine and of course the rhododendrons. In winter, you can see oranges as well. 
From the small and rural market area of Bagora, a road goes all the way to
Latpanchar
and beyond. Another road at the upper level leads to the Indian Air Force station. 
On this route you will find a small gazebo type view point which offers magnificent view of meandering river Teesta and that of Mt. Kanchenjunga. This is the Bagora View Point. You can also walk up to the View Point and then up to the Air Station from the Market area in about 25 minutes. 
Bagora Village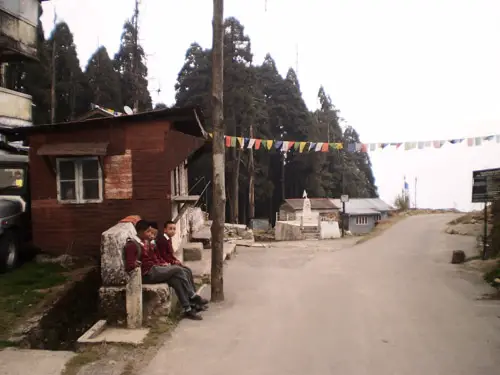 Road on the right goes to air force station. 
The narrow road on left goes to Sitong and Latpanchar. 
Bagora is an ideal place for trekkers and bird watchers. For bird watching, take the forested pathway that goes towards Chimney village. You can take a 12km trek to
Mongpu
, a village well known for Rabindra Bhavan (a bungalow where the poet Rabindranath Tagore stayed during his several visits... it's now a museum). Or alternatively, do a nice modest day trek (about 6 hours) to
Senchal Lake
. 
If you plan to stay overnight at Bagora, the State Government operated Forest Rest House is the best option. You can book through their office at Kolkata (West Bengal forest Development Corporation, KB19 Sector-III, Salt Lake, Ground - Floor, Kolkata-700106. Phone No. - 033 23350064, 23358320). 
Bagora View Point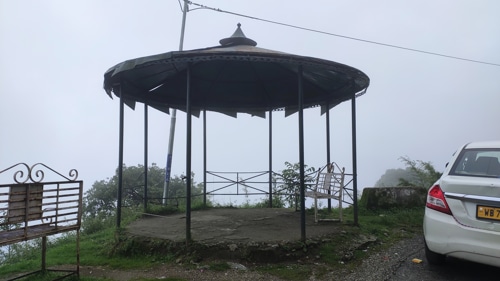 There is also a nice homestay at Bagora run by a lady named Diki. It's a single-storey concrete house with rooms, front balcony and a nice roof to enjoy the wonderful views around. There is a large grassy lawn in front. However, the homestay is on a hill and you need to walk and climb steps to get there (cars won't go all the way). Diki's Homestay (Bagora) Phone no.: (+91) 8145723177. 
From near the market area of Bagora, a trail veers to the right and goes through a forest of Dhupi and oak, and then through a place called Chaitapani and then all the way to a small hamlet called Chimney. You can also take your vehicle along this route. 
Sunset View from Chaitapani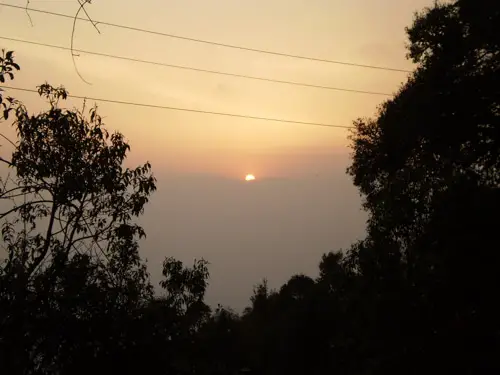 View of sunset from a point in Chaitapani is simply awesome. You see the sun setting on the opposite mountain beyond the forests. Along the way at Chaitapani you will also come across a Kali Temple which is well known in this area. The temple has a lush garden setting with many small prayer flags fluttering around. This is where most locals in the area come to worship the goddess Kali. 
The forested road continues and all that you can see on both sides is a dense forest of dhupi. There are many different kinds of birds that can be seen here. 
Kali Temple at Chaitapani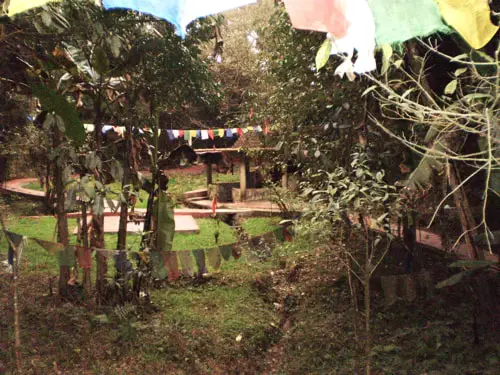 Once you reach Chimney Village (in about 30 minutes by car from Bagora), spend some time to explore the village, the people and their life & culture. The name Chimney comes from an old tall chimney in the village (now defunct) that has been existing since the British days. The Old Military road passes through the village and by the old chimney. 
Chimney Village - Old Military Road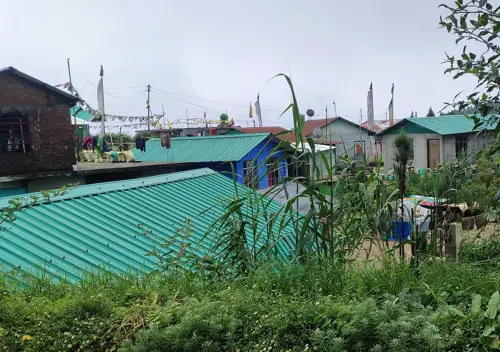 At Chimney I met with Yanchu Sherpa, a local villager in his mid 60s. As we chatted for a while, he invited me to his small little house. One of his daughters served us tea as we continued to discuss about the village, its people and their activities. Yanchu has three daughters all of who are graduates from well known colleges of Kurseong town. 
He has spent all his life's saving towards education of his daughters. But all three of them had to come back to the village and join him in his farming work. There are no jobs in Kurseong and particularly for ladies. And he doesn't have any money left to send them to other cities to explore jobs. So even after graduation, the only option they have is farming until they get married only to become house wives. 
Yanchu Sherpa and his house (green), Chimney Village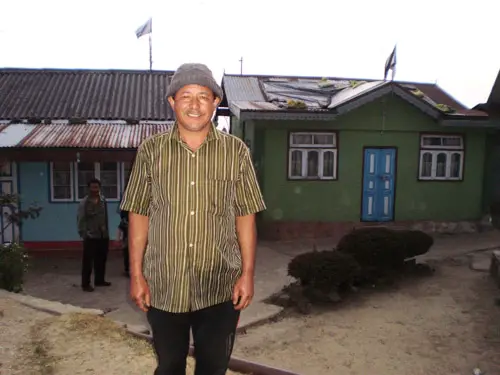 Having heard stories after stories from Yanchu, I came out and met the two little girls who stay next door - Bhumika and Yanzee. They insisted and volunteered to show me the tall chimney after which the village is named. It was getting dark by then, but they still insisted. 
It would only take 10 minutes by car to reach Kurseong town on the same route via Dow Hill... so I agreed, and the two little girls immediately jumped into the seat next to the driver. Now I realized their interest & motivation to take me to the Chimney.... actually to get a ride in a motor car :) 
Bhumika, Yanzee & a little boy - Chimney Village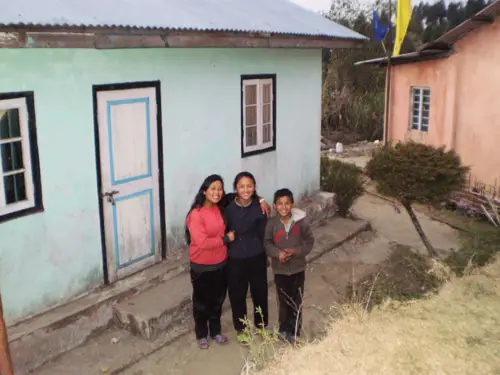 On the way it was time to chat with the two kids. I was thinking of how to start. But Bhumika herself took the initiative and asked me in Hindi, where I was coming from, what do I do, where I got the car from, where I was staying in Kurseong ... a barrage of questions. 
Once they were satisfied, I asked them if they go to school. I could not believe what I heard. Both almost simultaneously named a missionary school and said they walk two & half hours to go to school and then more than three & half hours back because it's uphill road while returning. 
While I was upset to hear the physical grinding they take every day to go to school, I was pleased to see how they progressed in their knowledge and outlook. 
The 23-ft tall chimney was built and used by the British. It is said that it was built during the World War-I. The purpose is unknown. It has been set up at an elevated flat area accessible from the road. 
Yanzee, Bhumika & Driver in front of the old Chimney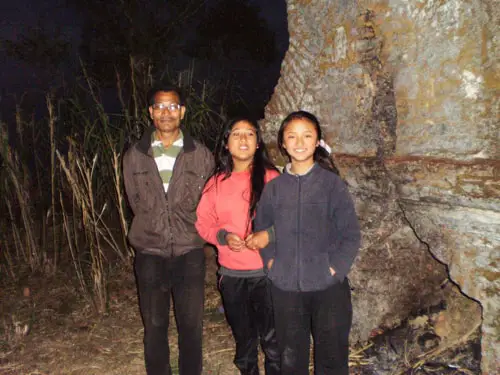 Time to get back... it was already dark then. But the two little girls refused to take the ride back home. Why? Because that would mean I go backward instead of forward towards Kurseong town. 
They spoke something with the driver in their local language, didn't give me a chance, and literally started running back, and then disappeared into the darkness. I looked at the driver and he said... "Don't worry Sir, they are smart girls and will safely get back home". 
Related Articles
Visitors' Reviews/Comments
Goutam Chowdhury (November 2019) 
How to reach Bagora: You will get shared taxi from Kurseong lower market or you can hire full cab. If you are starting from NJP or Siligudi you can get down at Dilaram. It is on the main road towards Darjeeling. From there you will get tracker or if u are going with light luggage you can walk the uphill road, believe me you will enjoy this... it's exactly 3.4km. 
Arijit Acharya (November 2018) 
Sir I am planing to spend 2 nights at Bagora in December. How can I reach Bagora after reaching Kurseong? Is there any shared service available? 
Raj (darjeeling-tourism.com) November 2018 
You need to take a local reserved cab from Kurseong. There is no shared taxi to Bagora.