A stay at Auks Farm
Category: Mid Range 
Fatigued? Lost your work-life balance and looking for a desperate break? Then head out to Auks farm. Why? Because it's a place you are looking for - a village and a farmhouse located deep in the mountains where tranquility, peace and views are your only companions, where you can see the clouds rolling on the mountain tops, and vast stretches of farmlands and forests on slopes of the hills, read books for hours as you listen to the chirping of the birds, unwind and just be the way you want to be. You had always longed for this but never made it, so give yourself a chance now. 
Owned and run by the Subba family who belong to the local village community, Auks farm was a dream of Kul Bahadur Subba and his retirement plan when he bought the farmland in 2010. But unfortunately he passed away before realizing his dreams. But his daughter Sushmita and son Ashish have taken it forward to give it a shape which their dad wanted. 
Sushmita left her job in Delhi to join her brother, started planning and conceptualizing the farm, gradually built the cottages, finally Auks farm came up in November 2014, and they welcomed their first guest in the following month. 
Auks farm is located in Soreng, a small mountain village which is about 25kms from both Darjeeling and Kalimpong (about 1hr 30 mins drive from each place), and about 2.5 hours from NJP, and 3 hours drive from Bagdogra airport. So it's not too far away, but will take you to a different world altogether. Cars can reach right up to the farmhouse. 
Front view from Auks farm cottages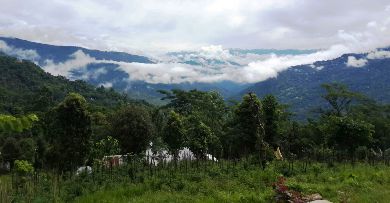 See the clouds on top of the mountains 
So why the name Auks? There are two things to it actually. First, it comprises of the initials of the four family members - Ashish the son, Usha the mother, late Kul Bahadur himself and his daughter Sushmita. The name also represents the Great Auk which is a black & white bird and now extinct. The bird took small steps and usually walked along a linear path. And the concept of The Great Auk suits the family theme: take small steps, move forward and be black & white. 
While Sushmita takes care of marketing, client interfacing and cooking, Ashish handles all the day-to-day operations of the farmhouse including looking after the farming activities and stay. 
So what do they grow in the farmlands here? Actually plenty and lot more than what I imagined. They grow rice and all seasonal vegetables like potatoes, tomatoes, spinach, bitter gourd, cucumber, maze, carrots, radish, beetroot, beans, broccoli  etc. And also spices and fruits - guavas, bananas, they have planted 150 orange trees, avocados, passion fruit, strawberry, mango, plums, lichee and many more. And then there are different kinds of flowering plants as well. 
Other than the wonderful farmlands, natural views and greenery, what I like the most is the simplicity and cleanliness of the place. They give a lot of stress on keeping the area clean and insist that you throw your wastes always into the bins. 
Cows grazing at the farm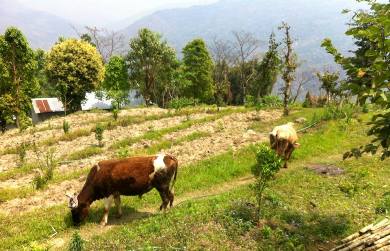 Accommodation in Auks farm
In accommodation they have couple of options and they are working on more: 
There are two cottages adjacent to each other, each with a cabin room and attached bath. These are the main and original accommodations. The cabins have lovely views out of the windows. They are clean and very comfortable, have a queen bed, wicker chairs with cushion, a small table etc. Extra camp bed can be provided in each cabin. 
Auks Farm Cottages (view from kitchen)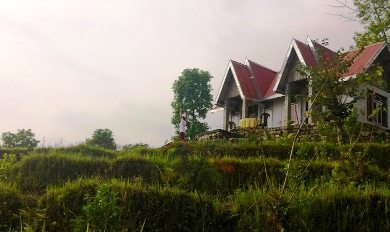 Outside the cottages, there is an open veranda where chairs and tables are laid out. You can take your breakfast here while watching the vast farmland and wonderful greenery all around and mountains forming the backdrop. 
Rooms are simple but clean and in line with the farm's theme to be eco friendly. So do not expect TV or even geysers. By the way there may be power cuts at times as the power situation is not great in this part of the region. However they do provide hot water by heating up water using gas ovens or wood fire. They have now provided heating rods in the bathrooms and working on solar geysers which should be available soon. 
They also have Glam Camp (which stands or glamorous camp). This is typically meant for those who like to enjoy camping but in the luxury of a typical guest room. The camp can accommodate up to two. 
They are also constructing a log house which should be operational soon. They currently have two service staff/room attendants. The Subba family lives in Kalimpong. Whenever they are at the farm, they stay at a separate cottage located near the kitchen. Kitchen and the dining room are few steps away. 
Dining - Food & Beverages
Sushmita is an excellent cook herself and she loves cooking. While she (assisted by Ashish) prepares all the food, she plans to hire kitchen staff, although she would continue to supervise cooking. The dining area is few steps away from the cottages, however you can also take your breakfast & lunch outdoor and just outside the cottages. 
They use a lot of farm veggies in their cooking but they also do non veg meals (chicken, fish, mutton and pork). Their cuisine is varied, from local Nepali food, north Indian, Chinese, Continental, Italian and a lot of Sushmita's own recipes, both veg &  non veg). As I said, she loves cooking. They do their own grills, bakes, bread, cookies, ice cream etc.  
Dining area, a new dining room is being constructed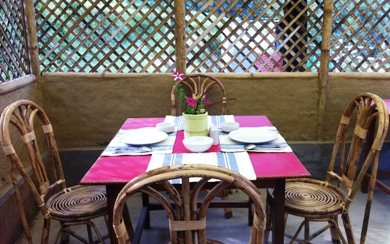 Sushmita proudly mentioned... "Food is  the highlight of our farm and I would like to keep it that way... food is something which we do not compromise on. So every meal is carefully prepared using fresh and healthy ingredients. We are quite proud to be raved about our food by all our guests. We do not have a Menu". Just note the last statement... they don't have a menu. Which means you can expect lot many variations and innovations in food. And most food are prepared using fresh vegetables from their own farm and local produce. 
Let me take you through a few of such exotic dishes which alone may be your inspiration to visit the farm: 
During breakfast, how about parathas, omelette, potato pea gravy and apple cream with almonds? Or something even more mouthwatering - spinach puris, black peas, scrambled eggs with cheese and fruit cream? 
Spinach puris, black peas, 
scrambled eggs with cheese, fruit cream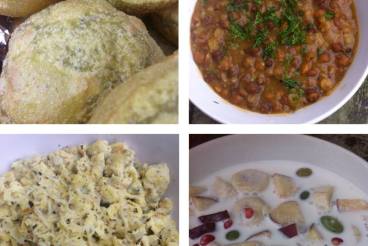 For lunch or dinner, some of the great dishes that make a lasting impacts include pasta with broccoli & cheese, or sautéed peas, broccoli with wild mushrooms, or how about garlic basil chicken roast with carrots, curd chicken with dry parsley, or salad made with beetroots, cucumber, carrots, celery and a dash of olive oil & peppermint? 
Broccoli cheese pasta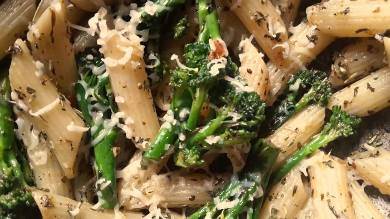 Dishes do not end there... sometimes they also make fish paturi - a delicate fish preparation on banana leaf, flat noodles with beet root soup & salad, red chili pork with carrot and celery, oil free chicken keema and more. 
Garlic basil chicken roast with carrots 
You can also enjoy and make your own barbecue in the evenings, in fact you can make your own meals if you so want. If you leave it to them, they will prepare superb barbecue chicken with steamed broccoli and mashed potatoes. 
Barbecue at Auks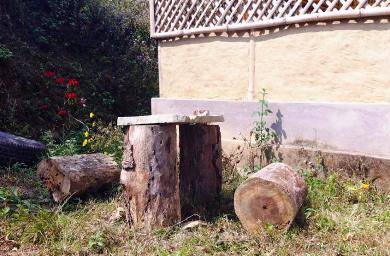 While aerated soda such as coke, pepsi etc are available, Auks farm also serves alcoholic drinks including Whiskey, Vodka, Rum, Beer... but a great thing to try is the local wine called Chegu. 
What to do at Auks farm?
Best is not to plan anything at all... let only nature be the guide. Just wander around in the farmland near the kitchen or the dining area, or go down to the small paved pond, sit and watch the greenery all around and cows grazing, it's an amazing feeling! Take some books to read as time will not be your enemy for sure. 
If you happen to be there during the orange cultivation season (November - December), you can see the coveted sight of orange orchards full of oranges. While you can't pluck them, you can surely taste some of them during your breakfast. 
Oranges at Auks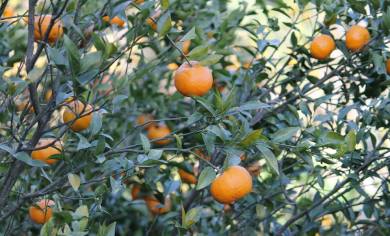 Sushmita and Ashish are great companies themselves. If you want, just chat with them and know more about the story of the farm and the surrounding villages, their community and culture. 
There is a wonderful walking trail to a 100 year old monastery located at a village called Takling. It's a bit of an uphill hike and will take about 30 minutes to reach. The forest is about 15 to 20 minutes walk. There are longer trails near Takdah/ Tinchuley/ Rungli Rungliot if you prefer proper treks (a day hike - 18kms in total). 
Monastery at Takling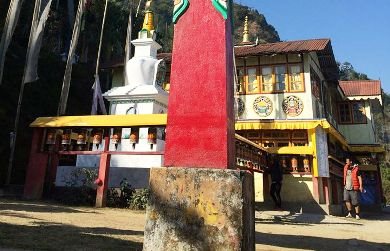 They can also organize local tours covering
Takdah
- an old British cantonment area that has lovely tea gardens like Rungli Rungliot, Orchid nurseries etc,
Tinchuley
- another small village with great views and tea gardens. In about 30 minutes drive from the farm you can reach Teesta river where you can do fishing, or even white water rafting. 
You have certainly not come to Auks farm to keep narrating to your boss what you have been doing here all day. But if you feel that making absolutely no contacts or giving a blind eye to your emails for few days may jeopardize your job, then you can make use of their free wi-fi which works in the kitchen/dining area. Otherwise carry a 3G dongle, strangely 3G is quite strong here and you can even work easily from your cabin. 
Indicative Rates
Cottage (per cabin) - Rs. 4,500 per night (double occupancy), Rs. 3,000 (single occupancy) 
Glam Camp - Rs. 4,000 per night (double occupancy), Rs. 2,500 (single occupancy) 
Tarrif includes complimentary breakfast, Tea/coffee/ snacks 
Lunch/Dinner is charged at Rs. 400 per person per meal. 
How to reach Auks Farm
Auks Farm is located at Soreng, a village in Darjeeling district. It's about 2.5 hours drive from NJP and about 3 hours from Bagdogra. You will need to take Sevoke Road, go up to Teesta bazaar area and then take an uphill road on the left which leads to the village. Taxis are available at both NJP and Bagdogra. Auks farm can also arrange pick ups and drops. 
From Darjeeling, Auks Farm is about 25kms and takes about 1 hr 30 minutes drive. You can also easily visit the farm from Kalimpong (same distance as Darjeeling) and Gangtok (74kms). Taxis are available at all these places. 
Contact Information
Address: Auks Farm, Veterinary Clinic Lane, Soreng , Darjeeling, West Bengal 734312 
Sushmita Subba 
Mobile: 9811924104 
Related Articles
Visitors' Reviews/Comments
Share your experience or stories.