Char Dham or Siddheswar Dham
Namchi
Char Dham is a huge pilgrimage & cultural complex developed by the Sikkim Government to promote Religious, Eco and Village tourism in the state. Over Rs. 56 crore was spent on this complex which spreads across 29 hectares of area on top of a hill known as the Solophok hill in Namchi, south Sikkim. 
Char Dham Complex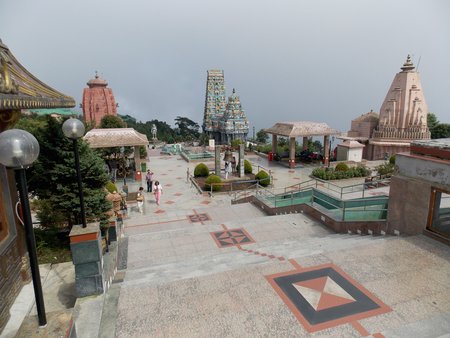 Kirateshwar statue at far end, looks tiny here 
This temple complex is also known as Siddheswar Dham and was inaugurated on 8th November 2011. Char Dham is located about 5kms from Namchi town and accessible by a nice smooth road all the way. At one point the car needs to ascend uphill to get to the top of Solophok hill where the Char Dham site is located. 
There is a huge open car park where you will need to park your car. It is a paid car parking. From here you will need to walk. For persons with mobility challenges, the staff can organize battery operated cart and even separate entrance to offer prayers to the deity. 
As you walk up, you will notice the Yatri Niwas on your left, a nice budget hotel with all-vegetarian food having 96 rooms that are quite basic but clean and spacious. The food at the restaurant although is veggie-only, but quite good. However the service at the hotel is mediocre at the best. 
Yatri Nivas, Char Dham, Namchi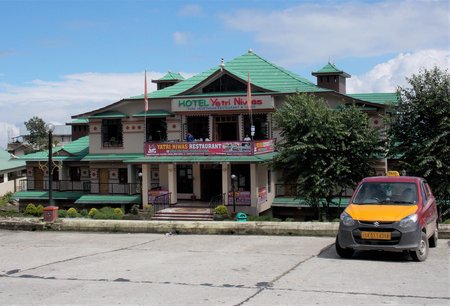 If you plan to stay at Namchi, this hotel is a good choice for budget travelers. If you like mountain views, then ask for rooms with balcony facing the Kanchenjunga peaks. The front side rooms face the towering Shiva statue. The restaurant is open to outside guests as well. 
Once you buy the entry tickets (there can be long queues during high season), you enter into a large hall that showcases miniaturized versions of various structures and idols in the complex and also gives you an overall orientation. Spend some 10 minutes here and move on. 
You will soon need to take off your shoes at a pre-designated area. You don't need to pay for keeping your shoes... finally, at least one place where there is no charge! 
Imposing Shiva Statue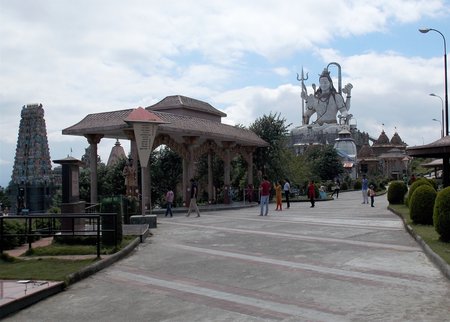 As you enter the main area towards left and walk up, the first thing that strikes is the towering Statue of Lord Shiva in a sitting posture. You can't keep your eyes off that for long and wherever you are in the complex, you can always see this statue. Actually this is the main theme of the temple complex. 
The main Shiva temple is 108-ft in height and atop that sits the gigantic statue of Lord Shiva which is another 87-ft tall. It sits at the highest and most commanding position in Solophok hill while facing east. Even down below from the helipad, you can see this statue of Shiva. 
Closer view, Nandi Bull and Shiva, Char Dham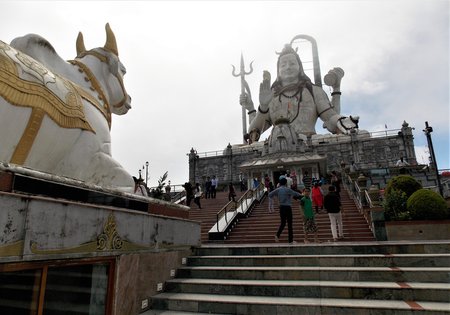 Inside the main Shiva temple, just after its entrance is the Shiva linga. Then there is a huge hall with a stage at the center. When I talked to the guard, he mentioned that kirtans and other religious programs take place here time to time. There are large number of wall murals depicting the story of Shiva including his marriage. Take a walk around the hall, go through the murals and their descriptions below where the related mythological stories are narrated. 
Badrinath Dham, Namchi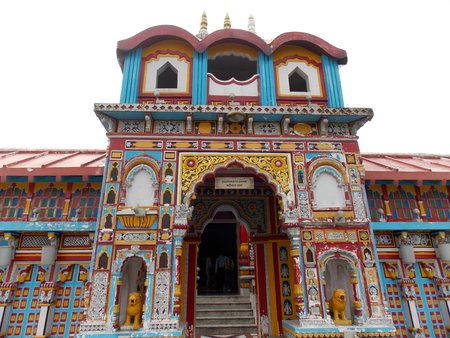 In order to give all that a Shiva devotee may need, there are replicas of twelve Jyotirlangas constructed around the Shiva temple. But there are far more to this pilgrim center, after all it's meant for all Hindus with religious mind. Hindus believe that in order to attain salvation and emancipation, one needs to do pilgrimage at each of the four (char) dhams that are located in different parts of India. 
With an aim to make this center a complete self-contained religious hub for all, replicas of char dhams have also been created, and they are Badrinath Dham, Jagannath Dham, Dwarka Dham that are dedicated to lord Vishnu and Rameshwar Dham which is dedicated to lord Shiva. 
Dwarka Dham, Namchi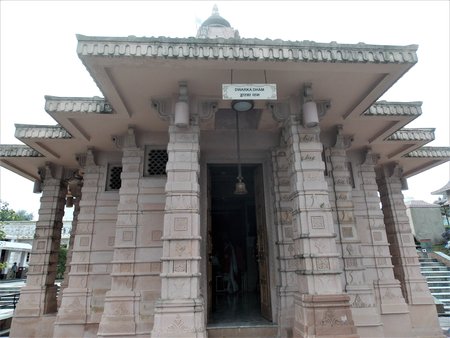 Right opposite to the Shiva statue & temple and at the far end there is another 16.5ft tall statue of Kirateshwar who is an incarnation of Lord Shiva. Actually the locals worship Kirateshwar and believe that with his help one can get peace and prosperity. There is also a mythological background to this. 
Rameshwar Dham, Namchi 
It is said that during the war of Kurukhswetra, Arjun used to visit this place and offered his prayers to Shiva. Being pleased with his worship and dedication, Lord Shiva (in form of Kirateshwar) had given him a weapon which the Pandavas used and won the war finally. 
Inside Rameshwar Dham, Namchi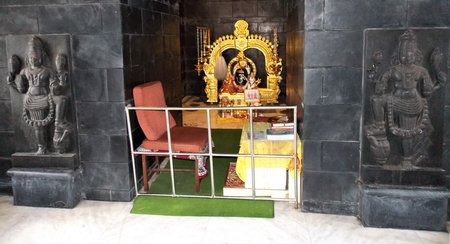 Another important entity here is the Sai Baba temple. You can also find Nandi Bull facing Shiva, Kirat Dwar, Main Prayer Hall, viewing pavilion, several nice water bodies, musical fountain etc. There is also a Cafeteria inside and close to where shoes are kept. You can of course wear your shoes and go to the cafeteria. You get vegetarian snacks, tea, coffee, packaged snacks, cold drinks etc. 
There are also toilets here. Unfortunately when I visited, there was no water in the toilets, they were awfully dirty and unusable. I thought a place like Char Dham which boasts of ultimate pilgrim tourism & cleanliness and charges hefty entry fee, must show far more sense of responsibility to its guests. 
Open Hours & Programs
Char Dham is administered by Char Dham Trust. 
The complex (darshan) is open 12 hours a day. The morning hymns on loudspeakers start at 9am. 
Pooja, ceremonies and religious programs take place time to time. The timings are notified by the trust. 
Fees
Entry fee: Rs. 50/- per adult. Parking fee: Rs. 30/- per car.  
You can carry camera and camcorders. However no photography is allowed inside any dham or temple. 
How to reach
Char Dham complex is only about 5kms from Namchi town and accessible by road. From NJP or Bagdogra it takes about 3.5 hours to reach Namchi. From Darjeeling it takes around 2 hours 45 minutes to reach Char Dham. 
Related Articles
Visitors' Reviews/Comments
Share your experience or stories.