Namchi day tour from Darjeeling
Namchi located at an altitude of 5,500ft is the district headquarter of South Sikkim and is coming up as a popular tourism place, particularly for religious and cultural tourism. The name Namchi stands for 'Sky High' in Sikkimese. You can actually make an excellent day trip to Namchi from Darjeeling - this could be another reason to stay in Darjeeling for one more day. 
And along the way you can get views of lovely tea gardens on the mountain slopes, several mountain rivers, see the town of Bijanbari from far, pass through the lovely developing place called Jamuni by the side of river Rangeet, pass over a hanging bridge on the river Rangbhang to reach Jorethang in south Sikkim and lot more. 
Tea plucking at Tukvar Estate along the way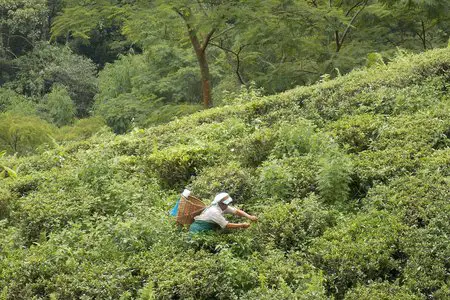 However only Indians are allowed on this route and not foreigners. There is a check post at the border of Darjeeling district and Sikkim where the ever suspecting Sikkimese guards will look at the passengers. I certainly don't look like a foreigner but was still questioned "Are you an NRI?". Which means even NRIs are not allowed on this route. 
From Darjeeling, Namchi takes about 2 and half hours by car. The road although very scenic, is quite bad in several patches. So you should take a large vehicle like a Sumo, Scorpio or Innova. From lower town area (Chowk Bazaar), you will need go along Lebong Cart Road towards Singamari, and just next to St. Joseph's college at North Point, a narrow lane on the left leads all the way through Jamuni towards Jorethang and then to Namchi. 
Soon the road passes through the lovely Tukvar tea gardens. This is the same tea garden which you can see from the ropeway from high above (actually from ropeway you can see the upper part of the tea estate). In another 15 minutes, look towards your left and you can see the lovely town of
Bijanbari
nestled in the valley below. You can also see the river Little Rangeet flowing through the valley and passing by Bijanbari.... a lovely photo-op. 
The way through Tukvar tea estate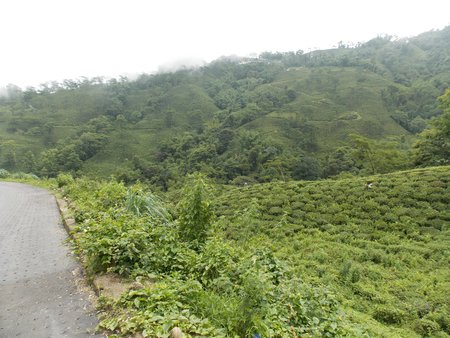 Drive along and you will see the new tourist place Jamuni below. It takes about 1 hour from Darjeeling to reach Jamuni. The road passes through this lovely tourist spot which is located by the side of river Rangeet. Stop over at the Happy New Year Bridge, look around and soak in the lovely scenic views. In December, a country fair takes place here. 
Jamuni by river Rangeet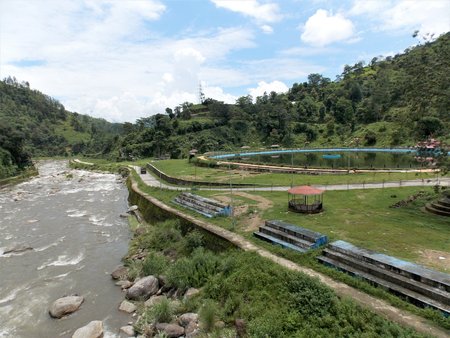 As you drive ahead you will reach Goke bazaar, a small and the last market place in Darjeeling district. Nothing much here, few shops, tea stalls and a small temple where the locals worship. A nice place to take a break and a cup of tea. 
The road from Goke bazaar becomes very narrow and also quite bad for some parts. It enters another picturesque and clean village after a while known as Karmatar. This is the last village in Darjeeling district before the border with Sikkim. With small houses on both sides, so much of greenery, children playing around and the road looking like meeting the horizon as far as you can see is a marvelous sight. 
Although Karmatar is now a peaceful village where villagers mostly engage in farming, it once used to be the den of criminals who committed crime in Darjeeling town. They would often hide here because the border with Sikkim is so close that they could escape easily across the border without a trace. 
Karmatar Village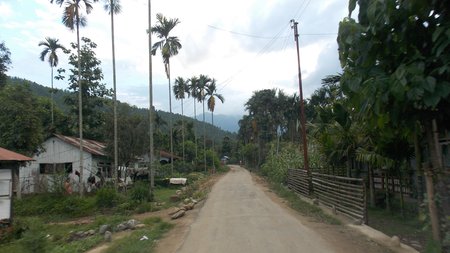 You will soon see the lovely mountain river Rangbhang from far above which actually divides Darjeeling and Sikkim. You will approach the river and then pass over a hanging bridge on the river. 
Rangbhang river, 
Sikkim on left of the river, Darjeeling hills on right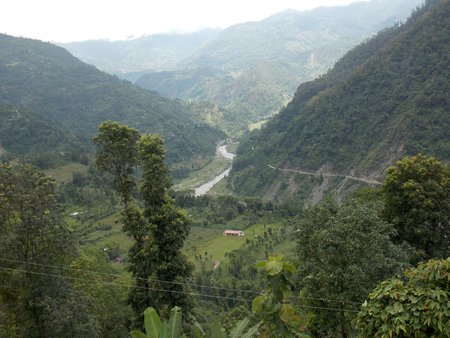 As you come close to the bridge, you can see Sikkim on the left, the river in between and Darjeeling hills on the right. So once you cross over, you reach Sikkim (actually south Sikkim). 
Immediately before you enter the bridge over Rangbhang river, there is a check post where a Sikkimese guard ensures that no foreigners can cross over to Sikkim. Foreigners are not allowed to enter Sikkim through this route, neither they are allowed to exit Sikkim through this route. Sikkim is a restricted area and all foreigners can enter and exit Sikkim only through Rangpo or Melli along highway NH10. 
Bridge over river Rangbhang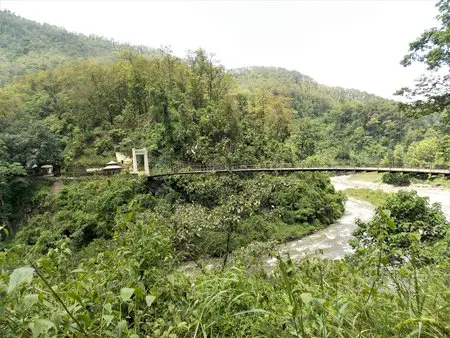 All foreign nationals also require an Inner Line Permit (ILP) to enter Sikkim, and these permits are issued at Rangpo and Melli check posts apart from few other places. Security guards at this Rangbhang Bridge entry point usually check all tourists including Indians and may ask you to show your Photo ID. 
In the picture below, you can see the security guard sitting at the entry to the bridge over the Rangbhang river. My car too was stopped. The guard talked to the driver, looked at me and let us go. 
Entry to the bridge over river Rangbhang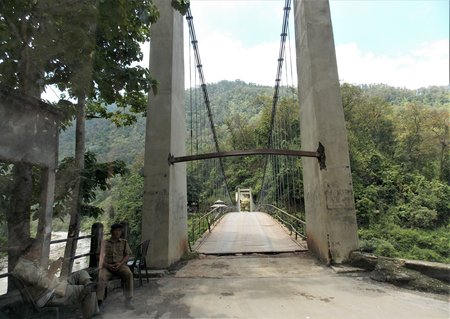 Update: Effective March 1, 2021, foreign tourists can also avail this route. They will be able to get their
Sikkim ILP Permit
at the checkpost before the bridge which is known as Ramman Checkpost. In fact, a Tourist Information Center has also been combined here along with the check post. There is also an eatery here where you can get breakfast (such as toast omlet, momos, maggie, etc) and other snack items. 
While passing over the Rangbhang bridge, stop for a second if there is no other car on the bridge. Look to your left and the scenery is gorgeous. You can now see Darjeeling hills to your left and Sikkim hills to your right and the river Rangbhang flowing between them.. a marvelous sight. 
View from the Rangbhang bridge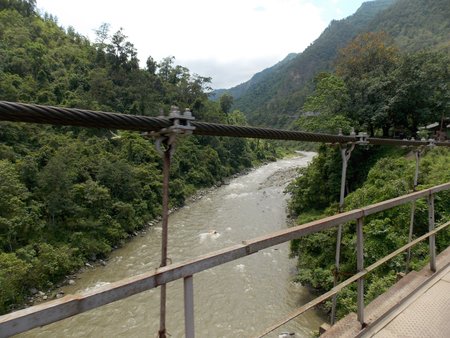 Shortly thereafter you will pass through the town of Jorethang. As you go over another bridge, look to your right (or better while returning look to your left) and you can see the lovely sight of confluence between river Rangeet and river Rangbhang. From Jorethang, Namchi is another 1 hour drive (24kms). 
River Rangbhang from right meeting river Rangeet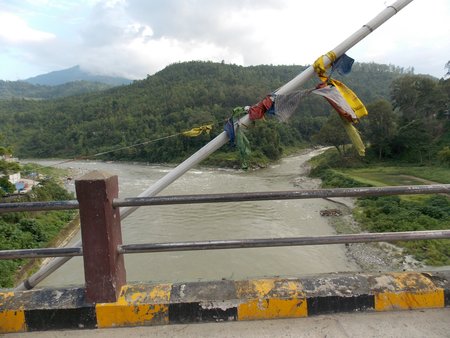 Namchi Tourist Places & Sightseeing
Namchi has been developed as a religious & cultural tourism place, and expectedly you will find numerous temples and shrines of worship, old monasteries as well as lovely parklands, villages, flower nurseries etc. 
NOTE: While taxis from Darjeeling are allowed in most places in Namchi, the local taxi association at Namchi can sometimes insist that you take a taxi from the Local Taxi Stand (located near the Namchi Central Park) in order to visit the popular places such as Char Dham. So, before you start your day tour from Darjeeling, talk to your driver and ask him to factor this in so that you can have a seamless tour. 
The main attraction in Namchi is the wonderful
Char Dham Complex
where the four main dhams (or temples) of India have been replicated in a large and relatively flat land area. This is one of the first attractions you should cover and within the first half of the day. 
Char Dham Complex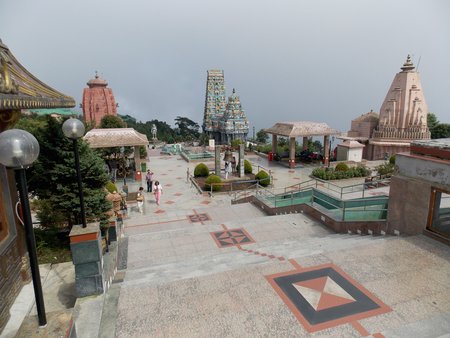 After your visit to Chardham, you can have your lunch at the restaurant of Yatri Nivas which is located within the Chardham complex near the car park. This is a vegetarian restaurant and the food is good. There are not many eating out options in Namchi... mostly some small eateries and snack counters. There is an eatery right outside Shirdi Sai Baba Temple across the street. There are also a few snack counters at the open car parking at Samdruptse Monastery. 
There are several other tourist attractions in Namchi. You need to pre-select and order them in advance. Here are some of the attractions you can plan to cover during your day trip... 
Namchi Heli Pad 
Shirdi Sai Baba Temple 
Char Dham Complex 
Rose Garden 
Namchi Main Market at Central Park 
Namchi Rock Garden 
Samdruptse Monastery 
Namchi Ropeway (Cable Car)... It has two sections. It connects PWD Bungalow near main market to Rock Garden and then to Samdruptse Monastery. You can ride one-way or both ways. The ropeway is the best way to explore the Rock Garden and Samdruptse. The car can drop you at the starting terminus at main market area and pick you up at Samdruptse. 
Shirdi Sai Baba Temple, Namchi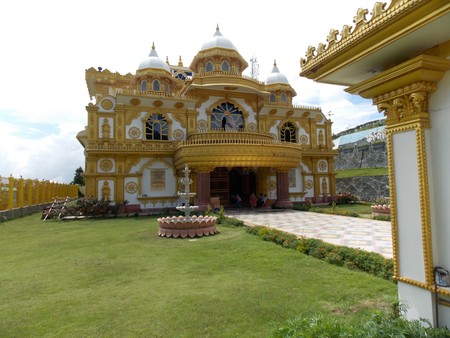 Visit
Namchi Sightseeing
to know about all the main attractions. Other than Char Dham, you can cover a few temples, monasteries, rock garden, and Namchi market... however, start early and keep a watch on the time. Chardham itself can easily consume 2 to 3 hours, and then you will run out of time. 
Cost and how to organize a day trip to Namchi
You should ideally go through a
Tour Operator in Darjeeling
and take a large vehicle like Scorpio or Sumo because the larger vehicles can negotiate the mountain roads better and from Darjeeling the road to Namchi via Jorethang is bad in several parts. Small cars will have difficulties. Also mention the places you want to visit within Namchi. 
Note that
Temi Tea Garden
and
Ravangla
are two other beautiful places near Namchi (both about 1 hour drive from Namchi), but they can not be covered in a day trip from Darjeeling. You should ideally allocate extra days for these two destinations. If you plan to stay at Namchi for couple of days, then both Temi Tea Garden and Ravangla can be covered on day trips from Namchi. 
From Darjeeling it takes about 2 and half hours to reach Namchi by road via Rangbhang Bridge and Jorethang. Cost can vary depending on tourist season. Check
Fares from Darjeeling
where you will get indicative round trip fare from Darjeeling to Namchi along with fares to other places. 
How to reach Namchi from NJP/Bagdogra
Namchi is 94kms from NJP railway station and 102kms from Bagdogra airport. From NJP/Bagdogra it takes about 4 hours to reach Namchi by car. Reserved taxis are available at all these places. The route is via Sevoke road, Teesta bazaar area, then onto NH10 and then via Melli. Foreigners will require Sikkim's Restricted Area Permit (i.e. Inner Line Permit) to visit Namchi. 
Related Articles
Visitors' Reviews/Comments
Madhurima Basu (June 2022) 
Hi Raj, first of all Thank you a lot... as from your tour plan we did visit Darjeeling and few other places and had a great vacation with my parents without any problem. Now I am planning for Darjeeling tour again in November to cover few other parts. 
My question is... we will stay at Darjeeling and want to do the Namchi Rose Garden and Namchi Chardham DAY TOUR. So at what time in the Morning I've to leave Darjeeling by car to cover these places? Can I see the rose garden and Chardham both ? As I go with my mom and dad, mom has knee problem.. .so I guess Namchi Rock Garden she can't make? besides which are the places we can see in the Day trip? Can we see the Glass bridge too in day trip ? 
Kindly reply me when you are free... we 3 are eagerly waiting to visit Rose Garden and Namchi Char Dham in Nov... if possible some other places ..and any documents needed to carry for Namchi ? 
Raj (darjeeling-tourism.com) June 2022 
Hi, Rose Garden is quite close to Char Dham (both are located at Solophok Hill) and you can easily visit both on a day trip from Darjeeling. You can plan to have your lunch at the restaurant at Rose Garden... it's good, has lots of choices and is reasonably priced. You can additionally visit Samduptse Monastery which is further 10kms away. Rock Garden requires going down many steps and then climbing back up... it is tiring and cumbersome even for a normal person and should not be attempted by a person with knee problems. Sky Walk (Glass Bridge) is located in Pelling and far away... you can not visit that on a day trip from Darjeeling. 
Start by 8 am so that you get enough time to see the sites. Carry vaccine certificates. You should also ideally carry Sikkim Travel Card which you can fill up online and download on your mobile... it's free and Sikkim police can ask for it at the check post, although these days they are no longer very strict about this. But, to be safe, one should carry that. 
Arijit Dasgupta (April 2016) 
Hello Raj, First of all, a big thanks to you for this wonderful and informative website. It's extremely helpful for anybody who is planning to visit this region. I have a quick question: I'm planning to make a day's trip to Namchi from Darjeeling on 30th May with my family (wife and two 7 year old kids). Is that a good time to visit Namchi? Also, when shall we ideally start from Darjeeling, so that we can return back by 4 pm? Please note that I am planning to go via Jamuni - Jorethang, hence would like to spend about half an hour at Jamuni on our way. Please advise. Thanks again. 
Raj (darjeeling-tourism.com) April 2016 
Yes, it's a good time for the visit unless you are unlucky with some intermittent showers. Start by 7am. 
Kishore (March 2016) 
Hi Raj, A very useful website - I just wish our tourism department took the help of more such people like you and made one for every popular (and not so popular) tourist place in India - would go a long way into making our country a much more tourist friendly place! My query is on the Namchi day trip from Darjeeling - I saw your itinerary and it seems very doable. However, my questions are: 1) What are the charges likely to be? 2) Are there any safety / physical exertion concerns to be aware of (I'm travelling with my parents) 3) I'm also planning to go to Gangtok and Sikkim in the same trip - would you advise visiting Namchi from Darjeeling or from Gangtok? Thanks a ton! Please keep the good work going - happy to support in any small way I can! 
Raj (darjeeling-tourism.com) March 2016 
Namchi is closer to Darjeeling than Gangtok. A day trip is suitable from Darjeeling. Road is quite bad in patches and you need to take a large vehicle like Sumo/Scorpio etc. Cost will be around Rs. 4,000/- for the round trip including sightseeing in Namchi. Start early. 
Avijit Dey (September 2015) 
Sir, I have a plan to visit Namchi Char Dham from Darjeeling with my parents. But I came to know that the road condition is poor, so I need your suggestion in this regard. Thanking You. 
Raj (darjeeling-tourism.com) September 2015 
Road is quite bad in several patches. You should take a large vehicle like Sumo or Scorpio, and be prepared for a bumpy ride until you reach Jorethang in Sikkim.