Namchi Tourism
Namchi, a fast developing place in South Sikkim is often known as the Culture Capital of the state. The place has been developed as a hub of religious and cultural tourism in Sikkim. In fact you can see replica of all the four dhams of India (char dhams) at Namchi and also the biggest statue of Guru Padmasambhava. Namchi also has a well laid out township with a Central Park (a small square) at the town center. 
Namchi (meaning 'Sky High') is located at an altitude of 5,500ft and is the capital of South District of Sikkim. While you can come directly from NJP (90kms) or Bagdogra (96kms), many also combine a trip of Gangtok with Namchi. 
While visiting from Gangtok, you will pass through the 21km stretch of famous Temi Tea Garden which is the only tea garden in Sikkim producing finest quality of tea. You will need to negotiate 21 hairpin bends while crossing the tea garden. You can halt halfway at Singchuthang which is a lovely picnic area at the bank of river Rangeet. Another picturesque place along the way from Gangtok is Manglay which has three rivers passing through it - Teesta, Sipsu and Rangpo Chhu. The scenic beauty of Manglay has been featured in the Nepali film 'Saino' and since then the place if also known as Sainotaar. 
Many come directly from NJP or Bagdogra via Melli. This journey is also quite scenic and you pass through Kitam Bird Sanctuary along the way.
A day trip to Namchi from Darjeeling
is also becoming popular these days. 
Namchi Mahotsav which is a very popular culture & food festival is held in October when the entire area bustles with people from all over the state and country. Flower shows are also held in February-March and also in October. 
Namchi: Places to Visit 
The Namchi Helipad area is a wonderful open space with a large round about. The road from here goes towards Namchi town which is about 5kms away. Helicopter service is available between Bagdogra and Namchi on every Thursday. Keeping the helipad on your left, look up on your right and you can see the large statue of Lord Shiva on a hilltop (looks tiny from here) - that is the famous Char Dham. 
The helipad area is also very popular for getting panoramic views of Kanchenjunga snowpeaks. From here you can get sweeping views of Darjeeling and Kalimpong hills as well as the lower plains of Bengal. 
Helipad area, Namchi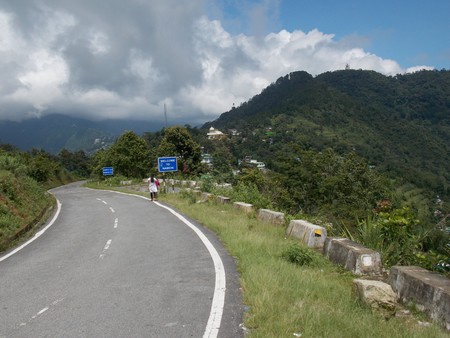 In about 10 minutes from here you will reach Shirdi Sai Baba Mandir & Pilgrimage Centre located at Asangthang, Namchi. This is the first Shai Baba temple in the whole of Sikkim. It was built by Shirdi Shai Baba Trust of South Sikkim under the patronage of Government of Sikkim Tourism. It was opened for prayers on 3rd November 2010 by the Chief Minister of Sikkim Dr. Pawan Chamling. 
Shirdi Sai Baba Mandir, Namchi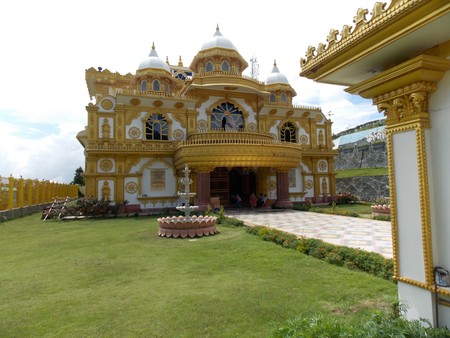 The temple is located at the corner of two roads. Before you enter through the large entry gate, you need to take off your shoes. Although there is no entry fee as such, the men at the entrance of the main temple expect you to pay donation which goes towards maintenance of the temple premises. 
Although overall it's a striking complex with garden setting with an awesome architecture with intricate work all around, I observed that water was leaking from the ceiling of the temple at several places and it was difficult to avoid the drips on your head as you climbed the stairs upstairs. 
Upstairs there is a wonderful statue of Shirdi Shai Baba kept on an elevated platform at the end of a huge hall. The hall with its blue decor & hue, and paintings & sculptures of many gods & goddesses around the walls is awe-inspiring. 
Upstairs hall, statue of Shai Baba at the end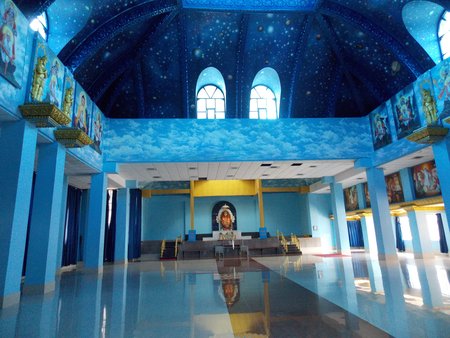 Downstairs is the large prayer room where devotees offer prayers. There is also an elevated stage at the end where kirtan and other religious functions take place that are organized by the trust. 
Outside and right on the road there are several eateries serving Indian vegetarian food. This is where you can plan to take your lunch (or brunch if you started the day early). Tea and cold drinks are also available. 
Next is the Pilgrim Center Char Dham which is undoubtedly the most popular and the best tourist attraction in Namchi. It is located on a hill top and about 5kms from the town center. This large complex has been conceived to take Sikkim to new heights of pilgrimage & religious tourism. The complex comprises of the main temple of Shiva on which the imposing statue of Shiva has been set up. 
Additionally there are replicas of twelve jyotirlingas to offer one platform to all devotees of Shiva, as well as replicas of the four dhams (Badrinath, Jagannath, Dwarka dedicated to lord Vishnu and Rameshwar dedicated to lord Shiva). 
Visit
Char Dham
to know more about this awesome religious complex in South Sikkim. 
Char Dham complex, Namchi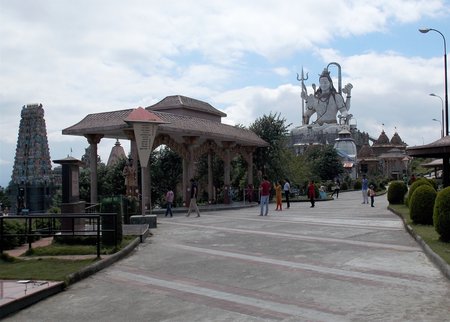 There is enough parking here as well as a Yatri Nivas hotel cum pure vegetarian restaurant just before the entrance of the Char Dham complex. You can plan to take your lunch or snacks here before visiting other attractions. If you plan to stay overnight at Namchi, you can consider staying at this Yatri Nivas.  
There is also a cafe inside the complex. Plan some 1.5 hours in Char Dham on a day trip and keep a check on time. It's easy to spend half a day here otherwise. 
You will next pass through Namchi Bazaar and township. The Central Park as the name suggest is a central location in Namchi. However this not a large parkland area. As you see in the picture below, it's like a public square. 
Central Park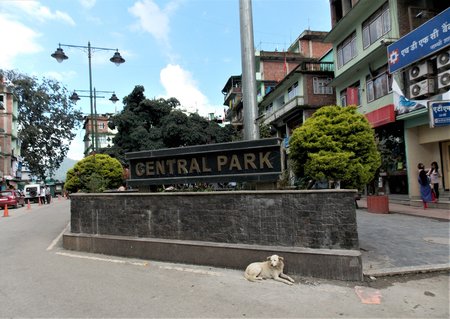 Next is Samdruptse Monastery which is about 7kms from Namchi town and up on Samdruptse hill. Before Char Dham, this used to be the main attraction of Namchi, it is still very popular among tourists though. Outside the entrance there is a large paid parking. 
A large building has been constructed for covered parking in the upper floor as well as hosting shops at the ground floor. Samdruptse means 'Wish fulfilling Hill'. The locals believe that the hill is actually a dormant volcano. The Buddhists lamas have been regularly offering prayers so that the volcano does not erupt. It has stayed calm so far. 
Buy the entry tickets from the counter at the monastery gate and there is a fairly long uphill walkway (some 200 yards) that leads to the monastery. Buddhist prayer flags flutter on one side of the pathway. Take off your shoes before you climb the flight of steps to reach the upper platform. 
Now look up and you will be awestruck with the mammoth 45-meter statue of Sikkim's patron saint Guru Padmasambhava set up on an elevated platform. The face is coated with gold that glitter in the sun. Walk around the platform (start from the lwft and make a full circle) and you can get magnificent view of the mountains and forests. The entry to the monastery is from the backside. 
Statue of Samdruptse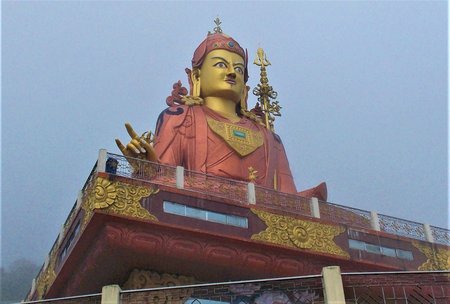 The foundation stone here was laid by Dalai Lama on 22nd October 1997. Subsequently when the work started, it took over 3 years with many renowned architects, engineers and over 1,000 laborers who worked hard together to set up the statue and the monastery. 
The religious aspects of the project was supervised by His Eminence Kyabje Dodrupchen Rinpoche who later consecrated the holy statue. The statue was finally opened to public on 18th February 2004 by the Chief Minister of Sikkim Sri Pawan Chamling who conceptualized and visualized the project. 
Inside Samdrupste Monastery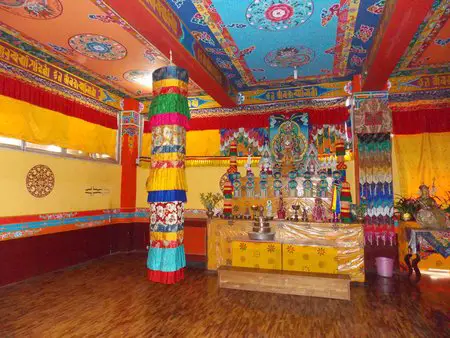 This tall and large statue overlooks the town of Namchi and the surrounding areas. It can be seen from many different places in Sikkim and Darjeeling as well. As you walk back to the large open courtyard next to the covered car park, you will find several food stalls selling all kinds of snacks like momos, eggs with toasts, chaats, packaged snacks, tea, coffee, beverages etc. Good time to have a short tea break. 
On your way back towards Namchi town you can visit Namchi Rock Garden (about 10 minutes from and below Samudruptse). This place too was opened by Chief Minister Pawan Chamling on 22nd October 2005. You will need to walk down initially through flights of stairs and then a paved pathway which seems easy as you go down to visit the rock garden. But be prepared to sweat it out while climbing up. However the rewards once you reach below are plenty. 
Namchi Rock Garden Pathway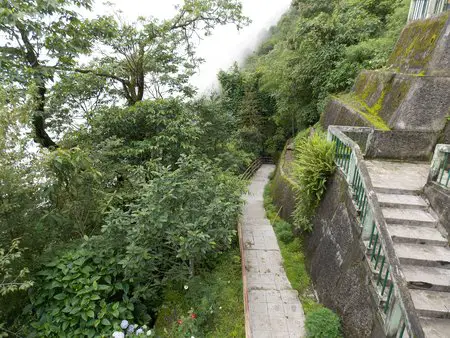 The landscaped garden below is quite beautiful. There are waterbodies, a gazebo, tiny arched bridges over lilipools, many different rare flowers and plantations, slides & swings for children, benches to relax & soak in the views - all make a wonderful experience. It's calm and quiet out here and a great opportunity to blend with the nature. 
Flowers at Namchi Rock Garden 
A highlight at the rock garden are the Orchids. You will also see here a rare plant known as Timbur which is a sour citrus plant having a great medicinal value and used in liver ailment and lung congestion. The rock garden offers a wonderful view of Kanchenjunga snow peaks and also a lovely sight of the confluence of rivers Teesta and Rangeet.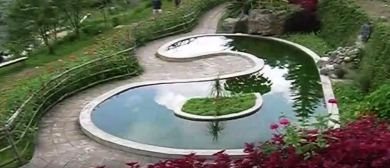 From Rock Garden your final destination will be Ngadak Monastery which is about 2kms from Namchi town. You will need to take a diversion near Kolkata Hotel and reach the monastery complex in about 15 minutes from Rock Garden. From a large open field area you need to walk for about 150 yards to reach the monastery building because visitors cars are usually not allowed right up to the monastery. There is no entry fee to Ngadak Monastery. 
This is one of the oldest monasteries of South Sikkim built in 17th century by Tensung Namgyal during the reign of Chogyal Gyurmed Namgyal. However the old building has been destroyed by earthquake and a new structure has come up in its place. Wonderful ambience, both outside and inside. Spend some 15 minutes before starting your return. 
Ngadak Monastery Namchi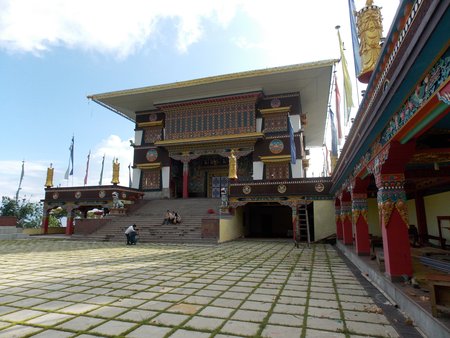 A football stadium named Baichung Stadium is coming up in Namchi which is named after the popular Sikkimese footballer Baichung Bhutia. It is still under construction and you can see it as you pass by. 
Baichung Stadium under construction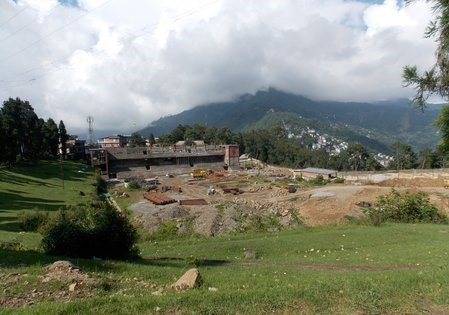 More attractions around Namchi 
There are several other places which you can visit from Namchi, however time may be a constraint during a day trip. But if you decide to stay for at least a night at Namchi, then you can certainly visit those places. 
Temi Tea Garden is about 18kms from Namchi town and located in Ravangla, South Sikkim. This is the only tea garden of Sikkim and owned by the State Government. It spreads across 440 acres of land on gradual hill slope originating from Tendong Hill. The tea garden produces one of the finest tea in the world and commands high prices in the world market. There is also a factory here. You can visit the factory to see tea processing and buy packaged tea at the Sale Outlet. 
It produces about 100 tones of tea annually. The tea estate was established in 1969. Prior to that there used to be a Sherpa village here as well as plant nurseries of Forest Department, and missionary buildings. There is a British Bungalow within the garden where you can plan to stay (contact the estate manager: 03595 - 261703). Another accommodation within the garden is Cherry Resort (erstwhile Yatri Niwas) which has sweeping views of the tea garden and Kanchenjunga from its rooms and terrace. It's a mid-range hotel and you can book online through their site. 
Another lovely place is Buddha Park in Ravangla (aka Ravangla) also known as Tathagata Tsal, 30kms from Namchi town. Spread over 23 acres of area this parkland has a towering sitting statue of Buddha which is 137ft 22inch tall. The face of the statue is coated with 3.5kgs of gold. It is the tallest metal statue of Buddha in the world. The statue has been setup on a hillock. The park with paved pathways and surrounded by mountains & forests looks awesome. Buddha Park project started in 2006 and was inaugurated by Dalai Lama in 2013. The park area is donated by the nearby Rabong Monastery. 
Mainaam Garden has been named after the revered peak Mainam in south Sikkim. The garden is spread across 20 acres of land area and is famous for the production and supply of cut flowers of all types. Its oldest flower nursery is located in a place called Ghurpisey which is about 2kms from Namchi town. Here you can see the largest collection of Lilium cut flowers and also several other types such as Iris and Amaryllis. 
IHCAE (Institute of Himalayan Centre for Adventure & Eco Tourism) is located at Chemchey Village at an altitude of about 6,500ft. From Namchi town the distance is about 16kms via Damthang. Opened in December 2009, the Institute offers training courses to the youth in the area of adventure activities and eco tourism. The courses include Mountaineering, Rock Climbing, Mountain Biking, Trekking, Para Gliding, White Water Rafting, Trekking, Skiing etc. 
IHCAE Campus, South Sikkim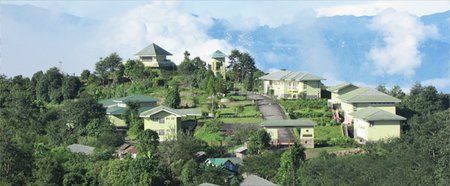 It has a sprawling campus covering some 21 acres of land area on gentle hill slope which is worth a visit. The campus has Mountain Interpretation Hall where theory classes are conducted, meditation hall, guest rooms, administration blocks and 14 stage obstacles. It offers hostel facilities to trainees. Email :
[email protected]
; Mobile : +91 9434117158 
Shopping in Namchi 
You don't usually plan a trip to Namchi keeping shopping in mind. However, there do exists several stores and art & craft centers that are worth visiting and you won't return empty handed for sure. Kanchenjunga Handicrafts Center located near Serdupcholing Monastery has exquisite handcrafted items. Another place for great local hand crafted items is Technical Handicraft Center which is located about 2kms from Namchi town. 
Where to Eat & Stay 
While there are number of small eateries all through Namchi including at places like Shirdi Sai Mandir by the roadside, for proper food you can visit Hotel Solophok on Melli road, Hotel Mayal on Jorethang Road and Wine & Dine on DC Office road above State Bank of India branch. For pure vegetarian food, Yatri Nivas at Char Dham is also a good option. This is where you can also stay. The rooms are spacious and airy. It's a nice budget hotel in Char Dham complex. 
One of the great mid-range/budget accommodations is Seven Hills Resort located at the hill slope of Phalidara and overlooking Namchi. It has 12 cottages spread out in 6 acres of lush greenery & natural setting, and done up in traditional Sikkimese style. From the balconies you get wonderful view of Solophok Hill where Char Dham is located, the Rock Garden, Samdruptse, snow peaks of Kanchenjunga and Darjeeling township. The hotel has in-house restaurant preparing nice local cuisine. There is also a bar. Email: sevenhillresortgmail.com; Phone: +91-33-30533973 / 74 / 75 . 
The Club Mahindra Resort at Baiguney (about 2kms from Namchi) is also a wonderful retreat and available for booking by general tourists. It's a luxury resort located by the river-front and spread across 12 acres of landscaped area. It's a visual treat by itself. The resort has a spa, swimming pool, gym, fun zone etc. 
Some of the other hotels at the Namchi market area which are also popular with tourists are Hotel Mayal on Jorethang Road, Hotel Samdruptse, Hotel Kesang, Hotel Rock Ville, Hotel Nayuma etc. 
How to book a hotel in Namchi 
You can use the search box below to book a hotel at an attractive low rate including some of the ones I mentioned above. This service is provided by world's no.1 online hotel booking site. 
Best time to visit Namchi 
March to May is a good time to visit Namchi when the temperature remains moderate and comfortable. There is usually no rains during this time. Another good time is between September to November. 
How to reach Namchi 
Regular Sikkim Tourism buses are available between Gangtok and Namchi, as well as private taxis. Namchi is also well connected by road from NJP (the nearest rail junction), Bagdogra (the nearest airport) and Darjeeling. You will get pre-paid taxis from NJP station or Bagdogra airport. Namchi is located between Ravangla and Jorethang. It is 78kms from Gangtok (takes about 3.5 hours), 26kms from Ravangla, 90kms from NJP and 96kms from Bagdogra. 
Related Articles 
Visitors' Reviews/Comments 
Pinaki Pal (June 2017) 
Mr.  Raj.  I just want your expert advice for staying overnight at Namchi. We are going for a Gangtok & Pelling tour.  From where we can pass through the Temi Tea Garden & 21 hair pin bends??  Gangtok--Namchi or Pelling--Namchi via Ravangla??  Your opinions are really very practical & extremely helpful for me.. Thanks & Regards. 
Raj (darjeeling-tourism.com) June 2017 
Your night stay accommodation in Namchi will depend on what your plans are as well as your budget. If Char Dham is where you want to spend most time in Namchi, then you can stay at Yatri Nivas located at the Char Dham complex next to the car park. Temi Tea Garden and 21 Hairpin bends are located along the route from Gangtok to Namchi and closer to Namchi. You can also approach it from Ravangla - Namchi route but around mid way, you need to take a diversion for few kms and then return to the main route. 
Srijonee Choudhury (April 2017) 
Hi Raj, I want to visit Namchi from Kalimpong. Can I get proper transport from Kalimpong?? If I start early, can we manage to see all the spots in Namchi and return to Kalimpong on the same day?? With regards. 
Raj (darjeeling-tourism.com) April 2017 
Yes, highly doable. Will take about 2 hr 15 minutes one way via Melli. Start early. 
Tarasankar Dasgupta (March 2017) 
Hi Raj, On the 1st day while going to Pelling from NJP at 8-30am, would it be fine if we visit Namchi and then reach to Pelling. We are 04 adults, above 56 years. Otherwise we can visit Namchi while going to Gangtok from Ravangla. Which alternative would be fine as per your suggestion. 
Raj (darjeeling-tourism.com) March 2017 
Both options will require about 1 hour detour. However the second option (via Ravangla) would be better because a local taxi of Sikkim is more likely be willing to take the detour and do a local sightseeing at Namchi during a transfer to Gangtok. Taxis at NJP may not (more because there are restrictions in Sikkim for non-Sikkim registered taxis to do local sightseeing). 
Tarasankar Dasgupta (March 2017) 
Hi Raj, many thanks for your prompt and expert opinion. Both the vehicles already booked to our Pelling Hotel without any detour idea. Now I find Namchi is almost on the way from NJP to Pelling and say,  if Sikkim no. vehicle is provided to us, should we visit while going to Pelling? Your free and frank opinion is most valuable to me. Yours truly, 
Raj (darjeeling-tourism.com) March 2017 
Hi, yes you can visit Namchi on the way to Pelling, then you need to take an alternative route from Melli which is longer (the usual route to Pelling is via Jorethang). 
B. Rajagopal (March 2017) 
We went on a one day trip to Namchi. The drive was mostly along the Teesta river. On the way we stopped at an elevated spot from where we had a spectacular view of the meeting point of Rangeet and Teesta river. As we were enjoying the view, we were suddenly enveloped in clouds, which made the moments magical.  
After crossing Teesta, we entered Sikkim. Just on the side was Gupta Restaurant which served very tasty aloo paratha and mango achar, along with very refreshing ginger tea. After reaching Namchi, we went to Sandruptse monastery. This was a very beautiful and divine spot. It had a huge statue of Saint Padmasambhava and a garden with lots of marigold flowers. 
The other interesting spots were the Char Dham, Helipad and Sai Baba Mandir. From Char Dham and Helipad, we took some excellent pictures of Kanchanjungha. 
Partha Chatterjee (November 2016) 
Hi Raj, It would be very kind of your if you please guide me on these two things. 1) How to reach Cherry Resort from Darjeeling. Is shared vehicle available? What would be the stops on the Journey. 2) How do I reach Lava from Cherry Resort, what would be the convenient route & moderate by fare too. Thanks in advance my friend. 
Raj (darjeeling-tourism.com) November 2016 
Hi, Cherry Resort is in south Sikkim towards Ravangla. From Darjeeling you will need to go via Namchi (enroute Jorthang). Shared taxis are not available on that route from Darjeeling. You won't get shared taxis from Cherry Resort to places like Lava. Only option is reserved taxi (you need a Sumo like vehicle from Darjeeling as the road is quite bad at several places). 
Biswajit Dey (January 2016) 
Sir, I am wanting to visit Namchi Chardham while coming from Darjiling and going towards Gangtok. Is it possible to cover this in one day? 
Raj (darjeeling-tourism.com) January 2016 
Yes, quite possible. Start early and take the route via Jamuney and Jorthang (you need a large vehicle like a Sumo). Road is bad in several patches.