Chungthang Tour
Chungthang is a small town located 30kms from
Mangan
along Gangtok-Chungthang Road at an altitude of 5,870ft. It sits on the junction of the rivers Lachung chu and Lachen chu... both these rivers are tributaries of Teesta, flow down from two different directions and converge in Chungthang. 
Although a small settlement, Chungthang is quite picturesque, it's a relatively flat land and surrounded in all sides by mountains. You can find different kinds of vegetation, flowers and birds here. During spring, you can see colorful lilies bloom alongside the road... army men look after flowers. 
Chungthang Valley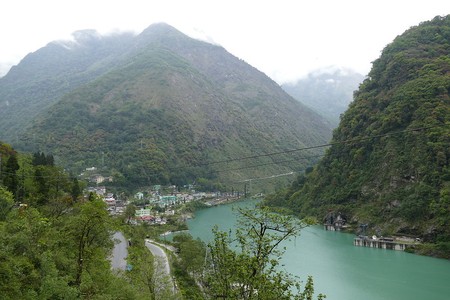 Photo: Ankur Panchbudhe/flickr 
Attractions
Chungthang is a historical town and legend has it that both Padmasambhava and Guru Nanak had visited the place. There is a Sikh Gurudwara at Chungthang known as Gurdwara Nanaklama that was built by the army. There is a rock in Chungthang that contains the handprints and footprints of Padmasambhava. Rich mineral water constantly flows from a small opening in the rock. 
Also there is a patch of land nearby sprouting paddy… whereas the land all around is bare and infertile. This piece of land was supposedly blessed by Padmasambhava who sprinkled rice grains over it... the 'Hidden Valley of Rice' (Sikkim's nick name) originated from this legend. 
Once in Chungthang check the massive hydroelectric project being set up over the river confluence... note that an entire village has sprouted up next to Lachen Chu to support the project work. 
Also visit the Chungthang Monastery which is surrounded by stone houses and large edifices. The monastery has rich collection of rare Buddhist paintings. Other things to see here are the many waterfalls coming down the rock faces, lush forested landscapes and scenic views all around. 
Chungthang is also used as a base for travelling to
Lachung/Yumthang Valley
,
Lachen/Gurudongmar Lake
, Yumesandong (Zero Point), Tso Lamu lake and Katao lake. At Chungthang, you will cross the only concrete bridge of North Sikkim and then the road bifurcates into two parts... one towards left goes to Lachen and the other one goes to Lachung. 
11kms ahead of Chungthang and towards Lachung, there is a wonderful waterfall by the roadside known as Bhim Nala (it is also known as Amitabh Bachchan Waterfall) because of a Hindi film that was once shot here. There is a bamboo made bridge and you can use it to get near the falls. 
Bhim Nala, North Sikkim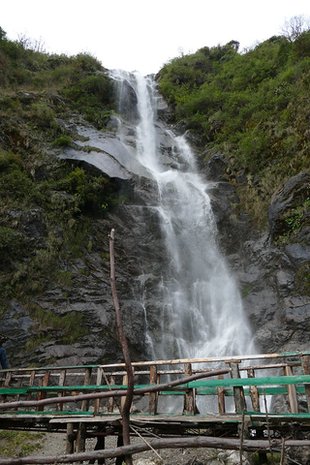 Photo: Ankur Panchbudhe/flickr  
Best Time to Visit
Though a part of North Sikkim, Chungthang isn't that cold as the altitude is moderate. It's best to avoid the monsoons as landslides happen and the area becomes treacherous. 
Location and Transport
Chungthang is 95kms away from Gangtok and can be reached in 4 hours by car (roads are rough). From Gangtok... tourists usually stop at Mangan and then they follow the Teesta River to reach Chungthang further 30kms ahead. 
Related Articles
Visitors' Reviews/Comments