Mangan Tour
Mangan is a small village settlement located in North Sikkim and 65kms away from Gangtok at an altitude of 4,000ft. This is the district capital as well as market center for North Sikkim and so many fruit and spice sellers visit this hamlet plying their wares… in fact this is one of the best places to visit in North Sikkim should you want to shop for fresh produce. Serious trekkers are well acquainted with Mangan that serves as a gateway to the uncharted virgin terrains of North Sikkim. 
Mangan, North Sikkim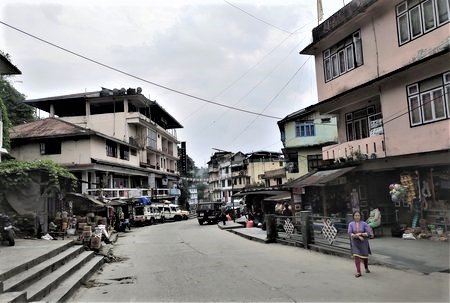 Mangan is recognized as the official entry point to
Lachen/Gurudongmar
and
Lachung/Yumthang
. If you are travelling to one of those two places, you will pass through Mangan. In fact, many tourists come directly to Mangan from Bagdogra or NJP bypassing Gangtok, stay here overnight and proceed to Lachung or Lachen next morning via Singhik and Chungthang. 
You can get you
Protected Area Permits
to visit Lachung and Lachen from Mangan itself and do not need to come through Gangtok for that. You can ask your hotel in Mangan to get it done in advance. You will only need to send them the scanned copy of your Photo Id and passport size photos. 
Mangan Market, North Sikkim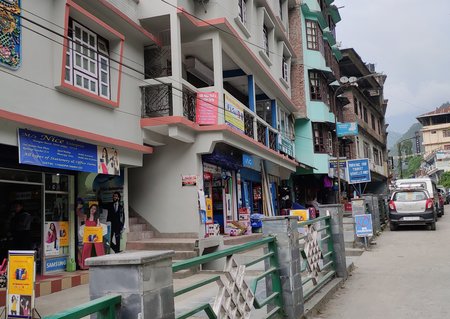 Note that the permit is issued at District Administrative Center at Mangan and till 2pm. If you want to get it done on the same day you arrive, then you must reach Mangan well before 2pm and get it done through a local operator or your hotel. If you have all documentation in place including the application form duly filled up, it doesn't take long to get the permit... it can be issued in 30-45 minutes. The permit issuing office at Mangan remains closed on all public holidays. 
If you plan to visit Mangan directly via Singtam bypassing Gangtok, it is advisable to get the permits done in advance. Because sometimes at a place called Rang Bang about 7.5kms before Mangan (near a bridge on the river Rang Bang Chu), security persons ask for your permits. You might land up into some complications if you are not carrying your permits, but it is possible to convince them if you have enough documentation including your photo IDs and hotel reservation in Mangan. 
Attractions
Mangan is called the cardamom capital of India and is also the administrative headquarters of Northern Sikkim. There is mixed vegetation here with pine and fir forests thinning up to desert scrubs. The best thing about Mangan are the many natural waterfalls that dot its landscapes. 
Mangan is very close to Singhik (4 kms only along the main Chungthang road), so all the nearby attractions and short trek destinations are common for both places. You can go to
Singhik View Point
and watch the magnificent views of Kanchenjunga snow peaks and the river Teesta flowing through the valley below and surrounded by waves of mountains covered with lush vegetation. Go through
Singhik Tour
to uncover more attractions around Singhik. 
The Kanchenjungha mountain view at Mangan itself is amazing and that's just one of the reasons you should plan a visit to this pretty little place. There is a heritage house named Rong Lungten Lee that's 8 kms away from Mangan and located at Namprikdang village. This is a replica of a Lepcha Traditional House. It has a good variety of ancient artifacts that belong to Lepcha tribe. 
Phodong
is only 25kms from Mangan towards Gangtok and takes about an hour of drive. In Phodong you can visit several attractions including the famous
Phodong Monastery
located 1km from Phodong market area, close to the monastery is Tumlong which became the third capital of kingdom of Sikkim in early 1800s. Here you can see the
ruins of Tumlong Palace
. And further 1.5kms away is the
Labrang Monastery
located in a serene forested area on a hill top. 
Phodong Monastery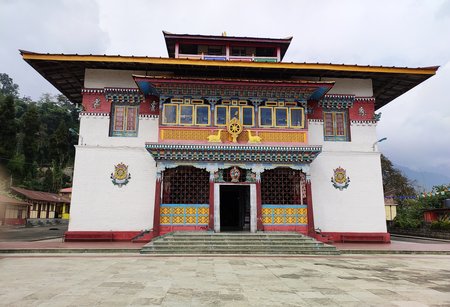 Only 17kms along the main North Sikkim Highway towards Chungthang you will come across a magnificent multi-tiered waterfall known as Naga Falls. From the roadside, you need to walk over a footbridge to get to the base of the falls. 
Naga Falls, North Sikkim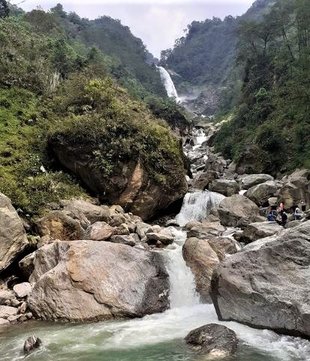 Mangan is an excellent place to launch your tour to
Dzongu Valley
which is a special part of Sikkim which is reserved for the Lepchas, the original tribe of Sikkim. There are homestays there where you can experience the traditional ethnic culture, food and hospitality of Lepchas. There are many beautiful lakes, waterfalls and other natural attractions in Dzongu other than stunning views of Himalayan peaks including that of Kanchenjunga. There are also many trekking trails there. 
Dzongu Valley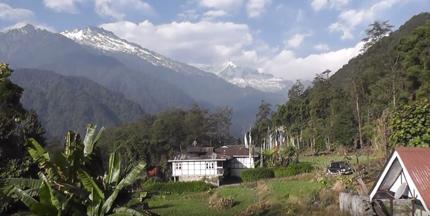 Mangan is also used as a base for the trek to Tosar Lake that stands at an altitude of 13,000 feet near the Chola range of mountains. Tosar Lake stands by a huge cliff that's considered to be holy by the locals. The trek to the lake starts from Tom Naga or Naksuk near Mangan and then a full days trek follows. The route is via Sohar De... Naksuk... Se Patnam and then Tosar Lake. Enroute you get to explore Naga villages, bamboo forests, pine forests, rhodenderons and stunning views. The famous Yak trails can also be seen along this route. 
Where to stay
Mangan has relatively more accommodation options as compared to Singhik. 
One of the best accommodations here is The Planters Home that offers an optimal mix of nature's company and modern comfort. It's a sister unit of Hotel Sonam Delek in Gangtok and located little above the Mangan market area. It's a 3-star equivalent property and surrounded by greenery. 
The Planters Home, Mangan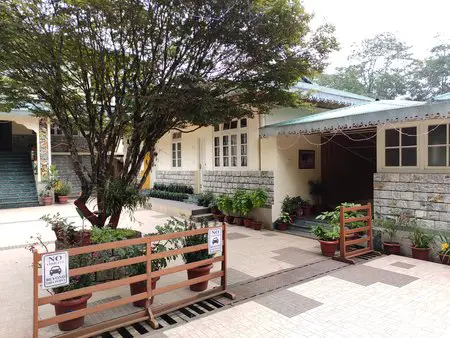 They have several rooms... some are designed in semi-attached cottage style and are lined up on one side of the large front porch. The main building has several other rooms of various category, a well done up lobby with view, and an impressive dining room with a bar.  
Lobby of Planters Home with great views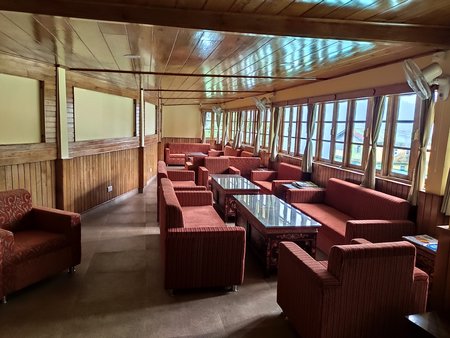 The dining hall or the in-house restaurant is fairly large and well done up with mostly wooden furnishing and cushioned chairs. A well stocked bar is tucked on a side. The food is mostly north Indian and Chinese. The food quality and taste is exceptional and so is the top class professional friendly service. The food price is reasonable. Outsiders can also dine here. 
Restaurant at Planters Home, Mangan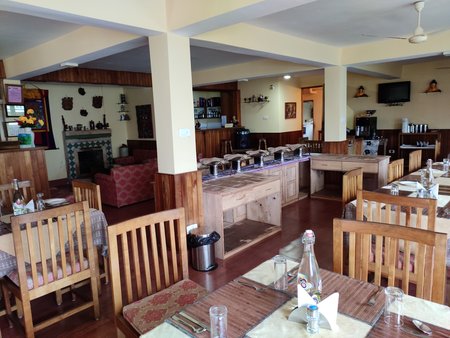 There are 4 categories of rooms... Deluxe, Super Deluxe, Junior Suite and HM Suite. All rooms have modern decor with luxury amenities including flat TV, Wi-Fi, wood paneling, 6" Snoozer Mattress, upscale bathroom fittings etc. The suites are spacious and additionally have mini bars and bath tubs. 
A suite at Planters Home, Mangan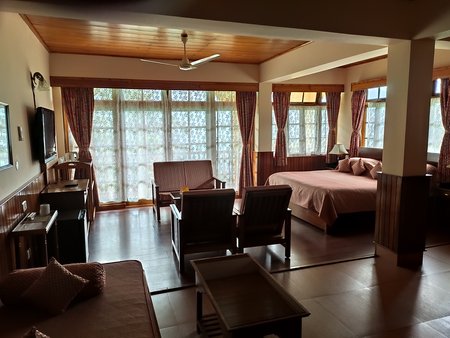 Phone No: 03592 – 234286 / 234824 
Mobile: +91 - 7478181311 
Address: Dr. Lobzang Tenzing Marg, Pentok, Mangan, North Sikkim 
Other mid-range accommodations in Mangan include: 
Hotel Tamarind Residency located near Mangan Public Ground with modern amenities including TV, Wi-Fi, Geyser etc. Phone: 097350 85783 
Dynasty Hotel located in Mangan Bazaar area. Phone: 080013 81382 
Best Time to Visit
This is an all year destination but if you plan to use it as a base for treks to higher altitudes then avoid the winters and monsoons. 
Location and Transport
Mangan is 65km away from Gangtok… it takes approximately 2 hours 45 minutes to reach by car. From Gangtok Vajra Taxi Stand regular Jeep taxis are available (between 5:30am to 2:230pm) for visiting North Sikkim including Mangan. There are also regular buses between Gangtok and Mangan. You can also ask your hotel in Gangtok to arrange for a private taxi to Mangan. 
An alternative route to reach Mangan directly from NJP or Bagdogra is through Singtam. The Bagdogra airport is 146 kms away and the NJP Railway station is 138 kms away. The route goes through Rangpo (there is Sikkim's border check post here), Singtam, Dikchu and then to Mangan. It roughly takes about 6 hours to reach under normal traffic conditions. 
Related Articles
Visitors' Reviews/Comments