Petrichor - A great farm stay
Category: Mid Range 
If you are looking to experience a typical village life amidst nature while staying in a working farm, enjoying vast greenery & lovely landscapes where the mountains meet the plains, relishing garden fresh vegetables, watching or taking part in farming activities, exploring nature trails and tea gardens, then you perhaps don't need to look any further. 
The word 'Petrichor' means the pleasant earthy smell you get when it begins to rain after a long dry spell. And that's probably the main essence of this farm stay where everything is so fresh and natural. 
It's located in Gorubathan, about 2 hours drive from NJP and on the way to the popular tourist destination Lava. Gorubathan is a small settlement located at the east bank of river Chel. It's part of Kalimpong district. Being at the foothills, the altitude is only about 1400ft, but the views of the farming landscapes, forests and the mountains are awesome. 
Actually Petrichor is not just a farm, it's a growing community which practices and encourages several activities in harmony with local villagers through organic farming, conducting programs for visitors to share the ways of simple & sustainable living in an eco-friendly environment, encouraging volunteers to participate in farming work, inviting artists to take part in art & craft, and of course offering such wonderful farm stays to guests to experience it all. 
Sweta and Sidhartha own and run Petrichor, and are the main persons behind this vision. I know about Petrichor since several years when it was just a small art cafe in Darjeeling town on Zakir Hussain road and had a good fan following. When they closed it down, many were sad and missed the hangout. But when it was re-opened at Gorubathan in 2014 as an organic farm, studio, kitchen & artist residency, it was for a larger vision and wider reach. It's well on its way. 
Petrichor Farm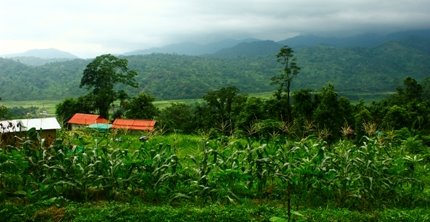 Accommodation
They have several choices including accommodations that can be availed from the local community. The choices include natural homes (huts), home stays, Nepali ancestral home and tents. 
Natural Homes or Huts 
There are two simple huts (Abundance and Simplicity), each with a bedroom and a bathroom. While the rooms are kept simple to retain the rustic and natural ambience, they are very tastefully done up. The huts, and in fact all the constructions in the farm are done using natural materials available locally like stones, bamboo, mud, thatch, straws etc. 
Petrichor - The hut Abundance with view of the pool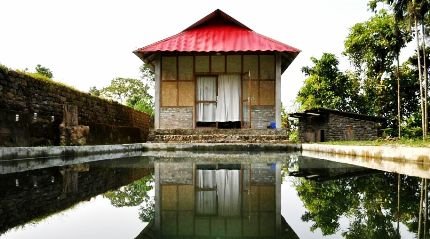 The rooms are certainly inviting and cozy, with enough natural lights and large windows to offer great vistas of the farm land and nature around. The beds are comfortable. 
You will find lots of books kept in wooden rack to read, a guitar in case you like to play some music, a hat to wear when you go out in the sun to explore the farm, small wicker side-tables, hanging lights and so on... lots of detailing and enough for a comfortable stay. 
Bedroom at the hut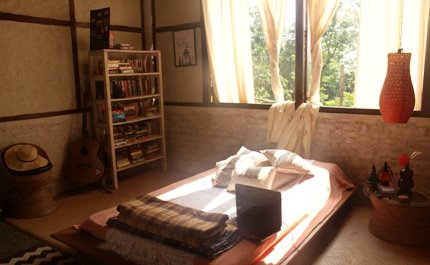 There is no wi-fi connectivity. Vodafone 3G data card however works. There is no cable TV, air-conditioning etc. Next to one of the huts is a swimming pool (actually a dip pool). 
The bathroom is of European style, quite spacious, and has large window overlooking the greenery. They provide toiletries like shampoo, soap, towels, toilet paper etc. 
Bathroom walls are made of natural stones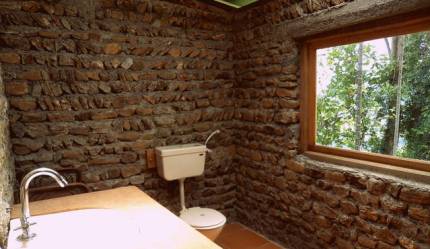 Nepali Ancestral Home 
(Sadhana) 
This is a local house which is over 100 years old. It has been mostly converted into art, craft and yoga studio, but two rooms have been retained to provide accommodations to tourists who would like to be close to art & craft and engage in such activities. The rooms are called Artist Room and Yogi Room. 
Sadhana, Nepali Ancestral Home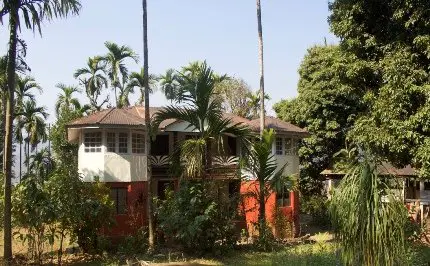 Artist Room, Sadhana 
Home Stay 
You can stay with a local Nepali family and experience a true home stay, their culture and try your hands on farming. The home stays are clean and safe.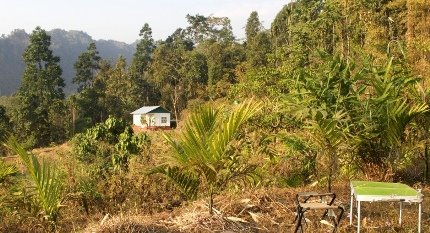 Tents 
Carpeted Alpine tents are offered with beds which can accommodate two persons. 
Tent at Petrichor Farm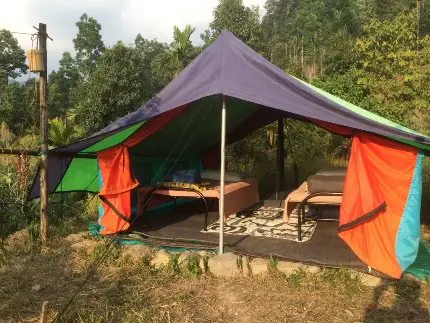 Indicative Rates
Natural Home Abundance - INR 3000 on double occupancy including breakfast. 
An additional INR 1000 is charged for each extra person. 
Natural Home Simplicity - INR 2000 on double occupancy including breakfast. 
An additional INR 800 is charged for each extra person. 
Studio Sadhana : INR 1000 per person per night including breakfast. 
Home Stays Sattva: INR 800 per person per night including breakfast. 
Tents: INR 800 per person per night including breakfast. 
Weekly and monthly rates are also offered. 
Lunch and dinner costs are additional (INR 250 per person per meal). 
NOTE: All guests of Petrichor irrespective of the type of accommodation have complimentary access to the swimming pool, yoga deck, community kitchen, library etc and the common premises. 
Dining - Food & Beverages
They have a community kitchen where 'vegetarian wellness' food is prepared by a team where ingredients are all organic produce and sourced from the farm's kitchen garden. They are also known for their delicious bakes, wood-fired pizzas and homemade breads. 
Sweta herself is an excellent cook. While they mostly prepare Nepali vegetarian food they can also make great non-vegetarian dishes including chicken biryani. 
Update March 2017: Petrichor has now become a purely plant-based farm so there is no scope of non-veg cooking in the premises. Those guests who are interested to eat a non-veg meal can enjoy some rustic Nepali cooking at a farmer's house! 
Tea and snacks are also served. They offer local beer known as 'Tongba' made from millet which is served in bamboo containers with a straw. This is a traditional drink of Nepal, Darjeeling and Sikkim. 
What to do at Petrichor
Explore the farm and the food forest that the community has been growing, indulge on delicious and freshly cooked organic farm food, swim in the nearby river or in the in-house pool, lie down on the hammock and read books, take a walk through the village and jungle, paint, do some farming work, or just laze around and sleep. 
View of river - Petrichor, Gorubathan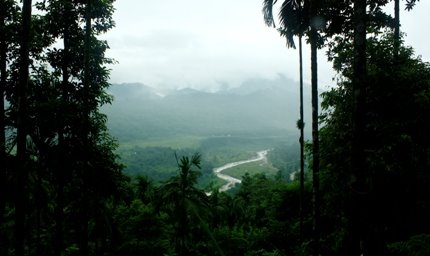 Actually there are lot more to do. Here are some more interesting activities: 
Sweta conducts 2-hour cooking classes showing you how to make typical Nepali food, the spices used etc. You will get hands on experience. If this is of interest to you, I recommend that you enroll for the cookery lesson. 
You can enroll for hands-on workshop with Sidhartha to know how to construct traditional ikora houses of Assam while working with bamboo. Ikora houses are supposed to be earthquake resistant. 
They rent out bikes on daily rate and you can wander off along biking trails to explore the area. 
They have an art & craft studio which you can use to create your own artistic impressions. An hourly rate applies on the usage of art materials and supplies. 
You can make pottery items using a manual pottery wheel. Charges apply for usage of materials. 
As part of their Volunteer Program, you can volunteer to take part in their farming activities such as feeding and milking cows, fencing, repairing work, gardening, cooking, washing etc. If you do so, the organic food from the farm to the dining table would come free to you. 
As an artist you can practice art and conduct workshops for the community. In return, you get discounted lodging rate for longer stays. 
As a guest, you can camp out on the premises. 
There is a Yoga deck. You also have access to the swimming pool which is common to all. 
There is a library / reading room. 
They have a souvenir / farm produce store where you can buy hot sauces, pickles, jams, honey etc which are all made manually by local women from natural farm produces or harvested. 
They can arrange treks which include packed lunch. Such treks include river treks, Fagu tea garden walk, trek to the ruins of historical Dalim fort on top of a hill, village & nature walk etc. 
They can book a Day Safari at the Gorumara Wildlife Sanctuary (needs one day advance notice). 
Both Sweta and Sidhartha provide great company and you can chat with them on a range of topics including travel, organic farming, music, art and lot more. However they are not intrusive and care for your privacy as well.  
How to reach Petrichor
Petrichor Farm is located in Gorubathan at the lower Fagu tea garden area. It's about 65kms from NJP (about 2 hours by car), 72kms from Bagdogra and 96kms from Darjeeling (about 3 hours). From NJP you will need to take Sevoke road and then National Highway NH17. Once you reach Damdim, a road towards north goes to Gorubathan and onward towards Lava. 
You will get pre-paid private taxis from NJP and Bagdogra for Gorubathan (note that the place is also locally known as 'Sombarey' as a local hut sets up here on every 'Sombar' which in local language means Monday). Shared taxis and buses are available from Siliguri stand. Private taxis are available from Darjeeling taxi stands. 
NOTE: Vehicles won't reach all the way up to Petrichor. You will need to walk through the forest and uphill for about 20 minutes (about 1km) to reach the farm. So it's certainly not meant for those having problems walking. However the staff at the farm will help with the luggage if you let them known in advance. 
Contact Information
Sweta Pradhan 
Related Articles
Visitors' Reviews/Comments
Share your experience or stories.