Takdah, Tinchuley and Lamahatta
A Day Trip from Darjeeling
This is a wonderful circuit and one of my personal favorites. Start the day tour early from Darjeeling because you will need to cover three exotic places full of natural flora & fauna, and of course lovely views, landscapes and tea gardens. There won't be great eateries along the way, so have your breakfast before you start or pack it. 
Your first destination is
Takdah
, a small village about 28kms from Darjeeling and located at an altitude of 4,000ft. It once used to be a military cantonment during the British days of early 1900s when several British bungalows came up here for accommodations of the officers. Some of them still exist. 
It takes about 1 hour 20 minutes to reach Takdah. You will however visit only two of the several attractions at Takdah because time is limited and there are several other places to go. The first one is the lovely Orchid Center at Takdah. Out of the wide range of orchids, you can also see the Himalayan orchids here. This orchid center once used to be one of the best in the whole of Asia. 
Orchid Center at Takdah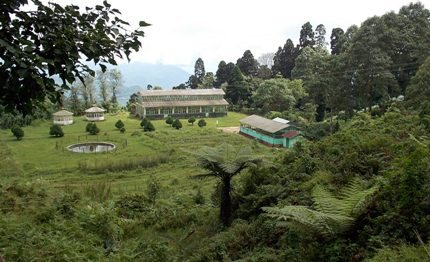 Next is the lovely Rungli Rungliot Tea Gardens. The garden is surrounded by mountains and you can see river Teesta flowing far away... a picturesque sight. The tea estate is about 2kms from the main market of Takdah. 
Rungli Rungliot Tea Garden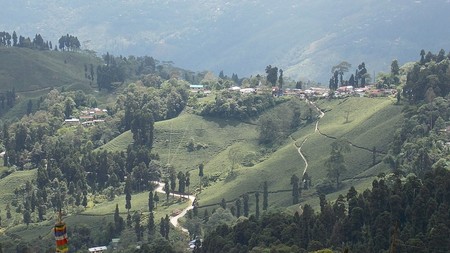 Continue to
Tinchuley
, a small hamlet which is about 3.5kms from Takdah. Out of several attractions here, Tinchuley is famous for two things, wonderful views of the snow peaks of Kanchenjunga and orange orchards. 
However you need not stop at Tinchuley. There is a new road which has been built from Tinchuley which passes through the Peshok Tea Gardens. This is a wonderful drive as you pass through vast stretches of gardens in all sides on the mountain slope. 
Stop at the Peshok Garden View Point and soak in views all around and drive along. The road winds all the way down mostly through the tea gardens and meets Peshok road below. 
Peshok Tea Garden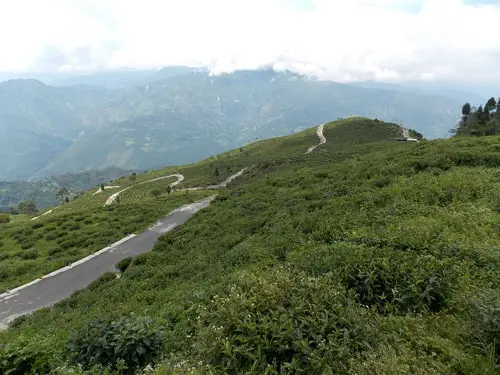 On Peshok road you will turn left towards
Lamahatta
, a relatively new Eco Tourism place which has come up and being run by the villagers who have opened a number of simple homestays for tourists. You will see prominent signs on the road as you approach Lamahatta. It will take over an hour from Tinchuley to reach Lamahatta. 
Lamahatta is another place for the lovely views of Kanchenjunga. However one of the key attractions here is the landscaped Roadside Garden. This is a sprawling manicured garden on the roadside with many flowering plantations, hedges, pathways, seating places, gazebo for prayers or meditation and even a watchtower to take a panoramic view. 
At the backdrop of the garden is a forest of dhupi and pine trees. There is a trail through the forest that leads to a lake. Take some time out to roam around in the garden and enjoy the flora and the views. On a clear day, you can get lovely view of the mountains from here. Lots of Buddhist prayer flags are fluttering on one side of the garden. 
Lamahatta Roadside Garden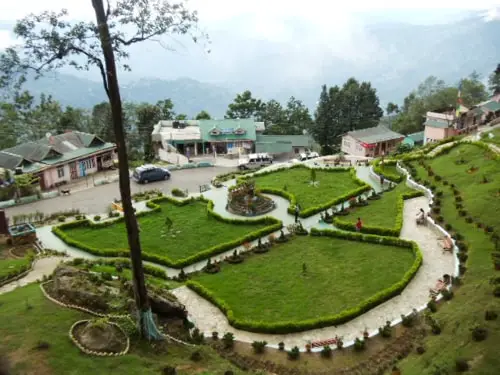 There are small stalls at Lamahatta that sell hot food and snacks. You can plan to take light lunch here. The lady at one of the stalls makes excellent local soup (called local Thukpa). She also makes noodles, momos and other snack items. There is a small open seating area adjacent to the stall with center table where you can take your lunch. 
If you start from Lamahatta at around 3:30pm, you will reach Darjeeling town by 4:45pm if there is no traffic on the way. It makes a wonderful and a complete circuit and an excellent day trip from Darjeeling. 
How to take the day tour
You can take a private taxi from one of the taxi stands in Darjeeling. However, this does not come under a standard day tour and therefore there won't be any standard rate. Better to go through a
local tour operator
, whereby you can expect a car in good condition and an experienced driver who is better informed about the places. 
Recommended Resources
If you are planning to visit Darjeeling or Sikkim, the
eBook on Darjeeling & Sikkim
can be very handy in knowing all the best places, sightseeing tours & operators, eateries, nightlife, shopping and lot more, and would serve as a guide to effectively make your tour plan. 
Related Articles
Visitors' Reviews/Comments
Share your experience or stories.