Pahari Soul Homestay Darjeeling
Category: Budget 
This homestay is owned and run by Shoyeta Chatterjee, a young lady who was born and brought up in Darjeeling but moved on to Bangalore to build a career. In 2013 she decided to quit her corporate job as money was no longer motivating her. She needed time for herself and also to travel. She came back to Darjeeling, renovated the two storeys of her ancestral property and started Pahari Soul. 
As you approach Darjeeling town along the National Highway-55 (i.e. Hill Cart Road), about 3kms before reaching the town area an uphill narrow lane on the right side leads up to the home stay. It's about 50-meters uphill walk from the main road, however if you ask the taxi drivers, they will usually take you up to the hotel. The Toy Train track runs alongside the Hill Cart road and therefore it requires crossing over the narrow gauge railway track to get on to the lane. 
Pahari Soul Homestay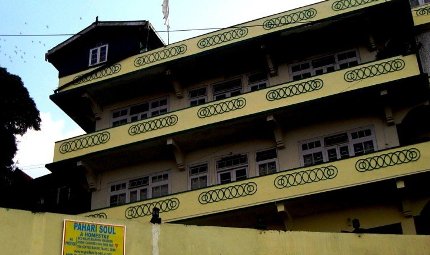 Just in case the taxi driver is unwilling to cross over the elevated track and go up the lane, you can walk. Just call up Shoyeta and she will send a staff to help with your luggage. Although the road is a bit steep, you can manage. Once you enter through the gate, you are at the ground floor. There is an open space or a terrace here and you can see the main road below, the vehicles passing by and of course once in a while the toy train whistling its way through. So the homestay is actually nestled up on a hill overlooking the main highway and the valley beyond. 
It's a three storey building and the guestrooms are on the ground and first floors. All rooms face the front side, i.e. towards the main road and have private balconies. Before I describe the rooms, I must fist let you know why should you choose this home stay to begin with. Here are the best things about Pahari Soul: 
1) All rooms in ground and first floor have windows and a private balcony in front. And you get sweeping views of Kanchenjunga snow peaks from all the rooms and the private balconies. In fact you see the mountains while lying down on your bed. This is of course subject to a clear day. During monsoon you might see a white blanket of fog. On a clear night if you look out through the window, you can see the glittering lights of the town on the mountain ahead. 
2) The home stay is slightly away from the main town area which means you are away from the noisy and touristy places. And therefore you can enjoy a quiet and peaceful stay here, at the same time you can walk down to the town center. 
The Mall (or Chowrasta) which is the main hub of Darjeeling, is about 4kms away. You can however take one of the frequently plying shared jeeps from the main road and reach the lower town in 15 minutes. From there you will need to walk uphill for a while to reach up to the Mall. 
This distance of being away from the crowded area of the main township is a boon for those looking for quiet and homely environment, while enjoying the mountain views. 
View from a room 

3) The host Shoyeta and all her staff are very helpful and friendly. You will not only enjoy a homely environment and service, you will also come to know about Darjeeling and how to go about enjoying your days here. Shoeyta lives in the property on the top floor and interacts with the guests everyday. She would ensure to chat up with the guests, handle check ins and check outs, and help you with all the information you may need. 
Now coming to the rooms, the ground floor rooms are Deluxe Double Rooms and cheaper compared to the Luxury Room (with twin beds) in the first floor. There is not much difference, except that the luxury room upstairs is a bit better done up, have wood paneled floors, cupboard, dressing table etc. Other rooms do not have cupboards and therefore you will need to hang your clothes on the hooks provided on the door and keep your suitcases on the floor. 
A Standard Double Bedded Room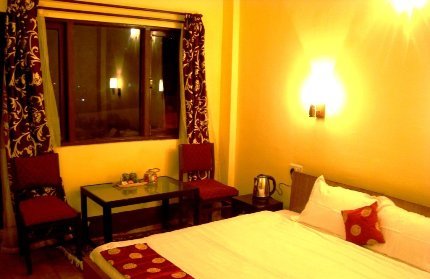 There are actually 4 double deluxe rooms, 1 luxury room and 1 dormitory. Next to the last room in the ground floor, a stairway leads to the upstairs rooms. If you want to avoid climbing stairs, then stay at the ground floor rooms. 
Update January 2020:  Shoyeta has expanded the place and now there are 10 rooms at Pahari Soul. 
Rooms are small but cozy. Beds are comfortable. One good plus point is that beds have electrical bed warmers which is extremely useful during cold nights. They also provide room heaters and in-room electrical kettle to heat up water. There is flat TV in all rooms. However the channels are limited. If you need to catch up with your emails, there is also w-fi which is complimentary. Overall the amenities are nice when you consider a budget homestay. 
Bathrooms are small and lack adequate ventilation. However they are well done up. There are shower mixers and most importantly geysers so that you can have hot showers. 
As expected in homestays, food is homemade and simple. In breakfast you will get choices of toast with butter, sausages, beans, choice of eggs, canned juice etc. You can optionally take alu paratha, eggs etc. In lunch and dinner, they offer thalis such as Pahari (i.e. Nepali), Bengali and North Indian. 
They also serve common Indian dishes and Chinese food. You can ask them the way you want it (i.e. less spicy. oily etc) and the cook will try his best to suite your taste. Overall the food is simple and prepared in the in-house kitchen. They do not run a restaurant but there is a dining area. 
A typical local thali 
It's an overall clean and simple homestay. They offer to clean up the rooms and make the bed every day so that the rooms remain fresh. One problem with Darjeeling is its dampness. Cleaning up the rooms every day helps keeping the rooms fresh. Note that in the evenings there can be problems of moths and other insects getting into the rooms. So keep the windows closed after dark. 
The large glass windows do not have iron grills. While this gives you an unobstructed views through the windows, some may be concerned about safety (particularly in the ground floor). Main gate however is kept locked at night and there is no safety issues reported so far on the property. 
There is no intercom in the rooms. However a mobile number is given so that you can call them up for any service. There are a total of 3 staff - a cook, one person does housekeeping and a girl who handles emails, check ins, accounts etc. Moreover the girl would be there when Shoeyta takes a break during off season. One of the staff stays in the property at night and can cater to any emergency service should so require. 
They also offer different kinds of packages combined with lodging and customize it to your requirement. One such offering is 'Honeymoon Package' for honeymooners which includes welcome chocolates, honeymoon cake, bottle of wine, toy train joyrides for two, dinner for two, sightseeing tours etc. 
Another one called 'Local Flavor Package' which includes homemade chocolates on arrival, local walking tour of the town, local house wine etc. They also offer several sightseeing tours, day trips, activities and even full package for
trekking to Sandakphu
. 
Rates provided by booking.com 
Contact Info & Location
Pahari Soul Homestay 
46, Hill Cart road, Dali, Near Dali Petrol Pump 
Phone: (+91) 9800214163 and 7699899670 
Direction
: The homestay is located close to the
Dali Monastery
. It's a huge monastery on the roadside and perched on the hill. You can see the monastery as you approach Darjeeling. Next to the monastery there is a Petrol Pump. And close to it an uphill narrow tarred road goes up leading to the home stay about 50 yards away.   
Related Articles
Visitors' Reviews/Comments
Surajit Bhattacharjee (November 2021) 
I am reaching Darjeeling on 8th December'21 and will stay till 11th Dec'21 with my wife and children (both of 17 years). Me and my wife stayed for the same period in Darjeeling wayback in 2002 during my honeymoon tour and enjoyed staying without having any heater or bed warmer facility but never had any discomfort. Have now booked Pahari Soul Guest House (appeared attractive reading your review when we don't want to have a lavish staying) who will provide with bed warmer system and also room heater, if required. Trust, we would be able to enjoy this time also though my children are not used to extreme cold condition. Seeking your kind advice/ suggestion/ observation in this regard. 
Raj (darjeeling-tourism.com) November 2021 
Pahari Soul is a nice choice although it's a little away from Darjeeling town... you can get shared cabs to the lower town, but getting to the Mall will require a 20-25 minute uphill walk unless you hire a car. 
Anuradha Mazumder (July 2019) 
I stayed at Pahari Soul Homestay with my family in June, 2019, and it was truly worth it. We had booked two luxury rooms with complimentary breakfast. The rooms were large and clean (so were the toilets), had wooden panels on the wall and wooden floors, which was a delightful experience. The best part is that the large windows and the front balconies open to a great view of the mountains on a clear day. Lady Luck had been kind to us, and the mighty, sunkissed Kanchenjungha appeared out of the clouds on all the days of our stay. Imagine having breakfast on the bed and looking out at Kanchenjungha! We dropped Tiger Hill from our itinerary precisely because we saw the sunrise in the privacy of our rooms. 
Coming back to technicalities, the beds, mattresses and blankets were all of good quality, and though we didn't need the electrical bed-warmers in June it goes without saying that they would be great for tourists visiting Darjeeling in the winter months. Food was delicious (the simple vegetarian thali was yummy) and portions were generous (one thali was more than enough for two adults). The staff was warm and courteous and very accommodating. Sameer, Vikas and Chandraa need special mention here. The drivers they arranged for our day trips were friendly and informative. It's a pity we didn't meet Shoyeta, the proprietor, who had urgent family matters to attend to.  
I must add that though it is a homestay there was no bar on use of water (no such restriction like bucket per room etc.), or the hot water geyzer despite the difficulty of getting water in the hills. There was TV in the room (who needs a TV in such a beautiful place, anyway), free wi-fi, electric kettle with tea and coffee sachets, and room service (no laundry, though). Needless to say, we didn't waste water or misuse the other facilities so generously offered.  
Do stay Pahari Soul if you want to avoid the crowd and the noise of the Mall area, where all the hotels are located. The homestay is very close to the Ghum railway station and monastery, the Dali monastery and the beautiful Batasia Loop, and there are plenty of share taxis to take you to the Mall, which is about 4 kms away. Trips to all other touristy spots in Darjeeling can be easily arranged by the staff at Pahari Soul. The inside corridors of the homestay and the dining hall could do with a facelift, but these are minor issues compared to the other advantages. We came back home really happy, and would love to stay there again. 
Sreeya Bhowmik (November 2018) 
We stayed in Pahari Soul Homestay (I followed your suggestion). It was really a fantastic hotel with limited service. But the owner Ms Chatterjee and along with her colleagues, they were just wonderful. Only issue... it was a little far from Mall, people who want to take budget friendly transport i.e. shared jeep they'll face the Gariahat-Garia auto stand experience! other than that it was wonderful. 
Sonia Fernandes (March 2018) 
We had a pleasant stay at Pahari Soul in Feb '18. The rooms are comfortable and well equipped and have amazing views of the snow capped Kanchenjunga mountains. This is quite country side inn and not a homestay as the name suggests. The place is run by two care takers and the owners don't interact with the guests. While the place is located far from the main market area, it is still very noisy as it is just off the main Hill Cart Road which has a lot of traffic passing by all day long. The food is really tasty and the staff cater to your taste (but remember to order at least an hour in advance). They were quite helpful overall and even assisted us to organize our tours. We woke up to a pleasant valentine day surprise with flowers and chocolates delivered to our room on Feb 14th  :) 
Punit (February 2017) 
Hi Raj, First of all I must really thank you for building up such a detailed resource on Darjeeling.... I think I have not seen anything even close for any other location in India... Hats off. Here comes the question where I need a bit of help. I am interested in staying at Pahari soul, however as you mentioned that the rooms are a bit small, is it big enough for a family of four? 2 adults, one 5 yr old and one infant of 1 yr? I m really looking forward to a homestay this time around. Thanks 
Raj (darjeeling-tourism.com) February 2017 
Hi, one kid is manageable, but with two kids it's going to be difficult. You can talk to the lady owner and figure out the possibility. It may still be possible in the Luxury Room with twin beds. 
Subhendu Chakraborty (January 2017) 
I stayed with my family at Pahari Soul in first week of December and it was an excellent vacation for us. It has beautiful view from room itself. Food was mouth watering and portion was big. Overall a nice experience and would definitely recommend. Please consider that you are going to stay in a house where a family lives and not a star rated hotel as it is a home stay. It was my first experience in home stay and liked a lot.