Pelling Tourism
Pelling is a small hill town of western Sikkim perched at an altitude of 6,800ft with magnificent views of Kanchenjunga peaks. When I first visited and looked at the towering snow capped peaks right ahead from the terrace of Norbu Ghang hotel, it seemed at a stones throw distance. 
Sunrise over Mt. Kanchenjunga: view from Pelling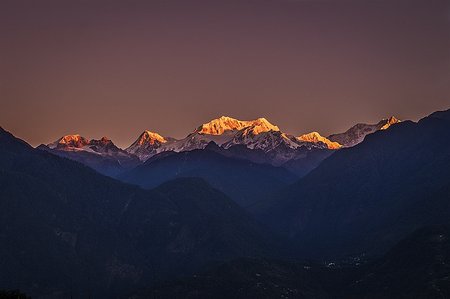 Source: Wikimedia Commons 
But actually it was miles away. Pelling is also well known for several historical sites & monasteries, natural landscapes including lakes and waterfalls, and of course its friendly and charming people. 
The name Pelling as per the Buddhists texts means the seat of the religious body formed by Pema Linga who was a discoverer of ancient Tibetan texts and also a treasure revealer. Pelling is located about 119kms from Gangtok (takes about 4.5 hours by car) and 140kms from NJP or Bagdogra (takes nearly 5 & half hours by road via Jorthang). 
The popular 'Kanchenjunga Festival' is held at Pelling every year in December. It's a great time to experience local food, ethnic cultural programs including local dance, traditional art & crafts, see wonderful flower shows etc. Many other activities also take place during this time including mountain biking, trekking, other traditional local sports etc. 
Local sightseeing in Pelling by car requires that you hire a private vehicle (a taxi or a commercial car) with Sikkim registration. Commercial vehicles or taxis from places of West Bengal like Darjeeling won't be allowed for sightseeing tours here. However if you have your own personal vehicle, you can use it for sightseeing. 
Pemayangtse Monastery 
This is the most renowned monastery located in a place called Pemayangtse (2kms from Pelling). It was built in 1705 as a high class monastery for the pure monks (known in Tibetan as the Ta Sangs). This monastery was also given the full charge to take care of religious activities of the erstwhile King of Sikkim. 
Pemayangtse Monastery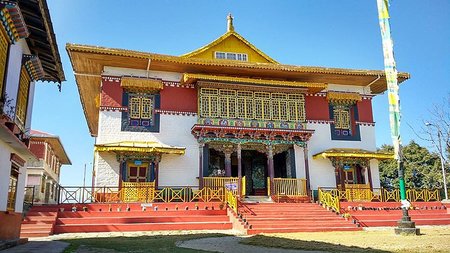 Source: Wikimedia Commons 
The monastery has three storeys. You can see images of Guru Padmasambhava and his various manifestations on the first and second floors. The top floor is known as Padmasambhava's palace and made with wooden structures, and is considered a masterpiece. Lively costumed and masked dance known as Guru Dragmar Chaam takes place at the monastery on 28th to 30th day of the 12th Buddhist month which usually coincides with the month of March. 
Ruins of Rabdentse Palace 
This used to be the palace and the second capital of Sikkim (1670 to 1814) after the one in Yuksam. It's located about 3kms from Pelling and further down from Pemayangtse Monastery. It requires few minutes walk from the road. 
Rabdentse Palace Ruins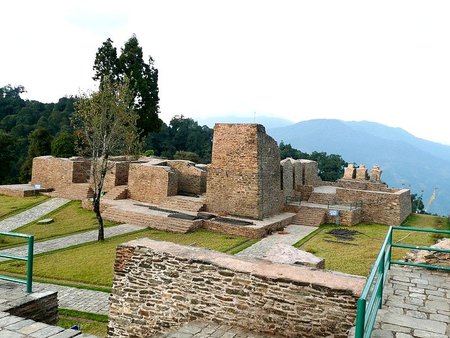 Source: Wikimedia Commons 
The palace was built by the second chogyal (i.e. king) of Sikkim - Tensung Namgyal. However it had to be later shifted to north Sikkim and then to Gangtok due to Gorkha invasions. What you can now see here are the ruins and the stone structures of the fort or the palace and that of the chortens. 
The northern part of the fort was the palace area while the southern part was the religious area for the common people. There are three stupas here on a stone platform which were built for the royal family to worship (chortens). The ruins are now part of a sanctuary (Sidkeong Tulku Park) and is a great place for bird watchers. 
Royal Chortens at Rabdentse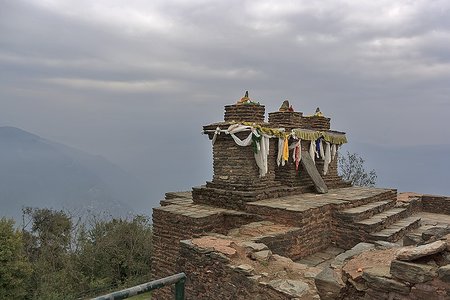 Source: Wikimedia Commons 
Geyzing 
(or Gyalshing) 
This is the western district headquarter of Sikkim and about 9kms away from Pelling. Transports like buses, shared jeeps, private taxis are available from here to all the major places including Siliguri, Gangtok etc. There is a 200 yard long and 10-ft high Holy Wall built in Geyzing which you should see. 
Darap Village 
It's a small village about 7kms on the way to Yuksam. This sleepy village is nestled on a gentle slope of the mountain and is mostly occupied by the Limboo tribe, although there are small population of other communities as well. There is nothing much to see here other than it being a photography stopover. The village is coming up as a place to have several nice home stays for tourists who can stay with local families, eat homemade food and know their culture. 
Darap Village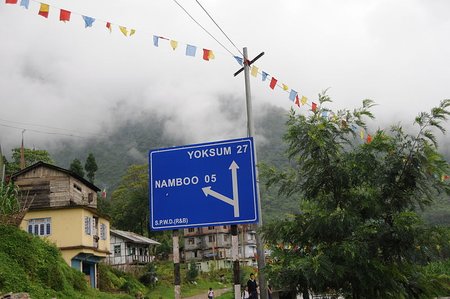 Source: Wikimedia Commons 
Rimbi River, Waterfall, Rock Garden 
Further 5kms towards Yuksom (and about 12kms from Pelling) is the Rimbi river which is quite popular with the locals for fishing. During monsoon the river becomes wider and the current stronger, so swimming should be avoided during this time. 
The Rimbi waterfall is also very popular with the tourists. The state government has developed the Sewaro Rock Garden here which is complete with rocks, pathways, pools, nice manicured gardens, view points etc. It has become a popular picnic spot for the locals. There is also a cafe here. 
Rimbi Waterfall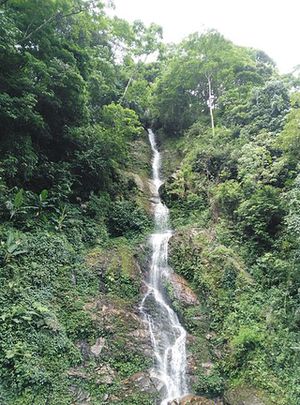 Source: Wikimedia Commons 
Nearby is a power station called Karchen Power House which was developed by the government in early 1970s and during the period of the last king of Sikkim. It supplied power to several areas including Pelling, Geyzing and nearby villages. 
Rimbi Orange Garden 
There are wonderful orange orchards around Pelling. If you visit Rimbi Waterfall, about 1km further ahead on Pelling-Rimbi road is River Orange Garden, a beautiful garden (actually more like a village set up with huts and cottages) with concrete pathway leading all the way down to the Rimbi river below with its rocky bed and lovely vista of the valley all around. During season, you can see the orange trees bearing lots of oranges in the garden... a marvelous sight! 
Oranges at Rimbi Orange Garden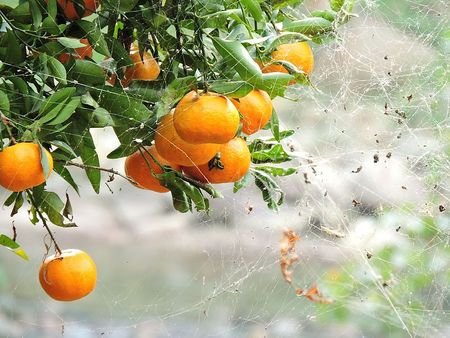 Source: Wikimedia Commons 
Other than orange trees, you will also find cardamom and variety of flowering plants. They also cultivate potatoes, peas and other seasonal vegetables here. There is also an eatery here where you can have tea and snacks. With its calmness and greenery, this is an ideal place to spend half a day in a serene ambience. You can also buy oranges here and other organic stuff. The garden is privately owned and there is an entry fee of Rs. 10 per person. 
Kanchenjunga Waterfalls 
Further 18kms from Rimbi River and about 28kms from Pelling, you will reach this spectacular waterfall coming down from great heights. It's accessible from the road but a bit hidden. This is one of the most popular tourist spots in Pelling and a must see. You can easily spend an hour out here. 
Kanchenjunga Waterfall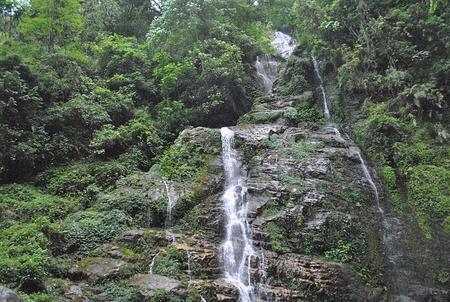 Source: Wikimedia Commons 
Khecheopalri Lake 
A lovely lake also known as the wish fulfilling lake located near Kanchenjunga Waterfalls and on the way to Yuksam. The lake is surrounded by forests. The water in the lake remains clean all through the year. It is said that a pair of swans pick up all the twigs that fall in the water and keep it clean. 
A leaf lamp floating festival is held on the lake every year on the 15th and 16th day of the first Buddhist month (February/March). This is when large number of locals come here for worshipping the lake and offer prayers. 
Khecheopalri Lake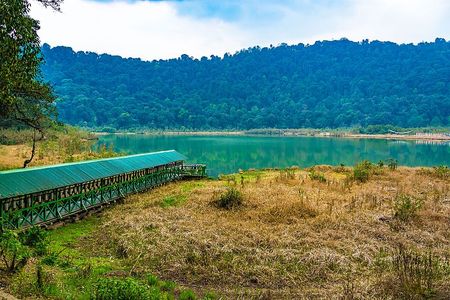 Source: Wikimedia Commons 
About an hour uphill trek from the lake (1.5kms) there is a monastery known as Khecheopalri Monastery from where the lake looks like that of a left footprint. There is enough car park outside the lake and you will find several stalls selling kick knacks, souvenirs etc. 
Yuksom 
Yuksom is located 33kms from Pelling at an altitude of 5,800ft and at the southern fringes of Kanchenjunga National Park. It means 'Meeting point of three lamas'. This is the first capital of Sikkim where three Tibetan monks met and enthroned the first King (Chogyal) of Sikkim in 1641. This was the beginning of Namgyal dynasty in Sikkim which lasted for 332 years. You can visit and see the coronation stone at Norbugang where the first King Phuntsog Namgyal was consecrated. Yuksom is the starting point for the well known
Dzongri Goechala Trek
. 
Yuksom Valley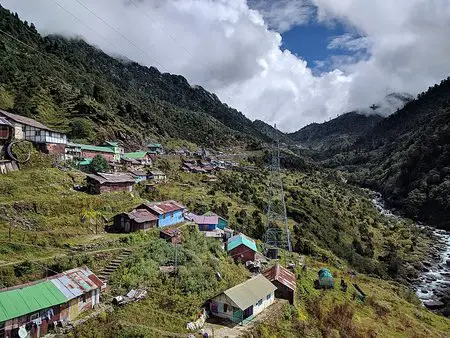 Source: Wikimedia Commons 
You can walk up to Dubdi Monastery on a hill top surrounded by forests (about 35 minute walk). This is the oldest monastery of Sikkim which was established in 1701. It was the hermit cell of the lama Lhabtsun Chenpo who had the highest seat out of three monks who enthroned the first king. You can see the statues of the three lamas. Other nice places to visit in Yuksom are the Kathoke Lake and helipad with lovely views of the mountains all around. 
Dubdi Monastery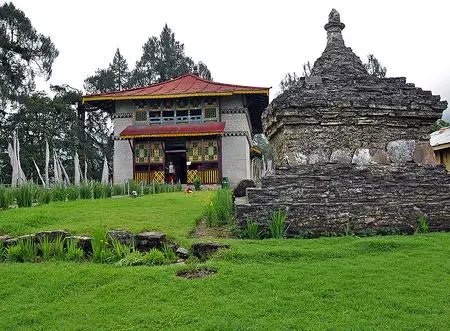 Source: Wikimedia Commons 
Tashiding Monastery 
(16kms from Yuksam) 
Located on top of a hill that looks like a heart with the backdrop of majestic Kanchenjunga, this monastery is considered the most sacred in the whole of Sikkim. It was built in 1717 by Ngadak Sempa Chempo, one of the three lamas who consecrated the first king of Sikkim. 
Changay Waterfalls 
About 10kms from Pelling towards west is this wonderful waterfall. You can go close and sit close to it and observe the water falling from great heights and in seven different flows (and hence it's also known as seven Changay waterfalls). There is also a cafe here for refreshments and beverages. 
Dentam Bazaar 
Further 12kms towards west you will reach Detam market area. Dentam is famous for the factory producing Alpine Cheese which is a product of Indo-Swiss collaboration. 
Singshore Bridge 
This bridge is further 5kms towards west (i.e. about 27kms west of Pelling and towards Uttarey). It takes about one hour drive from Pelling. Singshore bridge is one of the best attractions around Pelling. You will be awed by the engineering feats and wonder how could human beings make such long suspension bridge at such an altitude. 
Singshore Bridge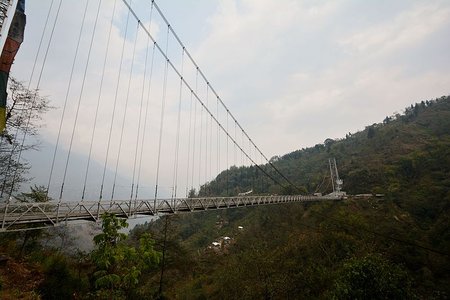 Source: Wikimedia Commons 
This suspension bridge is the second highest bridge in Asia and was opened in 1993. Walk down to the middle of the bridge and look out to the gorge below, your head will surely spin for once. You can also see the gorge through the many holes along the middle part of the bridge. 
A mountain river Singshore Khola flows below. The bridge spans across 198 meters connecting two hills and the depth here is 220 meters. The place has been earmarked for Bungee jumping, however bungee jumping has not taken off here due to its remoteness. 
Uttarey 
The road through Singshore bridge continues towards Uttarey which is a village near Indo-Nepal border in western-most Sikkim. A trekking trail from Uttarey leads all the way to the Indo-Nepal border known as Chiya Bhanjan which takes about 1 full day's trek from Uttarey. Within Uttarey you can visit monasteries, lake etc. 
Note that Uttarey is the starting point for trekking to Singalila range in west Sikkim. It has several home stays, lodges, trekker's huts and eateries.
Uttarey Eco-Tourism Development and Service Cooperative Society
offers various activities including jungle safaris, nature camps, white water river rafting, village home stays, treks & day hikes, bird watching, yak safari etc. Here are the contact info: Email -
[email protected]
; Mobile: 08372837455; 09593783550 
When I first visited Pelling many years back, I stayed in upper Pelling in hotel Norbu Ghang... it was a smallish 4-storied hotel right on the roadside owned by the well known Sikkimese actor Danny Danzongpa. I chose the hotel because it perhaps commanded the best Kanchenjunga views particularly from its two terrace rooms at the top floor. There were only handful of hotels in Pelling then. The quiet walk of 300 meters along the road all the way to the helipad was wonderful. Pelling was so serene. 
Gone are those days... over the years many hotels have mushroomed both in upper and lower Pelling, perhaps far more than what should have been allowed. Even the hotel Norbu Ghang has been converted into a full fledged luxury resort. While Pelling is now quite congested with hotels of all types, it also comes with a good side... now you have so many options to choose from. 
Pelling has some unique location advantages as a tourist spot. The Himalayas and the mighty Kanchenjanga both offer splendid views to guests who stay here. Many trekkers and adventurers choose Pelling as a base from where they can go on long treks and sightseeing trips to various parts in Sikkim. The territory around Pelling is still relatively unexplored and has luscious vegetation with numerous waterfalls. When choosing a hotel in Pelling you need to know what exactly you are expecting from your trip. If shopping and touristy sightseeing is on your agenda then hotels in lower Pelling will suit you. 
In case natural beauty, lush waterfalls and slightly colder climes attract you then hotels in upper Pelling would be a better choice. Eco tourism and village tourism lovers will also find good accommodation options in Pelling. Most luxury and mid-range hotels in Pelling accept cards but the budget hotels (especially those in more remote locations) prefer cash. Wi fi connectivity and TV reception may be a little dicey in the remote locations so set your expectations accordingly. 
In luxury segment, Hotel Mount Pandim of Elgin group (30 well appointed rooms finished with teak floor and overlooking the Singalila Range), Norbu Ghang Resort (with wonderful view of Kanchenjunga), The Chumbi Mountain Retreat & Spa (with classy rooms & suites, its organic garden is used to source ingredients of food served) and several others are now well known ones. 
In budget segment, some of the great hotels are Sikkim Aurora, Cherry Villa Resort, Newa Regency and several others. Go through
the best budget hotels in Pelling
to know them all with my reviews. 
There are not many restaurants in Pelling and for most part you will need to depend on in-house dining in your hotel. Having said that, there are few nice restaurants here that are popular to both tourists and locals. Melting Point Restaurant is one such place serving nice Chinese, Indian and few Western items. It has inside dining as well as outdoor terrace seating with great mountain views. 
Another one is Anjali Restaurant serving Chinese food (even Sikkimese food on advance order, try out the original Sikkimese Sisnoo dish), they also have a bar. 
The restaurant at Hotel Kabur located in upper Pelling serves nice Tibetan food like Thukpa, Tibetan bread, cheese momos etc. For quick munches, visit Lotus Bakery - it's a small low scale shack and run by a trust. So don't expect a comfy posh seating. Although choices are limited, the bakes are tasty. Try out the chocolate croissants and do not miss out on a cup of local tea. You will find the bakery on the way to Pemayangtse. The earnings in the bakery go towards charity. 
March to May is a pleasant time to visit Pelling. Summer actually starts in April and temperature remains pleasantly cool all through summer although nights and early mornings can be quite cold even during summer. Temperature during summer can vary between minimum 3°C to maximum 30°C (although night time temperature can get to zero or even sub-zero at times). Visibility remains good unless it rains. Summer often see showers. On clear days you can expect to get great views of Kanchenjunga snow peaks during this time. 
Monsoon which usually spans from June to September sees widespread rains. This is not a good time to view Kanchenjunga peaks. Sky remains cloudy. Tourist flow to Pelling becomes minimal during monsoon... however this gives an opportunity to get great deals in almost all hotels here. 
October to November (autumn) is again a great time to get views of Kanchenjunga snow peaks. Average temperature of the day hovers around 7 to 8°C (with minimum 5°C to maximum 27°C). However towards end-November it starts getting cooler and nighttime temperature could go down to sub-zero. Autumn is one of the peak tourist seasons in Pelling. If you are lucky, you can see snowfall. 
Winter starts from December and it really starts getting cold in Pelling. Winter lasts through February. The minimum temperature (during nights and early mornings) almost always remains subzero and can easily touch -10°C. The maximum temperature during the day can go up to 12°C or slightly higher. When you wake up in the morning you can see the house roofs covered with snow. Not many tourists are seen during the winter although for snow lovers this is a great time to visit. The Kanchenjunga snow peaks are also well visible during this time. 
In February/March, Chaam dance takes place at Pemayangtse Monastery. 
Fare updated: January 2020 
From NJP and Bagdogra, it takes about 5.5 hours to reach Pelling by taxi via Melli and Jorthang. Pre-paid reserved taxis are available at both NJP and Bagdogra. A reserved small taxi fare from Bagdogra/NJP to Pelling is around Rs. 3,800. 
You will also get SNT buses from Siliguri (SNT Bus Stand) which come up to Geyzing which is about 20-minutes below Pelling (9kms). From Geyzing you can get a shared cab or a reserved cab to Pelling regularly during the day time. 
Shared jeeps are also occasionally (but not always) available from Siliguri taxi stand (near Tenzing Norgay Bus Terminal) up to Pelling (Rs. 300/- per person). Note that shared cabs do not usually operate after 2pm on this route. In case you do not get a direct shared cab from Siliguri, take one to Jorethang (Rs. 150/- per person). From Jorethang you can get another shared vehicle up to Pelling (usually till 1pm). If you don't find one in Jorethang that goes all the way to Pelling, take one up to Geyzing and then another one to Pelling. You will also get return tickets for buses to Siliguri and shared jeeps from Geyzing. 
NOTE: There are no shared taxis or buses available at Bagdogra... your only option is reserved taxi. If you want to reach Siliguri from Bagdogra, the fare is Rs. 450 - 500 for a reserved Non AC cab which can take around 30 minutes. From NJP you can get to Siliguri easily by an Auto Rickshaw (Rs. 100). 
While getting to Pelling from Gangtok, other than ample private taxis from the stands, you can get shared jeeps from the Jeep stand near Hotel Hungry Jack. Usually there are three services of shared Jeeps (7am, 12noon and 1pm) from Gangtok in high season (Rs. 300/- per person). They all come up to Geyzing. From here you can get another shared taxi to Pelling. If you don't find one to Geyzing, then you can take a shared taxi up to Ravangla and then another one from Ravangla to Pelling via Geyzing. 
Related Articles
Visitors' Reviews/Comments
Dipankar Das (February 2020) 
Sir, please tell me if it is possible to get a car for Pelling from Manebhanjan. If so, is it a comfortable journey with family? 
Raj (darjeeling-tourism.com) February 2020 
You can get a car from Manebhanjan for a drop at Pelling. If you go via Melli, there is road repair work going on between Melli and Jorethang and some stretches of the road are not in good condition (it will take around 5 hours to reach). If you take Darjeeling/Tukvar/Jamuni route, it will be shorter (about 4 hours 10 minutes) but the road from Darjeeling up to Jorethang is in bad condition. 
Nihar Kashyap (July 2019) 
Dear Raj Sir, My return flight from Bagdogra is at 10:30 in the morning. And I am staying at Pelling which Google Map tells me is about 4 hours from the Airport. So will I reach the airport in time if I leave Pelling at around 5 in the morning or should I reach Bagdogra the day before my flight? 
Raj (darjeeling-tourism.com) July 2019 
Pelling to Bagdogra can easily take 5.5 hours (more if there is fog early in the morning). It's better to come down on the previous day.  
Priyanta Ghosh (August 2018) 
Hello Raj, Thanks for sharing such information. I am planning to visit Pelling from Gangtok. If I start in the morning say around 8AM from Gangtok and then after reaching Pelling would it be possible to visit most of the places there on the same day. I plan to stay in Pelling on that day and on the next day very morning leave for Kurseong. 
Raj (darjeeling-tourism.com) August 2018 
Hello, it' not quite practical. It takes around 4 and half hours to reach Pelling from Gangtok. You will effectively get the second half of the day for local sightseeing at Pelling. You can visit a few nearby attractions though. 
Narasinga Rao K N (June 2018) 
Hello Mr. Raj, I am planning a trip to Darjeeling and Pelling in October 2018. From NJP is it better to go to Darjeeling first and then to Pelling or the other way? For my return journey I need to be at NJP by 14.30 hrs. Can I reach NJP by this time if I start at Pelling in the morning? 
Raj (darjeeling-tourism.com) June 2018 
From Pelling it can take about 5 and half hours to reach NJP. Better you visit Pelling first and then Darjeeling. From Darjeeling it takes about 3 hours to NJP.  
Mohan Tater (May 2018) 
I will be reaching Bagdogra airport at 2.30 p m. Can I take a prepaid taxi to Pelling? How long it take's to travel from Bagdogra to Pelling? 
Raj (darjeeling-tourism.com) May 2018 
Yes you will get a pre-paid taxi to Pelling. Will take about 5 & half to 6 hours. 
Harwinder Singh (May 2018) 
Hello...I wanted to ask you if there is any cab facility (shared or private) available for visiting various sites in Pelling like Kanchenjunga waterfalls. 
Raj (darjeeling-tourism.com) May 2018 
There are ample private taxis at the stand, but you won't usually get any shared taxi for sightseeing in Pelling. 
Rahul (April 2018) 
Hello Raj, Great information.. I am taking Zoom car from Siliguri and driving down to Pelling in the first week of May. Is that allowed? Are there any permits required for this or will there be any issue because of the hired car? Thank you for such a wealth of information.. 
Raj (darjeeling-tourism.com) April 2018 
Yes, it is allowed. There is no permit required in Pelling for Indians. 
Kausik Mitra (February 2017) 
Sir, I want to go first from NJP to Gantok and then to Pelling and from Pelling to Darjeeling.  
Please advice bus/ taxi services that may be available from Pelling to Darjeeling. Thanks. 
Raj (darjeeling-tourism.com) February 2017 
Private taxis and occasional shared taxis are available between Pelling and Darjeeling.