Charkhole
Just 15 km away from Lolegaon and 26 km from Kalimpong town there is a tiny hamlet called Charkhole located at an altitude of 5,500ft. It has an untouched feel about it and if you like the exclusive company of nature then the hamlet consisting of just a few families will appeal to you. Charkhole is part of Kalimpong district. 
Luxuriant groves of fir, oak, pine, rhododendrons and cyprus surround it and ornithologists can vouch for the fact that many rare birds flit around in those woods. Some of the many birds that can be seen here includes Pippit, Ashley Prinia, Verditer Flycatcher, Himalayan Bulbul, Blue Fronted Redstart, Indian Robin, Green Backed Tit etc. There are many types of colorful butterflies as well. 
View from Charkhole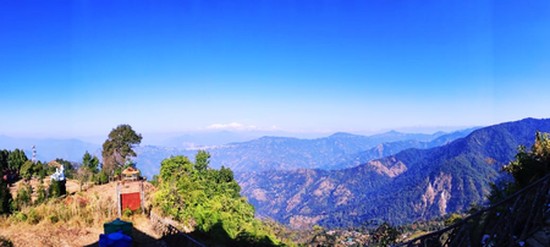 Attractions & Activities
Honeymooners love the 'hide out' aspect of Charkhole. The best activity in Charkhole will be to climb up to Gamphus Dara Viewpoint for watching a spectacular sunrise. This view point was built in the year 2016 - 2017. The hiking trail up to the view point is short and passes through a shallow jungle up to the highest point of the hamlet. 
View of Kanchenjung from our room at Charkhole Resort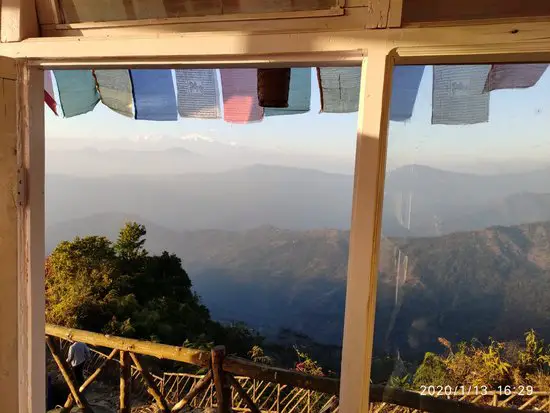 Another recommended activity is to stroll around the Charkhole village and buy some fiery red pickle from the tiny shops there. The simplicity of people here (they are still not used to commercial tourist baiting) is touching. The icing on the cake at Charkhole is however the exceptional 180 degree Kanchenjungha views from Charkhole hill; on a clear day even Mt Everest is visible from here. 
View from Room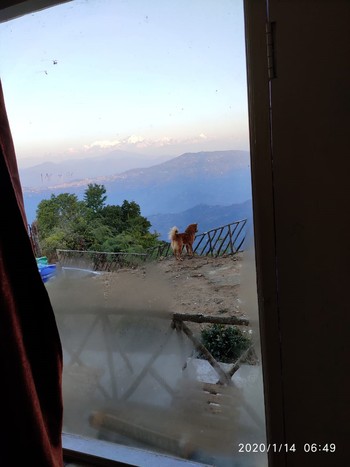 Incidentally, the place has quite a reputation amongst motor rally enthusiasts. It has the highest motor rally point in the whole region. 
Where to stay
Charkhole Resort is a nice homely accommodation option in this tiny haven of nature. It has wooden cottages and offers basic amenities but the bamboo interiors are beautiful. There is no T.V and mobile connectivity is not good. The option of watching the sunrise over Kanchenjungha from your room should be a compensation though!! 
Cottage at Charkhole Resort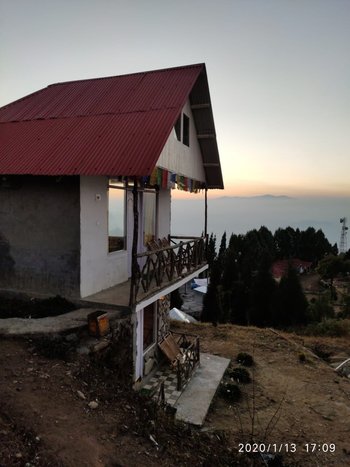 A double bedroom will roughly cost 2400 INR. A separate package system is offered for food; the Charkhole system follow EP (European plan) and the quoted rates only include lodging. Contact Santanu Sanyal at 9433771533 for making a booking. 
There are a couple of other resorts there including the Blue Pine Retreat. They have Grass Cottages lined up on one side of the lawn that are made of locally sourced materials. There is also a main building that has Family Rooms and Moonlit Rooms. There are rooms in an annex building as well. 
Grass Cottages of Blue Pine Retreat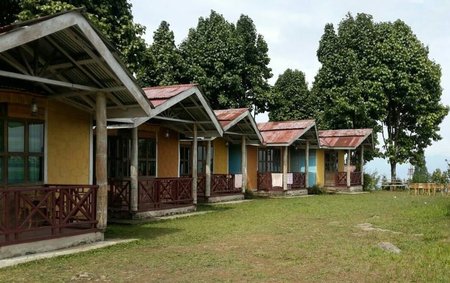 The property has relatively better amenities compared to the other accommodations in Charkhole like kids playground, jogging track and a restaurant serving pure Bengali style food!! There are frequent power cuts in Charkhole. Blue Pine Retreat has a generator backup and you can have one light lit up at night if the power goes out. Also the mobile phone connectivity is poor almost in entire Charkhole. Contact Booking Office by calling 033- 2464 8752 or Email
[email protected]
How to reach
In case you plan on travelling to Charkhole directly from NJP, it will take you around 3.5 hours via the Sevoke Road and then Lower Rambi Dam Road (total about 75kms). Road condition after crossing Teesta is not good. You need to hire a reserved cab (preferably a large vehicle) and get there, there are no shared taxis here. Charkhole can be a good side trip from Lava, Loleygaon and Kalimpong and nature lovers will like spending a couple of days in this remarkable 'Emerging tourist destination'. 
Best time to visit
You can visit Charkhole any time during the year, however in monsoon (mid-June to mid-September) the forested area and the trails would get quite slippery, and in winter (December to February) it gets quite chilly. April to May and October to November are the best time to get Kanchenjunga views. 
Related Articles
Visitors' Reviews/Comments
Nabanita Sengupta (February 2021) 
Dear Raj Bhattacharya, Your blog helped us when we planned our Pelling trip. Now towards the end of May we (4 adults and 2 children of 8 years) are planning to visit Charkhole. My question is can we add with it Lava or Lolegaon? Will it be a suitable time (blooming time of Rhododendron?) to visit Neora Valley? Or any other spot other than Lava to tag with Charkhole. Required to mention we want to make a 6 days trip (Kolkata to Bagdogra & vice-versa by flight). 
Raj (darjeeling-tourism.com) February 2021 
Hello, you can certainly combine Loleygaon with Charkhole. Lava is another 1 hour from Loleygaon and Neora Valley National Park is further 1 hour away on a boulder road from Lava. Rhododendrons bloom in March and April, you can see some of it in early May as well, but hardly any in May-end.