Allita Hotels & Resorts, Kurseong
Category: 4 Star 
This is as far as luxury can go in Kurseong. However the best part of the hotel is that the owners have nicely blended nature and lovely views of the hills and valley along with luxury and comfort. Owned by a private group based in Delhi, Allita is one of the latest additions to luxury hotels in Kurseong. 
Located high on the hills at upper Giddapahar on a steep winding road off the National highway-55 (i.e. Hill Cart Road) and about 3kms away from Kurseong town center, the property is well spread out and offers sweeping views of the valley and mountains all around on a clear day. 
As you enter the gate and approach through the drive way, the subdued off-white exterior appears to blend nicely with the surroundings. However as you enter the lobby, the starkly contrasting blue carpets and brightly colored upholstery of sofas create a bit of an eye sore. 
Allita Hotel, Kurseong 
There is a large lawn in front which is good for kids to play around, a great seating area with views (ideal for reading books... the library inside is well stocked), and a very well maintained organic garden (most cooking ingredients like herbs & vegetables are sourced from this garden). 
Lobby Area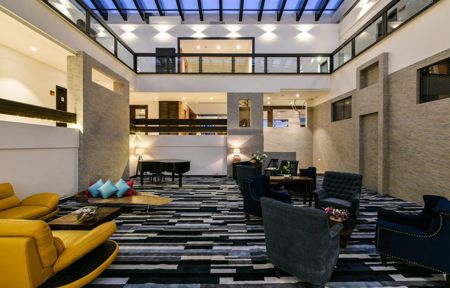 There are three types of rooms... Deluxe Heritage, Executive Valley Rooms and Suites. All rooms are well appointed, clean and with adequate space. The housekeeping does a great job. In fact all staff of the hotel are very efficient and courteous, and will try to help you anyway they can. Sometimes the room service can get a little slow due to rush though. 
Deluxe Heritage Room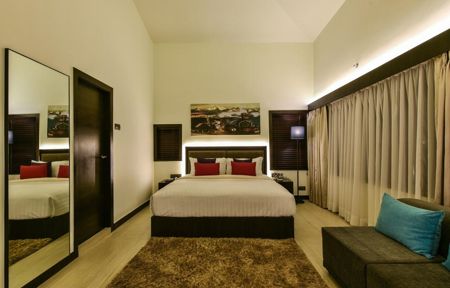 All rooms have modern amenities including air-conditioning (rare is in this part of the hills), LCD TV, free in-room wi-fi etc. Attached marble & granite finished bathrooms have bathrobes, slippers, hair dryers etc. Deluxe heritage rooms are smallest and can accommodate up to two persons. Executive Valley rooms have nice valley views and can also accommodate up to two. 
The Suites are the largest and have the best views through large windows, and can accommodate maximum of up to four persons. However note that all rooms or units do not have equally good views although the hotel might claim so. So do discuss this out with the management in advance if this is a deal breaker for you. They try to do their best to accommodate your request. 
Suite 
The
Tree House
is the main dining room and specializes is Indian, Chinese and continental dishes. The glass walled kitchen gives a nice feel of openness. The food is overall quite good and the portions are large too. One of the highlights here is the
Chia Tea Bar
. They make mocktails with tea and there are some exotic concoctions that you must try. The tea is brought in from the famous
Makaibari Tea Garden
which is the first and one of the oldest tea gardens in Darjeeling district. 
The Tongba Bar is well stocked too with good selections of spirits and cocktails. The hotel organizes Barbecue on the front lawn on several nights. There are also Karaoke nights during high season. 
The hotel is well suited for families with kids as well as couples. There is a Kids Activity Center full of children's activities. The lawn is also a great playing area for the children. Apart from that there are several indoor games like cards, carom, pool and chess. 
The hotel organizes a short trek to Sherpa Peak, a trail which is part of the property owned by the hotel. So you can imagine the spread of the property. There is another trek to a nearby monastery. Another attraction is to take a tour of their organic garden. 
While the hotel has a Gym which has all the basic equipment, a highlight is the Spa which is rare to be found in the hills here. The spa offers a range of massages, therapies and body treatments. The hotel has enough parking space. 
Overall, this is a great hotel in a serene quiet location high on the hills and away from the noisy crowd. If you want to spend a couple of days away in solitude amidst nature with lovely views of the mountains and valleys, enjoy reading books, rejuvenate yourself as you take a few treks and pamper yourself at their spa, then this is a great hotel to go for. 
Update June 2018: Recently the south Indian film star Rajinikanth had put up in this hotel for a film shoot. He stayed in the hotel for 10 days. The hotel management has named a villa in his honor. 
Rates provided by booking.com 
Contact info
The hotel is located about 3kms from the Kurseong Toy Train Station and the main market area. It's about 35kms from Bagdogra airport and will take about one & half hours to reach by car. 
Allita Hotels & Resorts 
Ashram Busti (Christian Basti), Giddhapahar, 
Kurseong – 734 203, Dist. Darjeeling. 
Phone: +91 74780 50117; +91 7478050119; +91 8287264525 
Related Articles
Visitors' Reviews/Comments
Ashok Agarwala (October 2021) 
Hi, I am from Siliguri, aged 66, had an unforgettable worst experience in my life yesterday. I went to Darjeeling with my family and on the way while coming back at about 1.30 pm, thought of having lunch at Allita and at the same time to have a glimpse of Allita. I made a phone call at 7478050124 at about 1.30 pm to confirm whether the restaurant is open and can I go there. The lady confirmed and asked me to come. 
The road is worst possible and life risk is there. I went there at about 2.15 pm but to my great surprise, the Durwans at the outside main gate of Allita, asked whether we had a booking. I told we have come to have lunch. He said only booked persons can enter after this gate. He further said, there is a waiting period for the restaurant approximately 2 - 2 1/2 hours. I was shocked to see that 7-8 waiting persons were seated outside the gate on the roadside. 
I requested the gate keeper, we were coming after confirmation and to please allow us just to see the hotel but he was very harsh and inhuman. I made a phone call to that lady, she also said 'due to covid protocol' extra persons were not allowed in the campus. I again requested that all are sitting and waiting in cold on road, they may wait inside and please allow us to have some rest inside campus. But they were rock solid like guarding Indo Pakistan border. I have visited hundreds of 5-star 7-star hotels, but nowhere they stop waiting guests outside the gate in such a horrible cold.. 
I came back fully disgusted and my relative told, that he will never visit such worst hotel even free of cost. Really worthless experience in life.