A great family trip to Gangtok with an infant
By: Gargi B. Niyogi 
Travel Blogger at Darjeeling-Tourism.com 
Travelling with an infant is always challenging. There are dietary restrictions, you have got to be careful about the water and there is no scope of roaming around the whole day as the child needs some time to rest and nap. However if you really love travel as much as I do then there are ways and means of having a great holiday even with an infant. 
Of course you need to choose a fairly large and well equipped place for your holiday…a place with scenic beauty, attractions as well as medical shops. That's why I chose Gangtok. 
The Pakyong Airport was an attraction in itself ….this is the newest feather in Sikkim's cap; its own airport that it had been looking forward to since ages. This airport is still under construction as you will see from the pictures…the view all around is lovely and there is a spotlessly clean air about it. 
Pakyong Airport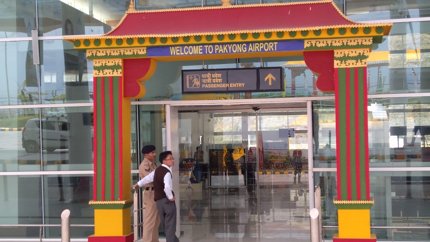 I could see washrooms, special facilities for the differently abled and no refreshment stalls or official travel desks though there was a tourist help desk. Outside the airport there are two options; catch an A.C bus to Gangtok or take a taxi. With my little own I had to choose the latter option. However the bus is new and well equipped and of course more affordable. 
The taxi took 1500 INR to get to Gangtok and we reached after 2.5 hours though the distance is actually worth only an hour of travel. The traffic jams in Gangtok right from the city entrance are terrible. En-route I fed my little one biscuits and infant food with mineral water (boiled under my supervision in a nearby shop). Finally I managed to reach my hotel Summit Norling Resort and Spa which is in upper Gangtok (Rongay). My travel schedule for the next two days is as follows. 
Day 1
Long walk to the monastery in Rongay …there are two relatively unexplored ones here. Mani Lhakhang Monastery is just a few minutes away from Norling resort and the other one (Ngor Monastery) is near the Central Jail that's higher up. Ngor is the bigger one out of the two and has about 70 disciples of varying ages studying Tibetology and Theology there. 
Lama looking after old age home and  
Mani Lhakhang monastery, Rongay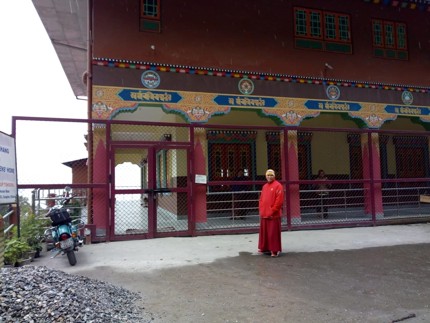 Mani Lhakhang Monastery is near Norling resort and it also has an old age home housing about 50 inmates. Rongay is full of waterfalls and there is a very pretty one right near the Mani Lhakhang…it is these small natural delights that make this place special. 
Inside Mani Lhakhang Monastery 
In Rongay the weather is colder and crisper than in Gangtok and the area is less polluted too with many impromptu mountain streams and colourful houses springing around from nowhere. Wildflowers along the way and apple cheeked kids and furry dogs for company….it was a refreshing change from the over laden mainstream Gangtok scene. 
Lunch was thupka and momo at a local eatery while for little one it was clear soup with boiled rice….most small eateries here have a ready supply of Sikkim XXX-Rum. 
The evening was spent in the
glittering MG Marg
. The whole street was lit up with festive lights for dipavali and there were umpteen stalls specially set up my micro cooperative societies and independent sellers selling everything from Sikkimese fabrics to bottled pickles and jams to scented candles to impossibly cute looking baby winter clothes. 
A trip to my all-time favourite Taste of Tibet followed which deserves a special award for their chilly pork and momos. The chilly pork here is loaded with tomatoes and tastes "different" in a nice way. If you ever happen to visit Taste of Tibet don't leave without buying their in house bottled red chilli sauce that's great. 
Day 2
We started off day 2 by visiting
Bakthang Waterfall
which is also known locally as the Mandakini water falls. There is a nice cafeteria nearby and there are plenty of chairs where you can sit and admire the view. When travelling with a baby, opting for places which combine comfort and attraction value is a necessity. This was followed by a trip to
Gangtok Zoo
and the
Handicraft Centre and Museum
. 
Lunch was at Dragon Wok which is right above the Bata store on MG Marg. You need to climb a steep flight of stairs to reach it…rather bad decision while carrying an infant. The only reason I chose this place was because of its comfortable couches that could provide my aching back with some relief. Anyone with a baby of any size that needs to be carried should definitely be looking for comfortable seating options. 
The view from the balcony, the lively ambience and the rather suave people at the bar who were showing off their mixing skills were all great. The food was average; stir fried vegetables with Tofu, pork fried rice and chilly pork… all of them lacked the Sikkimese fire. The menu was impressive though; lot of options right from sizzlers to health food to traditional fare. Child's special mineral water made minced sweet corn soup was nice. 
This was followed by return to the hotel and a nap for the baby and her exhausted parents. A return trip to MG Marg after a couple of hours with warmer clothing and then we set off exploring the Lal Bazar area and its surrounding lanes. 
An early dinner at Hotel Bayul which again had nice couches with plenty of cushions for infant support. Disappointingly they don't serve prawns, beef or pork so had to order chicken sizzler and fried rice chilly chicken all of which were nice. Mineral water made clear soup and rice for the baby. The restaurant has no view though. 
Our Gangtok trip used Rongay as a base this time because of two reasons. Firstly hotels near M.G Road are right now packed to capacity and are overloaded (and overpriced) and secondly, this is relatively a virgin area with several new hotels coming up offering excellent options for value stay. 
Waterfall near monastery, Rongay, Sikkim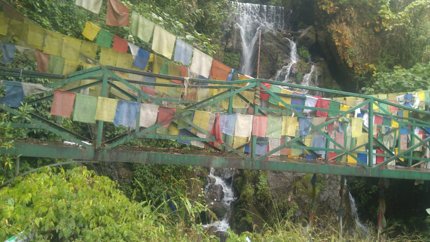 Rongay is now serviced by many mid-range hotels including Hotel Taranya (mid range), Chalet Orchid (budget) and Tashi Ling (five star property near central Jail). The Club Mahindra Resort is also a little upwards from Tashi Ling and guarantees an alpine retreat experience. The other notable hotel in this area is Norling Resort and Spa from the Summit Group in which I happened to stay. 
To reach Rongay you need to go upwards from Gangtok towards Whitehall (Hotel Tamarind services this area) towards Chandmari (major settlement and vehicle servicing hot spot) and then to Rongay. Expect an immediate dip in Celsius Chandmari on-wards... 
Chandmari Settlement, Sikkim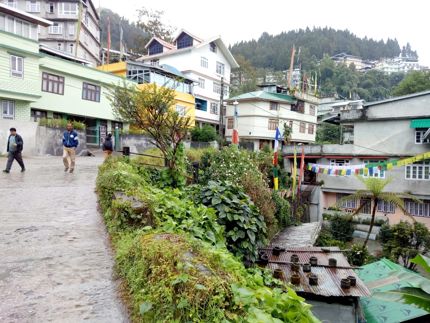 Transport
Fare updated: January 2020 
Commuting from Rongay to Gangtok city/ MG Road will take between 15 minutes to 40 minutes depending upon where in Rongay you want to stay and the traffic conditions. If you reserve a taxi yourself it will charge 300 INR (taxis reserved from the hotel will charge more). We used local sharing taxi (30 INR per head) and brought 3 tickets to get us extra space. 
We also walked down a little from the hotel and took an empty running taxi which took us to MG Road for 120 INR …the tip is to not stand in front of the hotel to hail a taxi. On day 1 we negotiated with the driver of the taxi that carried us to MG Marg and arranged for him (or any of his referred friends to be available for our pickup —drop-minor sightseeing). Carrying around a bawling baby while walking up the steep road to the taxi stand is troublesome. 
Towards Rongay from Chandmari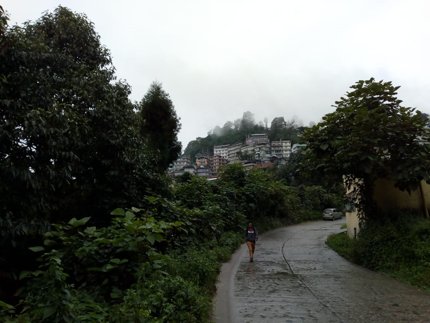 Shopping
Shopping in Gangtok is always fun as you will discover on the Gangtok shopping page. for baby focused shopping walk down MG Road to spot woollen dresses, socks, animal embellished mufflers, warm fleece pants with attached socks (very useful if you have a baby who is averse to getting dressed). 
Alternatively walk down the steps leading to Lal Bazar and buy the same stuff at 30% slashed prices… negotiating those steps with an infant is not easy. We stayed in Rongay which is like a semi-rural Sikkimese settlement and stuff is cheaper there though you have to bargain hard as the general trend is to overcharge tourists. Buy fresh fruits from Lal Bazar …its cheap and looks amazingly tempting. 
Checklist
Baby checklist for day trips in hill stations (to be modified according to your baby's age and medical requirements) 
Small container of infant food 
Small water bottle 
Clean bowl and spoon wrapped in polythene 
Biscuits  
Wipes (take out 10 and store in a small plastic box) 
Sanitizer 
Insect repellent (take any required medication too) 
Baby strapper (we used a baby hug strapper and never would have accomplished the trip without it) 
A ready supply of mineral water….not even a drop of local water (or food cooked in local water) should be fed to the baby. 
Note: if you are planning to visit Gangtok around Dushhera then be prepared to switch to vegetarian food especially if you are snacking from a local stall. They observe the 10 days of navratri quite fervently. All government offices and institutions like the Handicraft Centre and Museum will be closed from the 3rd day of Navratri to Dusshera.  
Related Articles
Visitors' Reviews/Comments