Singhik Tour, North Sikkim
Singhik is a tiny quaint village located only 4kms from Mangan along the North Sikkim Highway which leads to Chungthang and further to Lachung and Lachen. Singhik is known for its stunning views of Himalayan range including Kanchenjunga as well as view of river Teesta apart from several attractions including nearby monasteries, waterfalls, viewpoints, beautiful villages etc. 
Singhik Village, North Sikkim 
Attractions
From Singhik View Point located by the roadside, you can see Mount Kanchenjunga straight ahead, Mount Kabru and Pandim to its left and Mount Siniolchu to its right, and the river Teesta flowing though a deep valley guarded by lush green mountains on both sides. On a clear day, this sight itself would justify a day's stay at Singhik... a photographer's dream. 
Singhik View Point (It was a cloudy day)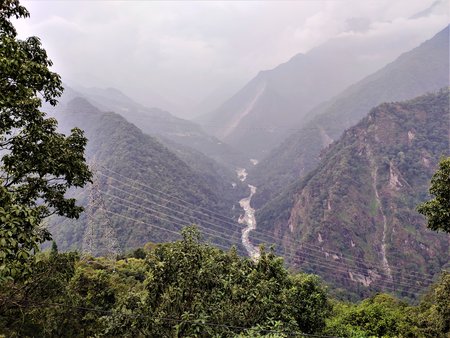 Spending time in Singhik will allow you to see a lot of attractions... the ancient Tensong Monastery Singhik located in a picturesque setting with beautiful views around and the Traditional House of the Lepchas are just two of those attractions. 
Kanchenjunga View from Singhik 
Photo: Wikimedia Commons 
The
village of Kabi
where the treaty of blood brotherhood was signed in the 13th century is just 40 km away from Singhik... tourists interested in spiritual destinations might find Kabi alluring. 
The
Dzongu Valley
(a place preserved for Lepchas) and Tingchim village (a place with a beautiful emerald lake and a 100 year old monastery)... both of these are 15 km away from Singhik. 
Bird watching, going on short and beautiful treks, tribal interaction programs are some of the other things you can do in Singhik. As far as trekking is concerned it's better to go through a known tour operator if you are going on major treks like the Tosha Lake trek. However for day trips to spots like Jhandi View Point, going unsupervised is okay. 
Mangan (the district head quarter of North Sikkim) is only 4kms away and have many common attractions with Singhik. Go through
Mangan Tour & Attractions
to find more places to visit. 
Where to stay
Only limited accommodation options are available in Singhik and the Sikkim Government owned Singhik Bungalow is the best option. It stands on a hilltop at an elevation of 5,200 feet. The bungalow has been leased out and is maintained and run by the Heritage Bungalow Group. It's a budget accommodation. Great views of Kanchenjungha, good food and nice facilities are on offer.  
There are 4 rooms in Singhik Bungalow at different levels that are reachable by an external stairway. All rooms have excellent views of Kanchenjunga snow peaks. There is also an in-house dining room. Rooms have basic amenities like twin beds, attached western style toilets, provision for hot and cold water, etc. You can call 09635839939 to make a booking at Singhik Bungalow. 
Best time to visit
Singhik can be visited at any time of the year however summers and autumn are temperate and suitable for a visit if you want to avoid the plunging Celsius. 
Location and Transport
Singhik is 69kms away from Gangtok and it takes nearly 3 hours by car to reach. You will find several modes of conveyance like taxis, buses too apart from jeeps on this route. Mangan is just 4 km away from Singhik. While coming from Gangtok, you will get Jeep Taxis from Vajra Taxi Stand between 5:30am and 2:30pm operating to places in North Sikkim passing through Singhik. Public and private buses too operate between Gangtok and Mangan. 
Related Articles
Visitors' Reviews/Comments