Tabakoshi: A Virgin Rural Settlement
In Darjeeling District Near Mirik
Nestled in nature's lap in a scenic valley and surrounded by tea gardens on the slopes of mountains, Tabakoshi is a virgin village in Darjeeling district and is part of Gopaldhara Tea Estate. It is located 5.2kms from Mirik Bazaar in Pokhriabong Rangbhang Valley at an altitude of 3,800ft. 
If you are looking for a quiet time among nature to soak in the lovely scenic views of mountains, walk through tea garden trails, sit on a rock on a river bed and paddle your feet in the water of a flowing stream, enjoy the bird songs and gaze at the vast stretches of flowering plantations and fruit orchards, then Tabakoshi will be a perfect getaway for you for a couple of days. 
Rangbhang river in Tabakoshi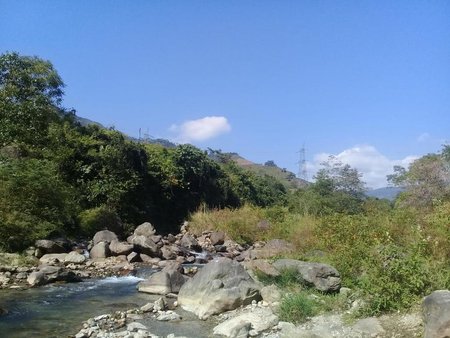 The mountain river Rangbhang flows through the village in a scenic setting. During the monsoon, the color of the stream's muddy water turns copper like. In local Nepali language, 'Tamba' means copper and 'Koshi' means a river. So the name of the river is also locally known as Tambakoshi or Tabakoshi. The whole village was named after the river by the late Chairman of GNLF Sri Subhash Ghising who laid the foundation stone of Tabakoshi Tourism here in December 1989. 
However, no tourism development took place for over two decades following the laying of foundation stone. It was only from 2014, when Tabakoshi saw some promotions, started appearing as an offbeat tourist destination of Darjeeling district and started to attract tourists. 
Bridge over Rangbhang river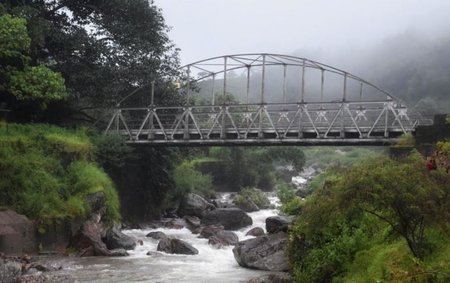 There are no commercial hotels here... villagers have built several nice and comfortable homestays for budget travelers. Most homestays here have modern amenities including attached western style toilets, geyzers, TV etc. They offer packages including lodging and homemade food. 
What to do in Tabakoshi
As I have already mentioned, you should plan to visit this village only to cut off your ties with busy city life for a while and spend a lazy time in the lap of nature. You cannot expect to do things like shopping... there are literally no shops here. However, the township of Mirik being close, you can take a car and go down to Mirik Bazaar or Mirik's Krishnanagar area to do some shopping, if you can't live without it. 
There is a Vishnu Temple at Tabakoshi and this is the only Vishnu temple in Darjeeling district. There is also a wonderful Lord Shiva Temple located by the riverside which you can visit. 
Tabakoshi Park is a lovely parkland with lush lawns, a large gazebo with seats around it and paved pathways to enjoy a walk through the park. The park is surrounded by lush vegetation and mountains. 
Tabakoshi Park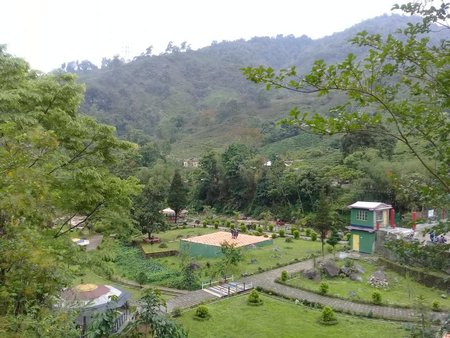 Although Tabakoshi is part of Goaldhara Tea Estate, there are several other famous tea gardens around including Chamong, Thurbo, Nagri etc that produce finest Darjeeling tea. In fact there are eight tea gardens that surround Tabakoshi and most of the villagers are engaged in tea garden related work. 
There are trails through the tea gardens and you can enjoy lovely scenic walks. And if you come during tea harvesting season (March to November), you can also see tea plucking. There are two tea factories nearby which you can visit and witness tea processing. 
The mountain stream Rangbhang flows through Tabakoshi. Your homestay can arrange a hike or a short trek through the river valley and along the river bank. The half-day hike usually terminates at Achalal Busti, the place where the river Rangbhang originates. There is also a full day trek of moderate difficulty up to the place called Simana (at Indo-Nepal border)... there is a viewpoint at Simana. 
The valley of Rangbhang river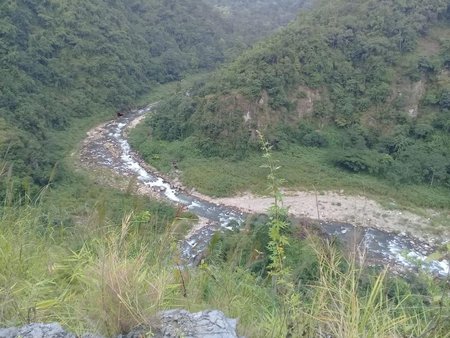 The homestay can also arrange a day picnic by the bank of the river when you can also take a bath at the river or just sit on a rock dipping your feet into the water and enjoy the scenes around. 
If you are interested, you can also do fishing on the river. Ask your home stay and they can provide the fishing rods and also guide you to the right fishing spot. 
You can also do riverside camping... some of the home stays arrange for all camping requirements including tents, bedding, fire wood, food etc. 
There is also a fairly large public pool at Tabakoshi although it is hardly used. There are clear signs of lack of maintenance. You can often find a layer of moss on the water making it virtually unusable. 
Public Pool at Tabakoshi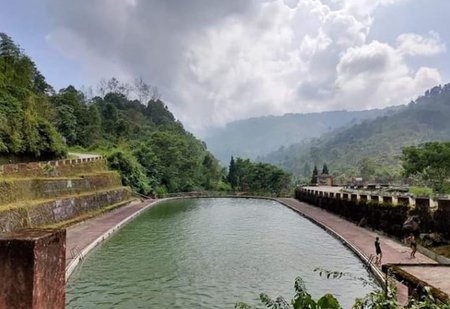 Photo: Riverside Dwelling 
The villagers at Tabakoshi practice organic farming. Take a village tour and see the farming practices here. There are many orange orchards, cardamom fields and ginger farms. The residents of Tabakoshi are known to be very polite and friendly. Go around the village, chat with the villagers and understand their culture and way of life. 
Tabakoshi is also excellent for bird watching. You can see different kinds of birds here including pheasants, flycatchers, sunbirds, treepies, barbets, orioles and lot more. 
Mirik
is only a short distance away and there are a number of attractions in and around Mirik. You can take a car and visit the lovely Sumendu Lake in Mirik, the Bokar Monastery located on a hilltop, the Mirik Bazaar etc. Go through
Great places to visit in Mirik
to know them all. 
You can also take a car and
visit Jorpokhri
, a lovely place with a water body and magnificent views of Kanchenjunga range. It takes about an hour to reach Jorpokhri from Tabakoshi. Along the way you can also visit
Pashupati Market
across the Indo-Nepal border. Only Indians are allowed to visit, it is in Nepal's territory and requires about 1km walk to reach up to the main market area that has stores selling electronics, perfumes, cosmetics, dress materials etc at reasonable prices. Be careful about the fakes. You should also stop at the
Simana Viewpoint
along the way for scenic views. 
How to reach
Tabakoshi is about 62kms from both NJP station and Bagdogra airport, and will take about 2 and half hours by car to reach. Private taxis from Bagdogra or NJP will go up to Mirik Bazaar and from there you need to change to another one. From NJP, you can additionally get a shared taxi up to Mirik. 
From the taxi stand at Mirik Bazaar, you can either take a private taxi or a shared taxi for Tabakoshi. From Mirik Bazaar the route is along the main road up to Thurbo Tea Factory where you need to take a right turn and approach Rangbhang River Valley Gopaldhara Tea Garden Lower Division, and you will reach Tabakoshi in about 20-25 minutes from Mirik. 
From Darjeeling, the distance to Tabakoshi is 38kms and will take about 1.5 hours by taxi. You need to come up to Ghum (8kms) and take a right turn towards Sukhia Pokhri. At Sukhia Pokhri, you need to turn left towards Pokhriabong and then approach Tabakoshi. 
Taxi Fares
Fare Updated: March 2022 
Reserved small taxi from NJP/Bagdogra to Mirik Bazaar: Rs. 2,500/- 
Shared taxi from NJP to Mirik Bazaar: Rs. 300/- per person 
Reserved small taxi from Mirik Bazaar to Tabakoshi: RS. 800/- 
Shared taxi from Mirik Bazaar to Tabakoshi: Rs. 70/- per person 
Reserved small taxi from Darjeeling to Tabakoshi: RS. 2,500/- 
When to visit
Tabakoshi being at a relatively lower altitude, temperatures are not as extremes as some of other places within Darjeeling district. During summers (May/June), temperature can reach up to 22°C while in the winters (December to February), temperature can drop to about -1 to -2°C. 
You can visit Tabakoshi any time of the year. However, best time is between March to Mid -June (i.e. the spring and the summer) and October to November (Autumn)... this is the time when the weather remains mild and pleasant, and the sky remains clear for great views. Winter is also a great time to visit although it can be quite cold for the city dwellers. 
The monsoon season is between Mid-June to Mid-September when it usually rains quite heavily and over a prolonged period at a stretch. This is the off season here, but this is also the best time to see the river Rangbhang with its full force of water meandering through the village. 
Where to stay
Several homestays have popped up in Tabakoshi and all have done their best to offer comfortable stay to the tourists. Other than lodging, they also offer homemade food (which are prepared in Nepali style and quite similar to Bengali cuisine) and packaged with the rates. You can expect rice, daal, vegetables, papad, egg curry or chicken curry in a standard meal like lunch or dinner. Breakfast is usually toast, butter omelet or puri sabji along with Darjeeling tea. 
The homestays also arrange for transports for pickup and drop, local sightseeing tours, riverside camping or hikes, bonfire with barbecue in the evenings etc. 
Riverside Dwelling
This is a stone finished cottage built in rustic style but has the required amenities inside for a comfortable stay. The cottage is built by local craftsmen using locally procured timber and split stones from the river. The homestay is run by a family who are believers in Eco-tourism and Eco-friendliness. 
The cottage and outdoor dining area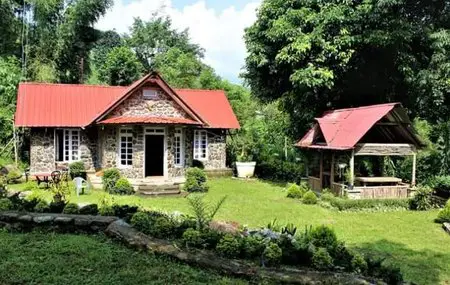 There is a courtyard in front which is great for having a cup of tea in the morning and bird watching. The lush lawn is surrounded by wonderfully manicured gardens with varieties of flowering plants that are grown by the hosts themselves using organic method in their own horticulture farm. 
The living room is spacious and cozy. The bedroom has a queen bed for two. The cottage has a fully equipped kitchen and you can cook yourself if you want. Or alternatively let the hosts cook some nice homemade food and you can join them to learn the basics of local cuisine. 
Living Room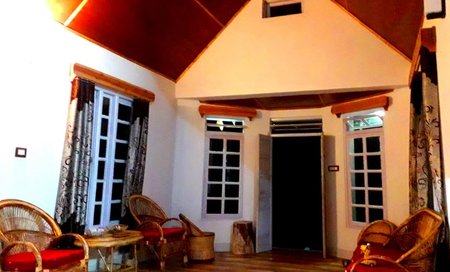 There is a nice roof-covered deck in the lawn which is used as the outdoor dining area. They also have a corner earmarked for barbecue... there is a large stone furnace that's lit up with log wood. 
Bedroom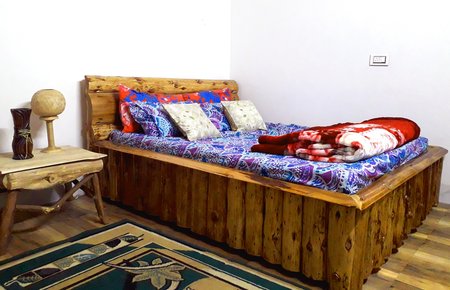 Phone: +91 62971 46430; 99033 50037 
Tea Village Homestay
This homestay is run buy the owners family... Mr. Bijoy Subba and Mrs. Sharmila Subba. They had opened up this homestay for visitors in 2016 . The river and the main village is about 10-minute walk from the homestay. There are 5 rooms in the property that can accommodate a total of 15-18 persons. All rooms have attached western-style bath with geyzers. All rooms are clean and spacious. 
The Homestay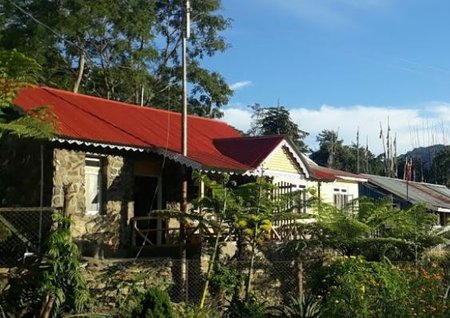 There is a Premium Stone Cottage Room that has 2 queen beds accommodating 4 persons. It has its own private balcony with lovely view of the mountains. There is one Super Deluxe Room which too offers great views of the mountains through its windows. It too has 2 queen beds. There is a Deluxe-Room facing the tea garden, and a Pine Wood Cottage with two rooms facing mountains. 
Super Deluxe Room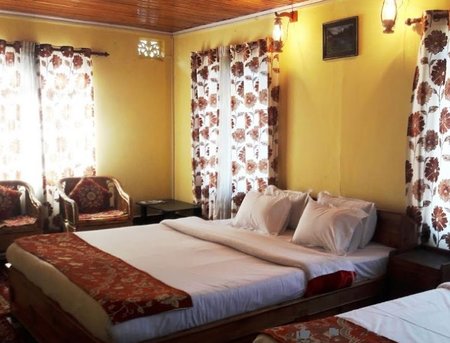 Whatsapp:9083111566 
Phone: +91 7872766091 
Related Articles
Visitors' Reviews/Comments