Best Homestays in Sittong
There are many homestays in Sittong that are scattered across Sittong I, II and III and mostly managed by owners families who are locals of Sittong. However, all are not great when you consider the quality of accommodations and location. Below is a review of the best homestays that you can find in Sittong. 
Bisesh Homestay
Bisesh Homestay is located in Ghalaytar (Upper Sittong, Sittong-I) and perched on a cliff with wonderful views all around. This is a large homestay and the most popular one in Sittong and this is the first one to get full. There are a number of rooms in the homestay including Cottage style and Villa type rooms that are spread at different levels in a fairly large premises. The cottage type rooms are on the top level.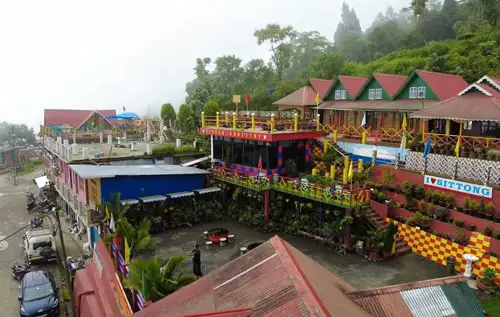 There is a large open patio at the lower level which is surrounded by beautiful flowering plantations in all sides. These flowering plants are kept on stepped concrete galleries so that you do not miss out on the blooms. There are sitting places at the open patio where you can relax, have tea and enjoy the views. In fact, one side of the open space is open and you can get direct view of Kanchenjunga snow peaks from here. 
Standing on the open space, look up and you can see the entire front facade of the homestay, its various facilities including the buildings and cottages housing the rooms. This is one of the rare homestays that even has a conference room with glass walls so that private events can be held here.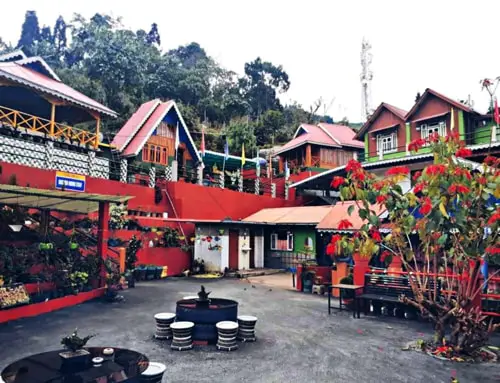 Rooms are spacious and most rooms have balconies (either private or common)... and you get direct view of Kanchchenjunga peaks from most of the rooms or the balconies. All rooms are well furnished and equipped with good amenities compared to homestay standards. There is full power backup in the homestay. 
There are double bedded and even 4-bedded rooms which have wall TV, electric kettles, floor carpets, attached western style bathrooms with geysers (there is 24-hours hot and cold water supply). They also provide clean towels. Each room also has a small glass table and wicker chairs. If a room has a private balcony (such as in Villa type rooms), there will also be a glass-top round table and chairs on the balcony to soak in the views.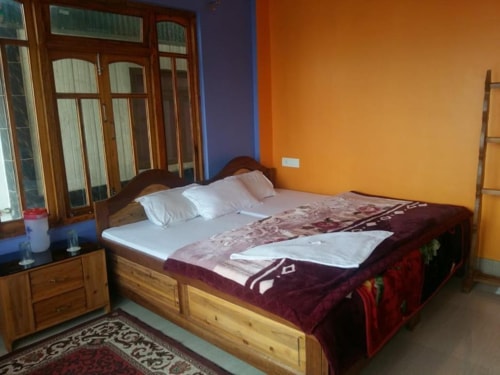 There is a separate dining room where you need to go to take your breakfast, lunch and dinner. In breakfast they serve puri/paratha, sabji/aachar, tea, etc. In fact, tea is unlimited throughout the day. This is one of the very few homestays in Sittong that serves buffet meals. In a typical lunch and dinner, you get rice, dal, a mixed veg, alu chokha, paneer or chicken (depending on the meal), chutney, etc. In the early evenings, they also give snacks such as alu pakora which can be served in the rooms. Generally, the food prepared is good.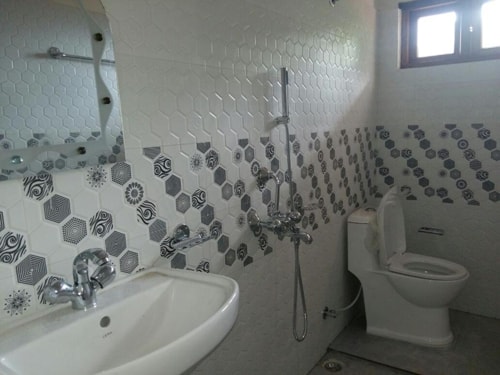 In the evenings, they usually organize cultural events such as karaoke nights, musical or dance programs, etc. The host and the owner is Bikram Rai. The young Binesh Rai is also very active. In fact the entire family work full time to ensure that all desires of the guests are met with smile. There are good number of staff here all of who are pleasant and smiling. Car parking is also available. 
They operate on a per person per day rate which is reasonable and includes room along with all meals and unlimited tea during the day. Overall, Bisesh Homestay is a great value for money, and I won't hesitate to say that the name of the homestay and its offerings do match making it 'Bisesh' or special. In Sittong, if you want to stay at a homestay that offers great Kanchenjunga views as well as good quality rooms, amenities and food, then Bisesh Homestay is definitely a strong contender. 
If there is one area of improvement, then that is to introduce more variations to the food... it can get a little repetitive and monotonous at times. And, since it is a large homestay, which operates more like a hotel, you will probably see too many people here than a typical homestay... but this is what it is. 
Contact Information 
Bisesh Homestay 
Ghalaytar, Upper Sittong (Sittong-I) 
Mobile: 093820 25312 (Binesh Rai), 070760 60266 (Bikram Rai) 
Salamder Jungle Camp
Although this a nice accommodation in Sittong, but 'Salamder Jungle Camp' is a misnomer. Because, first, there is no camping here, it's a simple lodge. Second, Salamander, which is a rare lizard-like creature facing extinction, can rarely be seen in this location... it can be spotted at Namthing Lake, which is about 8kms away. But having said that, this is a great lodging option in Mahaldiram (in Sittong-II) and in a great location. 
This pretty lodge is owned by Biswajit Saha who stays in Jaldapara (in Dooars). He visits the lodge at times. But the person actually in charge is an ex-army staff Bapi Dutta (popularly known as Bapida)... a short lanky and an active man in his 60s but he looks much younger and can even be passed as in 40s. He is the manager and lives here alone, while his family lives in Binaguri who he meets during the lean seasons. 
Bapida (Salamander Lodge)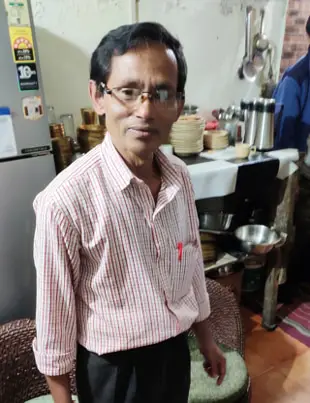 The construction of the lodge was completed in 2018. It's located on Lat-Mahaldiram road which continues all the way to Latpanchar. Although there is a stairway entry right from the roadside, the lodge is perched on a small cliff and is located at an altitude of over 6,000 ft which is the highest elevation in Sittong. 
As you walk up the stairway, you will first get to the dining room. This dining room has been passionately named as 'Nilkantha Restaurant' and a board outside prominently displays the name. This apparently indicates that it is perhaps intended to be open to outsiders as well. But, during my 3-nights stay here, I have not seen any outsiders dining here, nor the staff seemed to be prepared to cater to walk-in guests.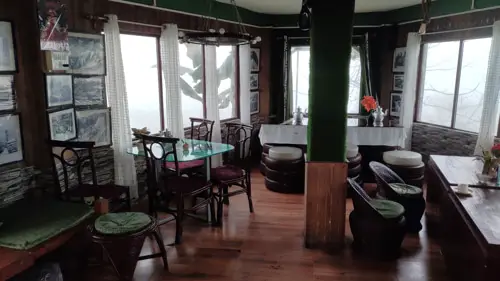 The stairway continues upstairs to a large terrace on top of the dining room... it has nice sitting arrangements. On a clear day, you can sit here and watch the Kanchenjunga peaks towards north over the pine trees, and the river Teesta and even the Siliguri township far below towards south... a marvelous sight.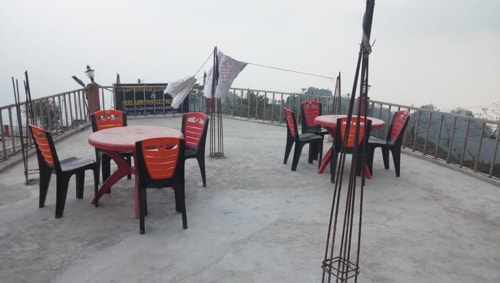 There are a total of 6 rooms in this lodge. In the backside of the dining room and attached to the terrace is the main building... there are two rooms in the ground floor and two upstairs. The rooms in the ground floor can be accessed by a short pathway that leads out next to the dining room. While the two upper floor rooms can be accessed by a short stairway from the terrace. These 4 rooms can each accommodate two persons.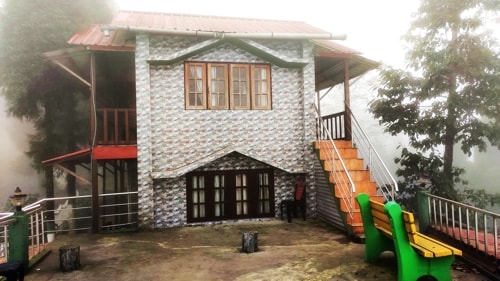 There are two triple bedded cottages as well. You can take the pathway near the dining room which eventually leads to a rectangular garden. The two cottages are located on the opposite side of the garden. Overall, there is a lot of space in the lodge... it covers a total area of 4 Bighas (2.5 acres) of land on a hillock. All rooms are named after local rivers such as Mahananda, Relli, Balasun, etc.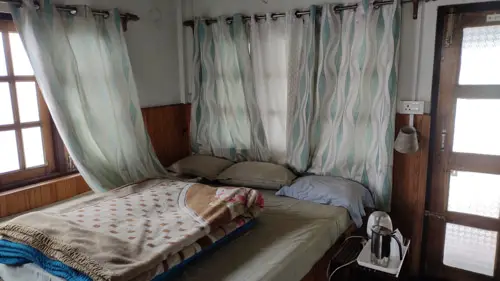 The rooms in the main building have private balconies in front as well as a common balcony at the entry... both balconies have chairs where you can sit, relax and enjoy the views. From the entry-side balcony facing north and pine forests, on a clear day you can see the Kanchejunga peaks. But the main magic is with the front private balconies which literally fringe the lush & sprawling tea bushes of Mahaldiram Tea Garden.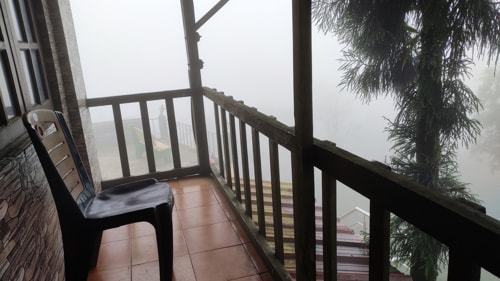 Our private balcony on the upper floor appeared to be hanging over the tea garden and while sitting on the balcony in the mornings, we could see the tea garden workers walking up through the tea bushes to start plucking tea leaves. And, late in the afternoons, they would all walk back down to the road having collected tea leaves in the baskets fixed to their backs and then moving on to their respective villages. 
Tea garden view from our room's balcony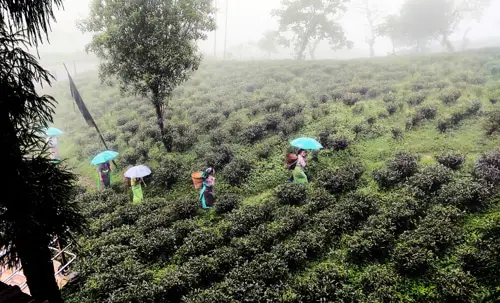 The rooms are simple but nicely done up. Walls are semi-wood paneled. There is no TV in the rooms. The queen bed is comfortable and so is the quilt. There are couple of plastic chairs placed in the rooms as well as a small table with electric kettles and glasses. They offer normal water in large jars, but you can also buy bottled water at reasonable rates. There is a small carpet on the wood-finised floor as well.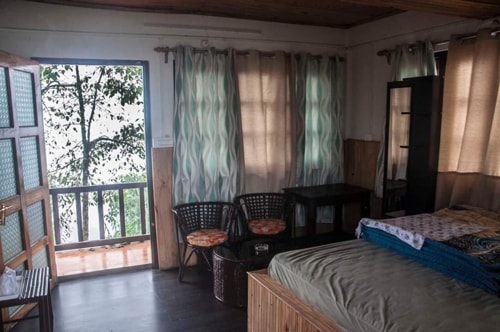 Room lighting is generally okay, but during power cuts, only one light in the room and one in the bathroom work through the in-house inverter. The bathroom is nice and is of western style. There is a geyser and hot & cold water is available 24 hours. Towels are provided but no toiletries.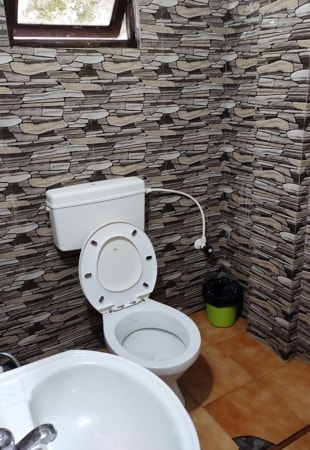 The dining room is a key attraction in the lodge. Its decor reflects that of a modern dhaba... in fact, in one corner they have kept a dhaba-style low wooden platform where you can sit with folded legs and eat on a lap table. There are ropes hanging from the ceiling with lights and lanterns fixed at the bottom-ends which are lit up in the evenings. Several other structures hang from the ceiling such as a bicycle wheel. 
Overall, the ambience is of the dining room is nice. There are large windows on all the walls. You get great views of the tea  garden and Siliguri plains from here. On one of the evenings, Bapida switched off all the lights and showed how the bright hue of lights coming in from the Siliguri plains way below could illuminate the dining room so nicely... an awesome sight.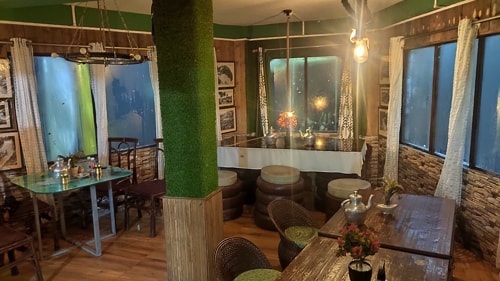 In the mornings, Bapida plays Bengali songs including Rabindra Sangeet and other popular songs from the legendary singers such as Manna, Hemanta, etc. There are good quality speakers fixed on the walls of the dining room and he is able to play the songs through his mobile. The kitchen is attached to the dining room. 
The kitchen is the place where you will find all the staff most of the time. So, if you need some room service, then you need to come down to the dining room and let Bapida know what you want. There is no intercom in the lodge and the mobile network here is very poor... only the Jio tower works. So you can't contact them on mobile unless you have Jio SIM. The only other option is to yell out loud from your balcony. 
From left - cleaner Santosh, cook Ujjal, young helper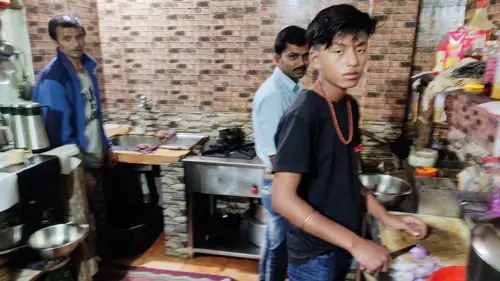 Like all homestays and lodges in Sittong, Salamander also operates on a per person per day rate which includes lodging and all meals. They offer breakfast, lunch, evening snacks and dinner as part of the rate. The cuisine is typical Bengali style but delicious. The cook Ujjal is exceptionally talented and has uncanny skills for cooking. 
In breakfast, they serve puri/luchi, sabji, or Alu Paratha with pickles, you can also go for toast & omlet. Finally finish it off with a cup of tea or coffee. In lunch and dinner, they serve rice, ghee, bhaja (it could be brinjol fry or potato fry), dal, sabji, fish or chicken or eggs.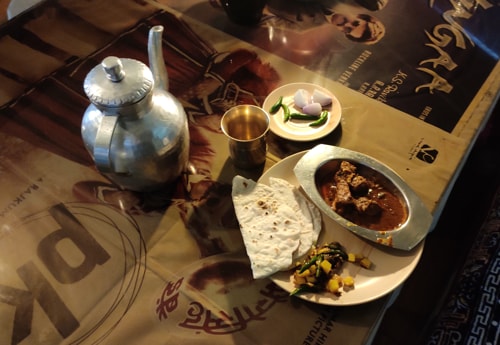 And in evening-snacks, you get veg pakora or onion pakora or Maggie noodles, etc. There are enough variations in food, and both quantity and quality are excellent. They serve the meals (particularly lunch) on high quality bell metal plates and utensils.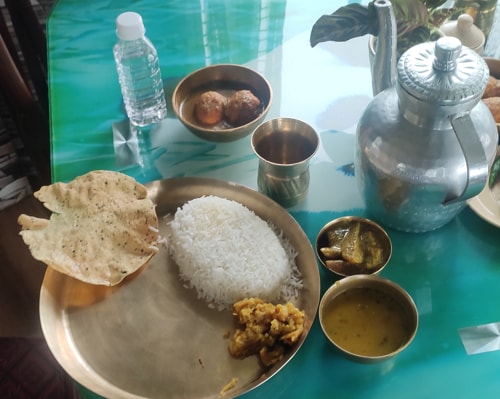 There is a little tea stall on the roadside right at the opposite side of Salamander lodge which is run by a local Nepali lady and her husband. They make excellent veg and chicken momos. Bapida mentioned that they always make it fresh everyday. You can sit inside and eat or let them know and they will bring it to your room. They also make chowmein, toast omlet, alu mimi, tea/coffee, and sell packaged snacks, cold drinks, etc.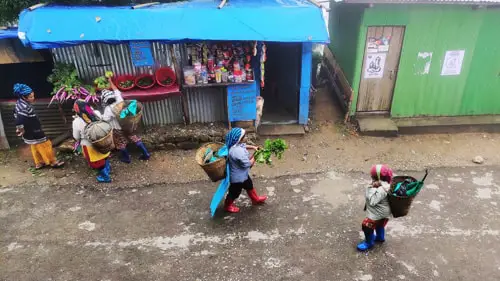 They also sell local tea leaves in packets that are grown by the villagers in the nearby local tea gardens (not in Mahaldiram tea garden). There are two varieties... Rs. 600/- per kg and Rs. 900/- per kg. You can pay and taste a cup of tea before you decide to buy. 
Coming to the staff of Salamander, other than Bapida and the cook Ujjal, when I stayed in the lodge, there were only two other staff... Santosh, a cleaner mainly responsible for keeping the outside premises clean and also providing a helping hand at the kitchen for washing dishes. The other is a young local lad responsible for housekeeping and room service, and also for helping at the kitchen such as chopping vegetables, etc. 
While they keep the rooms ready before the guests check in, there is no pro-active cleaning after that. So, you need to ask for it and then they do it on a best effort basis depending on their current work load. 
Although, all the staff are nice, friendly and cooperative, there is a little shortage of staff here. This appears more so, because the young helper is seen busy with his mobile most of the times watching movies and often not available for work. When I was leaving, Bapida was already planning to replace this young chap. 
Cottage in Salamander Lodge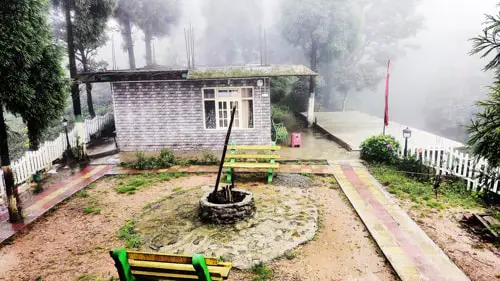 And there is another problem... insects. You need to keep the doors and windows closed in the evenings unless you want to invite millions of moths, butterflies and strange looking colorful insects. The staff do try to keep the place clean, but the dense pine forests and tea bushes are ideal breeding grounds for insects. 
However, those are only very small problems that can be easily dealt with. Salamander, in my personal opinion, is a great stay option in Sittong. It's in an ideal location where you can enjoy the tea gardens right from the lodge itself and also take a walk by the tea gardens and explore lovely little villages like Upper Babukhola that are a short distance away (about 20 minutes), and simply enjoy the serene nature. 
Contact Information 
Salamander Jungle Camp, Mahaldiram, Sittong-II 
Mobile (Bapi Dutta): (+91) 62952 98639 
Panch Pokhari Homestay
Located in Shelpu area of Sittong, this is another popular homestay. It has been named after the tea garden of the same name where it is located. And the tea garden has been so named because there are five lakes here... 'Panch' means five and 'Pokhari' means lakes. Ask the homestay owner and he will guide you, take you through the lush tea garden and show you the five natural lakes, which however, dry up during non-rainy seasons.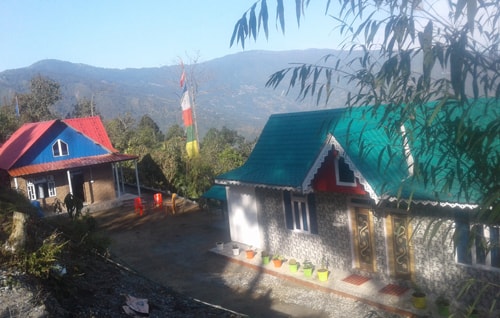 The homestay owner is Robin Khawas... he was in Gorkha Regiment and served the Indian Army for 24 years. After his retirement, he came back and opened this nice homestay. It has a nice large porch or courtyard in front with car parking space. There is a fire pit here which is kept open till 9pm. 
The homestay has 5 rooms each with two large beds, so up to 4 persons can sleep in each room. However, there are two special rooms with balcony. From the balcony, if you look down, you can see the tea garden, further ahead is a pine forest and beyond is the full range of Kanchenjunga snow peaks which is clearly visible.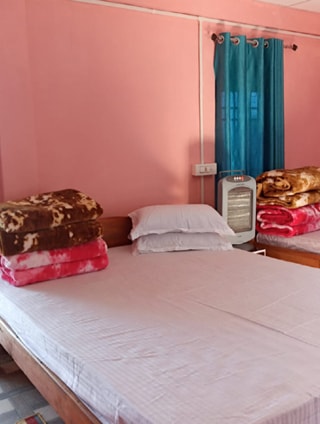 A small table and a couple of chairs are kept on the balcony which is an ideal place to have the morning tea and soak in the views of the mountains and the tea garden. If you want, they can also serve food here. 
All rooms have room heaters which is uncommon, because in most other homestays, a room heater is given on request and it is chargeable. Rooms have attached bathrooms with geysers, showers and western style toilets. Rooms are simple, but clean and nice. Clean quilts are also provided on the beds. 
Dining room is separate where all meals are served. The kitchen is managed by the married couple Arpan and Silsila... they are both excellent cooks. They make simple yet tasty homemade food. In breakfast they offer Puri or roti, sabji, or bread with butter or jam, egg, and tea. You can also ask for a combination of your choice. 
In lunch or dinner they serve rice/roti, dal, alu bhaja, egg curry or chicken or fish salad, chatni, etc. They also provide evening snacks with tea. Bed tea is also served in the mornings. On request, they also arrange for barbecue in the evenings. 
The Homestay operates on a per person per day rate which includes all meals along with lodging. They also organize local sightseeing tours as well as transports for pickups and drops. 
Contact Information 
Uttar Purba Shelphu Sittong - 3 G.P. Selphu, Darjeeling-734008. 
Phone: 89181 63690 
Pahal Homestay
This is a small homestay with only two rooms which belongs to Pritam Rai, a local. He along with his wife and his small daughter live in the same premises in a small cottage. In fact, the name of the homestay has been given after his daughter Pahal. It's a small wooden cottage with rooms on two sides.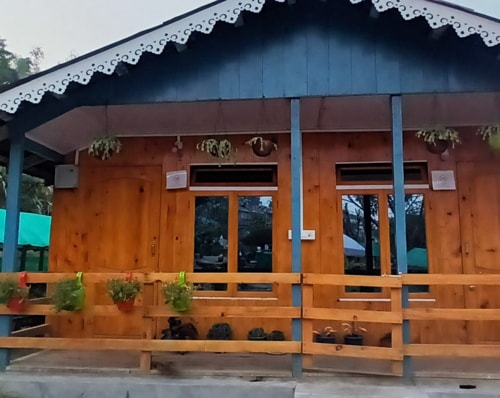 If you want to spend a couple of days in peace and solitude, then this is an ideal place to choose. The homestay is located in Shelpu area in Sittong-III amidst nature. You get nice valley view all around. 
There is a small courtyard in front of the homestay. You can choose to take your breakfast at the courtyard in the open. A typical breakfast would include roti, ghugni, egg and tea. 
The rooms have two double beds, nice large windows... the rooms are airy. The attached bathrooms have western style toilets, geyser, wall mirror, etc. Overall, simple, clean and comfortable arrangements.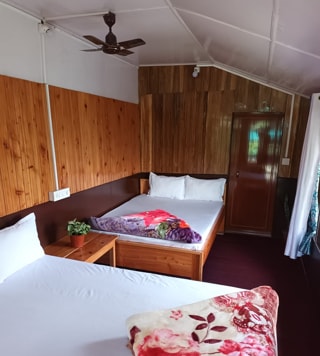 The common kitchen and dining room is separate. Pritam's wife does most of the cooking and she tries to change the menu everyday so that you get to taste different types of vegetables such as hill squash, noodle-like vegetables used in making a local pickle, etc. She really makes delicious food. Pritam too is a friendly man and will join you for a chat whenever you want. Warm hospitality is one of their greatest strengths. 
Pahal Homestay operates on a per person rate that includes lodging and all meals. 
Contact Information 
Pahal Homestay 
Sittong Government Cinchona Plantation, Sittong-III 
P.O. Shelpu, Pin: 734008 
Phone: 90930 27502, 82502 45441 
Sunrise Viewpoint Homestay Ahaldara
As the name suggests, this homestay is located right at the Ahaldara Viewpoint on top of Shelpu hills. Cars can come up to a point and there is a steep uphill walk involved for about 150 meters on an unpaved pathway. So, this accommodation may not be suitable for people with mobility challenges. The last stretch of the walk to the homestay is through a trail in a lush tea garden that belongs to the homestay owner. 
Overall, the setting is beautiful and you have the advantage of 360 degree views of the mountains which includes Kanchenjunga peaks, Darjeeling Hills, Kurseong Hills, Kalimpong Hills and many other hill tops. From the viewpoint you can even see river Teesta flowing at the plains. The sunrise view from here is stunning.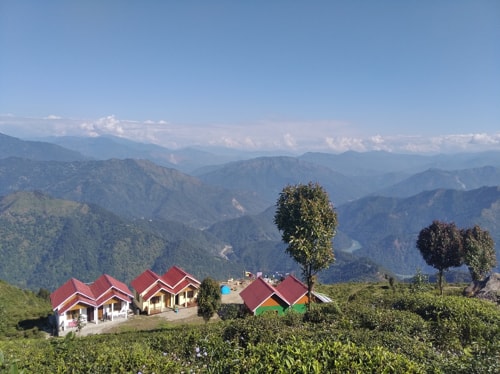 The homestay is owned by Mr. Chamling who had first setup the tea garden here long back. Subsequently, he opened the homestay here in 2019. The homestay is managed by his daughter Neeta Chamling. There are 2 pairs of cottages here lined on a row, and each pair is attached. Each cottage has a room with two double beds. So there are 4 rooms and each room can accommodate up to a maximum of 4 persons. 
Amenities include a small bed table where an electric kettle is provided. There is a mirror fixed on the wall. The attached bathroom is of western style and has a geyser. There is shower, hand shower and a wash basin in the bathroom as well as a mirror. However, note that water is scarce in Ahaldara, so there can be problems of adequate water supply during the dry seasons. They also have tented accommodations.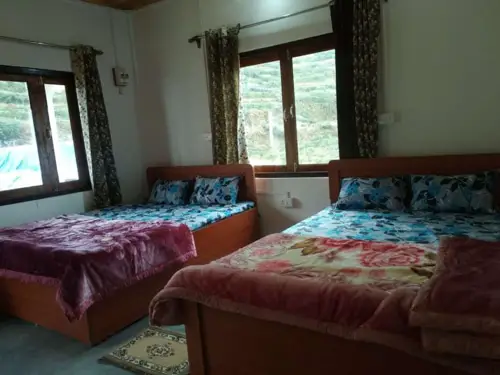 Unlike other homestays, this one offers a package... 2 nights 3 days or 3 nights 4 days package. And the package includes lodging and all meals such as breakfast, lunch, evening snacks and dinner. And the package rate varies depending on high or low tourist season. 
The kitchen with dining room is separately located in the premises in a tinned shack. The kitchen is managed by the lady Sushmita who is the main cook and Prajjal who assists Sushmita. They prepare real tasty food which the Bengalis would find delicious. 
In breakfast, you can get roti, sabji, or bread omlet plus tea. In a typical lunch, you can expect rice, dal, a mixed vegetable, alu bhaji, papad, eggs, etc. In the evenings, they serve hot vegetable pakoras and tea. They also organize bonfire and barbecue at a separate cost. In dinner, you can get roti, sabji and chicken. Overall, the food is nice and quantities served are sufficient. If you want, ask the kitchen staff and they can provide you packaged drinking water at a reasonable rate. 
Contact Information 
Mobile: 098006 37784 
Humro Home Ahal
There are three cottages at Ahaldara Viewpoint. The host is Padam Gurung who also has a separate homestay in Latpanchar called Hornbill Nest... he stays in Latpanchar. Humro Home, an initiative by the company Nature Beyond is marketing the lodge at Ahaldara. Although it is called a homestay, it is more like a budget lodging. Padam Gurung manages the services with the help of locals. 
5 kilometers from Latpanchar, a boulder road goes uphill to the top at Ahal Dara View Point (about 400 meters). While accessibility to the cottages can be an issue as cars can't reach up to the top (you need to walk up beyond a point and it's quite steep), the serenity and the views are simply awesome. 
Cottages at Ahal Dara View Point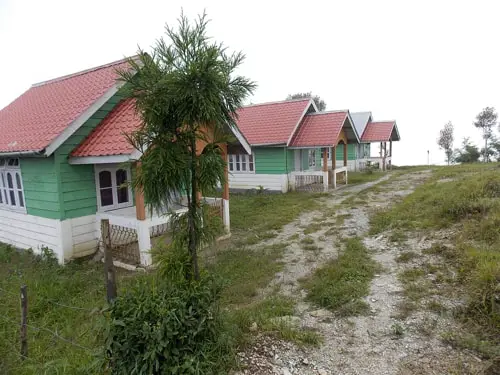 If you are in a group and want to be away from main locality, this can be a great choice. However if you are alone or a couple taking up a lodge, the silence and darkness after sunset can be quite scary. Service is quite limited here. There are only couple persons who look after all the cottages. There is no room service. The place suffers from water scarcity... although there is provision for hot and cold water in the bathrooms, during the non-rainy seasons, water is provided in large drums. 
Rooms are clean with attached toilets but quite basic. The ceilings and walls are wooden. Each of the three cottages here has two double beds in the room. No TV is provided in the rooms to spoil the silence and serenity. There is a kitchen & dining room near the cottages for taking your meals. 
Contact Information 
You can book the Ahaldara lodges through the toll free numbers: +919733071716, +919733069690 
Homestays in Latpanchar
Latpanchar is a village in Sittong-III Panchayat and is developing into a separate tourist destination. There are several homestays in Latpanchar itself. Go through
Latpachar Homestays
to now about the best ones. 
Related Articles
Visitors' Reviews/Comments