Sittong: A Complete Travel Guide
About Sittong
Many tourists confuse Sittong thinking of it as a single village... it is not. It is a fairly large area comprising of three Panchayats, each of which has several villages in it. Sittong is actually a cluster of villages located in Darjeeling district and part of Kurseong subdivision, with an average altitude of about 4,000ft. The altitude however varies between several places depending on whether you visit lower or upper Sittong. 
Village Houses at Mana, Sittong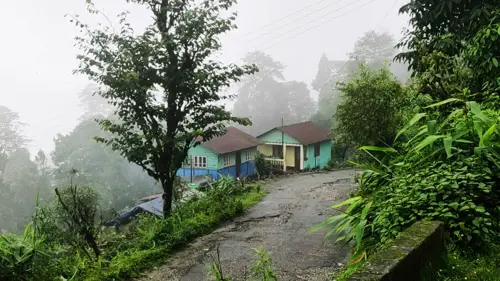 Sittong is catching up fast in tourism but has managed to keep itself serene and untouched by the typical touristy crowd, mainly because, all it has to offer is its pristine natural beauty... practically nothing else. You won't get luxurious accommodations here, instead comfortable homestays with all the basic amenities that are enough to the nature lovers. 
There are no shopping opportunities or great eateries here either... it's unlikely there will ever be so. The nearest township that offers a glimmer of city-life is Kurseong Town which is about 24kms away and takes about 1 hour 15 minutes to reach by car. 
However, nature has been the most generous to Sittong ushering it with some of its best forms that can be experienced in the whole of Darjeeling district. You can get wonderful views of the Himalayan peaks from Sittong including that of Kanchenjunga, as well as river Teesta flowing at the plains. 
There are sprawling tea gardens, lovely waterfalls, great viewpoints, many forested trails for light low-altitude treks, birds of numerous species that makes it a birdwatcher's paradise, and last but not the least by any means... Sittong is considered the main hub of oranges in Darjeeling district... there are plenty of picturesque orange orchards here that blossom in full during the winters.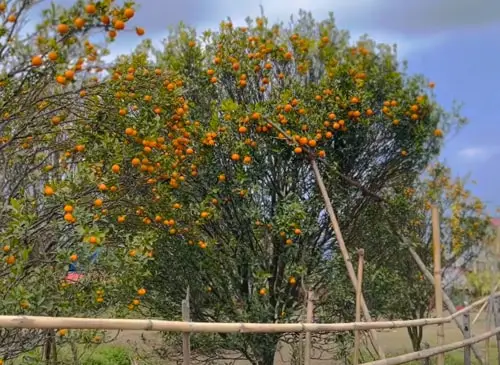 Villages in Sittong
Sittong spans across a large geographical area and has three Gram Panchayats each having several grams or villages in it. The Panchayats are named as Sittong-I, Sittong-II, and Sittong-III. 
Sittong-I, which is the core of Sittong and mostly part the upper Sittong is also known as Sittong Khasmahal-I. It has several villages in it such as Ghalaytar, Upper Ghalaytar, Tham, Mana, Panch Pokhri, etc. Many homestays are located in Sittong-I, some of them are quite popular and offering views of the mountain peaks, tea gardens and forests. Sittong-I has a geographical area of 628 hectares. There are about 605 households in Sittong-I and the total resident population exceeds 3,100. 
Sittong-II, comprises of villages such as Lower Mamring, Upper Mamring, Mahaldiram Forest (there are several blocks under this), Mahaldiram Tea Garden, Toryak Khasmahal, etc. If you wish to stay amidst lush tea gardens and at the same time get great views of the snow peaks, then Mahaldiram is the place to choose. Although Sittong-II is not part of Upper Sittong, the altitude of the village Mahaldiram reaches up to 6,000ft which is the highest in the whole of Sittong. 
Mahaldiram Tea Garden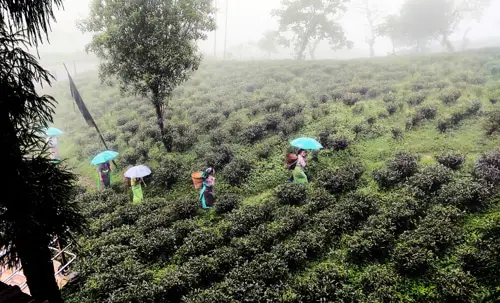 Sittong-III
comprises of villages such as
Latpanchar
which encompasses the higher reaches of
Mahananda Wildlife Sanctuary
, Barasit Tong Khasmahal, Lonku Khasmahal, Mangpu, Rolak Khasmahal, Shelpu Khasmahal, Sittong Forest, etc. If you want to trek forested trails, watch wildlife or like to do birdwatching, then
Latpanchar
should be your place of stay which is located at an average altitude of 4,200ft. 
If you like to see wide-scale Cinchona Plantation and watch its processing in a factory producing Quinine which is used for treatment of malaria, and also like to visit the Rabindra Museum which was a house that poet Rabindranath Tagore visited several times, then stay at
Mangpu
. 
Wherever you decide to stay in Sittong, note that the villages within Sittong are not too far away and you can always hire a car from your homestay and visit other villages and attractions of Sittong. However, you might have gauged by now that Sittong is fairly vast and its offerings are also fairly diverse, so you need to allocate a few days if you want to experience and appreciate the whole of Sittong properly. Otherwise, make separate visits to each of the main places within Sittong to know about it in its entirety. 
In the subsequent sections, whenever I refer to the word Sittong, it means Sittong Khasmahal-I or Sittong-I which is the main part of Sittong. 
What to see & do in Sittong
Sittong is a well spread-out area and comprises of not only many villages, but also of several great attractions. Your lodge or homestay can arrange a car easily if you let them know in advance. If you are staying in Sittong for a few days, then it is better to split your visits across 2 or 3 days. 
One of the main attractions here are the many Orange Orchards... in fact, Sittong is often called the 'Land of oranges'. In Shelphu area, there are a number of orange gardens that are full of orange trees. Each orchard has a separate owner. The best time to see oranges in full bloom is between November to January. You can take a tour of an orchard and a representative from the orchard will show you around, let you taste oranges, and tell you all about orange cultivation. There is a nominal entry fee for each orange garden.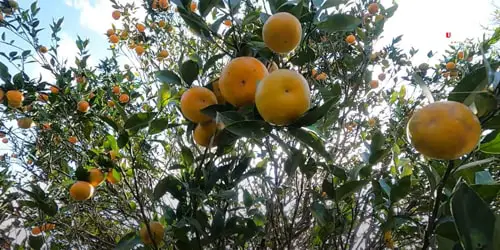 Another great site is the Ahaldara Viewpoint which is located on top of the Shelpu Hills. Cars can go up to a point and then you will need to walk uphill for about 150 meters to reach the top. From here on a clear day, you get awesome 360 degrees view of the hills around. You can see the Kanchejunga Snow Peaks in one direction, and right on the opposite side you can see a strange rock formation which appears like the figure of poet Rabindranath Tagore and has been named as the Tagore Rock.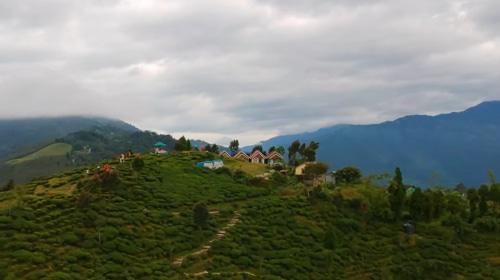 From Ahaldara, you can also see Teesta river flowing below in the plains, as well as several hills such as Darjeeling Hills, Mongpu Hills, Kurseong Hills, and even Takdah and Tinchuley. There are also privately managed lovely tea gardens around Ahaldara Viewpoint. And when you walk up or get down from the viewpoint, you can see Cinchona Plantations on both sides which are used in extracting quinine to treat Malaria. 
1km from Ahaldara base is the famous Namthing Lake which is surrounded by pine trees in a beautiful setting. There is also a wonderful walking trail through pine forests right next to the lake. However, the lake gets full during the monsoon time and during the non-rainy seasons, it becomes completely dry. This is one of the only two places in the world where you can spot Salamanders... a lizard like creature which are almost extinct now.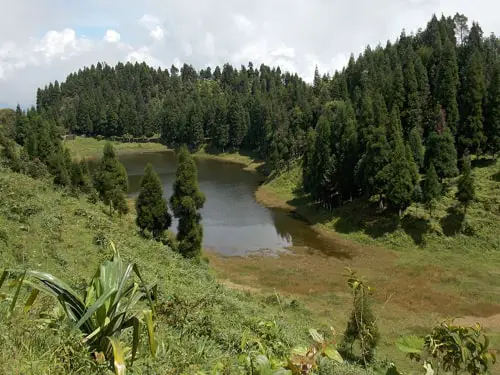 Further ahead in Upper Ghalaytar (near Tham), there is the Sittong Lepcha Monastery which is over 350 years old. This monastery once used to be the palace of the Lepcha Queen. It is made mostly of mud and bamboos. There is only a single lama living here who manages the monastery. He can explain the history, take you to the modest prayer room inside and show you all the articles and artifacts from the early Lepcha era.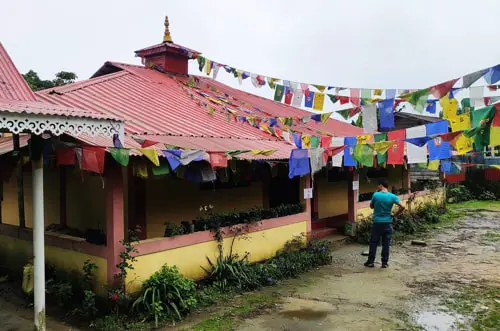 Then there is a sprawling Mahaldiram Tea Garden located at the village Mahaldiram. You see tea plucking during the plucking seasons. Walk through the tea bushes, enjoy the vast greenery and take beautiful pictures. These tea leaves are one of the costliest in the whole of Darjeeling district... in fact, the the tea from Mahaldiram Garden has even auctioned for Rs. 1.20 lakhs a kg. The tea leaves are taken Jungpana tea factory (also located in Kurseong sub-division) for processing... there is no tea factory at Mahaldiram. 
There are several lovely waterfalls in Sittong that come into full flow during the monsoon time. One of the most well known one is at the Jogikhola Rock Climbing Spot with the same name. It flows down the surface of a large bed of rocks from an elevation and you can watch that standing right on the roadside.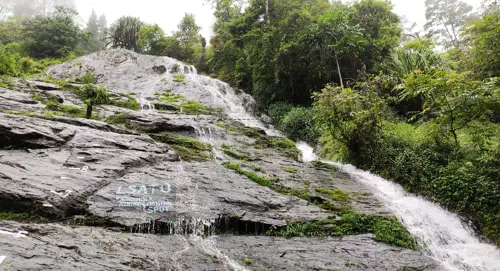 Another one is Lepcha Falls... this will require 10-15 minutes of walk on a forested trail to get close to the falls. Once there, it's a beautiful sight to watch the waterfall creating a large pool at the bottom. 
A road (full of small loose rocks) through the forest leads to the Jogighat Bridge which flows over the picturesque Riyang River. This is a tourist site by itself. This 74-meter steel bridge was formally opened in 2015 by Baba Ramdev. Earlier there was an wooden footbridge a little further away which is now abandoned but can still be seen from the new bridge. You can cross the bridge and go down to the river, sit on a large rock, hear the sounds of the stream and watch the crystal clear water flowing down... a marvelous experience.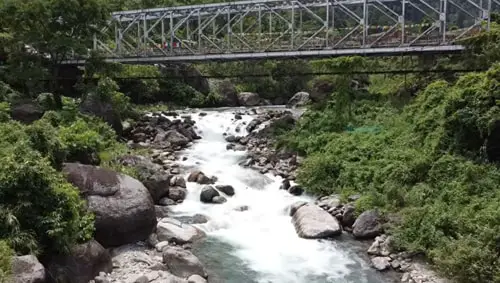 Having crossed Jogighat Bridge, you can move further ahead to Mangpu. In fact, Jogighat Bridge was specifically built to make the connection between Mangpu and rest of Sittong much easier. Mangpu is known for its wide-scale Cinchona Plantations and Cinchona Factories that extract Quinine out of these plants. 
However, Mangpu is also famous for Rabindra Bhavan (now a museum) which used to be the residence of novelist Maitrayee Devi where the Poet Rabindranath Tagore visited several times between 1938 and 1940. You can see several furniture and articles here that were used by the poet as well as several of his verses.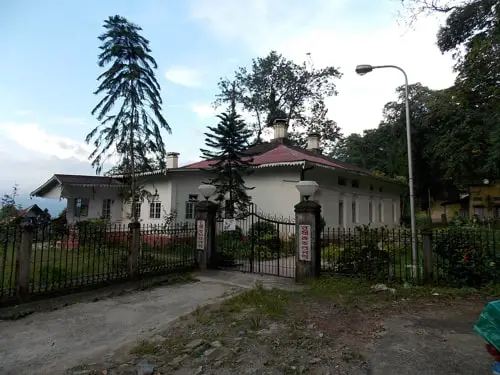 And there are much more to see in Sittong... those were only a few and given in a concise form for a quick read. But, if you have an exploratory mind like me, I am sure you will like to know more about these sites and others in details... and I have done that hard work for you. Go through
All about sightseeing in Sittong
. 
Best time to visit Sittong
You can visit Sittong throughout the year. For most times, the temperature remains pleasant and moderate. For best Kanchejunga views and pleasant weather, the spring (March to April), summer (May to June) and Autumn (October to November) are the best time when the sky remains clear. 
You can also enjoy the monsoon (June end to September end) in Sittong and be among the clouds and rains. This is when there is hardly any tourists around and you can explore nature on your own. But, if you want to see oranges in orange orchards in full blossom, then November to January is the time to visit Sittong. 
Where to stay in Sittong
You won't find any luxury hotels or resorts in Sittong. However, there are numerous homestays here and some of them offer good quality accommodations with nice modern amenities at budget prices. Most of them operate on a rate per person and per day which includes lodging and all meals (morning tea, breakfast, lunch, evening snacks and dinner). Some of them can also organize barbecue and bonfire at extra charges. 
If you want to get great views of Kanchenjunga, then you should ideally stay in Upper Sittong in a place like Bisesh Homestay which is located in Ghalaytar and has plenty of rooms of different types, most of which have direct view of Kanchenjunga peaks from the rooms or the balconies. All rooms have attached western style bathrooms with geysers. They offer great food, excellent service and cultural entertainment in the evenings. They also organize sightseeing tours and transports. 
If you want to stay right next to a tea garden, then there can not be a better choice than Salamander Jungle Camp in Mahaldiram which is a lodge managed by friendly staffs. You can get great views of the Mahaldiram Tea Garden right from your room's balcony. And from the other side of the room you get views of Kanchenjunga as well. There are 6 simple yet nicely appointed rooms with all basic amenities.  
The rooms have attached bathrooms with geysers. Food is excellent and served in the dining room. The location is excellent and you can also walk and explore a few picturesque villages nearby. 
Panch Pokhari Homestay located in Shelpu hills has 5 rooms out of which two have balcony with great views of Kanchenjunga. From the balcony, you can also see a tea garden below. Rooms have basic amenities including room heaters and attached western style toilets with shower and geyser. Meals are served in a separate dining room. Food prepared by a married couple is outstanding. 
If you want to stay right on the Ahaldara Viewpoint to enjoy 360 degree view of the surrounding mountains including Kanchenjunga, watch lovely sunrise, and enjoy tea garden views, then there are couple of cottage style homestays right there on the top of Shelphu hills where the viewpoint is located. 
And, if you are specifically interested in bird watching or visiting the higher reaches of Mahananda Wildlife Sanctuary to see exotic wildlife, then you should stay in Latpanchar. Go through
Latpanchar Homestays
to know about the best stay options in this village. 
How to reach Sittong
Once you reach NJP Railway Station or Bagdogra Airport, there are several ways you can reach Sittong. There are two main arterial roads in Darjeeling Hills... one is the Hill Cart Road (NH-110) which goes uphill from the Siliguri plains through the central area all the way to Kurseong and onward to Darjeeling, and the other is Sevoke Road (NH-10) which lies on the eastern-side of Siliguri plains that continues to Teesta Bazaar and then onward to Gangtok. Sevoke Road is also one of the main routes to get to Kalimpong. 
Sittong is located in a mountainous area which is in-between Hill Cart Road and Sevoke Road, and in Kurseong Subdivision. And therefore, you can reach Sittong from any of these two arterial roads. The map below shows the approach roads to Sittong and the main landmarks and villages. Click/tap on a red circle to know the place. 
Sittong Road Map & Major Landmarks 
From Bagdogra, which is at the western end of Siliguri plains, Sevoke road is quite far away because it is at the eastern part. Therefore, taxis or pickup vehicles from Bagdogra take the Rohini Road that meets the Hill Cart Road (NH-110) near Kurseong Town. On reaching Hill Cart Road, you will cross Kurseong township and drive for 10kms along NH-110 to come to settlement known as Dilaram. 
At Dilaram, take a sharp uphill right turn and you will get onto Bagora road. You will continue on this road passing Bagora village, Pokhriatar, etc to reach the Sittong area such as Mahaldiram in Sittong-II and then Mana, Tham Ghalaytar etc in Sittong-I and further onward to villages such as Latpanchar in Sittong-III. From Bagdogra airport, the total road distance to Sittong is 64 kms and will take about 2 hours 40 minutes by car. 
Dilaram... cars come up and take sharp right here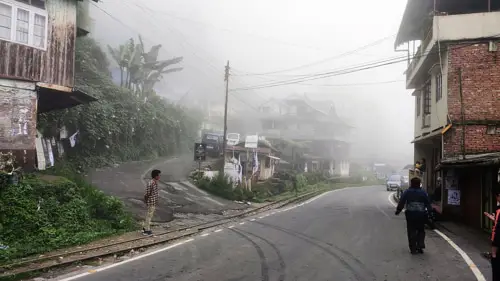 From NJP Station, a good option is to get on to Hill Cart Road (NH-110) through Siliguri and go all the way up to Dilaram via Kurseong and follow the route described above. From NJP, the distance to Sittong is 64kms and will take around 2 hours 40 minutes along Hill Cart Road. 
On the way from Dilaram towards Bagoga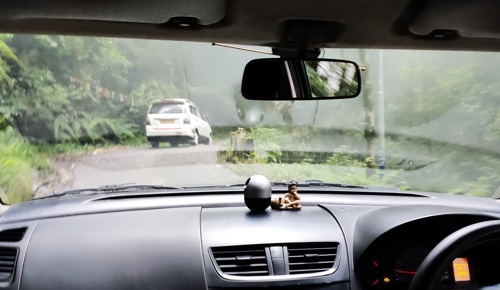 However, from NJP, you can also take Sevoke Road and approach Sittong. Note that due to occasional landslides, several sections of Sevoke road can be in bad condition. 
Between Bagora and Sittong 
From Sevoke Road, one option is to take the uphill road to the left from Kalijhora. This route passes through Latpanchar, then Ahaldara and then reaches out to Sittong-I and II villages. From Kalijhora, the distance to Sittong-I is around 24kms. The total distance from NJP to get to Sittong via Kalijhora and Latpanchar is 55kms and will take around 2 hours 30 minutes. Note that the road from Kalijhora often remains unmaintained and can be in bad condition. However, this is a short route to reach Latpanchar and then to other parts of Sittong. 
The second option is go further down on Sevoke road, and 7kms ahead of Kalijhora you will reach a place called Birik Dara. Here you will see a narrow uphill road to your left. You can identify this uphill road when you see flower stalls at the turning. This road goes all the way up and meets the earlier road from Kalijhora at Ahaldara and then continues as the same road. Distance from Birik Dara up to Sittong is around 21 kms. 
The total distance from NJP to get to Sittong via Birik Dara is 60kms and will take around 2 hours 45 minutes. However, Birik Dara onward the road is usually not in a good condition. 
Pine forests between Bagora and Sittong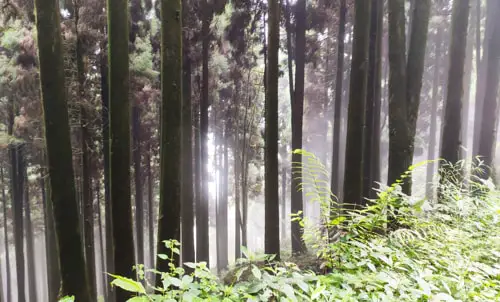 The third option along Sevoke Road is to go further ahead of Birik Dara to Rambi Bazaar. Here again an uphill road to the left goes towards Sittong via Mangpu and Jogighat Bridge. This distance from Rambi Bazaar to Sittong is around 25kms. The total distance from NJP to get to Sittong vial Rambi Bazaar and Mungpoo is 69kms and will take around 3 hours. 
From Darjeeling, the distance to Sittong is 35 kms and takes around 1 hour 45 minutes by car along Hill Cart Road (NH-110) and then from Dilaram by Bagora Road. Alternatively, while coming from Darjeeling, you can take Peshok Road at Jorebungalow and at 3rd Mile turn right. This route finally goes through Mangpu and Jogighat Bridge, passes through forested area and reaches Sittong. The distance by this route is 40kms and takes 2 hours 10 minutes by car. From Kalimpong, the distance to Sittong is 51kms and takes 2 hours 30 minutes by car via Rambi Bazaar (on Sevoke Road). 
Taxi Fares to Sittong
Fare updated: August 2022 (Note that fares in high tourist season can increase by a large margin). 
From NJP Station, you can get reserved taxi to Sittong. A small taxi like a Swift Dezire or a WagonR will cost around Rs. 3,000 to 3,500 depending on demand/season. You won't get any shared taxis from NJP or Siliguri all the way to Sittong. You can take a shared taxi for Darjeeling and get off at Dilaram (Rs. 200 - 250/- per person) and then take a private taxi from there to Sittong (Rs. 800 to 1000 for a small private taxi depending on where in Sittong you want to go). 
From Bagdogra Airport, you won't get any pre-paid taxi for Sittong from the airport counter. You can walk out of the airport premises, go past the car park and find local taxis. It is better to book a pickup car through a Siliguri based travel operator. Alternatively, your homestay/lodge at Sittong can also arrange for a pick up. Fare for a small private car from Bagdogra airport to Sittong will be Rs. 3,000 - 3,500. 
From Darjeeling, the fare to Sittong on a small private car will be Rs. 3,000 - 3,500. 
Note that there are occasional shared taxi service between a few villages of Sittong and Bagora, Dilaram, Kurseong etc. However, such service is scarce (once or twice a day) and mostly availed by the local villagers. They are not quite suitable for tourists. 
Related Articles
Visitors' Reviews/Comments