Homestay Lodging in Latpanchor
Category: Low Budget 
A two storeyed lodge is run by Padam Gurung and two of his friends Prem Chand Rai and Sunil Chettri. All very jovial, friendly and courteous persons, but most importantly very simple in nature. Although the formal name of the home stay has been recently changed from Cinchonest to Hornbill Nest, there is no board anywhere to identify the lodge. So how will you find it? 
Once you reach Latpanchar, just ask for Padam Gurung's lodge, and all locals will point you to the right direction. And once you reach the place, there is only one building that stands out from the rest. 
This is a home stay and no way a luxury accommodation. There are only three triple bedded rooms upstairs, which are basic but reasonably clean and most importantly having attached western style toilets. There is no TV in the rooms neither a geyser in the bathrooms. But they do provide simple immersion rods for heating up water.  
Rooms are however quite large and spacious. My room is the one at the end of common balcony... being a corner room, it has extra windows and nice views. While all rooms are quite clean, there is a problem of damping on the walls. 
Padam Gurung's Lodge, Latpanchar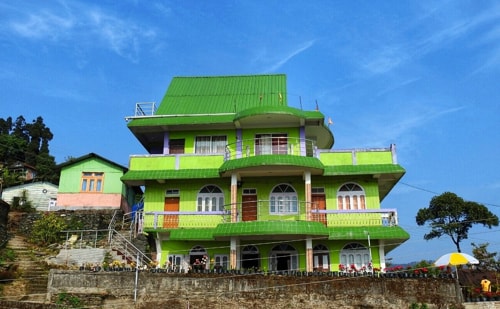 The common veranda in front of the rooms is a great place to view the mountains ahead and the
Mahananda Wildlife Sanctuary
. The view of sunrise from the balcony is something to be cherished. The narrow road in front winds down towards the forest. It becomes a boulder road in a while and then goes for a 5km stretch to enter the sanctuary. Most who stay at the lodge here, would walk for this 5kms to visit the forest and see wildlife. You can also take a jeep up to the forest entrance. 
My favorite corner room with windows 
The kitchen/dining room is located downstairs at the ground floor. This is where you will need to come down and take your meals. Ladies of the family are in charge of the kitchen. They prepare simple food (both veggie and non veg). A typical lunch or dinner meal would include rice, daal, sabji, papad and chicken / fish or eggs. 
View from the common balcony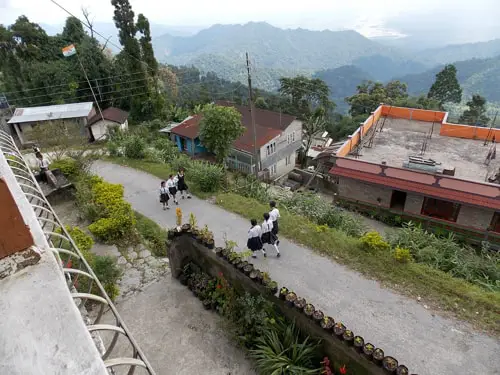 Padam Gurung and his family actually stays at the ground floor. They take personal care and will chat with you as you dine and make you feel at home. They also offer all help and information about the area including birding and animal life. They have guides to take you to the sanctuary if you so need. 
Kitchen/dining room at the ground floor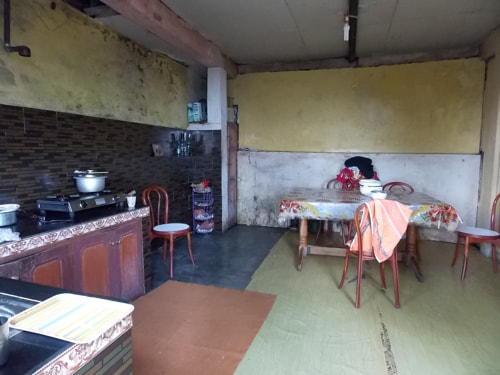 The lodge operates on a per person rate which includes all meals (breakfast, lunch, snacks like pakodas & tea in the evenings and dinner). The rates are reasonable. 
The Cinchona Hospital (just in case you need some medical attention) is located right across the road and a dispensary is located right next to the lodge. 
Other than this lodge, Gurung and his partners also own few other home stays around, which are mostly extensions of their family homes. They can accommodate additionally some 20-25 guests other than 9 to 10 in this lodge. 
Padam Gurung has also developed three cottages at Ahal Dara Viewpoint. Few kilometers towards Bagoda, a boulder road branches off from the main road and goes uphill to the top at Ahal Dara View Point (about 500 meters). While accessibility to the cottages can be an issue as cars can't reach up to the top (you need to walk up and it's quite steep), the serenity and the views are simply awesome. 
Cottages at Ahal Dara View Point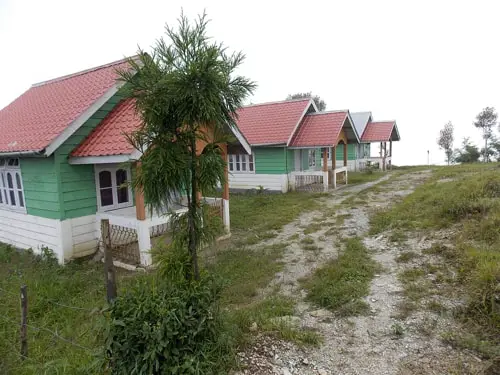 If you are in a group and want to be away from main locality, this can be a great choice. However if you are alone or a couple taking up a lodge, the silence and darkness after sunset can be quite scary. Service is quite limited here. The local villagers arrange for the food. There is no room service. The place suffers from water scarcity... water is provided in drums. 
Rooms are clean with attached toilets but quite basic. Each of the three cottages here has two double beds in the room. No TV is provided in the rooms to spoil the silence and serenity. There is a kitchen & dining room near the cottages for taking your meals. 
Update January 2017: Humro Home, a new initiative by the company NatureBeyond is marketing the lodges although Padam Gurung manages the services through the locals. You can book the Ahaldara lodges through the toll free number 18001233759. 
Contact Information
Cell Phone (Padam Gurung):  +91 - 8926015477, 8906232202, 94759 59974 
Cell Phone (Prem Chand Rai): +91 - 8906232282, 8640040528, 94753 95313 
Note: They are not too efficient with emails and therefore do not expect a quick response. 
From Left: Padam Gurung, Sunil Chettri, Prem Chand Rai 
Related Articles
Visitors' Reviews/Comments
Shreeya Bhowmik (November 2018) 
We stayed in a homestay called  Namaste Latpanchar and here I must say few things about the owner Anmol. He is an MSW student from Biswabharati and started his homestay from last year probably. It is located close to cinchona plantation of Latpanchar and also close to Padam Gurung Homestay. The home stay is clean and provides great hospitality. Owner Mr. Anmol Rai and his family are very helpful and will guide you throughout your stay. 
Tanumoy Das (May 2018) 
I went to Latpanchar during October, 2016. I stayed at Padam Gurung's homestay with my family. It was well maintained and organized by Padam Gurung and his family. Ahaldhara view point is the best scenic place of Latpanchar where you will get breathtaking view of Himalayan ranges (Mt. Kanchanjungha). Latpanchar is a paradise for bird watchers. You will definitely find different species of Himalayan birds while trekking through forest. 
Bijoy Sen Gupta (January 2017) 
It was such a wonderful experience at Latpanchor (Padam Gurung's Lodge). We reached there at about 12pm on 15th January, 2017. I felt really fortunate enough to get the contact number of Mr. Padam Gurung. He was very friendly person I have ever met. With a very friendly discussion with him, I came to know that he is a teacher by profession. He explained me everything about cinchona plants, how to make quinine medicine etc. The view from the Lodge was so enchanting that I cannot explain. I just fell in love with the mountains that was visible from my room. Though, we reached late, Padam Gurung's wife called us for the lunch. At 5 pm, we went to Ahaldara for Camp Firing. On the next day, we went to Mahananda Wild Life Sanctuary. That place was awesome. Thank you very much Mr Padam Gurung for organizing such a wonderful tour for us. The cost is quite affordable.