Chimney Heritage Park, Kurseong
About Chimney Heritage Park
The park is located in a village known as Chimney in Kurseong subdivision and at an altitude of 7,200 ft. The park's main and the most prominent feature is a red colored tall chimney built with brick and mortar which is placed centrally in the garden. And there is a lot of history behind this central chimney. 
The chimney here was once an integral part of a Bungalow that was built by the British around 1839. Although the Bungalow has been completely worn down by nature and no longer exists, the 23-feet tall chimney has survived the test of time. 
Over time the Chimney had fallen into neglect and despair. When I visited in 2014, it was an abandoned area where the lone unmaintained chimney stood amidst a forested land. However, because of its prominence, it had lent its name to the surrounding village which is also known as
Chimney Village
. So, the heritage park hasn't taken its name from the village, instead, it is the village that has taken its name from the Chimney. 
The chimney has been finally restored to its past glory and a lush landscaped garden has been created around it. The heritage park here is now a popular tourist spot. There is a ticket counter at the entry. Turn left from the counter and a paved walkway leads to the heritage park or the garden where the famous chimney is located.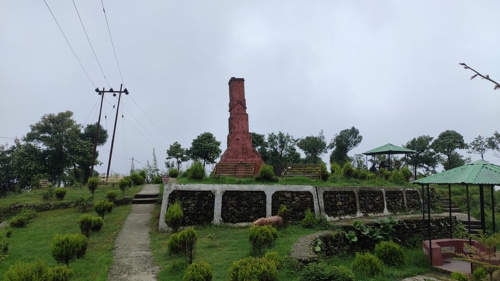 The garden here has wonderful flowering plantations all around. You can see abundance of white and purple orchids, rhododendrons, camellia, magnolia, ivy, begonia, cornel (a kind of ball dahlia), etc. In short, it looks like a small botanical garden with the surrounding of a quaint village. 
There are paved pathways through the garden where you can walk around. And there are Gazebos and benches where you can relax and enjoy the views all around. On a clear day, you get great views of Himlayan range from the park. You also get a nice views of a vast stretch of the surrounding area from the park. You will also find a few sculptures of wild animals in the garden like leopards that are found in the forests around.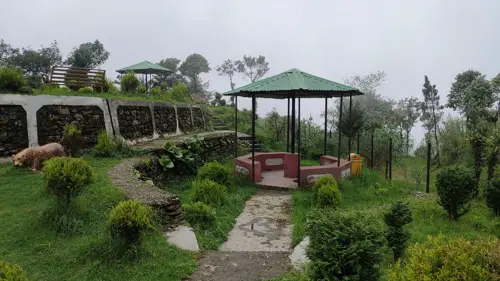 It is strongly believed that the British naturalist J.D. Hooker stayed overnight in the erstwhile British Bungalow here to which the chimney was attached. He in his notes on 'Himalayan Journals' described about the Pacheem Dak Bungalow whose location and features closely matched with this bungalow and the chimney.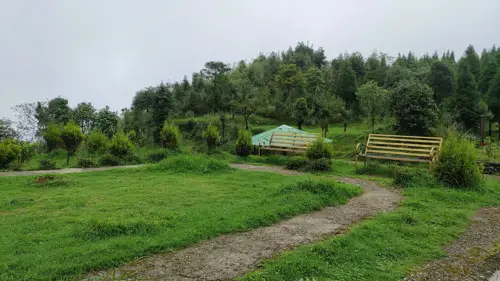 While travelling from Siliguri to Darjeeling in April 1848, and during the part of his journey on pony-back from Pankhabari to Darjeeling via Kurseong along Old Military Road (the usual route to Darjeeling in those days), JD Hooker spent a night at this bungalow... no wonder, this is now called a heritage park.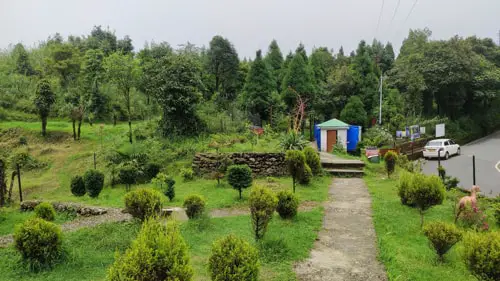 In fact, it is also said that, during the first world war, this Bungalow was used by the British soldiers in order to take rest and avoid the exposure to cold nights before moving on further towards Darjeeling. And the chimney served like a fireplace. 
Viewpoint at Chimney Heritage Park
But, there is more to this place than just the heritage garden. From behind the ticket counter, if you walk towards right for a few minutes, there is a stony paved pathway that goes through the forests with various plantations and leads to a Viewpoint... a shaded structure open on all sides.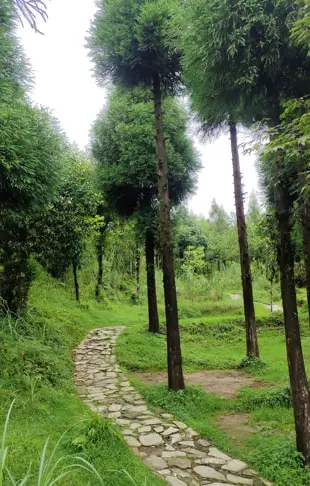 On the way to the viewpoint 
On a clear day, you can see the Kurseong Township, Siliguri Plains and get wonderful view of Kanchenjunga Snow Peaks from this viewpoint. There are sitting arrangements here... you can relax, spend some quiet time and soak in the views. But avoid walking to this viewpoint during the monsoon, there can be leeches. 
How to reach
Chimney Heritage Park is located about 8kms from Kurseong Town/ Railway Station and on a hill top. Tourists usually visit the park as part of a day sightseeing tour that covers several other spots along the way such as Dowhill School (for girls) in Dowhill, followed by Dowhill Forest Museum, Dowhill Eco Park, and then passing by Nirvana Retreat & Tea Lounge and then heading towards the heritage park. 
Open Hours and Admission Fee
Chimney Heritage Park is maintained by Chimney (M-5) Joint Forest Management Committee. It is open from 10am to 4pm daily (closed on Thursdays). Few steps from the road and there is a small ticket counter... entry fee is Rs. 10/- per person (child below 5 is free). 
Where to Eat and Stay
Right across the road and at a little lower elevation, there is a stall which offers snacks such as veg and chicken momos, veg and egg chowmein as well as fried rice, Darjeeling tea, lemon tea, coffee, etc. They also sell cold drinks, packaged snacks, bottled water, etc. There is open air seating on the patio next to it.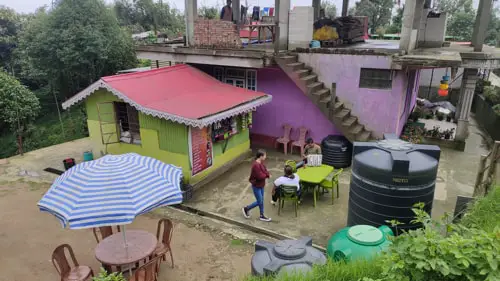 A few homestays that have come up on the roadside for tourists to stay overnight. A popular accommodation is 'Himalayan Homestay' at lower Chimney which is owned by Surat Chetri. Other than the main building by the roadside which has a few rooms, there are also two cottage rooms below at the backside. These are simple rooms with beds, blankets and attached western style toilets. Contact: 99339 82525, 99335 83130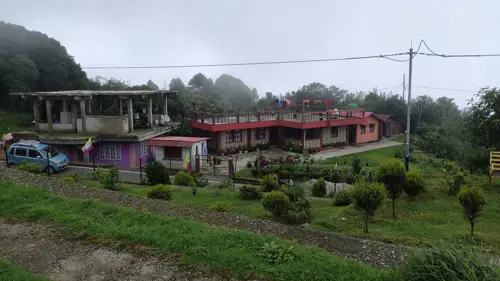 Related Articles
Visitors' Reviews/Comments