Kurseong Tourist Places & Local Tours
Many of you may not be familiar with Kurseong and think this might be another small roadside village on the way to Darjeeling. Well many years back it was actually a small hamlet, but over the years its has grown into a bustling township. Today it's a subdivision of Darjeeling district. Spread of Kurseong is far larger than what it may apparently appear to the general tourists. 
And the spread is beyond the township to lovely tea gardens along the mountain slopes, forests with many different flora & fauna, quaint villages and so on. And there are many viewpoints, beautiful tea gardens, temples & churches, museums, as well as famous historic schools that were setup during the British colonial days. 
You can easily spend two to three days in Kurseong and remain immersed with its attractions.  
How to take a local tour
There are plenty of local taxis available at the stand near the station as well as at the market area and all of them will be willing to take you around for local sightseeing tours. There are half day (4 hours) and full day (8 hours) local sightseeing tours depending on what you want to cover. Your hotel can also arrange for a vehicle, but that would certainly be costlier. 
If you want to visit some of the nearby places that are within 3-4kms radius from the taxi stand, a half day sightseeing fare on a private small taxi would cost around Rs. 1,800, while a full day sightseeing in Kurseong will cost around Rs. 2,700 (Fare updated: May 2021). Talk to a couple of local drivers before you finalize one ... the rates vary and some can and do ask for too much. 
Below are the best and the most popular tourist attractions in Kurseong: 
Hanuman Tok
This is a combination of a small temple dedicated to Lord Hanuman along with a huge 40-feet statue of Lord Hanuman and a magnificent viewpoint offering a panoramic view of Kurseong... and this is set amidst sprawling tea gardens and perched at a high altitude of Kurseong hills. This is arguably one of the top attractions in Kurseong and it not only attracts the worshippers, but numerous tourists and photographers as well.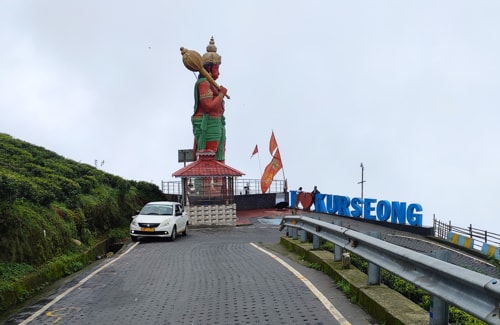 As you come down Hill Cart Road from Kurseong Railway Station, in about 1.5 kms you will get on to a road branching out to the left, and soon thereafter the road becomes extremely steep and winding. There are several hairpin bends and zigzags along the way and one literally has to drive on first gear to negotiate the steep gradient and the turns. The scenic road winds its way through beautiful tea gardens. Hanuman Tok is located about 3.5kms from Kurseong railway station. You can also approach the place from Giddapahar area. 
Kurseong Town View far below and tea gardens all aound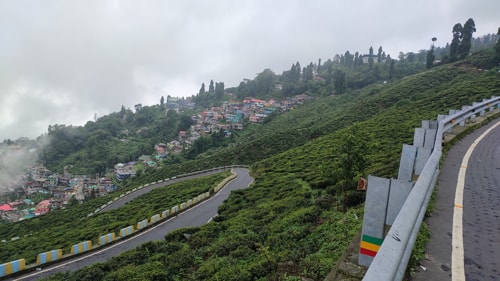 Once you reach there on a clear day, the scenic views are just heavenly from here. The small Hanuman Temple here was built in 2019. During the day time, tourists and devotees keep coming to the temple to offer their prayers. There is usually a priest who is stationed there during the day time to help with the prayers.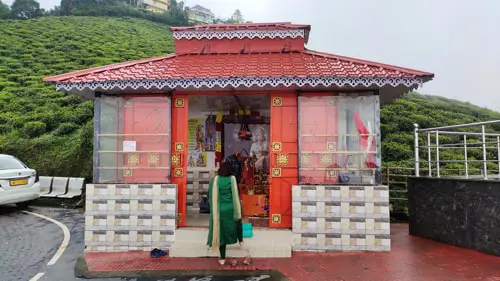 The gigantic statue of Hanuman was built later standing next to the temple and it was officially opened to the public in 2021 by GTA (Gorkha Territorial Administration) on the auspicious day of Hanuman Jayanti. The statue stands on a granite platform which is itself 3-feet tall and has a steel railing around it. The statue faces the Kurseong town below to its west as if guarding the town and bestowing his blessings to its people.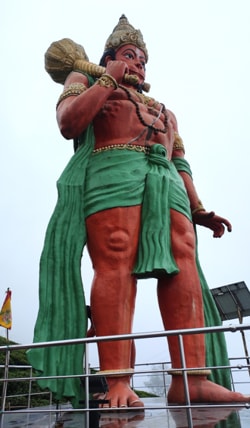 Next to the temple and the statue are the erected big letters "I LOVE KURSEONG" which has become an extremely popular selfie point for tourists. Look around, below you will see the entire township of Kurseong that lay on the slope of the mountains while the clouds pass by. This is the place from where you get the best view of Kurseong town. On a clear day, you get magnificent views of Kanchenjunga and that of the sunset. 
And you are actually soaking in the view while standing amidst vast and sprawling tea garden called Gauri Shankar Tea Garden in Naya Basty area which is part of the famous Castleton Group. There are not many places in the hills today where you can be right in the middle of a picturesque tea garden, but Hanuman Tok gives you that great opportunity. The view of the tea gardens all around is simply awesome. If you come during the tea plucking season, you can also sea local women plucking tea at the gardens around you.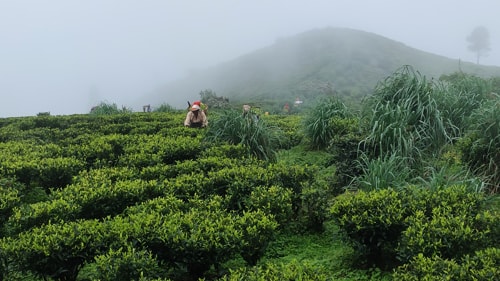 The road comes up through the tea gardens and at Hanuman Tok takes a sharp turn and continues further up. If you continue along this road, you will reach Dowhill which I have described in the sections below.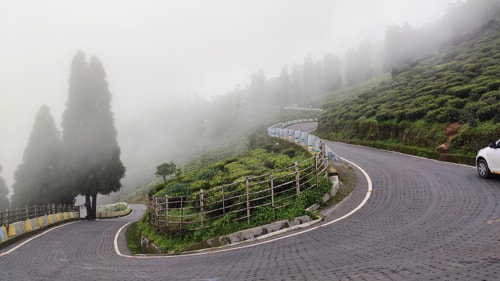 Eagle's Crag
This is a lovely view point with a wonderful flowering garden on top of a hill. You can actually take the narrow lane next to Kurseong station and walk up to Eagle's Crag. It will take about 25 minutes of walk. The view point and the parkland is located at the end of the road which is the highest point on this mountain. A concrete stairway leads up to the garden above. 
Stairway at the entry of Eagle's Crag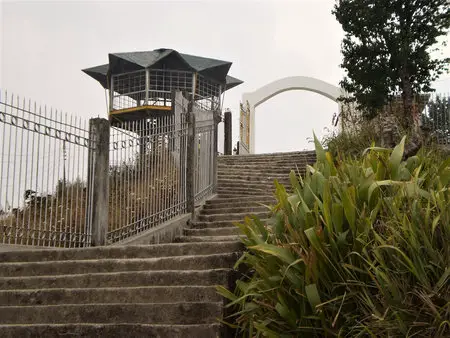 The garden is full of hedges and flowering plantations. There is also a watch tower on one side of the garden. The views of the mountains on the opposite side and also that of the lower plains from here is awesome. You need a clear day though to get great views. 
There is a concrete altar here and a Khukri (traditional Nepali knife) placed on it. It serves as a monument which was constructed by the erstwhile DGHC (Darjeeling Gorkha Hill Council) in memory of the Gorkhas who lost their lives in 1988 agitation in the hills. 
Eagle's Crag Kurseong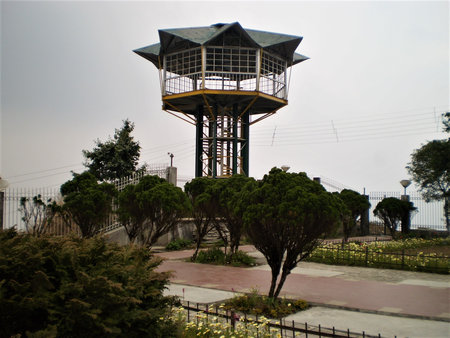 A large water reservoir here supplies water to Kurseong town. Eagle's Crag has always been a favorite place for the local young couples. Being on top of a hill and a bit isolated, this place offers a nice romantic ambience. Eagle's Crag is open on all days from morning till sunset. There is no admission fee. 
Margaret's Deck
This is a wonderful Tea Lounge located 8.5kms ahead of Kurseong market (20-minute driving distance away) on Hill Cart Road (NH-110) that leads to Darjeeling. So this is not only a place to visit for those staying at Kurseong, the Tea Lounge can be a great pit stop for those heading towards Darjeeling. 
Margaret's Deck, Kurseong (on Hill Cart Road) 
(Photo: Rangan Datta Wiki, cc by-sa 4.0) 
The entry is right on the Hill Cart Road. The tea lounge is owned and operated by Goodricke and is part of the Goodricke Tea Pot chain of tea lounges. The tea lounge overlooks the beautiful Margaret's Hope tea garden which also belongs to Goodricke. 
While there is inside seating, you should try to get a table on the roof-covered alfresco deck at the end... this is where everybody wants to be seated and it's not easy to get a table here particularly during the high season. From here you get sweeping views of the Margaret's Hope tea garden on the slopes of the mountains, the beautiful valley and the misty nature all around. Sipping a cup of tea while experiencing the views from the deck is a heavenly experience. 
The view deck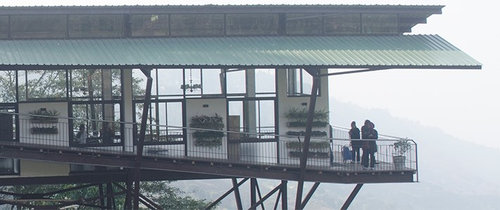 (Photo: Rangan Datta Wiki, cc by-sa 4.0) 
Having said that, the inside seating is quite nice as well. The interior is air-conditioned and wood finished. There is an elaborate tea menu which you can enjoy, and all the tea leaves used here belong to the various gardens of Goodricke including the Margaret's Hope where it's located as well as Castleton which too is located in Kurseong. You can savor first, second and other flushes of Darjeeling tea.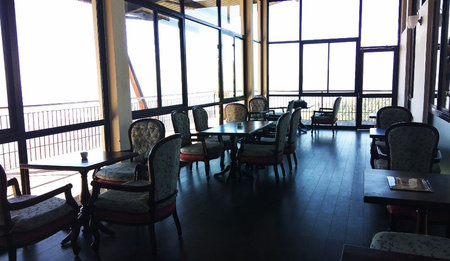 (Photo: Margaret's Deck Management) 
The prices may seem to be slightly on the higher side... a small (single) pot of Badamtam Estate's first flush Darjeeling tea is Rs. 300, Castleton Olong tea is Rs. 280, while Castleton Muscatel is Rs. 525. There are also large (double) pots. You can also buy packets of tea from the counter.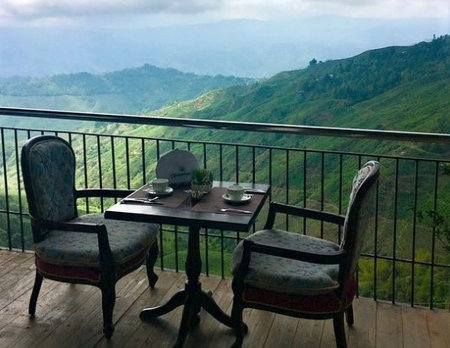 (Photo: Margaret's Deck Management) 
There are also nice snack items to complement the tea, such as English scones, chicken sausage rolls, chicken & mushroom quiche, wallnut cakes, smoked chicken sausages etc. Compared to the prices, the portions may appear to be little small, the but the food quality and service is excellent. 
For complete information including menu and experience, go through
Margaret's Deck
. 
Dow Hill
Kurseong is spread across several hills of mountains. Dow Hill is one of them. A large section of the hill is covered with dense forest and the locals will vouch on the fact that there are leopards in the forest. While no lives have been lost, the leopards seem to be targeting the sheeps and goats. The hill is also famous for its many attractions including forest museum, excellent views, historic schools, parklands etc. Some of the attractions of Dow hill are described below. 
Dow Hill Park
Earlier this was known as Deer Park since you could see lot many deers here. However with deforestation, such sights are now rare and hence the change in name. 
In the adjacent forest there is a large fenced area where you can still see some deers. But venturing into the forest is not allowed, you can only look for the deers from outside the fence and often they can be seen moving around, but not in the park. 
Dow Hill Park, Kurseong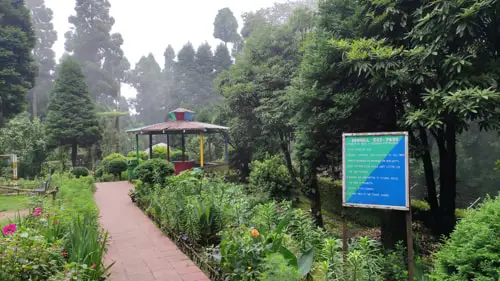 Dow Hill park is located on top of Dow Hill. The fenced park itself is quite small. There are hedge and other different kinds of plantations. There is a gazebo in the park where you can sit and relax. There is also a small children playground with swings and slides. The park is open from 10am to 4pm. Closed on Thursdays. A nominal entry fee needs to be paid to enter the park. 
Dow Hill Forest Museum
It's a large two-storeyed museum in Dow Hill that stores many exhibits of flora and fauna of the region. It has been recently renovated and restored. 
Next to it is the Forest Training School. The museum is open daily. 
Forest Museum, Dow Hill, Kurseong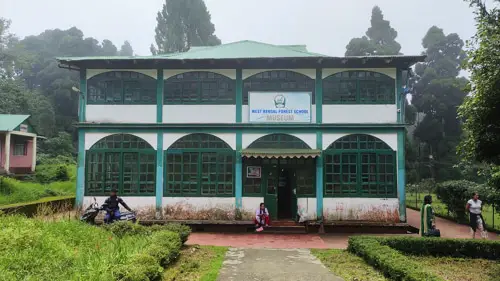 Dow Hill Forest Rest House
Close to the Forest Museum in Dow Hill is the Forest Rest House. You can book this rest house through the forest department in Kurseong and stay amidst the nature and surrounded by dense Dhupi forest ... all you can hear is the chirping of the birds. 
Dowhill Forest Rest House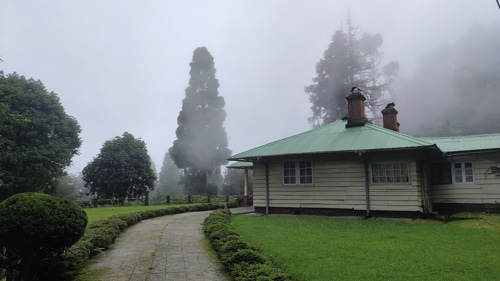 There is a lovely garden at the rest house with flowering plantations, pine trees etc. 
Dow Hill Girls School
This is a heritage boarding school on Dow Hill with a lovely colonial architecture. It came up during the British era when Governor Sir Ashley Eden had set up this school in 1879 for children of government officers. Initially it was a small school for boys only. Later the boys section was shifted to Victoria School and it became a girls school. Apart from its attractive architecture, the school is also located in a scenic setting with wonderful view of the Himalayan range and surrounded by lush vegetation. The school runs under the state government and offers a good standard of education. 
Dow Hill Girls School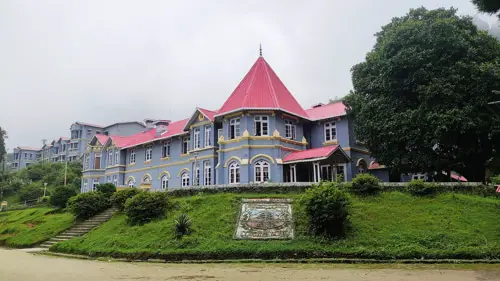 Victoria Boys School at Dow Hill
This is the boys school in Dow Hill which was also set up during the British colonial time. Very well known for its high standard of education and run under the state government, the school has both boarding and day students. Currently there are about 350 students in the school out of which about 200 are boarders. 
Victoria Boys School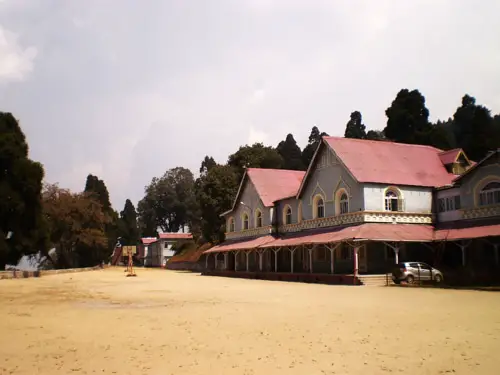 One of the great features of the school is its large play fields for the students. The play field at the lower level is the largest in Kurseong. 
Students during break at Victoria School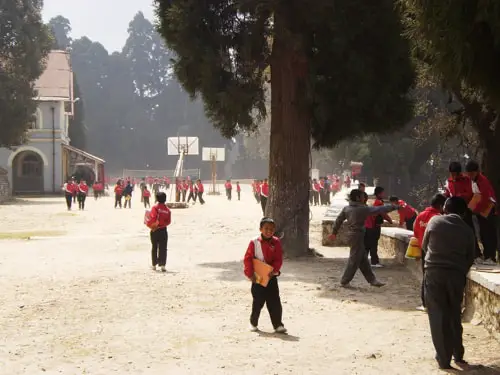 There is a chapel in Victoria School premises just nest to the entrance. It has been lying closed for many years, a clear indication of the fact that there are hardly any Christian students or staff left in the school who require services of the church.  
Dow Hill Water Reservoir
There is a large reservoir in downhill where rain water is stored. It acts as a water source to many areas of Kurseong sub-division. The setting is picturesque as you can see in the picture. The reservoir is surrounded by lush pine and coniferous trees. There is also a picnic area here at an elevated level. The view of the water from here is great. 
Water Reservoir - View from picnic point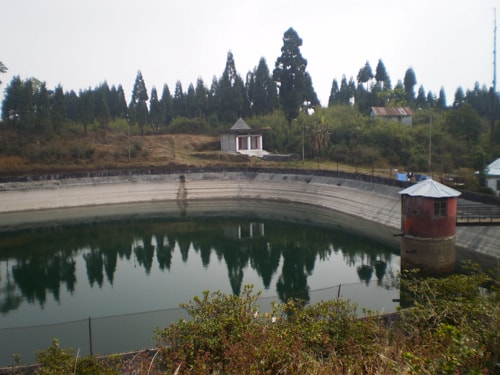 Note that the entrance to the reservoir is through an unassuming iron gate. It's difficult to make out that you are actually approaching such a large water body. 
Giddapahar View Point
Another hill in Kurseong is Giddapahar. This viewpoint is located few kilometers from the town (takes about 15 minutes by car) along Hill Cart Road towards Siliguri. The view point is accessible by stairway that goes up from the roadside. You will need to enter through a gate and then climb the stairs. 
Giddapahar View Point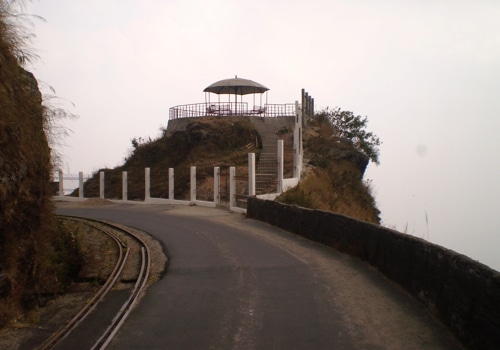 The view of the mountains, the snow peaks (including Kanchenjunga) and the valley is simply awesome. However it should be a clear day to get good views. 
Valley View from Giddapahar View Point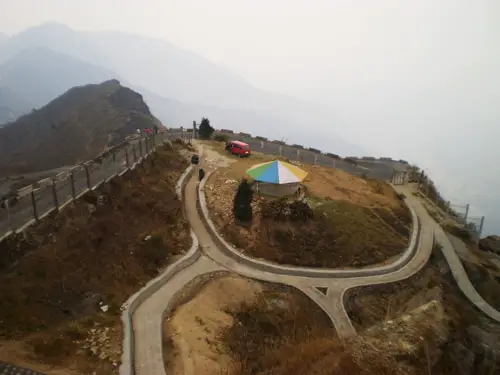 If you look towards the Hill Cart Road below, you can see the road winding down side by side with the toy train track. Giddapahar view point is open daily during the day time and there is no entry fee. You can park the car by the road side. 
Hill Cart Road and the Toy Train Track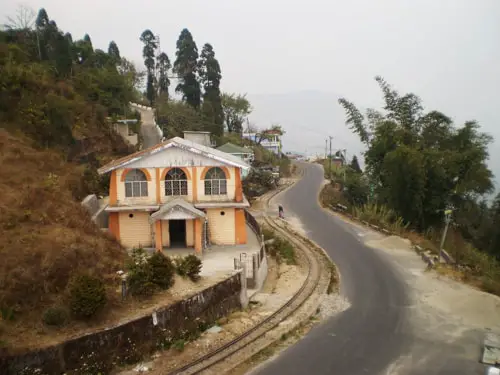 Giddapahar Seti Mata Temple
This is a Hindu temple of goddess Durga. The idol is an ancient carved stone. The temple can be accessed by a stairway from the Hill Cart Road and is located at a higher level from the road. It's considered very sacred and quite popular with the locals. 
Seti Mata Temple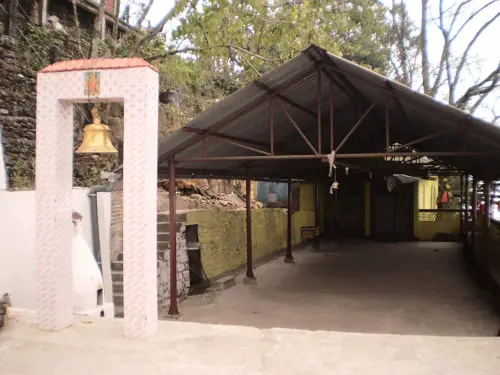 Netaji Subhash Chandra Bose Museum
This museum is located in Giddapahar area. It was originally a private house purchased in 1922 by Sarat Chandra Bose, the writer and veteran freedom fighter. Later between 1933 to 1935 Sarat Chandra and subsequently Netaji Subhash Chandra Bose were kept here by the British under house captivity. 
Netaji Subhash Chandra Bose Museum, Kurseong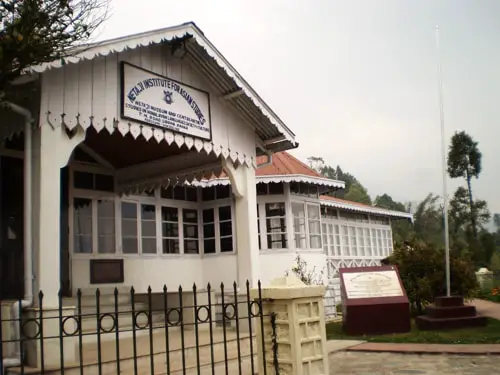 With lush greenery and gardens all around, the atmosphere is tranquil and serene. It has been now converted into a museum. You can see many original furniture used by Netaji including bed, chairs, tables etc. This is where Subhash Chandra Bose wrote his speech which he delivered as the president of Haripura Congress in 1938. The museum also stores many articles, letters and artifacts that reflect the story of the leader. 
Inside the museum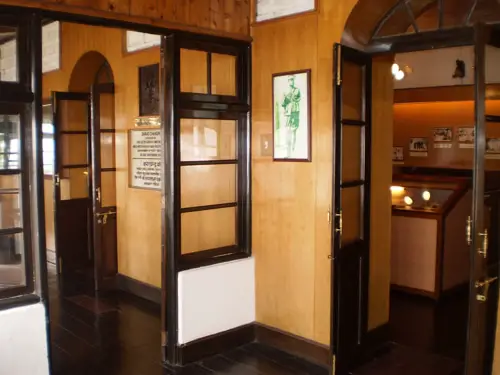 The museum is also known as Netaji Institute for Asian Studies where research and studies are conducted on Himalayan languages, society and culture. The museum is open daily. There is no admission fee. You will be required to take off your shoes before entering the museum. No photography is allowed inside. 
Ambootia Tea Estate
This is a sprawling tea estate with lovely gardens on the mountain slopes that produce black, green, white Darjeeling teas. It's located about 10kms below the Kurseong town and takes about 35 minutes to reach by car. This is usually not a part of standard sightseeing tour. You will need to pay extra to the driver to get there, but it's worth the money. 
Ambootia Tea Garden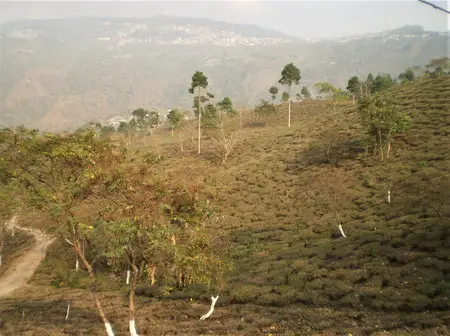 The estate spans across an area of 350 hectares and employs over 900 workers. It has been operating since the British time of 1850s. You can get wonderful view of Kurseong township from the tea garden. 
Ambootia Tea Garden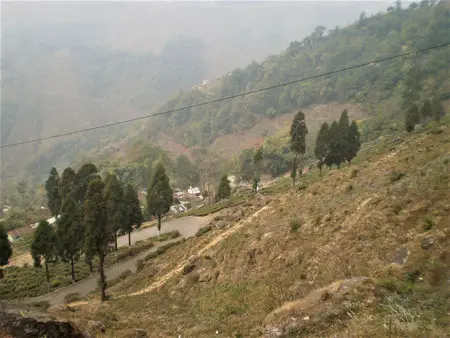 Ambootia Shiv Temple
Further down from the tea estate and along steep dirt road through the forested area you will reach the famous and one of the most revered temples. It takes another 20 minutes or so. It feels like a long bumpy ride on a treacherous road. This is a Hindu temple of Lord Shiva. 
Ambootia Temple 
The idol (i.e. the Shiv Linga) is an old dead trunk of a tree. While the temple has many devotees who are mostly garden workers families, the driver mentioned that this temple is a wish fulfilling temple and one who offers prayers, gets blessings of Lord Shiva that helps solve one's problems in life. 
Another strange phenomenon... the priest of the temple mentioned to me that although the idol is a dead trunk, it keeps growing with time. And he himself has seen it becoming taller since his childhood. Locals firmly believe that too. So that makes the temple very special where the god (i.e. Lord Shiva) is sitting live. 
Ambootia Temple - Priest and the Idol of Lord Shiva 
Makaibari Tea Estate
This is one of the most famous tea estates in Darjeeling district. It's located 3kms from Kurseong town and on Makaibari road. This is one of the oldest tea estates in the district producing some of the finest tea varieties and also one of the first to set up a tea processing factory. The former owner Rajah Banerji was also the first in the area to introduce organic farming. 
With his support, the tea garden workers and their families have extended their homes and now offer homestays for tourists. This is an excellent opportunity to experience tea garden life and the local village culture of Kurseong. You can visit the factory and also the tea gardens below. For complete information, visit
Makaibari Tea Estate
Castleton Tea Estate
This tea estate is owned by the Goodricke Group and is one of the most well known ones that produce fine black, green and white Darjeeling tea from authentic Chinese bushes. The estate was set up by Dr. Charles Graham in 1885. It spans over an area of about 170 hectares. The factory gate is near Kurseong town and on Pankhabari Road. You can visit the factory and observe tea processing. 
Castleton Tea Factory, Kurseong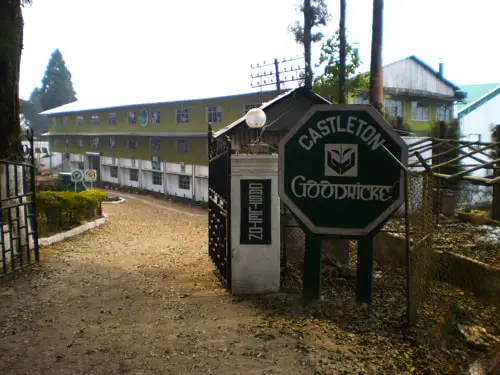 St. Mary's Hill
About 3kms from Kurseong town towards Darjeeling, this is a beautiful hill area with a church perched on top (St. John's Church). There are statues of Jesus and Mary here nearby. With lush green vegetation and lovely views, the ambience is wonderful. Walk further up to the Forest College. There is also a prayer spot here. 
Darjeeling Himalayan Railway Museum
This is one of the three DHR museums of Darjeeling district which is located in Kurseong station premises. You will need to first visit the station office and buy the entry ticket. A staff will then come with the keys and open the museum room next to the platform. It's all yours then. What do you see in the DHR museum in Kurseong? 
The museum houses many treasures, historical artifacts and exhibits of the Darjeeling Himalayan Railway, how the toy train was created to overcome the steep mountain gradients, pictures of the loops & engines, and parts of the original rails as well as machinery and accessories used to set up the tracks. For more information about the museum, visit
Darjeeling Himalayan Railway Museum
Toy Train ride between Kurseong and Darjeeling
From Kurseong station, you can make a day trip to Darjeeling. One of the best ways to do so is by taking a toy train from Kurseong station. There are two trains every day between Kurseong and Darjeeling. One leaves Kurseong in the morning and the other in the afternoon. Both take about 3 hours to reach Darjeeling and then return. 
You can also take the train one way (up or down) and use a private or shared taxi the other way for saving time. It only takes little over one hour by taxi between Kurseong and Darjeeling. For Toy Train schedule, train numbers etc, check
Toy Train Service
and refer to the section under Route #3.  
Trekking in Kurseong area
There are some lovely trekking trails in Kurseong areas through forests and lush vegetation on the slope of the mountains. You can explore the nature, its flora and fauna and also several almost unnamed villages and their people & culture. For more information visit
Trekking in Kurseong area
Related Articles
Visitors' Reviews/Comments
Rupshali (June 2022) 
Hi. We are planning to visit Darjeeling during October. Since we have less days we decided to visit Kurseong for a few hours on our way back to NJP. Is it possible? What are the points that are recommended to visit in case of Kurseong in such a small time? 
Raj (darjeeling-tourism.com) June 2022 
In a few hours, you can visit the following sites in Kurseong...Eagles Crag (a nice manicured hilltop garden with a watchtower for views), Netaji Subhash Chandra Bose Museum on Giddapahar, and Hanuman Tok... a hilltop large statue of Lord Hanuman with a small temple nestled in sprawling Castleton Tea Garden fringed with pines... on a clear day, you get a wonderful view of entire Kurseong town and the mountains around. 
Neha (September 2021) 
Hi, we are planning to spend couple of hours in Kurseong on our way to Darjeeling from NJP. Any suggestions? 
Raj (darjeeling-tourism.com) September 2021 
Hi, you can visit Eagle's Crag (a viewpoint and a garden on a hilltop), and on your way to Darjeeling (around 8kms from Kurseong market area) you can visit Margaret's Deck... a nice Tea Lounge (it has an open deck overlooking the tea gardens and has great views)... you can spend some time at the tea lounge having some fine tea and snacks, and enjoy the views. 
Amartya Mukherjee (September 2021) 
Hi Raj, Can you tell me whether I can get shared cab from Kurseong to Darjeeling? What is the cost of shared cab per person from Kurseong to Darjeeling one way and from where to get it ? Can you also tell me the cost of sightseeing in Kurseong? 
Raj (darjeeling-tourism.com) September 2021 
Yes, you can get a shared cab for Darjeeling at the taxi stand near Kurseong station. Shared taxis also come up from Siliguri near the Kurseong station area and pick up passengers for Darjeeling if there are seats available. The shared taxi fare from Kurseong to Darjeeling would be around Rs. 130-150 per person. 
The cost of sightseeing in Kurseong will depend on what you want to see and the duration. You need to approach a taxi driver at the stand and work out a half-day/full-day (4hours/ 8hours) tour plan and the cost. If you leave it to the taxi driver to take you around... he will likely choose some sites within a 2-3kms radius and charge you Rs. 1,500/2,500 for a half/full-day tour in a small taxi. 
Namrata (September 2021) 
Hi, We are in Darjeeling from 22 to 25 sept.. is Tiger hill worth going for a sunrise view in this season? Also is it possible to do from Kurseong, as we have booked hotels in Kurseong. 
Raj (darjeeling-tourism.com) September 2021 
Hi, you have to be lucky to see the sunrise on a clear sky from Tiger Hill around that time. From Kurseong, it's not quite practical because it will take around 1 hour 20 minutes to reach Tiger Hill and you need to start around 3 am. 
Amartya Mukherjee (September 2021) 
Are there local taxis available to go to Margarets deck from Kurseong and then come back to Kurseong again? What might be the approximate cost for such a journey? 
Raj (darjeeling-tourism.com) September 2021 
Yes, you can get a taxi from the stand near the Kurseong station area to get to Margaret's Deck and return. The fare will depend on how long you want to be there... for a 30-45 minutes halt, they can charge Rs. 600-700 although it's only 15 minutes away. Better to take a shared taxi from the stand (will charge Rs. 30-40 per person one-way). 
On your return, you can get a shared cab coming down from Darjeeling/Ghum... but you should return by 3 pm, or else you may not get a shared taxi. 
Asish Sengupta (August 2018) 
Hello, We are going to Kurseong on 18th aug. On 19th we will be going to Sandakphu Phalut. 
1.can we come back to Darjeeling on the same day? 
2.Keeping in mind that this is monsoon season,apart from cloudy view,are there any risks to visit Sandakphu Phalut? 
Raj (darjeeling-tourism.com) August 2018 
Day trip to Sandakphu & Phalut from Kurseong is not practical. Plus the last stretch of the journey from Bikheybhanjan up to Sandakphu can be quite risky during monsoon... vehicles can and do easily skid. 
Sumana Nag (March 2018) 
Hello Sir, I'm planning to go to Mirik from Kurseong on a day's visit. I will book a private cab. Do you think it'll be possible to go to Mirik and come back in a day? If yes, can you give me an idea of the cab fare and the distance and time please? 
Raj (darjeeling-tourism.com) March 2018 
Hi, yes it's quite possible. You need to come down to the plains by Rohini Road (now Subash Ghising Marg), go via Simulbari tea gardens and go up the Mirik road. Will take about 2 hours (50kms) one way. Return fare should be around Rs. 2,500 with some time to spend at the lake.