Nathmulls Tea & Sunset Lounge Darjeeling
If you are planning to buy or taste tea in Darjeeling, Nathmulls would be one of the best choices. Run by the Sarda family since 1931, they are the oldest and the largest tea merchants here specializing in Darjeeling Tea. 
They source over 50 varieties of tea both from tea auction as well as directly from many tea estates in Darjeeling. In fact Nathmulls claims that they source from more than 30% tea gardens of Darjeeling. Their original store and the outlet is located at Laden-La road opposite to the State Bank of India building. This is where they stock maximum varieties of tea from gardens across Darjeeling including blended tea. This store is usually manned by Girish Sarda, one of the family owners.  
However, the one that I am going to cover here is located at the Chowrasta Mall. This store opened in 2009 and is special, because there is the Sunset Lounge as well which is a Tea Bar or a Tea Lounge combined with the outlet where you can drink Darjeeling tea. The tea lounge was so named because of the lovely sunset view it offered over the valley from its original outlet at the mall. 
From the road the entry is into the lounge. Towards the end of the lounge, a door on the right takes you inside the tea store. As you enter the store there are long counter with showcases on both sides. Wall glass cabinets are stacked with Darjeeling tea packs of different varieties and tea accessories. 
Nathmulls Tea Store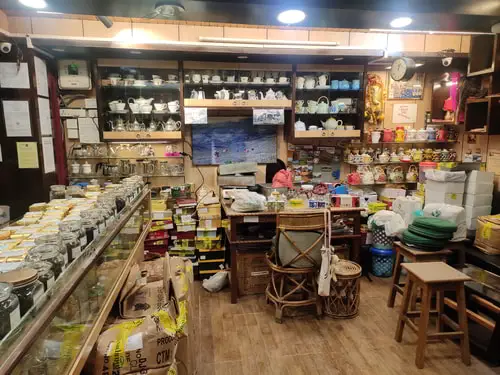 On top of the counter, there are large varieties of loose tea kept in glass containers so that you can smell the flavor and order as per choice. A pack of pure Darjeeling tea can serve as a great souvenir to your friends and relatives back home. 
Nathmulls also sells tea accessories that are on display in large number of glass cabinets in both the lounge and store. There are varieties of tea pots and cups both in metallic and ceramics, as well as strainers and Tea Cozies. Some are real exquisite, designed with intricate work and can be part of a great collection. 
The Sunset Lounge which used to be quite small in the earlier location, is now quite spacious. Next to it is the open kitchen where you can see the ladies preparing tea that you order. The lounge has a relaxed casual ambience. There are also light vegetarian snacks that are kept in the show case including cakes and muffins. There are few glass top round tables with cane chairs having green cushions. 
So what kind of tea of do you get at the Nathmulls? As you look at the menu card, there are various choices. A cup of Regular Black Tea is Rs. 25, a small pot for two cups is Rs. 45. Under the black tea there are other grades like Standard, Medium, Premium and Exotic Tea with increasing rates. 
Other choices include Nathmulls Limited Edition Tea, Ice Tea, Darjeeling Green Tea of different grades, Darjeeling White Tea, Herbal Tea (with flavors like mint, basil & spicy), Hot Lemon Tea, and the rare variety of Nathmulls Yellow Tea. 
Nathmulls Sunset Lounge 
Sailesh Sarda, an enterprising young man and part of the family owning the business, runs this Nathmulls Outlet and Sunset Lounge. During a chat with him, he mentioned that they keep Darjeeling tea here that ranges from Rs. 350/- per kg for Regular Black to Rs. 30,000/- per kg for green and white teas.  
Stunned for a while, I asked him who would take tea for Rs. 30,000 a kg? Sailesh replied "The proper tea-totaler, who knows it. Actually such high value tea like the white tea have a lot of snob value". He also clarified that the white is the highest grade tea having more anti oxidant than the green tea. They also serve traditional and full English tea at the Sunset Lounge complete with muffins, cookies etc. 
So coming to the experience of having a cup of Darjeeling tea at the Nuthmulls Sunset Lounge, the tea is served on a transparent glass cup that looks fabulous. The golden colored tea should be had without milk and preferably without sugar to get the real flavor. It's an out of the blue experience. They often put on a light music that adds to the ambience.  
My cup of Darjeeling Tea at Nathmulls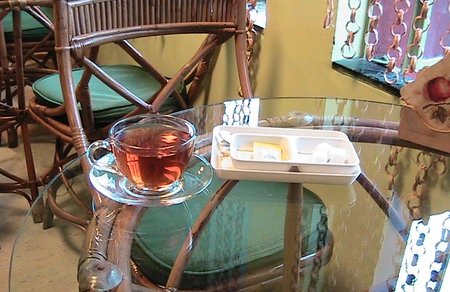 And what more, if you carry a lap top, there is free wi-fi internet connectivity. In fact the whole of Chowrasta area has been wi-fi enabled. And nobody will push for the bills as you sip a cup of tea and surf the net at your own pace. 
Location & Contacts
Nathmulls Sunset Lounge is located at the Chowrasta Mall and on the same line as Oxford Book Store, Golden Tips, Amigos etc and next to Tibet Art (an art & craft store). They also have an outlet on the opposite side of the Mall (Chowrasta) next to CCD. 
Mobile (Mr. Girish Sarda):  (+91) 94340 46335 
Address of Laden-La road main store: 
Suite: 21, Chachan Mansions, Laden La Road 
Darjeeling - 734 101, India 
Related Articles
Visitors' Reviews/Comments
Share your experience or stories.