Golden Tips Tea Lounge Darjeeling
The Golden Tips Tea Lounge belongs to the Golden Tips Tea Company. They are tea merchants and collect tea from plantations all over India including the Gardens in Darjeeling. The company is run by Madhav Sarda, who has branched out from the original Nathmull's family business and created his own. 
Golden Tips Tea Lounge is located right at the Chowrasta Mall and on the same line as
Nathmull's Tea
and on its left. Here you can have fresh Darjeeling tea and accompany that with some vegetarian snacks. 
As you walk into the store through the Mall benches, there is an impressive spacious lounge area inside. There are cushioned chairs and tables laid out. At one end and next to the large windows, there are sofas and tables that are ideal for relaxing and having a cup of tea. 
You can get excellent views of the mountain range from the window-side sofas. At the end, there is a large end-to-end wall painting that adds to the grandeur of the lounge. You get a wide range of fresh Darjeeling tea that you can order by cup or pot. There are regular black tea, green tea as well as ice tea. You can also buy Darjeeling tea from the counter that come in packets of various sizes. 
Golden Tips, Darjeeling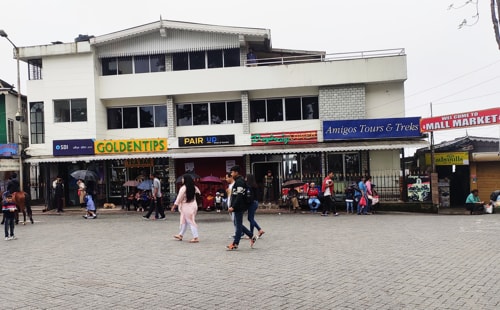 The Golden Tips Tea Lounge serves several vegetarian snack items as well. The day's specials are displayed in a glass show case which you can see right in front as you walk in. So you can actually choose your dish before you take up your seat. The items include veg. pizzas, burgers, pakoda, sandwiches etc. 
There is a section for souvenirs and gift items. It has ladies bags, brass items like small models of elephants, different types of curios, jewelry boxes, ceramic items like cups and plates, wood crafted items etc. 
The Lounge, Golden Tips Darjeeling 
Location
Golden Tips is located at the Chowrasta Mall and on the same line as Nathmulls, just adjacent to Amigos Tours & Treks. 
Related Articles
Visitors' Reviews/Comments
Shachinder Kural (August 2014) 
The lounge is situated at peak location, but they are hardly concerned with quality. During my visit to store , I purchased an umbrella from them, which was being branded as DARJEELING HERITAGE UMBRELLA depicting their company name i.e. Golden Tips, Darjeeling Himalayan Railway & Kanchanjunga Heights. It was priced at Rs.160 only & was third rated stuff & did not last for four days. I was crazy to show it to my fellow beings back home at CHANDIGARH but could not materialise it. Thank god, I did not purchase any tea from them. The company could have used such items as promotional item, but once put under selling category, they should be aware of quality. The same may be the case with their Tea quality also. ALL THAT GLITTERS IS NOT GOLD. GOLDEN TIPS COMPANY MUST UNDERSTAND. NOT A GOOD EXPERIENCE