Chota Mangwa - A weekend on a ridge
Category: Mid-Range 
The idea of spending few days in Darjeeling was dropped, the broken roads, the overdose of tourists, shortage of water and most importantly the weather was not as usual. Everything was just not working right. It was truly not the Darjeeling I knew. It was humid and hot. Very unusual at this time of the year. Just no rains…although remained cloudy throughout the day. 
So I decided to disappear to an obscure exotic location in and around the hills of Darjeeling. Little confused as to where to go, I quickly called up a person I met in Facebook and since then we are friends. He is an ardent traveler and lover of nature and wilderness. He suggested I go to Chota Mangwa. 
Chota Mangwa is one and half hours drive from Darjeeling and can also be reached via Teesta bazar from NJP/Bagdogra. From Darjeeling it took us about 40 minutes to cross Ghoom and then take a left turn from Jorebangla. Drive up to 6th-mile and then take a right turn to proceed down towards Takdah which is about 8kms from here. 
Takdah
is a small little town with lovely tea gardens. It is here you can stop for a cup of tea and then proceed towards
Tinchuley
which is 3kms from Takdah. After about 20-minutes drive from Tinchuley you will reach a diversion where a 1.5km stretch on a boulder road will take you to Chota Mangwa. The main road continues all the way up to Teesta Bazaar. You should ideally take a larger vehicle like a Bolero or Scorpoio to Chota Mangwa as the roads are not in good conditions here. 
Chota Mangwa - Our Cottage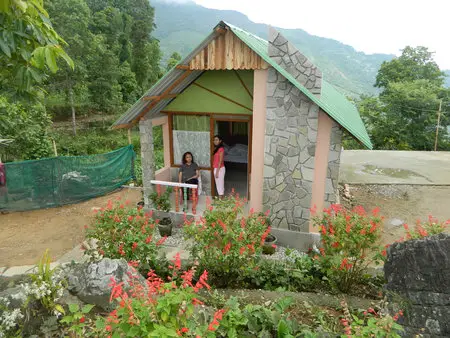 The entire vegetation and forests in the area comes under the Senchal range. You get to see the tall coniferous Cryptomaria (locally called Dhupi) through out the drive. Chota Mangwa is a relatively new destination located on a ridge at the top of the Mangwa hill in Darjeeling district. 
It's a quiet village with some excellent views of the meandering river Teesta and magnificent Kanchenjungha on a clear sunny day. 
Chota Mangwa is an Eco friendly village with extremely friendly and down to earth people to welcome you. While we missed out on the clear skies, we enjoyed the serene, tranquil atmosphere with occasional rains and mist. Needless to mention the true warmth and hospitality of the local people living in and around the area. 
Amazing array of flowers, Chota Mangwa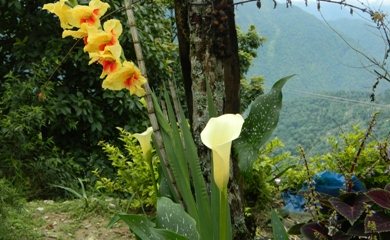 Me and my family have had a very different experience and enjoyed every bit. If you want silence, be amongst an area where you have more of flowers and butterflies than never ending concrete and airplanes, you must visit Chota Mangwa. 
Nearby attractions
Take a stroll through the nearby Takling village. There is an old monastery here. 
Take a nature walk through the mountain forests and many orange orchards. You are allowed to pick up the oranges that fall off to the ground and savor the natural juices.  
Visit the wonderful Rungli Rungliot Tea Garden in Takdah 
Lopchu is another small village and located close by. You can visit the orange juice manufacturing unit here and see how the juice is produced. 
Bara Mangwa, where the Darjeeling Blossom Ecotourism Complex has a few other cottages, is located about 12kms from Chota Mangwa 
Tinchuley and Kalimpong are also within short driving distances 
If you want to try out white water rafting, go down to Teesta or river Rangeet. There are several tour operators who organize such watersports. Talk to Mr. Pradhan and he will help you out. 
Chota Mangwa - The Nature Walk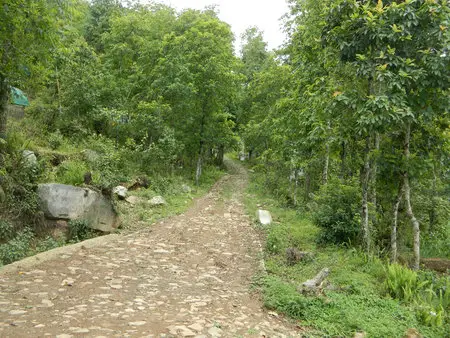 Best time to visit
If you want to see the orchards full with oranges, the best time to visit Chota Mangwa is between October and February. Even otherwise, it's always a great time to visit this lovely quiet village and enjoy the nature. Monsoon time is considered off season. 
Location & how to reach
Chota Mangwa is accessible from NJP, Bagdogra, Sikkim, Kalimpong & Dooars via Teesta Bazar, and from Kurseong, Mirik and Darjeeling via Jorebangla.  
The distance from Darjeeling town is 35kms by road, fare is Rs 1700 by car (during high season) and takes about 1.5 hours to reach. From NJP station the fare is Rs 2100 and takes about 2.5 hours to reach (distance ~70kms). From Gangtok the distance is 62kms. 
The route from NJP/Bagdogra is via Sevoke and Teesta Bazaar. From Teesta Bazaar, teh climb starts and the roaad goes through Bara Mangwa (well known for its step cultivation and green foliage), Orange Garden Compex, and the village Serong. A 1.5kms diversion from the main road leads to Chota Mangwa through a dirt road. The main road continues to Tinchuley, Takdah etc. 
Where to stay
A nice place to stay here is Darjeeling Blossom Ecotourism Complex. The complex runs on solar power. All eatables are organically grown and cooked. Alcohol is not available and needs to be carried. Smoking is not encouraged in the campus. 
A Log Hut in Darjeeling Blossom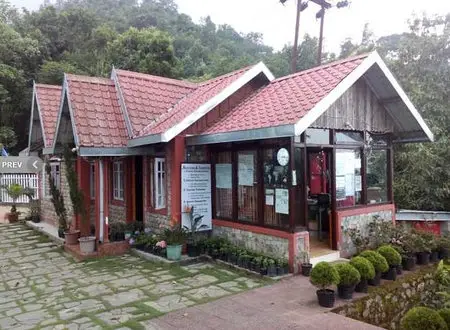 This eco friendly resort is owned by Mr. M.K. Pradhan, a man in his early sixties. He has been driving these initiatives in this region for the past few years now. local farmers practice organic farming and rice is the primary crop along with vegetables and oranges. This little place is surrounded by orange orchards. I am told that one can get to see the orange hue during the season time from October to February. An early morning walk through the villages is a must. 
The complex is full of flowers and it's a view point by itself. You can sit on the benches and gaze at the sky for hours. You can get wonderful views of Kanchejunga and the Teesta valley from the vantage points at the complex. 
There are several double bedded cottages, one family cottage for four and another one for three. Extra persons are however allowed in the cottages at extra charge. The bathrooms are of western style with provisions of hot water (using solar). The room rate ranges from Rs. 1200 - 2,500 depending on the type of cottage. The cheapest ones are log huts. 
Food is packaged for Rs 600 per day per person (non vegetarian). This includes bed tea, breakfast, lunch, evening snacks and dinner. Food served is adequate and is mainly Nepali preparations. Vegetarian food package is Rs. 450. Hilly people get up early and sleep early. Dinner will be served by 8pm. Anything beyond 8.30pm will be provided in hot-boxes and served in your room. Packaged drinking water is available and needs to be bought. 
The upkeep, food and housekeeping of the resort is taken care of by Mrs Pradhan and her daughter in law with couple of locals working as domestic help. Pickup and drop can be arranged by Mr. Pradhan through some of the villagers who own 4/4 Boleros. 
This little hilly hamlet is worth a visit, its open throughout the year. There is enough to explore around the resort itself, ideally by foot. The flora here on this lovely ridge is amazing. You get to see many varieties of plants, trees and flowers.  
This is an ideal place for two nights and three days retreat. Try out self discovery techniques. On request and at an additional cost they can also organize bonfire, barbeque, cultural shows by local villagers, camp fire, sightseeing etc.  
Contact info of Darjeeling Blossoms (Information & Bookings) 
Mr. M.K.Pradhan 
Darjeeling Blossom Ecotourism Complex, 
Post Office: Takling Darjeeling, 734312 
Cell Phones: 9800072639, 8972549897, 9332901041 
Story from: Probir Mazumder, Edited & Supplemented by: Raj Bhattacharya 
Related Articles
1) Check out
Off Beat Stays
to know about the amazing places to stay around Darjeeling. 
Visitors' Reviews/Comments
Parna Chakraborty (May 2019) 
We booked this place in March for a visit in May and got an official confirmation of our cottage names which were Ruppi, Jureli after paying an advance. But after reaching the place they wanted to give us other cottages named Suga, Maina which were not in our booking. We got to know that Ruppi, Jureli were given to other customers. They did not even accepted their fault. When we showed them the official confirmation they said we can stay in Ruppi, Jureli. We were happy but we realized later about their game. On the last day after paying the bill when we checked the brochure we found that our cottages were actually Suga, Maina. Those bunch of cheaters had placed another board in the name of Ruppi, Jureli over Suga, Maina. Even they charged us Ruppi, Jureli room rate which is higher than Suga, Maina. We felt very very disgusted by this sort cheating from them. Mr.MK Pradan and his wife did not even come in front us out of shame. Rooms get full of insects & spiders at night but they did not provide any insect killer even after asking for it. The place is quite unsafe for kids as they don't keep any insect killer. 
So my suggestions... do not visit MK LODGE (Darjeeling blossoms eco tourism - Chota Mangwa) or if you want to come please do proper verification of the details they share as confirmation. We had a very bad experience with those cheaters. 
Pradip S. Bhattacharyya (September 2014) 
Hi Raj, How to reach in economy way (shared jeep/service car or bus) from Darjeeling to Chhota Mangwa (Eco Tourism Complex)? 
Raj (darjeeling-tourism.com) September 2014 
Hi, There is no shared jeep from Darjeeling all the way to Chota Mangwa. You can get one up to 6th Mile via Jorebunglow, and then take a reserved Jeep (which may not be always available). It's better to take a private Sumo/Bolero etc from Darjeeling (the last 1.5 kms stretch is a boulder road and small cars can't usually make it). 
Vivek Dahal (October 2013) 
We recently had this wonderful opportunity and a lifetime of what is called a pleasant happy stay in Chotta Mangwa, one of the most suitable eco-tourism destination initiated by Darjeeling Blossoms Eco-tourism Complex founded and designed by Mr. M.K. Pradhan. 
Mr. Pradhan is an interesting person in himself who laid this foundation as an initiative to give Darjeeling eco-tourism a world-wide recognition with his artistic concept and love for the nature. Chotta Mangwa is a perfect holiday home if you are a nature freak and want to break away from your day to day busy, noisy, hustle bustle life activities to a more peaceful and solitude way of life. You will have a lifetime of pleasant and healthy experience during your stay in Chotta Mangwa. The breath-taking view of Mt. Kanchenjunga outside your room, the surrounding ecstasy of calm nature and early morning birds chirping will certainly give you a wonderful experience for lifetime. 
The food is just awesome, tasty and delicious with all the fresh organic vegetables grown in and around the compound. Non-veg also served. You can also have a walk around Mr Pradhan's orange orchard. There are other delicious fruits like guava, avocado, cool cucumber etc., growing in Mr. Pradhan's farm. The hospitality is above par with lovely and helpful staffs who makes you feel home away from home with all basic amenities. 
Overall, a must visit place if you are planning for a perfect holiday destination in Darjeeling with serenity so close to nature. I mean I could go on and on writing about my wonderful and joyous experience of my stay here in this place but it would be more appropriate if you would come and experience it yourself. Also, it is budget-friendly.