Palmajua Tour and Where To Stay
Palmajua is a beautiful small village in Darjeeling district and located at an altitude of 7,250 ft (2210 meters). It's a great halting place for both trekkers as well as tourists who seek for a place in the mountains which offers tranquility and serenity amidst beautiful forested land in the lap of nature and with wonderful views of the mountains. This small little hamlet remains as a hidden gem because not many know about this as it doesn't fall on a well-trodden path of the tourists. 
If you are a nature lover and like to stay at an offbeat place in Darjeeling hills, love nature walks through the woods and greenery, like to know the local culture, enjoy watching varieties of colorful birds, or like to do some fishing  at a secluded riverside location, this is the place for you. 
Woods at Palmajua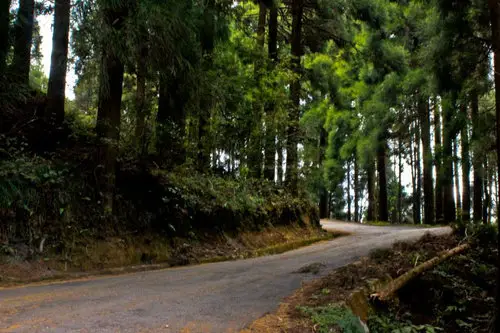 Photo: Singalila Jungle Lodge (Palmajua) 
How to reach Palmajua?
If you pan to visit Palmajua by car, you will first need to come to Manebhanjan, a place which is about 1 hour 20minutes from Darjeeling and about 4.5 hours from NJP or Bagdogra. From Manebhanjan, Palmajua is another 25kms and takes about 1 hour by car. Along the way you will pass by other hamlets like Batasi (altitude 2098 meters) and Dhotrey (altitude 2590 meters). 
From Dhotrey the journey is downhill and about 5kms to Palmajua. From Manebhanjan all the way to Palmajua and beyond, the road has been tarred and vehicles can ply. From NJP/Bagdogra, the usual route to Palmajua is via Mirik, Manebhanjan and Dhotrey. You can also go via Ghum, Sukhia, Manebhanjan, Dhotrey and then to Palmajua. 
A reserved large vehicle like Bolero/Sumo from NJP all the way to Dhotrey will cost around Rs. 6,000. You can also get shared taxi from NJP or Siliguri (Darjeeling More or opposite to Tenzing Norgay Bus Stand) up to Mirik, or Ghum (Rs. 250 per person), and then change to another one up to Manebhanjan or Sukhia (Rs. 175 per person from Mirik, Rs. 100 per person from Ghum), and then another one headed for Rimbick and get off at Palmajua (Rs. 175).  (Fare updated: March 2022) 
If you are trekking down from Sandakphu or Phalut, then from Rimbik you will need to trek down through a hamlet called Barahatta and then get to Palmajua (about 18kms from Rimbik). It takes about 3.5 hours on trek and about 40 minutes by car to reach Palmajua from Rimbik. 
What can you experience in Palmajua?
Palmajua is meant for those who are looking for a piece of land for themselves and away from the noise and crowd. You can also enjoy wonderful views of Kanchenjunga Peaks and forested landscape. 
A natural pool at Palmajua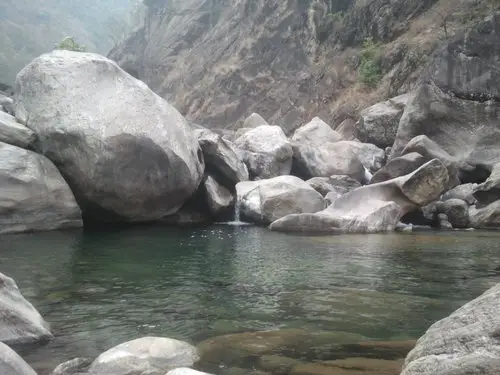 Photo: Singalila Jungle Lodge (Palmajua) 
In fact, Palmajua lies in the fringe of the well known
Singalila National Park
which is the home to amazing animals like Red Panda, Pangolins and lot more, and close to 170 species of birds. It's a great place for birdwatchers. If you walk up to wards Momokhola (a place about 2kms away where there is a bridge going over the Lodhoma river), you can see many different species of birds that includes the Common Green Magpie, Scarlet Minivet, Crescent Kingfisher, and even the Satyr Tragopan. 
Green Tailed Sunbird at Palmajua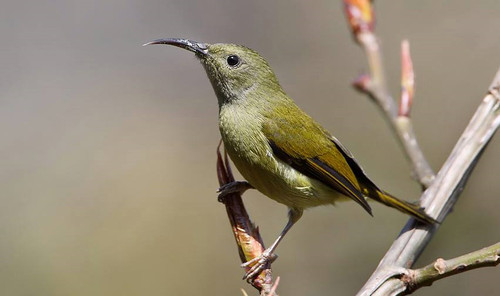 Photo: Singalila Jungle Lodge (Palmajua) 
Some great places you can visit and things you can experience around Palmajua includes Ramman Hydel Project, enjoying short treks through forested land, a view point from where you can see Daramdin of West Sikkim which is well known for rose cultivation, watch the spectacular sunrise at Dhotrey. A day trip to Srikhola via Rimbick is a popular outing option... it takes about 2 hours to reach there and along the way (and shortly after Rimbick) you can take a stop at the Gumbadara Viewpoint and a picturesque village. Go through
Srikhola Trip
to know about the place and what it offers. 
Other activities in Palmajua include fishing and picnic on the river, night safaris whereby you have great chances of spotting wildlife etc. 
Where to stay in Palmajua - Singalila Jungle Lodge
Singalila Jungle Lodge is a nice option. This is a family owned property owned and run by Avinash Rai - a local. The lodge is spread across some 9 acres of land area full of lush forest and flowering plantations. Once you are in the lodge premises, the only sound you may hear during the day is the chirping of the many birds in its garden. The lodge offers a spectacular view of the Singalila National Park and the landscape of Rimbik. There is also a beautiful garden full of colorful flowers. 
Singalila Jungle Lodge - Palmajua 
The rooms are made in traditional Napalese style. They have 5 rooms with attached bath (western style). Rooms and bathrooms are clean and well maintained. There are two double-bedded standard cottages, two Deluxe rooms and one 4-bedded family cottage. All rooms have basic furnishing and some of them have fireplaces (something you will surely like to have during winter). Most of the herbs, spices and vegetables are sourced from their own organic kitchen garden. 
4-bedded cottage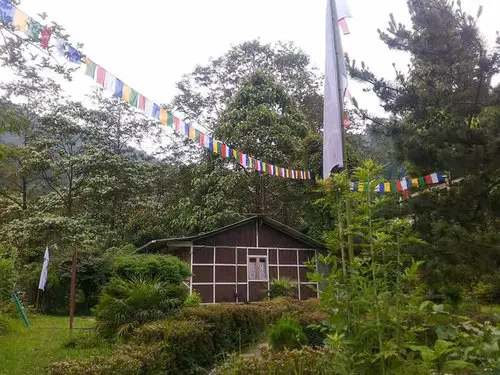 Facilities offered by Singalila Jungle Lodge 
Car parking 
Indoor/Outdoor games 
Lawns for recreation 
Car rentals 
Laundry services 
Doctor on call 
Room service 
Cultural programs on demand (dance and music performed by local villagers) 
Interior of Standard Cottage 
Activities offered by the lodge 
Nature walks 
Bird watching 
Mountain biking 
Fishing 
Bonfires and Barbecue 
The lodge has its own cars and offers local sightseeing, and even day trips to places like Srikhola, Darjeeling town and Mirik. 
Indicative rates 
Standard Cottage - Rs. 1500/- per night 
Deluxe room - Rs. 1,800/-, Family room - Rs. 2,000/- 
Food - Rs. 750/- per person per day (includes all meals)  
Pickup or drop from/to NJP by reserved vehicle - Rs 6,000/- 
Local sightseeing in a reserved vehicle (for Srikhola): Rs 3500/- 
Contacts for Booking and Inquiry 
Mobile: 096351 09201, 096416 78006 
Related Articles
Visitors' Reviews/Comments
Ashoke Bose (October 2018) 
Respected Sir, is it be possible to visit Tumling by car from Palmajua. 
Raj (darjeeling-tourism.com) October 2018 
You need to come down to Manebhanjan and take another vehicle for Tumling. Old British Land Rovers operate from Manebhnajan to Sandakphu via Tumling. 
Shakyasom Majumder (August 2016) 
Dear Sir, We are extremely grateful to you for providing invaluable information on tourism. I have heard that only land rovers can make it to Sandakphu from Manebhanjan. Can you please inform me about the road condition from Manebhanjan to Palmajua via Dhotre? Is it possible to take a normal four wheeler to Palmajua unlike Sandakphu? I am asking this as my mother has arthritis. Is the Kanchenjunga Range directly visible from Palmajua or we need to trek a bit from the Singalila Jungle Lodge to have a glimpse? Heartfelt thanks and regards. 
Raj (darjeeling-tourism.com) August 2016 
Normal large vehicles like Sumo can make it to Dhotrey and Palmajua, in fact smaller cars can also make it with some difficulty. You can't see the peaks from the lodge itself.