Lepchajagat
Haven for nature lovers & honeymooners
Lepchajagat is a small village located in wilderness at an altitude of 6,956 ft (i.e. 2123 meters) and only 19kms away from Darjeeling hill town. Although it's quite close to Darjeeling's main hub and takes only about 45 minutes by taxi, it has a world of its own. 
If you are a nature lover or looking for a romantic stay for couple of days, then Lepchajagat is the place for you. I know of many who actually combine a short stay in Lepchajagat with their visits to Darjeeling just to blend the vacation with an offbeat stay amidst nature.  
As the name suggests, it once used to be a hamlet of the Lepcha tribes. The word 'Jagat' actually means "the world', so it was the world of the lepchas. Subsequently it was taken over by the West Bengal Forest development Corporation (WBFDC) and now a reserved forest area. 
What can you experience in Lepchajagat? 
In short, Lepchajagat is all about dense forested area full with pines, oaks and rhododendrons. And all that is combined with magnificent views of Kanchenjunga peaks, wonderful birdlife and serene tranquility. 
So during the day time, you engage with nature in its full bloom, and when the night falls, you sit next to the fireplace and read a book, hear the sounds of crickets from the jungle around (that's the only sound you will hear), or just recapitulate your day's experience as you sip a cup of Darjeeling tea and relax. There are no shops or other nightlife attractions around to disturb the quietness that you have been longing for. 
While the WBFDC Forest Lodge here offers great views of the snow peaks, there are couple of other places nearby which are even better for the views.  
From the forest lodge, there are stairs followed by a pathway that goes through the dense forest. There is also nature walking trail that leads to a place called Hawa Ghar (about 1km). This place offers magnificent view of the peaks. If you are lucky, you can see all five peaks of Kanchenjunga massif. 
Lepchajagat - Flowering Plants 
Another place is Ghoom Rock (1.5kms away and at an altitude of about 7,900 ft). This is also great for the views. You will find a massive rock here. The place offers wonderful view of the Balsan Valley. Ghoom Rock is also famous as a sunrise point. You should come here before dawn and watch how from darkness the milky white hues start radiating, then slowly making the sky blue, and then making way for the glittering snow peaks of Kanchenjunga to emerge. 
If you are a bird lover, you will also greatly enjoy watching the rich birdlife in Lepchajagat. There are many different kinds of birds in the forests here including the Sibia, Sunbird and more. 
Some nearby sightseeing areas include 
1)
Jorpokhri
(only about 5kms away), well known for its serene beauty and views of Kanchenjunga, a beautiful pond and the rare Himalayan Salamanders. 
3) Pashupati Market located at the Indo Nepal border (about 15kms away) and is well known for the foreign goods at cheap prices. Be careful about the Chinese makes and the fakes. Only Indians are allowed entry and with valid Id proof. 
4)
Mirik
- Famous for its lake fringed by forests on one side. About 27kms away from Lepchajagat and further down from Pahupati Market along the same route. 
5)
Manebhanjan
, which is the base for Sandakphu trek is about 15kms and takes about 45 minutes to reach. 
Where to stay at Lepchajagat 
The WBFDC (West Bengal Forest Development Corporation) Lodge is a budget/ mid-range accommodation. A narrow lane (about 300 meters) from the main road leads through the forest to the lodge. Earlier this used to be a bungalow made by the British in 1800s. It has been renovated by WBFDC. There are six rooms in the lodge including two suites. 
While most rooms offer views, the suites are the best, and out of the two, my personal favorite is Suite-1. And no wonder this is the costliest of all the six. The reason is not just the interior and space, but also the great view of Kanchenjunga it offers, and you get the views while lying on the bed. Another great vantage point of watching the sunrise is from the roof top terrace of the lodge. 
WBFDC Lodge at Lepchajagat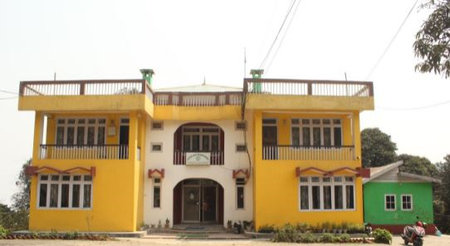 Coming back to the lodge itself and its amenities ... there is a caretaker and a few staff. In my own view the lodge can be better maintained. Most rooms are wood paneled and some have fire places, large wooden cupboards etc. Electricity sometimes is a problem. 
In high season, you will often experience power cuts. Although the attached bathrooms have geysers, they won't work when there is a power cut (note that the dormitory doesn't have attached toilet). Unless you ask for it specifically, they wont usually clean the rooms or make the beds. 
Forest and the pathway to the main road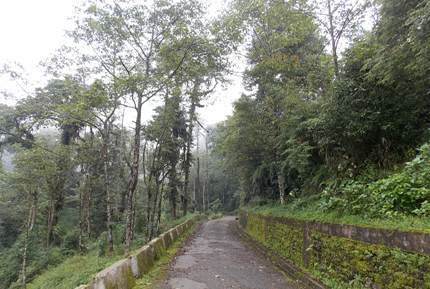 If you tell the caretaker in advance, he can arrange a transport for you for local sightseeing or a drop to Darjeeling or NJP/Bagdogra. 
The food is simple and good, and reasonably priced. You will get toast, butter and omelet for breakfast, or alternatively puri & bhaji. For lunch and dinner, they make rice or roti, daal (pulses), chicken curry and some vegetables. If you let them know in advance, you can also get chicken pakoras in the evenings served with tea. 
Indicative rates 
There are six rooms in the WBFDC Bungalow - Camelia Suite (a ground floor room), Magnolia Suite, Michelia Suite, Suit-1, Suit-2 and a Dormitory or family room. While all rooms have beds for two, the dormitory can accommodate 4. 
Suite-2: Rs. 1800/-; Suit-1: Rs. 2000/-. All other rooms: Rs. 1500/- per night 
If you use the fireplace, there is additional cost (Rs. 250/-) per night for the logs. 
Contacts for Booking and Inquiry 
You can book online through the website of WBFDC or by visiting their office. 
West Bengal Forest Development Corporation Limited 
KB19 Sector-III, Salt Lake, Ground - Floor, Kolkata-700106. Phone No. - 033 23350064 
Homestays at Lepchajagat 
Few homestays have come up on the main road and near the point where the pathway through the forest leads to the WBFDC lodge. These are run by local families. The rooms are basic, but quite clean and have attached western style toilet. Hot water is usually supplied through buckets. There is a small dining space as well. 
Lepcha Jagat and Kanchan Kanya Homestays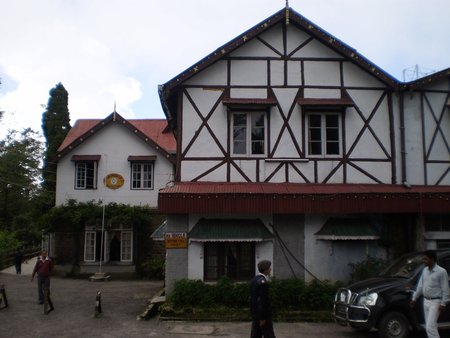 They make simple home made food to order. You can book through Bon Voyagers Group of Hotels and Resorts. Call: 98744 74989 / 98367 55550 
A Bedroom 
Pictures by a visitor 
Here are some nice pictures of Homestay and views sent to me by a visitor Tapan Chakravarty who has also written about his own stay at Lepcha Jagat below. 
Kanchan Kanya Homestay, Lepcha Jagat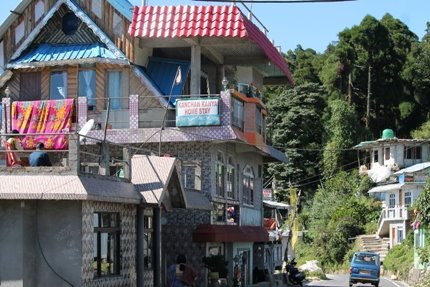 View from Balcony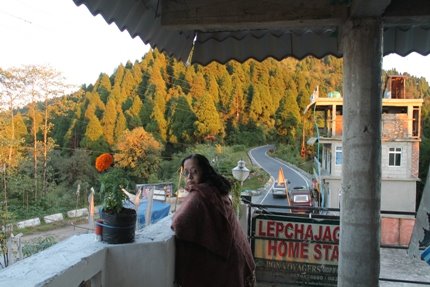 The Kanchenjunga picture below was taken from a hilltop located across the road from Kanchan Kanya Homestay, about 100 meters walk along the hill track, popularly known as View Point. Advantage is very few people wake up that early and you can have a very peaceful photo session.  
Kanchenjunga View from Lepcha Jagat 
How to reach Lepchajagat? 
You can get pre-paid taxis from NJP or Bagdogra for Lepchajagat. It takes about 3 hours to reach from NJP/Bagdogra (by the normal route - Hill Cart Road via Ghoom). Alternatively you will also get shared jeeps from NJP and Siliguri to Ghoom. From there take another shared jeep which will drop you near the lodge at the main road. The WBFDC lodge is about 300 meters walk from the main road. From Darjeeling, there are shared jeeps available which pass by the main road as well. Most private homestays including Kanchan Kanya are located by the road side, so there won't be any walk involved. 
Best time to go 
October to April is a great time to enjoy the nature in Lepchajagat. However note that nights and early mornings in winter can be very cold. Avoid monsoon (June - September) as it can rain almost anytime and the trails won't be suitable for treks or walks. 
Related Articles 
Visitors' Reviews/Comments 
Arghya Das (May 2017) 
Ohh.. its a heaven out there.. if u need some rest.. & want to give rest to your brain, want to relax at some cold, calm, beautiful place then Lepcha Jagat is best.. Me & my friends went there in January 2017 for a weekend stay... it was a memorable tour.. you can see the best sun rise along with the clear view of 5 peaks of Kanchan-jangha... with out any crowd. 
We stayed there at Kanchankanya Homestay. Most humble person- the owner- Prasang Tamang, 
mobile - 9593565309 / 9564555618. He arranged a barbecue for us.. that was the best part of that journey.. & the food was so tasty... 
Tapan Kumar Chakravarty (November 2016) 
Spent one of our best holidays. Stayed at Kanchan Kanya Home Stay with my wife , daughter and 8 years old Grand Daughter Oct 20-24, 2016 . Pasang Tamang is a gem of a person along with his small family. Vandana was all smile at all times and excellent cook along with her mother. Real feel of home stay. Please book vehicle recommended by Pasang. Only problem is absence of Geyser, but Pasang makes up the deficiency by supplying bucket hot water. Advice, carry an Electric Kettle, and Tea/Coffee/Powder Milk and Sugar if you happen to be addicted to morning cuppa tea / coffee. Room Service starts 8am. 
Sampad Basu (November 2016) 
Hi Raj, thanks for your so details information and review. What will be the cost of reserve car from NJP to Lepchajagat. Is there any car available for Darjeeling drop, if available what will be the costing. Nowadays I came to know WBFDC resort is lack of maintenance and staying is not so comfortable. is it true ? Thanks in advance... 
Raj (darjeeling-tourism.com) November 2016 
Hi, NJP to Lepchajagat reserved small taxi fare would be around Rs. 2,000 - 2,200. You need to pre-arrange a taxi from Sukhiapokhri stand or ask the caretaker to arrange one for you for Darjeeling or NJP drop. But tell him well in advance. Maintenance of the WBFDC lodge has always been an issue but tolerable. There are hardly any staff to look after the lodge. One needs to depend on the caretaker who leaves the lodge after providing dinner and is often quite unaccommodating. So do not go with great expectations of service or amenities. There is no backup generator and power situation here is not great. So getting hot water when you want can be a problem. During day time they can provide hot water in buckets if there is no power. 
Samrat Guha (December 2015) 
Me and my wife stayed at Lepchajagat for 2 days on 23rd and 24th December, 2015. Passang Tamang's Kanchan Kanya home stay provided us everything that had been needed. People are also very amicable here. Met with some local guys who are opening adventurous tourist activity like cycling, trekking, camp firing from here on. You can visit Sukhia Pokhri, Jor Pokhri, Manebhanjang and Chitrey on a cab. Tonglu and Tumling can be reached from Manebhanjang with permit and through Land rover cars only. Land rover cars charge 2000 rs/. 
Goutam Mukherjee (July 2015) 
Hi Raj this is my query - would be grateful for a reply. Planning to go in early Dec 2015 for a couple of days. Is it possible to hire a taxi (not a shared one) from NJP to Lepchajagt forest bungalow ? If yes, how much does this cost? If such taxis are available, will there be sufficient number of such taxis or will there be only one or two for this offbeat route? 
Raj (darjeeling-tourism.com) July 2015 
You can get private taxis from NJP including pre-paid ones. Cost will be around Rs. 1900 for a small cab. From NJP the route is same as Darjeeling up to Ghum and then a diversion towards Mirik. From Ghum it's about 20-25 minutes. 
Biswajit Biswas (January 2015) 
I stayed at Kanchan Kanya Homestays at Lepchajagat from 27th December 2014 to 01 January 2015. Tamang Daju and his family was so caring that we never felt that we are away from home. So are the local people. We celebrated New Year eve with them and would say it has been the best and fondest New Years eve that I had ever had. Would highly recommend a visit there. Beautiful view of the Kanchanjunga range, forest trail and the local people with heart of gold and always smiling. 
Rituparna Guha (November 2014) 
Hi Raj, Firstly would really like to thank you for the wonderful and informative reviews. They are so very helpful and provide such detailed information. Me and my husband want to visit Lepchajagat. Due to lack of common holidays, we have decided to reach Lechajagat on 29th January 2015 and leave on 1st February 2015. Based on your reviews, we wish to book Suite 1 in WBFDC Nature Resort. Only question we have is , will it be a secure enough place for us to visit, it being secluded from usually crowded place. 
Raj (darjeeling-tourism.com) November 2014 
Haven't heard of any untoward incident. But with no other guests in the lodge, it can be quite scary at nights as even the care taker often leaves after dinner is served. There is however a small staff accommodation below on one side. 
SK Dasgupta (November 2013) 
Dear Raj, From her childhood days, my wife, who is now about 57 years old, is still fascinated with the charm of Darjeeling despite its present state of deterioration like mushroomed construction, stinking roads, water problem, dirty mall and the political unrest etc. We would be very glad if things improve. Anyway,my wife has visited Darjeeling in-numerous times prior to her marriage and also with me for about 6/7 times after marriage. This time when she proposed for another visit, I added a place called Lepchajagat for two nights prior to staying at Darjeeling for another three days. We are planning to go there during first week of January,2014 to feel the chill. 
Since I would like to restrict the expenditure on traveling to the minimum, I would like to know from an authority like you the following:- 
1) Can we get a share jeep from NJP upto Ghum after we reach there by Darjeeling Mail? What is the approximate cost per person? 
2) From Ghum, is share jeep available upto Lepchajagat? If not, in case we are to take a taxi (if available), what would be the approximate cost? 
3) We have booked in WBFDC tourist bunglow at Lepchajagat. If we happen to get Shared jeep, would it reach us upto the WBFDC bunglow or at a far-off 
distance? 
4)Is similar mode of transport(share jeep) is available between Lepchajagat and Darjeeling? 
I would be grateful to get the information as mentioned above, if you can provide the same. Yours truly, 
Raj (darjeeling-tourism.com) November 2013 
Dear Mr. Dasgupta, You can take a shared Jeep from NJP which is bound for Darjeeling and get off at Ghoom. The cost will be around Rs. 150/- per person. These shared jeeps usually take the Hill Cart road. But since hill cart road is closed near Tindharia, they take Rohini or Pankhabari routes these days. From Ghoom you can occasionally get shared jeeps. These jeeps either come from Darjeeling or originate from Ghoom itself and go towards Sukhiapokhri. Lepchajagat is located before Sukhiapokhri. Alternatively, take a taxi from the Ghoom stand for Lepchajagat (may cost  Rs. 300/- approx, distance is less than 10kms). If you take a shared Jeep, it will drop you on the main road. The lodge is only couple of minutes walk from there. So if you have trolley or wheeled luggage, you should be able to walk it easily. Otherwise taxi from Ghoom is a better option. 
Here is another option: From NJP take a shared jeep for Mirik (Rs. 100 per person). From Mirik stand, take another shared jeep for Darjeeling (Rs. 100). The second leg of this route goes via Sukhiapokhri and Ghoom. So get off at Lepchajagat which comes soon after Sukhiapokhri. This route is scenic and goes through lovely tea gardens. Will take about 3.5 - 4 hours while the earlier route may take 30 minutes less. 
For Lepchajagat to Darjeeling transportation, best is to walk down to Sukhiapokhri jeep stand and book a taxi in advance (on the previous day or in the morning). It will come and pick you up from the lodge. It's difficult to avail a shared jeep for this trip. If you come down to the main road, you may get jeeps on the fly, but they may not have vacant seats. Have a great trip!