Cinchona & Orchid Tour of Mongpu, Darjeeling
If you are planning a vacation in Darjeeling, then you can include this lovely day trip to Mongpu as part of your itinerary. Mongpu, also spelt as Mungpoo is a small mountain village in Darjeeling district. It's located at an average altitude of about 3,700ft and about 31kms from Darjeeling. 
From Darjeeling town you will go towards east and take the Peshoke road from Jorebunglow area towards 6th Mile and
Takdah
. You will pass through lovely scenic spots on the way, lush tea gardens and areas that are famous for the flowering orchids and Cinchona plantations. 
As you approach Mongpu, you will pass through colorful flower nurseries, tea gardens and crystal clear water streams. Mongpu is well known for Cinchona plantation and cultivation of other medicinal plants. Barks of Cinchona plants are used for extraction of quinine, a medicinal element used for curing malaria. 
On the way to Mongpu  - A mountain stream ahead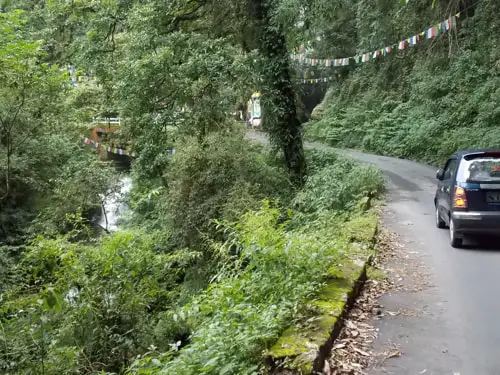 The first such Cinchona plantations started in 1864 when a Government Quinine Factory was also set up here. Majority of Mongpu's population (around 20,000) depended on Cinchona plantations for livelihood. However with advent of artificial quinine, natural extraction of quinine from Cinchona has come down over the years. However it still remains an active source of income for many residents. 
Cinchona plants at Mongpu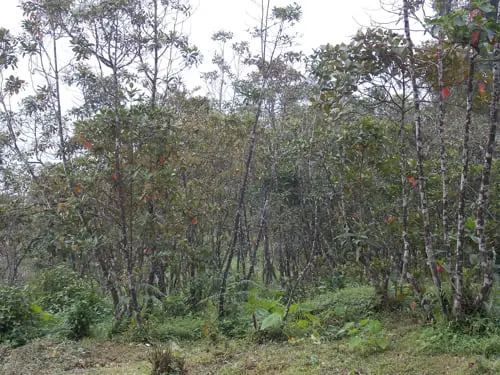 One of the features of Mongpu is its several schools. Before entering the Mongpu locality you will come across a beautiful school (known a Agramsingh Giri Jr. High School) which is perched in the hill. As you drive along you will first see it from high above and then the road winds around and passes by the school. 
Agramsingh Giri School, Mongpu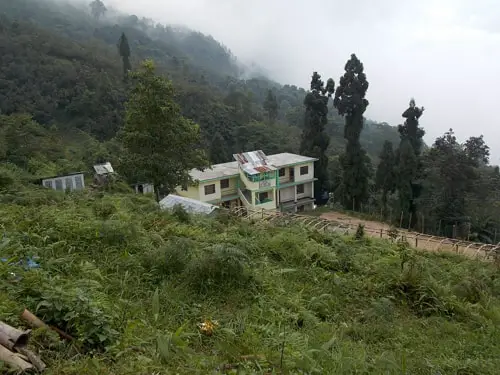 As you come close to Mongpu area, you will see several large constructions on both sides of the road where cinchona plants are dried before the quinine extraction. 
Cinchonas being dried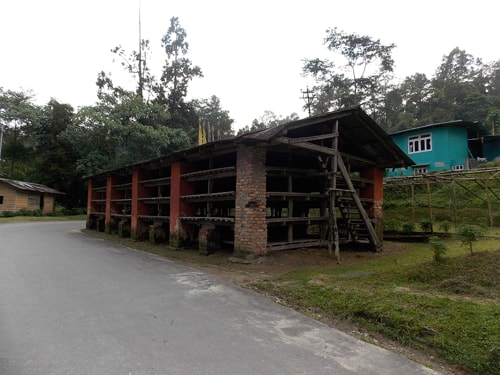 Mongpu is also famous for Rabindra Bhavan, the bungalow where the great poet & Nobel laureate Rabindranath Tagore stayed several times during summers. The poet came to this place for its soothing and quiet ambience, and of course for its beauty of Cinchona plantations. Although the place doesn't have views of the great snow peaks, it has a charm of its own. 
Rabindra Bhavan (Mongpu)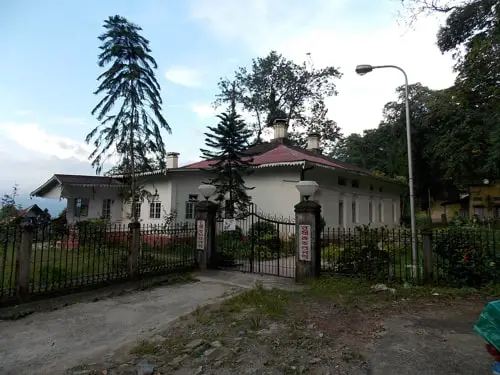 The bungalow belonged to Manmohan Sen, the husband of Maitreyi Devi who wrote the novel 'Na Hanyate'. Mr. Sen was in government Service. Tagore first visited this place in 1938 on invitation from Maitreyi Devi. It is here where the poet wrote his famous poem 'Janmadin'. The bungalow has been now converted into a museum (known as Ranbindra Bhavan Museum). The bungalow remained in neglect and a state of disrepair for a long time. In July 2018, the bungalow with all its invaluable documents and artifacts were restored by West Bengal Heritage Commission. 
Tagore came to this house four times between 1938 and 1940. During his last visit he fell seriously ill and had to be shifted to Kolkata. Very few know that Tagore visited this place for another reason as well. He came here to meet with Maitreyi Devi, the daughter of his friend Surendranath Dasgupta. He had a strong bondage with her. Maitreyi Devi herself published this in one of her own books. 
Tagore's bed at Rabindra Bhavan (Mongpu)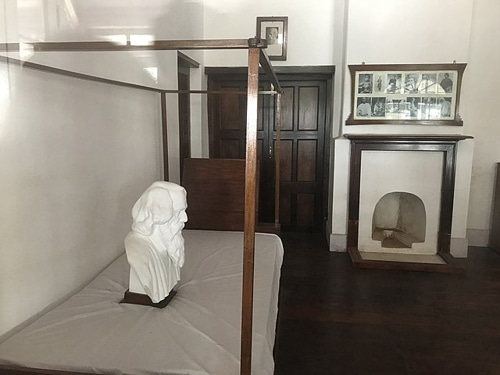 The bed on which Tagore slept and the mahogany desk he used are still there. You will also find several original paintings of Tagore here as well as several of his handwritten verses and poems. There are antique wooden furniture that were designed by Tagore and carved by his son Rathindranath Tagore. The museum is a must visit during this tour. It's open on all days except Sunday. Timings: 9am to 4pm (lunch hour is from 12:30pm to 1:30pm). 
Tagore's Mahogany Desk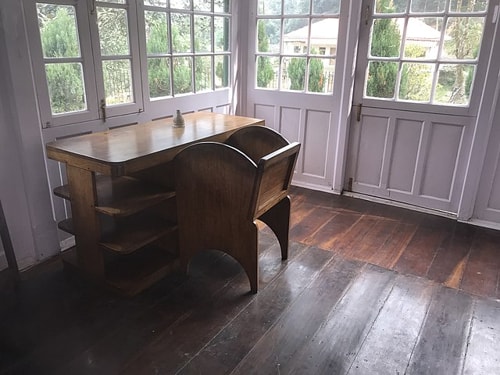 You should also visit the Government Quinine Factory which holds demonstration of quinine extraction from Cinchona for students. The adjoining garden has many types of medicinal plants and shrubs including Cinchona. The factory is located right opposite to Ravindra Bhavan. There is no entry fee and the guards will let you go in. 
Govt. Quinine Factory, Mongpu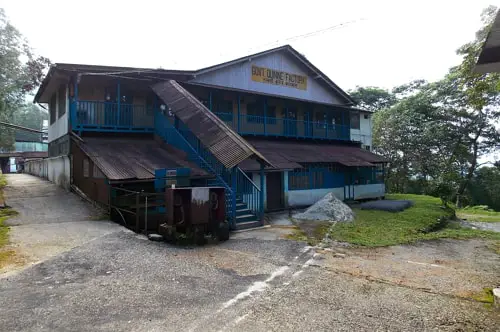 What else can you see in Mongpu? Actually the place doesn't have many typical tourist attractions. If you like nature, lovely valleys & medows, flowering orchids & nurseries, gardens & plantations, you will love the drive from Darjeeling to Mongpu. There is a local market (bazaar) here at Shanti Chowk. 
This is a typical local bazaar area where small shops and stalls are set up selling daily essentials. This is the main hub of Mongpu and this is where the locals meet and chat with each other. 
Local Bazaar at Mongpu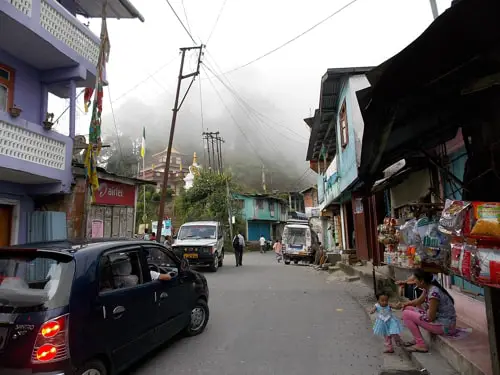 Adjacent to the bazaar area and perched on a hillock is a Buddhist monastery. It's known as Dinchhen Sherap Chhoeling Gumba (Phone: 03552-266222). The atmosphere inside is serene although it's located right next to a noisy area. There is a stairway right from Shanti Chowk which leads up to the monastery. 
Monastery at Mongpu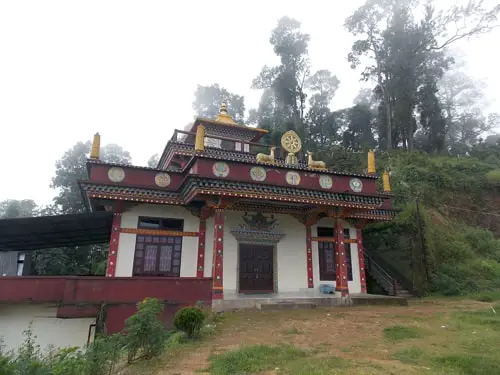 From the bazaar area another seven kilometers away there is a nice orchid center which cultivates different types of orchids. A great place to visit. 
How to take the Mongpu day trip from Darjeeling?
You can take the tour by booking a private cab from a taxi stand in Darjeeling or go through a
local tour operator
. The drive to Mongpu from Darjeeling takes about 1 hour 30 minutes. The total tour including lunch & sightseeing at Mongpu should take about 5 to 6 hours. But try to carry packed lunch. There is no proper hotel or restaurant at Mongpu, although you will find some small roadside eateries at the main Mongpu market area. 
How to reach Mongpu
Mongpu is a part of Darjeeling District under Darjeeling Sub-Division and Rangli Rangliot Block. It is about 31kms from Darjeeling, 51kms from Siliguri, 60kms from NJP and 39Kms from Kalimpong. From Darjeeling it takes about an hour to reach Mongpu by taxi. From NJP station you can take a taxi and reach in 2 hours via NH10. 
Related Articles
2) Check out
Darjeeling Tours
to know about many other wonderful places that you can visit from Darjeeling within hours. 
Visitors' Reviews/Comments
Mayukh Chatterjee (March 2015) 
Dear Sir, I wish to visit Mongpu during 20-25th October 2015 for 2-3 days could you kindly tell me some budget hotel rates for one person and what shall be the weather during the said period and how to go from New Jalpaiguri to Mongpu. Your's 
Raj (darjeeling-tourism.com) March 2015 
There are no hotels or proper lodges at Mungpoo. Few local families run homestays that are very basic. However the PWD Inspection Bugalow has few nice rooms which you can book through their regional offices subject to availability. From NJP, Mungpoo is about 57kms. You need to hire a taxi, take the Sevoke road and then a diversion at Rambhi Bazaar area near Teesta to reach Mungpoo. It will take about 2 hours. From Darjeeling, it's about 35kms (1.5 hours). Buses and taxis are available from Darjeeling..