Sittong Sightseeing
Sittong is spread across a large geographical area and if you want to see all attractions of Sittong including the tea gardens and garden life, orange orchards, monastery, waterfalls, viewpoints, do bird watching, see cinchona plantations, experience the village life, walk along some of the nature trails, and visit some of the important places such as Mungpoo and Latpanchar, you will need a few days to do justice to your trip. 
You will need to hire a private car in order to do local sightseeing. It is better to arrange a car through your homestay/lodge. All homestays and lodges in Sittong can arrange for cars at reasonable rates. 
Try to avoid phone numbers of stray drivers provided by freelance bloggers/ Youtubers. Often these drivers take the bookings with advance payments, and eventually give some excuses and put you on to another driver and a car, essentially acting as a broker. And then, the experience can be totally unpredictable. In one occasion, I had a similar such experience, even though I insisted with the original driver not to transfer the booking. 
A small vehicle for a trip to Mahaldiram Tea Garden, Ahaldara Viewpoint, Namthing Lake, Lepcha Monastery, Jogighat Bridge, Mangpu, etc will cost around Rs. 2,700 for a full day. (Fare updated: March 2022) 
Namthing Pokhri
Pokhri in a local dialect means a lake... Namthing Lake is a picturesque small lake located on Lat - Mahaldiram Road and in Shelpu hills. This beautiful lake is surrounded by forests of pines and the overall setting appears to be straight out of a picture postcard. While there are lots of different flora, fauna and birdlife around Namthing Lake, a unique experience here can be the sight of Himalayan Salamanders, which are lizard-like rare creatures and an endangered species that is facing extinction.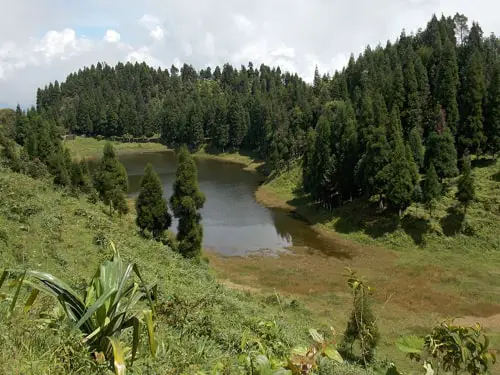 Namthing Lake is the only place in the world other than
Jorpokhri
(also in Darjeeling district), where these Himalayan Salamanders can be found. However, the sad part is, despite prohibitions, the locals often indulge in capturing these Salamanders and sell them off to outsiders including tourists. 
Namthing Lake is wire-fenced and swimming or getting close to the water is not allowed. However, this lake is seasonal and gets completely dried up once the monsoon recedes. This is because the rainwater is the only source of Namthing Lake. You will find the lake full when the monsoon sets in such as in August and September and the water depth can be as much as 3.5 meters. But by end of October, the lake becomes dry.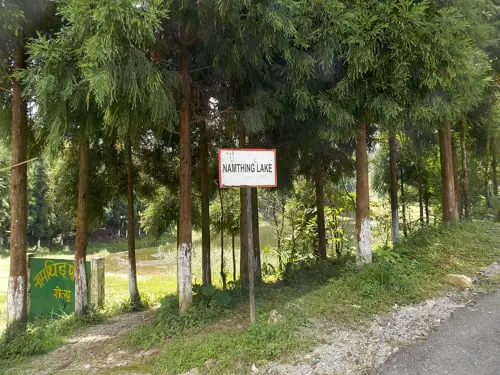 When the lake becomes dry, the exposed lake-bed covered with long grasses become suitable for the Salamanders to lay eggs and feed on insects. This is the time when the Salamanders thrive. They mostly hibernate during the other seasons. 
There are several legends associated with the lake. Locals say that not even a single leaf can be seen falling on the lake although it is surrounded by dense vegetation. And even if a leaf falls, a bird will fly in and remove it.  
Right next to the lake, there is a nice walking trail through the dense pine forests. You can walk for a while along the bank of the lake and enjoy the tall pines that shoot up from the ground and make such a wonderful formations on the top... definitely worth a few photographs. 
Trail through pine forests next to Namthing Lake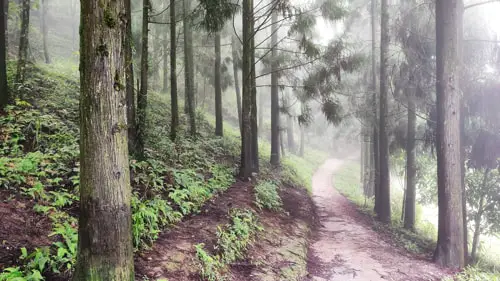 While Natmthing Pokhri is the most well known natural lake in the whole of Sittong area, do not forget to visit another lake (or a cluster of 5 lakes) known as Panch Pokhri located at Tham Dara. Panch means 'five' and Pokhri means a 'pond' or a 'lake'. 
Walk through the picturesque Panch Pokhri tea garden and your can reach these five natural lakes... ask your driver or the homestay owner to guide you to get to the lakes. However, like Namthing Lake, Panch Pokri too dry up during the winters and the summers.  
Ahaldara Viewpoint
This is an excellent 360-degree viewpoint located at the highest point of Shelpu Hills in Shelpu Khasmahal (Sittong III). Ahaldara is located 1km ahead of Namthing Pokhri... you will come to a junction (called Sukhe Pokhari more) where three roads meet. One road goes towards Latpanchar, one towards Birik Dara, and the third towards Namthing Pokhri/ Kurseong, etc. Here, there is also an uphill gravel road to the viewpoint. 
Uphill gravel road to Ahaldara Viewpoint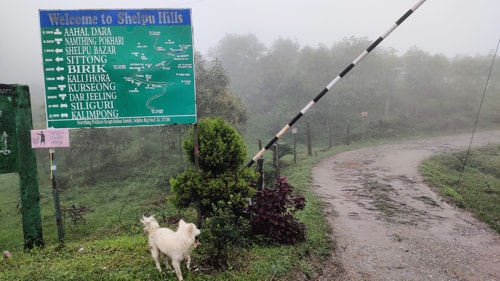 There is a check post at the junction and a ticket counter next to it where you need to buy entry ticket to visit the Ahaldara Viewpoint. If you want to take the car inside, then the entry fee is Rs. 50/- (Rs. 20/- for bikes). However, if you want to leave your car and walk, then the entry fee is Rs. 10/- per person. 
Ticket Counter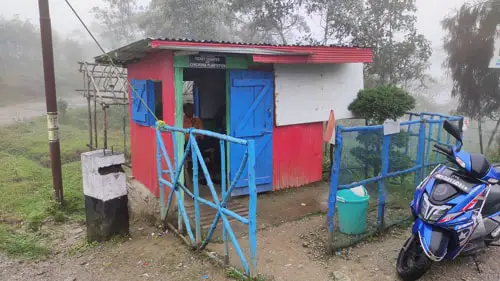 I checked with the man inside the counter and asked him why this entry fee imposed now which wasn't there a few years back? The man was initially puzzled and then told me that the entry fee is actually for visiting the Cinchona Plantations inside which are actually conserved by the government and pointed towards a small board outside which said 'Ticket counter for Cinchona Plantations'. 
I did not, however, get into any argument that a few years back when I was right here, that time too there were the same Cinchona Plantations administered by the government, and the only new introduction here has been the ticket counter, nothing else. 
A narrow gravel road climbs up after the check post. It's an uphill walk. You can see Cinchona plantations on both side of the road as you walk up this road. Cinchona leaves are used in producing malaria healing quinine. 
Cinchona plantations at Ahaldara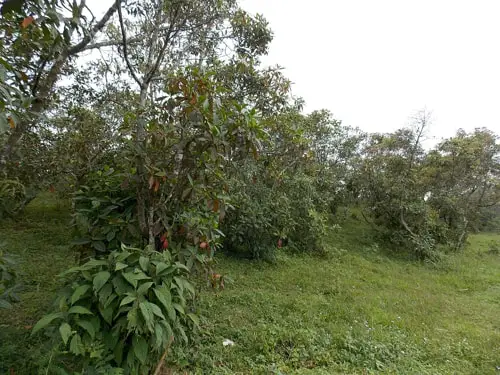 Vehicles can go up to a certain point after which you have to walk uphill for about 150 meters (6-7 minutes) to get to the viewpoint. It is a fairly steep walk and if you have a mobility problem, you should avoid visiting the top. The viewpoint is an open area. Being on a hilltop, it often remains quite windy. 
View from Ahaldara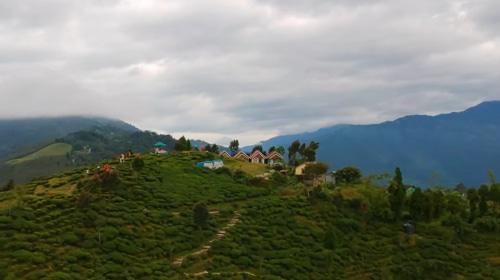 Once there, the views are simply awesome on a clear day. Note that the viewpoint is also known as Ahaldara Sunrise Viewpoint, because of the wonderful sunrise views one can get early in the morning. Ahaldara being close to Latpanchar (only 5kms away), most tourists staying at Latpanchar come here for sunrise views. 
Look around, you can see 32 rolling hilltops from here that look like a wave of mountains. You can get a lovely panoramic view of the Eastern Himalayan range including that of Kanchenjunga Snowpeaks.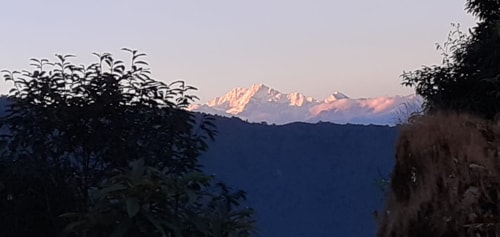 You can also see Darjeeling Hills, Mongpu Hills, Kurseong Hills, as well as Takdah and Tinchuley from here. And, below you can see the river Teesta flowing through the plains. 
On another side of Ahaldara, there is a large rock formation which looks like poet Rabindranath Tagore is lying in a sleeping posture (you need to use your imagination a little though). It has been named Tagore Rock. 
Tagore Rock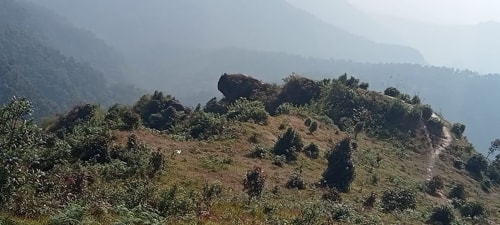 Locals set up a few temporary stalls at Ahaldara Viewpoint during tourist seasons selling tea/coffee, veg & chicken momos, Maggie noodles, pakodas, etc. Prices are reasonable (veg. momos Rs. 40 per plate, Chicken momos Rs. 60 per plate, Maggie Rs. 40). 
There are a couple of homestays here right next to the Ahaldara Viewpoint offering cottage style accommodations as well as tents, which I have discussed separately under
Sittong Homestays
. Although you will get stunning views of sunrise, sunset and mountains if you stay here, but every time you go out of Ahaldara and return, it will involve a steep climb. Also, there is water scarcity here. 
Sittong Orange Orchards
This is another major attraction that has contributed heavily to spiral Sittong into a tourist magnet. There are many orange gardens or orchards within Sittong area. However, the cluster of Orange Orchards at Shelpu Khasmahal (Sittong-III) and little ahead of Ahaldara have been the most popular of all. There are several orange orchards here each belonging to a different owner.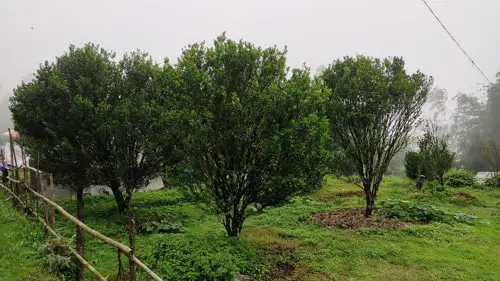 The main season in Sittong for oranges to blossom is between November to January. This is the best time to see the orchards covered in an orange blanket. However, the peak time is December. In January, they start plucking and collecting the oranges for sale. Since many tourists start coming even later in February, the orchard owners keeps some trees with unplucked oranges until middle of February after which they have to pluck them because the oranges start rotting and keep falling onto the ground. 
Oranges in Sittong are relatively small in sizes... they taste sweet and sour. Smaller the orange, sweeter it will be. In order to explore an orange orchard, you will need to park your car by the roadside... some locals even charge a parking fee of Rs. 50 and they have a parking space by the roadside.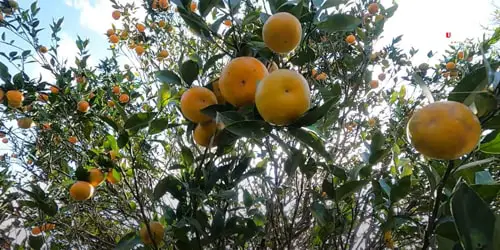 One of the nice orange orchards that has numerous orange trees that blossom with hundreds of oranges is Maitra Rai Orange Orched. There is an entry fee... Rs. 50/- per person. A local Nepali lady will take you around and show you the orange garden. She will also offer an orange for you to savor. You can take as many photographs as you want. 
Outside, on the roadside, there is a small stall known as Pawan Store that offers tea/coffee, momos, maggie, etc. You can also buy candies here. During the season, they make a make-shift outdoor seating arrangement where you can relax and have your tea and snacks.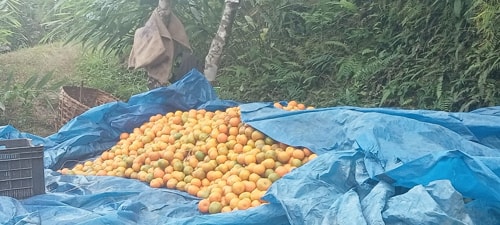 And if you want to stay in Sittong among the orange orchards, that is possible too. There are a few homestays here such as Orange Tree Homestay that are nestled within their own orange trees and gardens. 
There are lots of other vegetation other than orange trees in this area. You can see small trees full of Hill Tomatoes... these are small tomatoes that are either dark green in color or red. Ask the owner at Pawan Store on the road side and he will take you around and show you trees bearing hill tomatoes. 
Hill Tomatoes in Sittong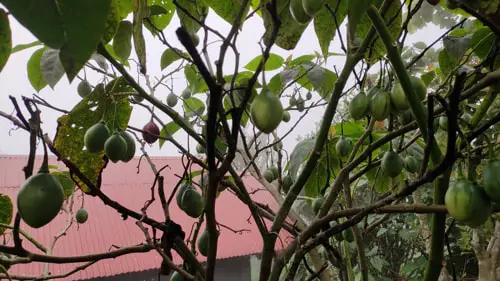 Sittong Monastery
There is a 350 years old Buddhist monastery located in Upper Ghalaytar (Sittong-I) near Tham village which is mainly made of mud and bamboo. From the roadside of Lat - Mahaldiram Road, a muddy walkway goes through lush vegetation. Walk down for about 100 meters and you will find this monastery. 
The monastery looks like a small hut from outside. Its actual name is Upper Ghayletar Longho Lepcha Buddhist Monastery and even locals do not seem to know the real name, some call it Mana Monastery (because of its proximity to Mana village), some Tham Monastery, and others call it Lepcha Monastery.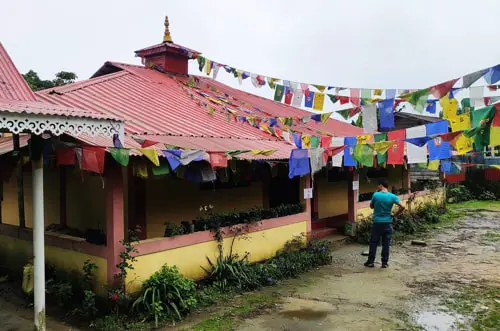 There are a few chortens or stupas in front of the monastery. Numerous Buddhist prayer flags flutter all around, making the place look so serene and tranquil. In fact, there are beautiful flowering plantations around. On a clear day, the grounds of this monastery is a great place to get views of Kanchejunga peaks. This monastery once used to be the Lepcha Rani Mahal (palace of the Lepcha Queen) before it was converted into a monastery. It is the only Buddhist monastery in Sittong which is administered by Lepcha Buddhist community. 
There is only one Lepcha Buddhist lama here who looks after this monastery... Pashan Lama is a short jovial man who stays with his mother in a small house located right next to the monastery in the same premises. If he is around, ask him and he will give you a full tour of the monastery inside and narrate the associated history. 
Pashan Lama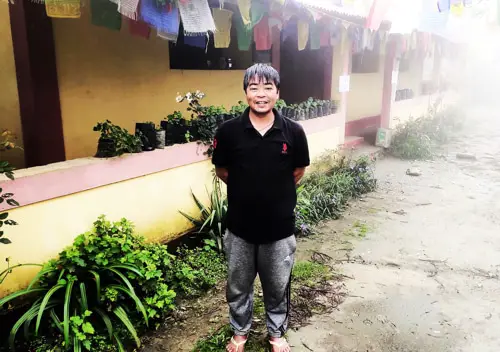 Take off your shoes and walk in... there is only a simple prayer room inside. There is a large glass-case right in front and the main golden idol inside is that of Guru Rimponche. Next to that is a smaller idol of Buddha and below there are a number of other small idols of various Buddhist deities. The Burning incense sticks, dimly lit interior and simple architecture sets up an atmosphere filled with deep sense of piety. 
The idols inside the monastery 
There are two main pillars inside the prayer room... one symbolizes Goddess Kali and the other Shakti. Look around, and you will find age-old murals on the walls depicting many gods and goddesses and even devils. 
Pillar of Kali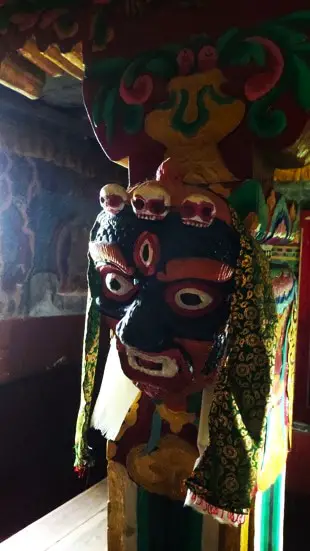 If Pashan Lama is in the right mood, he will even bring out rare articles and artifacts from a metal trunk box that have been preserved since the regime of the Lepcha Queen... these articles include weaponry of the era such as an old sword and a shield which you can hold and take photos. Surprisingly, the shield although looked heavy, was actually quite light and he said that it is so strong that it served the purpose of self-protection. 
He handed over a preserved real bullhorn to me and even a human bone and explained the details behind their utility at those times... the bullhorn was used in amplifying sound and the bone was used in worshipping the deities. He even took out several stone inscriptions that were once used in creating Lepcha scripts. He also explained the roles of various figures on the wall murals.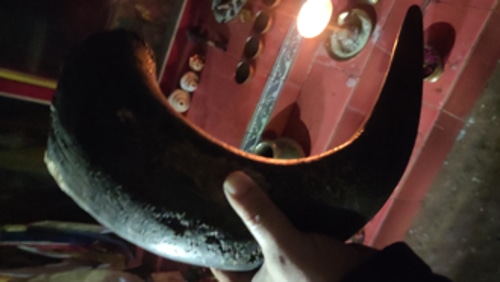 Note that there is no entry fee for the monastery, however, there is a donation box inside, and it is expected that you will make some donations, particularly if Pashan Lama has taken the time to give you a tour of the monastery. 
One thing I would like to caution you though... although Pashan Lama is a nice friendly man, he often remains under the influence of alcohol. My driver suggested that he should accompany us so that he could handle any unpleasant situation, although there wasn't any, and my personal experience was very nice. 
Stone Inscriptions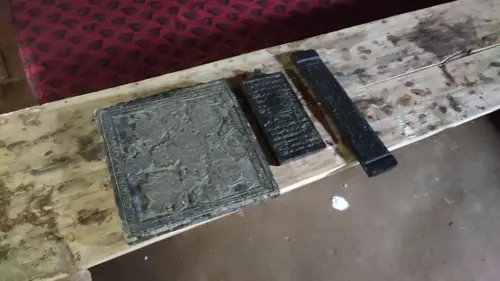 By the way, my driver too happened to be a very friendly and knowledgeable Buddhist gentleman, and by a strange coincidence, his name was Pashan too... when I mentioned this to the monk Pashan, he fell into an endless laughter, vigorously shaking hands with his counterpart... perhaps the influence of alcohol :) 
Mahaldiram Tea Garden
This is a sprawling tea garden located in Sittong-II. The village in which the tea garden is nestled in is also known as Mahaldiram Tea Garden or simply Mahaldiram. The total area of the village including the tea garden is 136.78 hectares. While Makaibari Organic Tea is arguably known as the best tea in the whole of Darjeeling District, the tea from Mahaldiram Tea Garden is considered the second best in the entire Darjeeling district. 
There is no tea processing factory here. The plucked tea leaves are taken to the nearby Jungpana Tea Factory for processing that belongs to Jungpana Tea Estate. Most of the tea are exported and sold through international tea auctions. The premium second flush tea of Mahaldiram Tea Garden that were harvested in mid-June has even commanded a hopping price of Rs. 1.20 Lakhs per KG.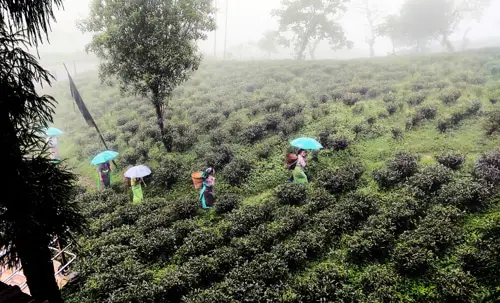 The tea gardens start from the Mahaldiram crossing right next to where the lodge known as Salamander Jungle Camp is located and that is the reason many tourists prefer to stay at this lodge to soak in the views and activities of the garden right from the lodge balconies and terrace itself. You can get my detailed review of this lodge under
Sittong Homestays & Lodges
. 
The bushes are laid out on the slopes of the mountains. You can see local garden workers (mostly women) wearing gum boots and plucking tea leaves during the plucking season. You can also walk through the tea bushes and enjoy the scenic beauty of the garden and take pictures.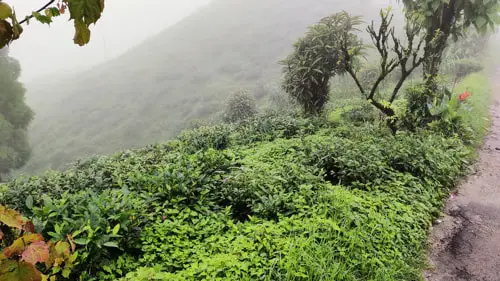 Right next to the Salamander Lodge, an uphill pathway through the tea garden leads right to the top from where you can get stunning sunset views. Avoid the monsoon time for such walks through the bushes, because you can easily invite leech bites. 
Shortly after the Salamander Jungle Camp Lodge, there is a road that veers to the right and goes all the way to a tiny village known as Upper Babukhola. You can simply walk along this road and enjoy the garden view on rolling hills. On a clear day, you can see river Teesta flowing below and a large part of Siliguri plains. 
Explore villages & flora in Sittong
There are numerous small and large villages in Sittong and some of them are picture-perfect. One such tiny village which I have already mentioned is Upper Babukhola (it's also known locally as Simantara).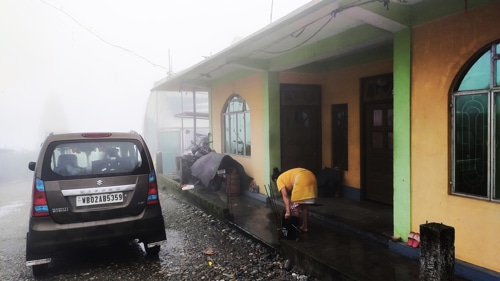 Take the road that veers right from Mahaldiram crossing, goes through the Mahaldiram Tea Gardens and enters this small village. It's only a 20-minute walk from the Mahaldiram Crossing (or Salamander Lodge). You can also take a car if you want as part of your sightseeing tour, it will take only 5 minutes to get there by car. 
There are only 24 village houses in Upper Babukhola. Here in the village you will find a beautiful Cactus Nursery which is used for cultivation and conservation of various types of cactus. Although tourists are not allowed to enter the nursery, you can see it from outside and take pictures.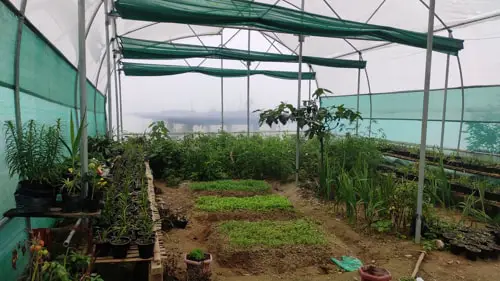 At Mahaldiram where three village roads meet, there is a little store (located right opposite to Salamander Jungle Camp Lodge) which is run by a lady and her husband. They make delicious chicken as well as vegetable momos... in fact, every day they make fresh momos and serve them piping hot to the customers. 
They also serve chowmein, bread/omlet, wai wai, alu mimi, and tea/coffee. You can walk inside, sit on a plastic chair and have, or if you stay at Salamander Lodge, you can let them know and they will bring it to your room.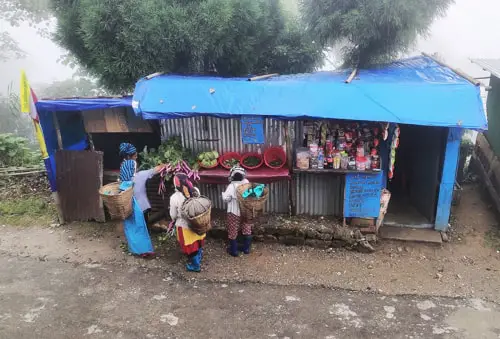 This local store also sells loose tea leaves in packets. These are not tea leaves plucked from Mahaldiram tea garden. These tea leaves are cultivated by the villagers in local tea gardens located a little away. There are two types of tea leaves... Rs. 600/- per kg and Rs. 900/- per kg. You can try out any type and pay for a cup of tea before you decide to buy. Many tourists take large quantity of tea leaves from them. 
This little store also sells fresh vegetables. The tea garden workers can be seen buying these vegetables almost everyday when they return from the gardens late in the afternoon and before heading back home. 
Tea garden workers buying vegetables on their way back home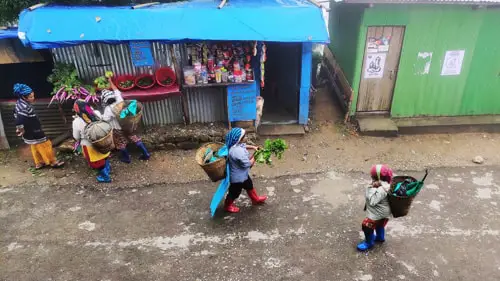 From Mahaldiram if you go towards Mana Village, you can see various types of plantations including ferns, squash trees and bamboo leaves. This road (which is officially known as Lat - Mahaldiram Road) is locally known as 'Saat Gumti ki Raasta' meaning a road with seven turns... in fact, there are seven sharp turns along the way. 
Other than Mana Village where there are cute village houses, you can find several plantations that have great local utilities. One such plant whose leaves are locally known as Titepati meaning bitter leaves (the actual name in English is Artemisia vulgaris leaves). These leaves have various utilities such as in cleansing by using them to sweep the floors, as incense and also as medicinal plants. 
Mana Village Houses 
There is another plan locally known as Simal Tarul Tree whose roots are extracted and boiled to produce sweet wine which the locals of Sittong savor during the Poush Sankranti festival. 
And there is a flower locally known as Nakima which blossoms in September and October and have great medicinal value... they are used in making curries and if a person feels exhausted or has serious body aches, one can get fully rejuvenated by consuming this curry during dinner and having slept overnight. 
Waterfalls in Sittong
There are several excellent waterfalls in Sittong, some of which are unnamed and most can be seen from the roadsides. These waterfalls swell up and get the maximum gush of water during and soon after monsoon (July to September) and the water strands become thin or almost dry up during the winters and summers. 
One of the best waterfalls in Sittong III is known as Jogikhola Waterfall which is located right adjacent to Jogikhola Rock Climbing Spot in Latpanchar area. If you continue on Lat - Mahaldiram Road past Namthing Pokhri and Ahaldara, you will reach Jogikhola Waterfall. It's 5kms away from Namthing Pokhri (lake). The waterfall and the rock climbing spot is right on the road side... you won't miss it. 
Jogikhola Rock Climbing Spot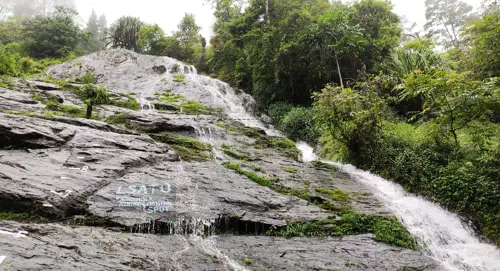 There is a large bed of natural rocks here that go up to an elevation of about 200 feet from the ground level. The waterfall comes down by the right-side of the rocks. The entire rock bed is the climbing area. It is meant for novice and amateur rock climbers. There is an operator called Lat-Sittong Adventure Tourism Organization (phone: 8101563712, 9475233791) that organizes rock climbing here. 
On the way to Jogikhola Waterfall, you will come across another nice waterfall on the roadside which is locally known as Nambung Waterfall ... the name is hardly known even to the locals. 
Nambung Waterfall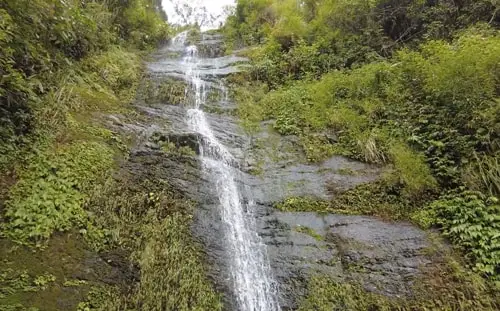 However, one of the best waterfalls in Sittong is known as Lepcha Falls which is located between Lower Sittong and Jogighat Bridge. The vehicle can not go all the way up to the waterfall because it is nestled inside deep rocky mountains that's surrounded by dense forests. So, you will need to walk for about 10-12 minutes through a dense forested mountain trail in order to get close to Lepcha Falls. 
Lepcha Falls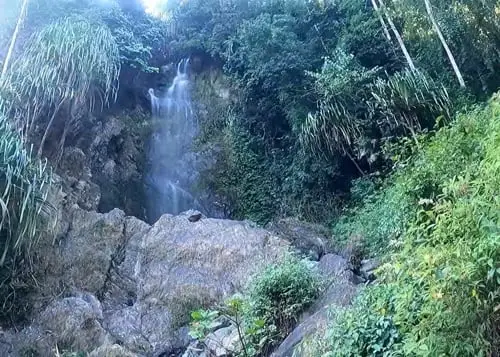 As you approach the waterfall, you can hear the roaring sound of water falling from a height. And then finally you get the sight of the awesome waterfall. It gushes down from high above and forms a beautiful natural pool at the bottom. There are large rocks around the pool and the water getting continuously bounced off from the rocky outcrops forms a mist around the pool... it's an awesome sight. 
However, note that if you want to go close to the waterfall and want to swim or take a bath in the pool, you will need to be physically fit and negotiate several large rocks. But, the rocks can be very slippery and for normal tourists, it is recommended that you enjoy the waterfall from a distance and do not try to climb the rocks... there can be good possibility of an injury. 
Jogighat Bridge & Riyang River
From lower Sittong, a forested road full of loose rocks leads down to Jogighat Bridge. The bridge has been so named because it is located in the village called Jogighat. This steel made bridge has been constructed over the mountain stream known as Riyang Khola (khola means a river).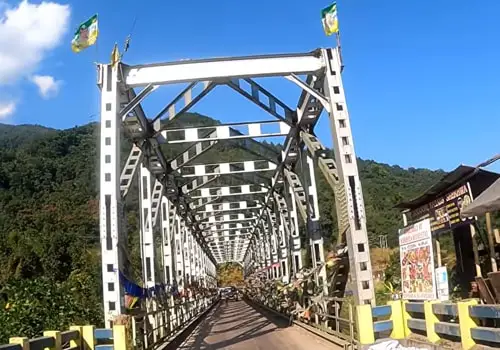 It connects lower Sittong (Toryak Khasmahal) with Labda and then Mangpu. So, while visiting from lower Sittong, you will first come to Jogighat village and then get on to the bridge. 
Jogighat bridge is 74 meters in length and was inaugurated by Baba Ramdev in 2015. Earlier there used to be a hanging wooden footbridge which was constructed during the British days... it can still be seen from the new bridge a little far away and is picture worthy. However, the old bridge has been abandoned now and is unsafe. The new Jogighat Bridge has enabled an easy vehicle connection between Sittong and Mangpu. 
Old Wooden Jogighat Bridge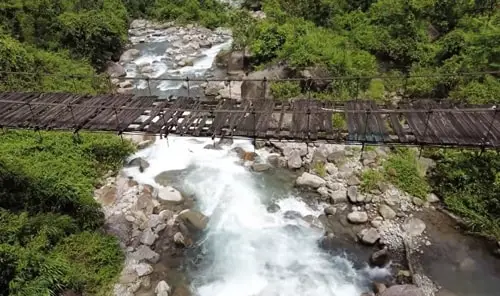 Jogighat is located on a narrow valley and the Riyang River flows through it. On one side of the river is the Kurseong hills and on the other is the Mangpu hills. This picturesque village with the crystal clear stream flowing through it is located at a moderate altitude of around 3,500 feet and therefore the climate here is never quite extreme. It remains pleasant throughout the year. Beech and broom forests cover the hills rising from the valley and fringe both sides of the meandering road passing through Jogighat village. 
Just before you get on to the bridge at Jogighat, there are a few shops, houses, a homestay (the only homestay here known as Mukhia Homestay, phone: 97332 83984, 96474 67132) as well as an eatery selling momos (both chicken and veg), chowmeins, and other snacks and meals. 
Riyang River & Jogighat Bridge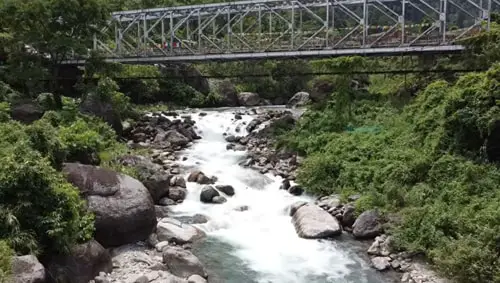 From Jogighat, if you go towards Sittong (Toryak Khasmahal) you can see stepped farming in higher reaches. Toryak Khasmahal was a forested area during the British days, however now it is a thriving village located at an altitude of around 5,000 feet. Further into Sittong you will find orange orchards and flowering plantations that Sittong is so famous for. Mangpu on the other hand is known for large scale Cinchona plantations. 
From Jogigtat right after crossing the Jogighat Bridge, you can get down to the Riyang river bank which is a popular picnic area for the locals as well as tourists, particularly during the winters. 
The crystal clear shallow water of the river flows through many large boulders that are lying on the river. You can sit on one of these boulders and paddle your feet into the cool water of the stream and enjoy the gargling sound of the water, listen to the chirping of so many types of birds... it's a wonderful experience. The water of the river is so clear and shallow that you can clearly see the river bed and even the small rocks lying on it.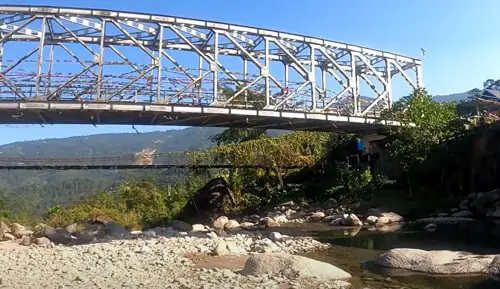 At few places along the river's course, some large tall boulders have caused the stream to fall through a height looking like a natural fountain and at a few other places a cluster of rocks have formed natural pools within the river which are ideal for a cool refreshing bath. As the sun sets, the light hues of different colors fall on the valley and the river and the setting looks straight out of a picture postcard. 
I first heard about the Riyang River from the poem 'Tokhono Riyang Khola Thekey' written by Shakti Chattopadhyay and later came here at Jogighat to correlate my imagination with the reality. In my opinion, if you want to spend a few quiet and blissful days amidst nature, hear the sounds of a flowing stream, and be away from the touristy crowd, you can consider Jogighat as the place of your stay. From here, you can also visit many places in Sittong including Mangpu. 
Mangpu
Once you cross Jogighat Bridge, Mangpu is another 6kms away and takes 20-25 minutes drive through beautiful landscapes and soon you will see Cinchona Plantations that were first cultivated by the British and is still harvested... there is a government factory here that extracts quinine from Cinchona. 
However, one of the main attractions of Mangpu is the Rabindra Museum which was once the bungalow where novelist Maitrayee Devi and her husband lived. Poet Rabindra Nath Tagore came here 4 times between 1938 and 1940 on invitation from Maitrayee Devi. The bungalow has now been restored and many articles including furniture as well as Tagore's verses have been preserved and are on display here. 
Rabindra Museum (Mangpu)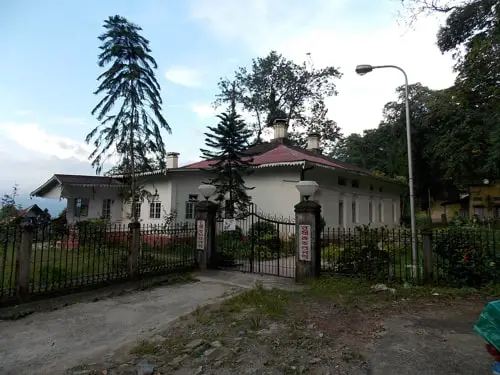 There is also a Buddhist Monastery at Mangpu near the main market area. and 5 kms away from the main market is a wonderful Orchid Center that specializes in growing different varieties of Orchids. 
Visit
Trip to Mangpu
for details on all attractions in Mangpu as well as stay options. 
Latpanchar
Latpanchar is a small village and is part of Sittong-III Panchayat. Being part of the higher reaches of the famous
Mahananda Wildlife Sanctuary
, Latpanchar attracts many who come here to see wildlife as well as birdlife. 
There are guides available (most homestays can arrange for that) who can take you to the sanctuary and show you great wildlife that includes Himalayan black bear, leopards, deer, mountain goats, monkeys, wild boars, and even elephants (there is an elephant migration corridor here).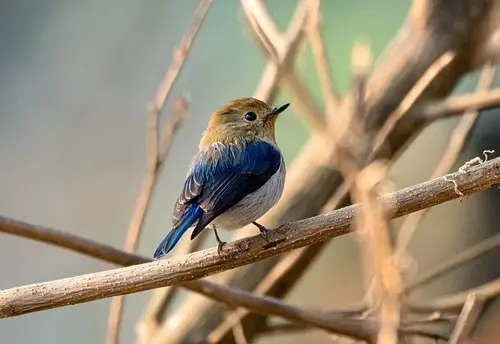 Photo: Debrup Chakraborty, cc-by-sa 4.0 
Latpanchar is also a paradise for birdwatchers. You can see different species of birds here including the Rufous Necked Hornbills. And there are wide varieties of butterflies that can be spotted here as well. Visit
Trip to Latpanchar
to get details about what to see and do in Latpanchar, where to stay, and more. 
Related Articles
Visitors' Reviews/Comments