Kurseong Tourist Lodge
Category: Mid Range 
This is a nice mid-range hotel run by the West Bengal Tourist Development Corporation (WBTDC). It's located on NH-110 (Hill Cart road) which goes all the way up to Darjeeling and is about 1km from Kurseong station or the main market area. 
The lodge is very popular with the parents from other places whose children study at the schools in Kurseong, and at the beginning or end of summer/winter holidays, the lodge gets fully booked months in advance by guardians who come to Kurseong to pick up or drop off their wards.  
The lodge is quite popular with tourists as well and remains in heavy demand during the high season. The reception is at the ground level and the rooms are laid out in two floors below the reception level. The reception is staffed by state government employees. I have been seeing some staff here since ages. In fact a person in the reception is there for over 22 years. There is a nice lobby at the reception with great views outside. 
There are essentially two types of rooms in the lodge - ones with balconies and the others without. All rooms face the mountains. While views from some rooms are obstructed by trees, few rooms have great views of the Kanchenjunga snow peaks from windows or balconies. 
Kurseong Tourist Lodge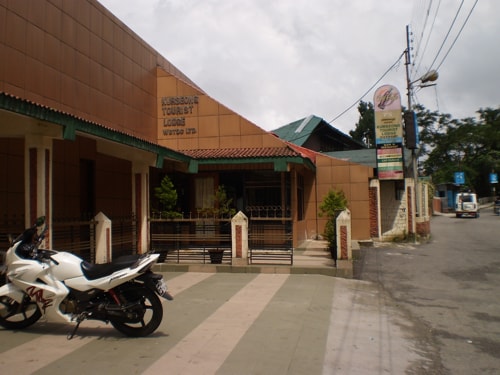 The rooms with balconies are at the far right end while the others are below the reception. In both sections there are stairways leading down to the rooms below. 
My room, Kurseong Tourist Lodge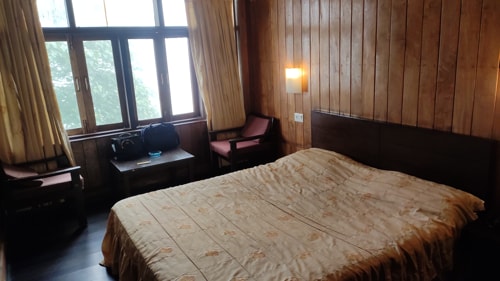 There are about 20 rooms in the lodge. Rooms are fairly well furnished and fully wooden paneled giving a warm and comfortable feeling. Each room has a queen bed, wooden cupboard, a dressing table, LCD TV with cable channels, intercom, attached bathroom with shower & geyzer etc. While some rooms have private balcony, otherwise all are essentially the same with similar furnishing. 
Bathroom at Kurseong Tourist Lodge 
However one problem with the rooms is inadequate noise proofing. So if there are noisy guests in your adjacent rooms or they put on loud music on TV, you will have problems sleeping at night. In fact from your own bed, you can hear guests talking in the adjacent rooms. Once I woke up at night and almost jumped out of my bed thinking someone was talking into my ears... they were actually my neighbors who perhaps decided to spend a sleepless night. 
The lodge has a large in-house multi-cuisine restaurant. The window side tables offer lovely views of the mountains. The restaurant serves breakfast, lunch and dinner. In breakfast you will get toast, butter/jam, eggs, puri sabji etc and of course aromatic Darjeeling tea usually sourced from Makaibari tea estate located close by. 
In lunch and dinner you get Chinese and Indian food. There is also an adjacent bar which is quite well stocked. The restaurant closes by 8pm and the bar by 8:30pm. You can use room service and order food in the rooms. For dinner, they provide the food in hot cases so that it remains warm  for a while and you can take your food later. 
Restaurant, Kurseong Tourist Lodge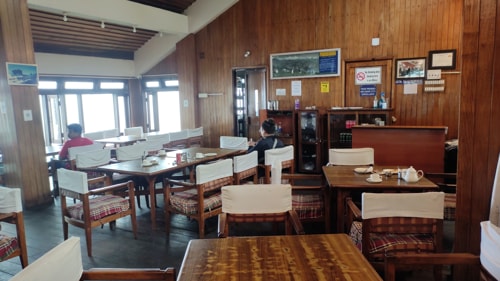 The lodge also has a momo corner next to the restaurant. It's a small place with few tables and chairs where you can have freshly made momos (steamed dumplings with chicken or veg fillings). Very reasonably priced and quite tasty. Here they also serve other snack items, cold drinks and bottled water. 
Sitting here, you can watch the toy train pass by right in front of you (daily there are two trains between Kurseong and Darjeeling, one in the morning and the other in the afternoon). 
There is no wi-fi or internet connection in the lodge. However mobile signal strength is adequate and you can access the net over mobile or datacard. 
There are small wooden models of Toy Train at the reception which are offered on sale. Sometimes they run out of stock and later refill. It's a nice souvenir to buy. 
Toy Train Model for sale, Kurseong Tourist Lodge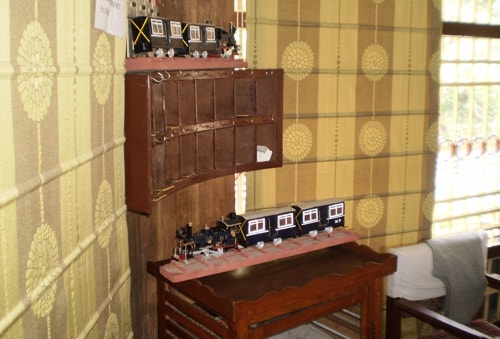 How to Reach
From NJP or Bagdogra you can reach the Kurseong Tourist Lodge in about 1.5 hours by private taxi. There are also shared jeeps/taxis between NJP/Siliguri and Kurseong which come up to the taxi stand. The lodge is about 10-12 minute walk from the taxi stand. 
Darjeeling is about 1 hr 15 minutes from the lodge by car. Shared jeeps are also available between Darjeeling and Kurseong and they all pass by the lodge. 
How to Book the lodge
You can book online through tourism department's (WBTDCL) website or visit one of their offices. The WBTDC Kolkata office is at BBD Bag near the Mini Bus Stand. 
Address: 3/2 B.B.D. Bag (East), Kolkata - 700001 
Phone: 033 - 22436440, 22488271;  
Related Articles
Visitors' Reviews/Comments
Nilabja Chakraborty (September 2020) 
Hello Raj. Could you provide with some more details about the two types of rooms (Rs.1600 And Rs.1800) available In Kurseong Tourist Lodge and the differences between them? Also, it would be of great help if you provide the cab fare from Darjeeling to Kurseong Tourist Lodge for 4 people. 
Raj (darjeeling-tourism.com) September 2020 
Hello, the rooms with higher rates have private balconies and little better views. There is practically no other difference between the two categories. The fare for a small taxi between Darjeeling and Kurseong would be around Rs. 1,500.