Happy Valley Homestay Darjeeling
Category: Budget 
Owned and run by Subrat Tamang and his family, this small and cozy homestay gives you a great opportunity to stay in a local home in a quiet and peaceful place although within walking distance from the main town area. The name is Happy Valley Homestay because of its proximity to the Happy Valley Tea Garden which is within 2-minute walk. In fact from the terrace and the veranda, you get lovely view of the tea gardens and Darjeeling town. 
The homestay is located at a 15-minute walk from Chowk Bazaar at lower town area, past the gate of District Magistrate's Office, and soon a road on the right leads to the homestay. Subrat stays at the top floor with his family that comprises of his wife, kid and his mother. 
Happy Valley Homestay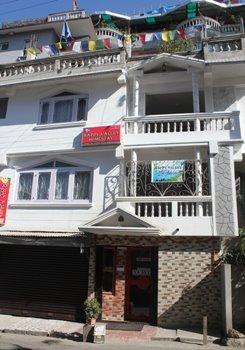 The family is deeply involved in managing the homestay and they actively interact with the guests. When I asked Subrat how he plans to make a difference in the stay, he mentioned that he wants his guests to get a true feel of living like locals in Darjeeling in a quality and affordable family home. 
It's a 3-storey white building and the rooms are spread out in the first and second floors. 
Cars can come up to the door front. As you enter, there is a small reception area with a table and a chair. This is where you will complete your check in formalities. A stairway next to the reception desk leads up to the upper floors. 
The homestay has five guest rooms in total. There is one deluxe double room with western toilet, one standard double room with Indian toilet and three other standard rooms with a common bathroom. Note that being a family home, it is not built like a hotel and therefore every room does not have attached toilet. 
The deluxe double room has a queen size bed, a small sitting area with two cushioned chairs and a table where you can take your breakfast or tea. Other rooms mostly have twin beds. Rooms have LED TV. During winter you can ask for room heater (which is provided at nominal extra cost). 
While from the rooms you can see the road through the windows, but if you come out to the terrace or veranda, other than lovely tea gardens you can see Darjeeling township, and the Singalila range all the way up to the trekking summit Sandakphu. 
Double Deluxe Room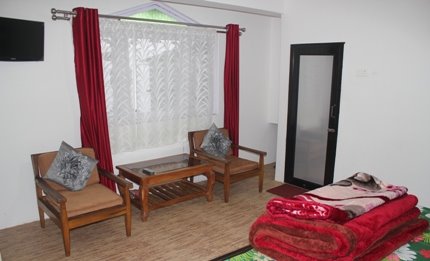 While the owner's family are always available and you can interact with them to get insights into Darjeeling and how to go about local touring etc, they are unobtrusive and you can enjoy your full privacy if you want. As the rooms are spread out in different floors, you can have a perfectly quiet time and be on your own when you want. 
Attached western toilet 
Coming to food, as expected in a proper homestay, you will be served local (i.e. Nepali) homemade fresh food which the family normally eats. In breakfast you have a choice of western style food like toast & butter, omelets, pancakes, corn flake, porridge etc, or they can serve local items like roti, alu paratha, puri with curry etc. They cook the curries and rice in their own local way with little spices. 
They also make items like momo, thukpa, dumplings with soup etc. There is a small dining room where the food is served. Package drinking water is available if you want. 
Dining room and Kitchenette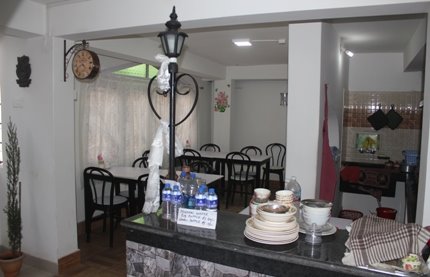 Some of the key attractions that are close to the homestay and within walking distance include: 
Ropeway - Cable Car offering lovely view of Tukvar tea estate. 
The town center (i.e. Chowrasta or Mall) and the main marketing areas are also within walking distance. 
Subrat can also organize local sightseeing tours, activities and transport at reasonable rates. 
My overall opinion
1) The home stay is located within walking distance from the main bus and taxi stand, and yet you would be away from the hustle & bustle of the main town and in a pollution free environment. The homestay is in a typical residential area of Darjeeling which will give you a nice flavor of staying in a local home. At the same time so many great attractions are all within walking distance. Location in my view is a great advantage of the home stay. 
Happy Hosts of Happy Valley Homestay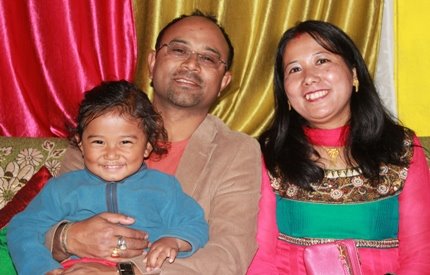 2) Rooms are simple with no frills, but clean and the way rooms in a typical family home should be. 
3) Interaction with the owner's family is a special dimension to the stay here that gives you insights into local culture and traditions. 
Rates provided by booking.com 
Contact Info & Location
Mr. Subrat Tamang, Mobile: (+91) 8101644723 
Happy Valley Homestay 
29, Hooker Road Darjeeling (On Lebong cart road) 
P.O & Dist .Darjeeling 734101. 
Direction to reach 
From Chowk Bazaar (at lower town) it takes 15 minutes walk along Lebong Cart Road passing through old supermarket, the main bus stand & taxi stand, then you will go past the gate of District Magistrate Office, and from there it's a minute walk to the homestay on the right hand side of Lebong Cart road. If you are coming by taxi, you can come right up to the door front. Buses will drop you at the bus stand from where you can walk down. 
Related Articles
Visitors' Reviews/Comments
Rahul Biswas (December 2017) 
I chose to stay at this homestay even earlier but this time I was offered a much larger newly built room in the upper floor. The newly built room even had a small balcony. And the food was very good. Loved it much. 
Sharmila Pahwa (July 2016) 
We had stayed at Happy valley homestay. It was a wonderful experience. Mr Subrat was very nice and helpful gentleman. Whatever we needed he provided us and guided us on  how to visit various places at Darjeeling. It was such a wonderful experience staying at the happy valley homestay. If in near future we plan to visit Darjeeling, would definitely stay here only. My Dates of Visit were from 19 June, 2016 to 22 June, 2016 in Darjeeling and we were three persons, myself, my husband and my son. 
Aditi Sarkar (April 2016) 
The stay at Happy Valley Homestay was a pleasant one. The calmness of the surroundings, the gentle and polite hosts was the most exotic part. During our stay, one night we had lost our way to the homestay..... Mr. Tamang set out looking for us.... it was a very touchy feeling....that made us feel so safe and protected. We plan to visit and definitely stay there again.